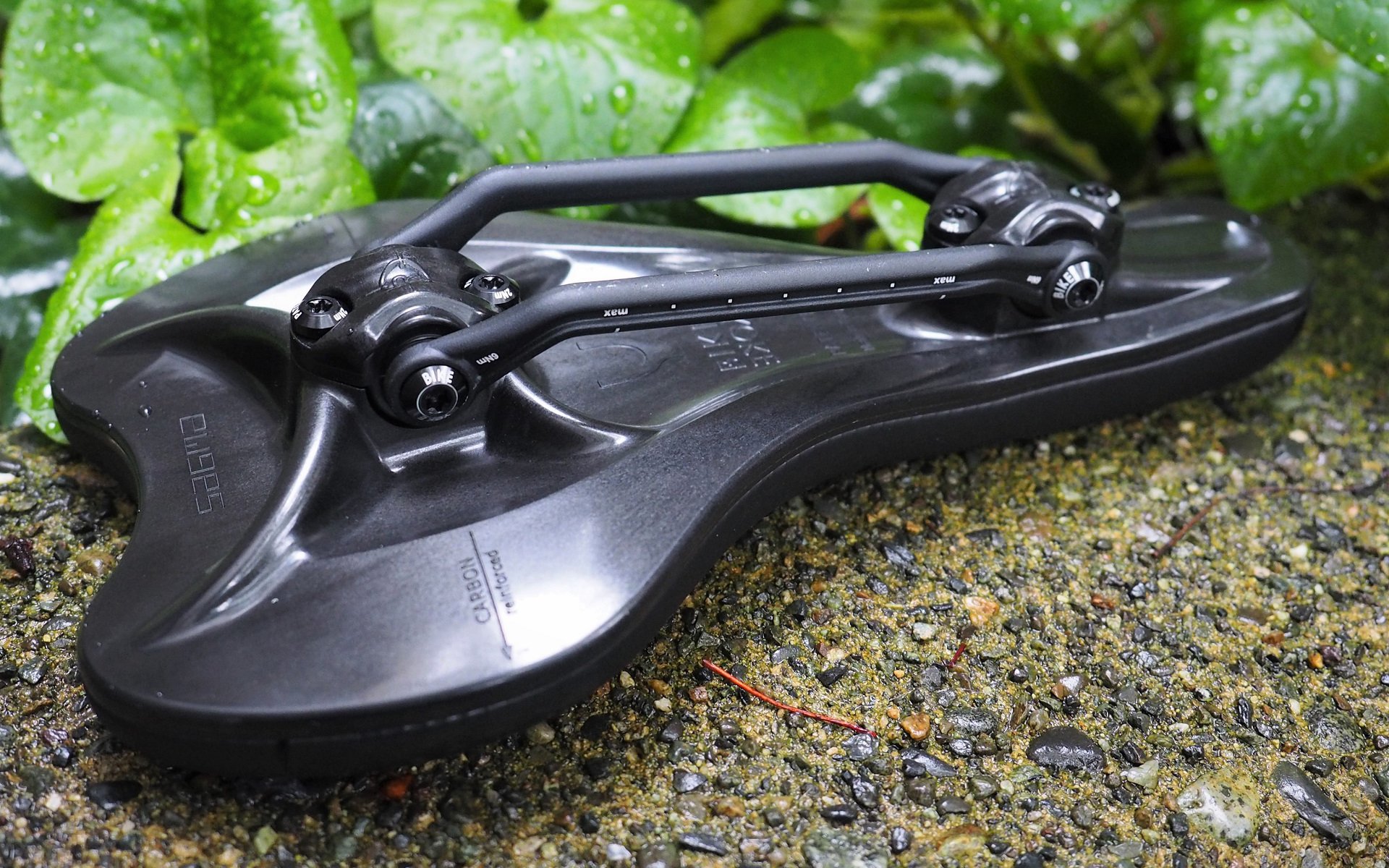 REVIEW
BikeYoke Sagma Suspension Saddle
Noise Canceling, Noise Causing
I wish this could be a straight up positive review of an exciting addition to the noise-canceling category of suspension products. And truly, the BikeYoke's Sagma saddle arrives with a pedigree. It's spawned from the company that arguably has the best reputation for dropper post reliability and performance on the market, certainly one of the more finicky product categories.
The Sagma saddle brings to bear an elastomer-sprung active suspension, and a very comfortable covering. It should survive crash damage better than most thanks to the solid, carbon-reinforced, base and skin covering. It should significantly outlast other active saddles thanks to the Sagma's use of replaceable shock absorbers - 10 EUR | 12 USD | 15 CAD each - rather than relying on wing flex that will eventually soften and provide less support.
The BikeYoke saddle delivers, as promised, true active trail-noise canceling in the same vein as Rev Grips and Faast Flex handlebars. At the same time, its suspension system is stealthily tucked away out of sight, and it doesn't add significant weight at 224 grams for my 142mm wide perch. It even comes in five different colour accents across two widths! Even 80s pink-on-black. Doesn't it sound lovely?
Unfortunately, out of the box it's not entirely 'stealthy', and therein lies the root of the melancholy melody underlying this review. I've been involved in reviews of both of BikeYoke's impressive dropper posts, the Revive & Divine, and I've ridden examples of the Revive, and installed the replacement Specialized links from which their name derives. I fully understand why the brand has a cult following.
I even suspended my typical cynicism upon seeing the six bolts that hold the saddle together, because BikeYoke has such a great reputation. And also, because from my first spin around the block, the Sagma is a saddle that speaks sweetly to my southern-stuff in soft soliloquies. But the fact is, by halfway through my first ride, the saddle was creaking like a crappy OE headset bearing mated with a notoriously creaky CSU. Then the two of them brought a six-month-old POS bottom bracket into the relationship, fully doused each other in WD40, and went for a ride on some surprisingly dusty North Shore trails.
Every single shop friend I bumped into innocently inquired "neat saddle, does it creak?" Yes, it f***ing creaks. It has six bolts supporting 190-ish pounds of me trying to torque my way up climbs. Also, yes the bolts come loose during every single ride, and before you man- or woman-splain Loctite to me, it came factory applied and it has been re-applied. Breathe, Andrew. Breathe. Also, I'm counting this as a blanket apology to all those people I may have snarked at. Sorry, friends.
With that out of the way, the tune does get much sweeter.
The Suspension
Back to the positive, Sagma's suspension works as advertised. Whether I'm running the softest or firmest elastomer installed in the rear position, I notice an increase in comfort over most traditional saddles. Even compared to most saddles designed with flex in mind, like Specialized's Romin or the Bontrager Verse there is more magic happening with the Sagma. It's true when my rear tire smokes something as I'm leaning hard into the saddle while cornering, and it's true when I'm delivering a tonne of body English up a technical climb.
I'm wary of bold comfort claims comparing the BikeYoke saddle against SQLab's Active system. Assuming there's an SQLab saddle that works for you shape-wise, I don't think there's any real advantage to the Sagma. Where BikeYoke has a winning system on their hands is the potential to make saddles of any shape, from the narrowest ass-hatchets to the widest cruiser decks, built off of the same suspension system. The saddle shape isn't influenced by the desired ride characteristic and vice versa.
Since I first reviewed the SQLab 611 Active in 2017, I've had quite a bit of correspondence regarding their products and that's made me realize their shape doesn't work for everyone. That's not surprising at all when it comes to perch preference, but the Active Ergo design requires a fairly substantial assular width to function (flex) properly and Sagma's performance doesn't require any particular shape.
Actually, I'll drop in on this again in a bit, but I'd love to see a partnership with other saddle companies to deliver classic shapes like the Selle Italia SLR or Chromag Mood that can be affixed to the BikeYoke mounting standard.
So, how does it work? The Sagma has rails that attach to your seat post like any other standard saddle. As a quick aside, I tested it on four different dropper clamps with zero real issues but it is a bit of a tighter fit getting it mounted on the dropped clamps of the OneUp V2. It also has a base like any saddle, in this case, an extra stiff one, and it's where the base meets the rails that the magic happens. The magic being two elastomer shock absorbers.
It's easy to see how the suspension system functions just by standing behind my bike, grabbing the saddle, and giving it a firm up-then-down side-to-side and twist and what's really cool is that it's immediately noticeable on the trail from the very first ride. Assuming the saddle shape and fairly generous padding work for you, the suspension action will be appreciated. That's not to say that everyone will perceive value in a 155 USD saddle no matter how much it moves, but for folks with the Elizabeths (or Benjamins) to spare, the saddle is definitely doing something.
The soft elastomer is certainly softer than the other two, but I think if I was BikeYoke I would have stuck with a single, regular rate front and rear and come up with a more permanent solution for fixing the saddles to the rails. All of the comfort, less of the complexity of three bolts per attachment or six bolts total for those doing the math at home.
Koda Comparison

The most expensive saddle can be useless if it doesn't fit your personal requirements." - BikeYoke
I was immediately right at home riding the Sagma saddle shape and I was fairly certain that was going to be the case before I even put it on my bike. And, frankly, if I was designing a saddle shape the WTB Koda is where I would start as well. To be clear, I have no knowledge at all of how the Sagma's shape came to be and I don't really care. I'm just saying that if BikeYoke had called me to design the deck for their new saddle I would have ordered up a Koda in medium and sent it to them.
Interestingly, as similar as the fit is between the saddles, the nose of the BikeYoke disappears to a greater extent, or to put it another way the saddle feels shorter even though the measurements are similar. The Sagma required more tweaking to get it just-so and I ended up with the nose tilted a bit more upwards than on the WTB.
Also, as similar as they are in 145mm (Koda) and 142mm (Sagma) sizes, I think it's interesting that where WTB makes a 145mm and 150mm version of their every-person saddle, BikeYoke has chosen to go with a 130mm and 142mm as far as width options. This is a head-scratcher for me personally to such an extent that I had to phone a few shop friends who have set up a lot more bikes than I have. Collectively, mountain and road, we've sold significantly more wide (150-155mm) saddles than narrow (130mm) ones. Hopefully in the future BikeYoke will add another width option for those with wider sit bones.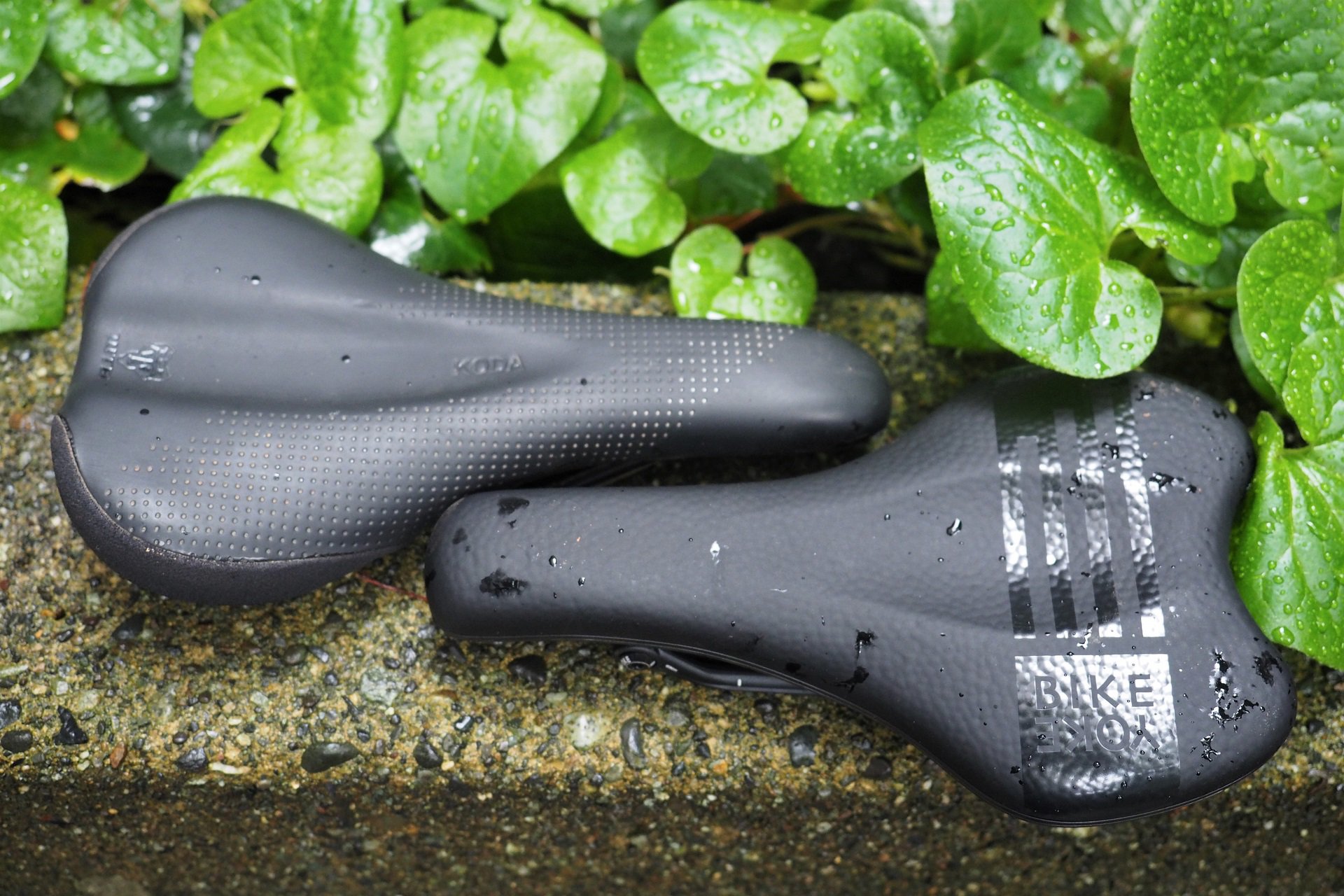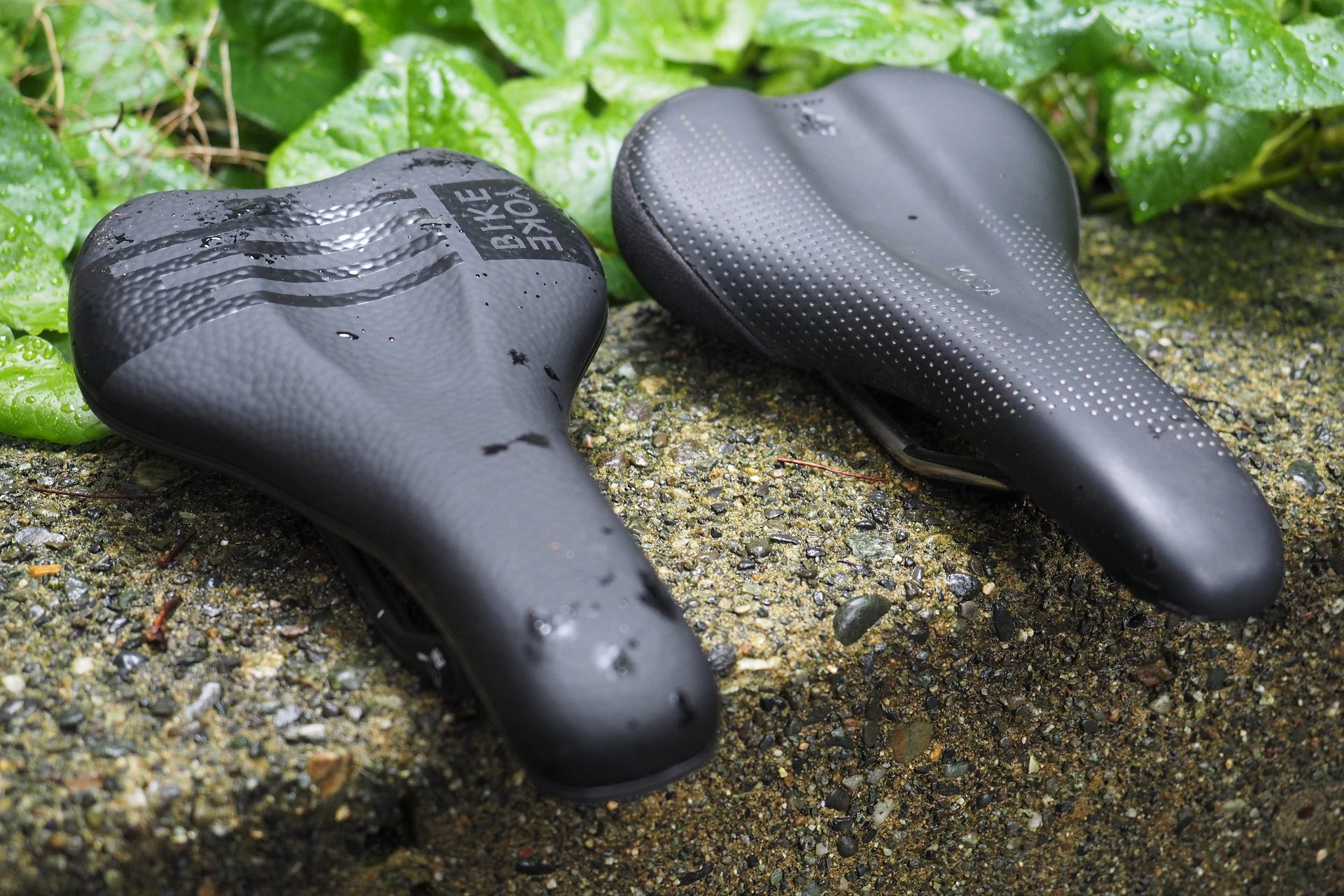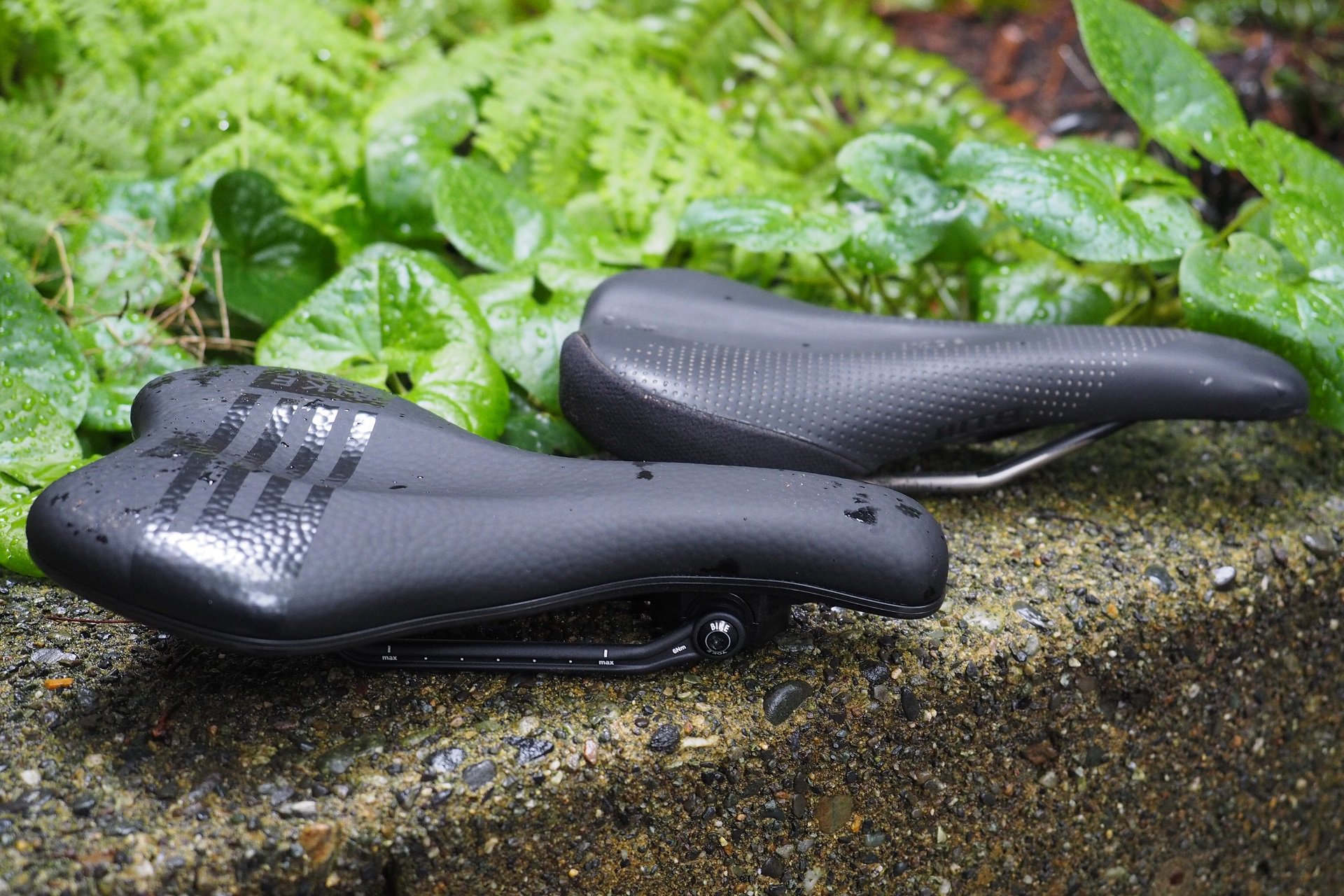 I've long loved WTB's top-end saddle materials, which consist of their DNA padding and microfiber cover. They have good support, don't absorb sweat and water, and they actually run notably cooler on a hot and sweaty day compared to cheap saddles, believe it or not.
I'm no stranger to top-quality saddle coverings having ridden a range of SQLab saddles, Fizik saddles, Selle Italia saddles, and so on. It probably comes as no surprise to anyone who's handled BikeYoke's Revive dropper, but the material quality of the Sagma covering is just that little bit nicer than anything I've handled. I'd love to see other companies adopting their "idbeads™ foam technology with low-speed rebound properties" and "PU-Skin covering" on their top-end saddles.
If the Sagma system and materials appeal but you're wary of investing in a top-dollar saddle without sitting on one, then ask your local shop about investing in a saddle library* program. Barring that, if you have a friend with a WTB Koda (and I'd be surprised if you didn't) give it a quick try. I suspect that close to 100% of folks who like the fit of the Koda will appreciate the fit of the Sagma.
*I'm aware that Sidesaddle is far from the first shop to offer a saddle library, but their extensive catalogue, attitude toward the program, and funding model is the one I would R&D if I ran a bike shop.
The Teardown
To be clear, I really, really like how the Sagma saddle fits, rides, and feels or I wouldn't have gone through this level of effort to make it work for me. I would have just panned it as the creakiest saddle I've ever ridden and that would be one more German design team out to get me. But, this platform works incredibly well for me in terms of basic fit and my back is a huge believer in the suspension system, especially when eating miles while seated on my hardtail.
In the end, I only had to go to stage 2 of my plan to fix the creaking and loosening of the hardware. I pulled out all six bolts, cleaned them and the interfaces thoroughly to remove the Blue Loctite compound that comes stock from the factory, and applied Red Loctite compound instead. Creaking and loosening resolved. My next step was to go Green with high-strength sleeve retainer and I would have absolutely gone there if necessary.
I'd be interested in hearing from anyone who has purchased a Sagma who hasn't had a combination of noise and bolts loosening from the factory. I know at 190lbs+ and pushing hard on the pedals that I'm creating more loads than a lighter rider spinning gears but I still have a hard time picturing the system working perfectly with the stock assembly method.
If you too have a Sagma you want to love, then here's your solution. I can only speak for my experience working in shops, but if you purchased your BikeYoke saddle from your local I'm confident in saying they'll clean it up and hit it with a little Loctite Red for no charge. At least that would be the case in any shop I've worked in. If you bought it online I'm sure your local would still be happy to help, just expect to pay for their time - or head down to the hardware store and buy yourself some Red Loctite to go with the Blue Loctite you already have kicking around. It's useful for all sorts of stuff.
I-Beam, You-Beam
The one thing about the Sagma saddle that perplexes me a bit is why it has a bolt-on rail structure at all. In a world with a million and three options for good saddles, never mind the gazillion gooch guillotines, it strikes me that a significant percentage of Sagma sales probably go to owners of BikeYoke dropper posts. And if that's correct, then there certainly exists an opportunity to ditch the rails and some portion of the eight bolts (six for the saddle and two for the post head) and all the potential creaking and bolt-checking associated with them.
An I-Beam apparatus would be simpler, lighter weight, and offer a greater range of adjustment. Not only that, the Sagma eliminates the main issue folks have with I-Beam saddles, which is they find them overly harsh and stiff, thanks to the suspension system. SDG has previously licensed I-Beam to other manufacturers, or the smart folks at BikeYoke could have simply come up with their own system.
It may not be possible to get an I-Beam system as low as a rail system in terms of OneUp-esque dropped heads making for lower stack height and, therefore, more drop on bikes with a tight fit. But OneUp has patented that design so no one else is within a centimetre anyways.
In Motion
The ideal candidate for a Sagma saddle is going to have bought into the idea that spending a bit of extra money initially for a noise-canceling product creates value in terms of a more comfortable riding experience. I see enough SQLab Active saddles and Rev grips in the wild to know that the market certainly exists.
On top of that, they aren't going to mind an added layer of complexity over a flex system, and here the stealthy appearance of their elastomer suspension system will be an easier sell the same way that the Rev grips' stashed suspension system makes them a normal purchase compared to say a Fasst Flexx bar. At this time BikeYoke is also only offering one deck, in two widths, so that purchasers are also going to prefer a short length, medium padded, supportive yet not hard saddle like the WTB Koda.
A Few Notes from Tester Two - Cam McRae
I've been riding the Sagma on my Yeti for as long as Andrew has on his bikes and many of our experiences align. I didn't however experience any saddle creak. My bolts did come loose however, and I ended up losing one. Luckily a rotor bolt is a suitable replacement. I don't have any Red Loctite at home but a re-application of Blue has mostly done the trick for me. I just checked my bolts and after a couple of months of riding, including a recent day in the Silverstar Bike Park, they were only a little loose.
I haven't noticed the suspension element of the Sagma as much as Andrew, but I have noticed its absence. On rides with long climbs on the Norco Sight eMTB I've been riding, equipped with a generously padded SM-10 E-specific perch, I've gone back to wearing the dreaded lycra diaper. My femur heads start to ache on that saddle but I've never had that experience with the Sagma. I suspect this is because of the way the Sagma's suspension allows the shell to tilt towards the leg that is applying power, decreasing pressure. It's also at least partially related to the fact that I stand regularly on my mountain bikes, temporarily relieving pressure, while honking on an eMTB's pedals is entirely unproductive. A 25-minute effort while entirely seated on my mountain bike never happens but it's common with the electric version.
Something I appreciate about the Sagma's unique construction is that it allows you to assemble the head of your dropper post without fishing under the shell with your fingers. It might take a little longer but it's less frustrating overall. About the only thing I don't appreciate about the Sagma's shape is the cutout in the rear section, which I assume is to make way for designs that allow saddle to rear wheel contact. I like the end of my saddle to be as blunt and smooth as possible to decrease injury potential and severity when the inevitable front end impact occurs, while you are simultaneously dangling your naughty bits behind your ass pedestal. I noted this while I was installing the saddle and several weeks later I ran into the bank of a trail, jamming my thigh into one of the two bulges, eventually leaving a bruise in that shape. A direct and more central hit would have been disastrous.
Like Andrew, I am very fond of the Sagma. It has become my new favourite saddle and I intend to keep using it for years to come.
And now back to Señor Major...
---
For the quality of materials and performance, I think the 130 EUR | 155 USD | 195 CAD investment will pay off for folks who like a top-quality saddle in addition to those who benefit from the suspension system. And really, in this case, that's probably everyone whether it's just adding a degree of comfort over a long day or actually helping to alleviate discomfort.
On my hardtail, on trails where the narrower width compared to other noise-canceling saddles is nice for descending, I'll happily keep running the Sagma. It's a close match in shape and padding for what is historically my favourite fitting mountain bike saddle with an added upside. If it was stolen tomorrow I would spend my own scratch to replace it - albeit with a pink one - and that's with the full awareness that in its current form it is not a plug-and-play product. Plenty more information at BikeYoke, and if you have any questions feel encouraged to hit me in the comments below.