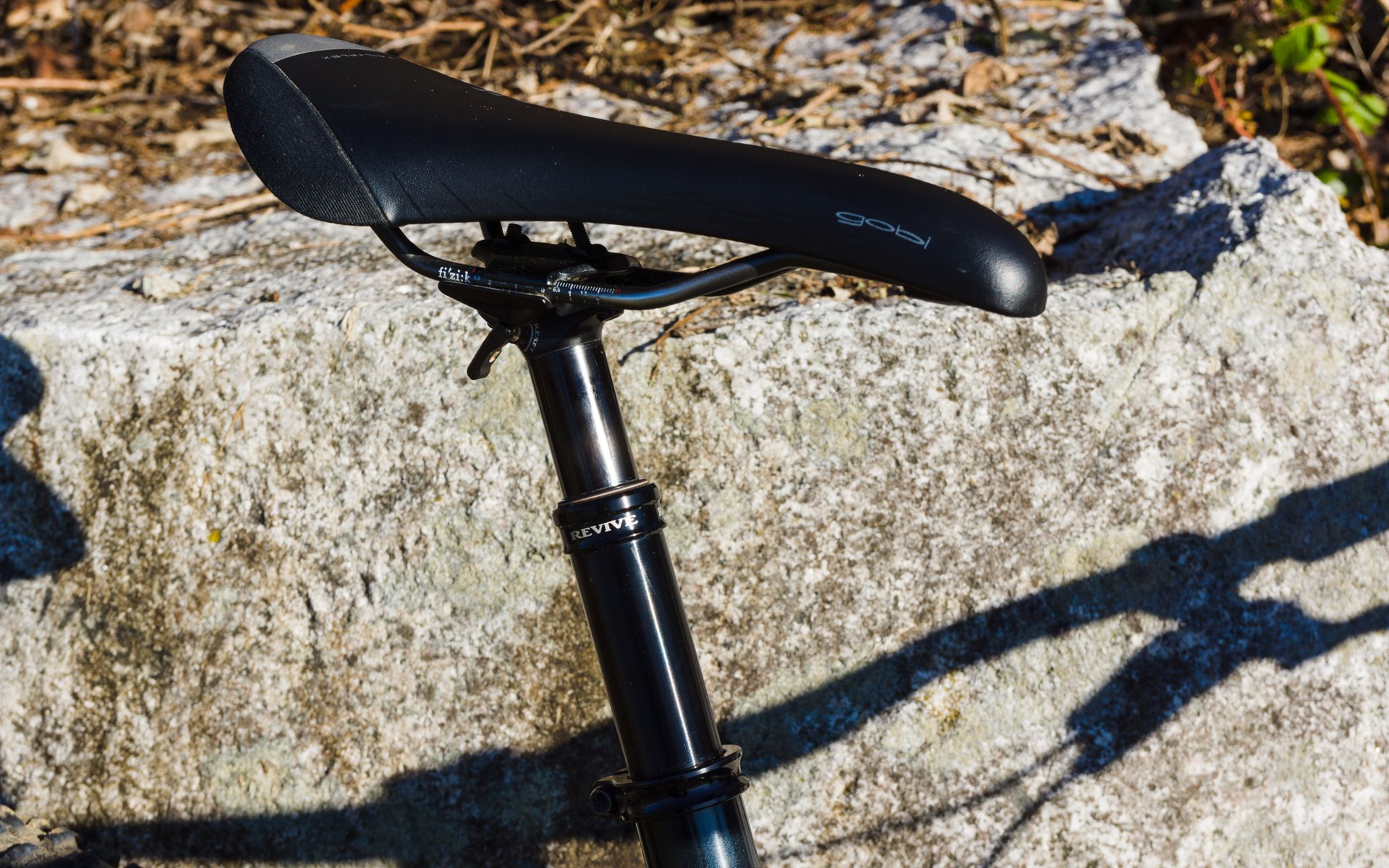 Product Review
BikeYoke Revive Dropper Post Reviewed
BikeYoke's Revive dropper post has been on the market for over 2 years now and seems to have, somewhat stealthily, achieved a very solid reputation for quality and durability. Indeed, when Andrew and Jeff took our review unit apart, they came away impressed. In his teardown article, Andrew described the unique design and quality build of the Revive so if you haven't yet, I recommend you read it before you continue here.
I was intrigued by the Revive from the moment I heard about it. Relatively simple internals, a clever bleed valve, and full serviceability piqued my interest. And BikeYoke seemed to be a small, engineering-focused German company who put more effort in a reliable design than making a lot of noise about their product, something that resonates (or should I say "reverberates"?) with me.
So I put the Revive on my Dear Santa list and eventually my wish found its way to Sacki at BikeYoke who was happy to send us a 160 mm drop, 30.9 diameter unit that fit my Giant Reign. This review is about my experience installing the Revive and using it for the last 7 months.
Test riding was done in the Sea to Sky corridor, the Chilcotins, and New Zealand's South Island (tough job but somebody's gotta do it!) in a wide variety of weather and trail conditions.
Installation
Installing the Revive was a relatively quick and easy job. For dummies like me, the manual explains quite well how to determine the housing length for minimum insertion depth and how to adjust it for additional insertion. The cable end gets attached at the remote end* and at the post end you need to slide a barrel nut over the cable and cut it at exactly 17 mm longer than the housing. Using the cable length gauge that is laser-engraved on the post, this was only slightly finicky. The remote is natively compatible with Matchmaker so it fit nicely with my SRAM cockpit (Shimano adapters are available as an option). Clamping the saddle was a standard job although instead of the usual two 4mm hex bolts it uses Torx 25 bolts, which I like.
Once the post and saddle were in place, I had to reset the post once using the 'revive' lever and I was ready to go. Altogether, I think the installation took me maybe 30 minutes, including digging up a left matchmaker clamp from my parts bin. Experienced wrenchers probably need less time.
I should note that the supplied (unbranded) housing and cable were a bit too short for my size large Giant Reign frame. It wasn't an issue for me as I always make sure to have plenty of both in stock and I prefer Shimano housing over anything else anyway. But with so many long bikes these days, it seems an oversight. Hearing my feedback about this, Sacki promised to add a few cm in the future.
* After installation, I learned that it's also possible to reverse the cable orientation (see Sacki's comment on Andrew's teardown article).
First Impressions
Taking the bike for a spin around the block, my first impression was that both the remote and the post felt very solid without any play and that they operated extremely smoothly. The difference in smoothness over other posts (that generally have more seals than the Revive) was instantly noticeable. I felt a bit of resistance when lowering the saddle from a seated position but when lowering from a standing position (a more realistic riding situation) this wasn't the case.
Andrew and Jeff had set the post at 210 psi for a very gracious but slightly slow return speed for my liking. According to BikeYoke, the factory setting is 240-250 psi and you can get up to a maximum of 260. On the bike, the return speed can be micromanaged by how far you push the remote lever.

On The Trail
The smooth and solid feel remained on the trail. The ergonomics of the remote immediately felt natural to me and its action very positive and direct. Within minutes, I had fully adapted and could easily position the saddle anywhere within the Revive's travel with precision.
An interesting question is how much that feeling of quality and smoothness really matters on the trail. As it happened, during the test period I also rode another bike that came with a low-end OEM dropper from the TranzX catalogue. Alternating between the Revive and the TranzX, the difference was quite apparent: the TranzX 1x-remote is a bit flimsy and lowering the post feels less smooth. However, to be completely honest, I didn't think it made that much difference on the trail: once fully immersed in the ride, I simply forgot about it and adapted to what was on the bike. This is probably a personal thing similar to how some people value high-end shifters and others don't care.
The 160 mm drop worked well for me and compared to droppers with slightly less travel (125-150mm), I thought the Revive gave a bit more manoeuvring space while cornering. I didn't feel the need for more travel (a Revive 185 is available) but the Reign has a pretty slack seat tube angle. On newer frames with steeper seat tubes, more travel would be nice to keep the post out of the way.
Reliability
So far, the Revive hasn't let me down in any way. The post still feels very smooth and works as well as it did on day one. It has developed a tiny amount of lateral play on the shaft, maybe 1 mm, so pretty similar to all other dropper posts. It's been used in all sorts of conditions, mostly on the North Shore but also in an apocalyptic thunderstorm in the Chilcotins and very changeable weather and trail conditions in New Zealand. Apart from the return speed being ever so slightly affected by cold temperatures, the Revive shrugged off all conditions it was subjected to.
I never found it necessary to use the bleed lever, although I did "just in case" when rebuilding the bike after transporting it on an airplane. As a former Reverb owner, I had suffered a bit from SDS (Sagging Dropper Syndrome) but after using the Revive for half a year I am now officially cured. 
I did have one really bad crash with the bike landing hard on the saddle. The saddle broke off but the Revive showed no signs of being affected in any way. Again, it just kept working.
In total, the Revive saw about 70 hours of trail time in 7 months. I didn't get to ride as much as I would have liked due to the smoky summer and breaking my hand in the aforementioned crash.
Value Proposition
Andrew has, on multiple occasions, made his case here for the many Wintek cartridge droppers available around the C$300-350 price mark that are unbeatable for performance and longevity at the lowest possible price. At C$525-645 (depending on the model), the Revive is quite a bit more expensive. Does it offer enough to justify spending that extra hard-earned money? As stated above, on the trail I don't care that much, as long as the dropper just works I simply adapt and enjoy the ride. What I value is the Revive's focus on reliability and user-friendliness. Having experienced many sagging dropper posts because of failed seals, I really appreciate the design which simply allows the oil and air to mix and provides the user with a bleed lever for an instant on-the-trail fix.* You don't even need any tools.
For more on the reset valve, see the teardown article here.
I also value the full serviceability of the Revive. As Andrew explained, it's basically a cartridge post with the same ease of basic maintenance, but instead of a disposable cartridge you get one that is fully serviceable. I'm personally not too fond of any design that is based on disposable units and I prefer the option of servicing/rebuilding. In addition, BikeYoke sells lower tube units of different diameters as spare parts. With a simple swap, the post can be moved from a bike with a 30.9 mm seat tube to one with a 31.6 mm seat tube, or vice versa.
Finally, a unique benefit of the Revive is BikeYoke's approachability and responsiveness. Which other dropper post comes with a direct communication line to the engineer who designed the post? Sacki has been great in responding to our questions and I've heard about similar experiences from others. Altogether, as someone who likes to hang on to gear for a long time, I see the Revive as a long-term investment.
Final Words
7 months hardly qualifies as a long-term review for a dropper post, so my plan is to keep using the post a bit longer and update this review with my findings as I go. For the time being, based on my experience so far, I can wholeheartedly recommend the Revive to those who subscribe to the value proposition outlined above.
--
BikeYoke's Canadian distributor is S4 Suspension.
Wheelthing right here in North Vancouver is their official service center for Western Canada.