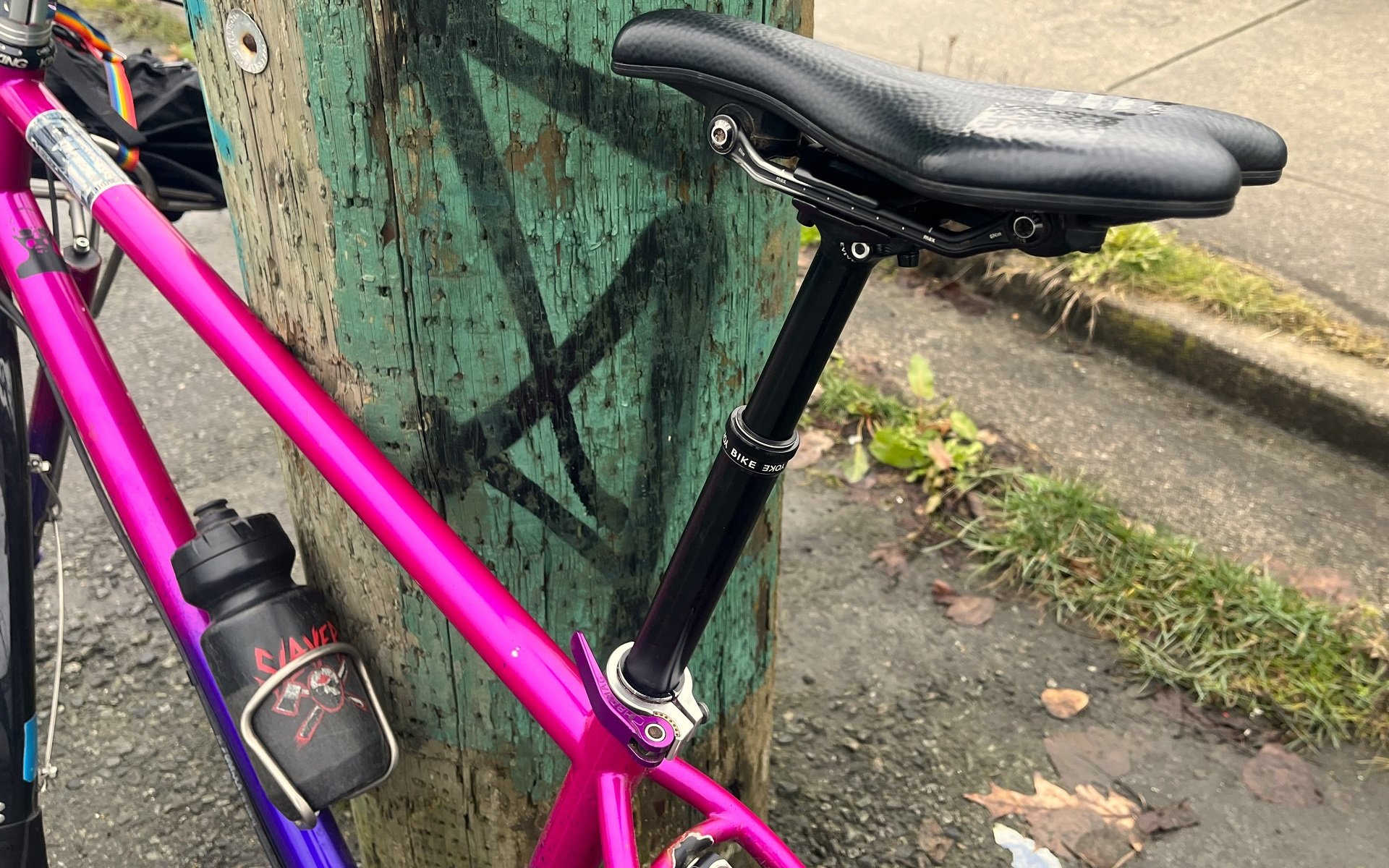 FIRST IMPRESSIONS
BikeYoke REVIVE 27.2 Gravel Dropper
Distinct Ductility
BikeYoke has been making 'gravel' length dropper posts for a while now in the form of their Divine SL model. The Divine SL comes in a 30.9 or 31.6 size and like this new Revive, it's a trimmable post for those that don't need the full 400mm length.
While nearly every mountain bike is now using a dropper-friendlier 30.9, 31.6, or 34.9 internal seat tube diameter, the 27.2 size persists in the road and gravel world for a good reason. Comfort. Some companies have spent endless treasure trying to engineer more compliant and yet stiff-enough road frames when all they really needed to do was stick in a 27.2 Thomson Masterpiece post and ride.
I'm not saying that the 27.2 Revive has the pliancy of a Masterpiece but the very first thing I noticed after I shimmed the 80mm dropper into the 31.6 seat tube on my commuter rig is now much more back-friendly flex there is compared to my previous setup and actually any dropper post I've ridden. With my saddle up, looking down, if I bounce on the back of my saddle I can visibly see the rearward movement.
I know a couple of folks who don't run droppers on their groad bikes specifically down to the loss of compliance so I'm positive I'm not the only person who will see this as an excellent feature. I haven't ridden all the gravel-post options on the market - I'm comparing the 27.2 Revive to my mountain bike dropper experiences - so I can't say from experience that it's unique to BikeYoke. It'll be interesting to read about other riders' experiences in the future.
Why 80mm?
The folks at BikeYoke had given up on making a 27.2 dropper post as there's just not a lot of space for the guts and it's all but dead as a mountain bike size. But the gravel market is hot right now and as riders are tackling some fairly technical terrain on skinny tires, or even looking for a more effective and aerodynamic position descending on the road, demand for lightweight dropper posts is ever-increasing.
The post is trimmable in response to the general weight weenie wonderment of the road world. I'm running it uncut at 400mm but hacking it down to the minimum length of 300mm drops another 45 grams if that's your jam. Uncut the post weighs 385 grams.
I quite enjoy having a dropper post on my commuter as much for hopping curbs, riding stairs, and stopping and starting at traffic lights as for any increase in off-road ability. Coming from the 125mm Crankbrothers post I've been using, 80mm is plenty of travel for anything and everything I'm going to ride on this bike.
Installation
First off, I laughed lukewarm coffee out my nose reading the Revive 27.2 owners manual for the first time. Right there on page five, is the biggest boldest ACHTUNG BABY of a please don't drink the battery acid warning, and I quote:
" ATTENTION: DO NOT DRILL OR MODIFY YOUR FRAME IN ANY WAY. Doing so will void the warranty of REVIVE 27.2 and in most cases void the warranty of your bicycle.
DANGER: Any modification to your frame may cause the frame to fail, which could lead to injury or death."
Always drill at your own risk, or hire a professional frame builder or repair outfit, when it comes to modifying bicycles but if your frame takes a regular 27.2mm seat post and doesn't have an exit for Stealth routing please don't let the lawyers get you down.
If it's carbon, there are outfits like Robert's Composites popping up all over the world. If it's metal, your local custom frame builder most likely has you covered.
It's absolutely a more complicated process to mate a cable to the Revive 27.2, and this comes down to its choppable nature. The post includes a long plastic wrench that's required to install or remove the actuator. In practice, I found it quite intuitive after reading the instructions but it's certainly more involved than the average dropper installation.
Remote
Sacki at BikeYoke says this was the most challenging dropper post they've had to engineer, which comes down to space. It's why they didn't previously make a 27.2mm dropper post for mountain biking. But the post wasn't the only challenge, in terms of designing something from a gravel perspective.
I don't run drop bars, so I'm using the long-lever, split-clamp, version of BikeYoke's excellent Triggy Alpha remote. BikeYoke is working on a drop-bar-friendly remote but they haven't been happy with any of their prototypes so there's no ETA at this time.
There are plenty of drop-bar remotes on the market already. BikeYoke points to Fox, X-Fusion, Pro, and Wolf Tooth. I know a couple of people who love the Paul Components version as well.
Revive
The 27.2 Revive is buttery smooth up and down as anyone who's ridden a BikeYoke post would expect. I haven't needed to use the Revive function yet, but this too works identically to the bigger and longer travel versions. The post includes a Revive lever that you can insert, or leave it off and use a 4mm hex key for a cleaner look. I Revive my posts so seldomly that it's not a chore to pull out a hex key when needed.
As with other Revive posts, this is fully rebuildable without any special tools, and all the individual components are available and replaceable.
In terms of availability, the Revive 27.2 is coming online ASAP with inventory available from BikeYoke now and distributors receiving the product this week, so whether direct to your door or through your favourite local shop, it shouldn't take long to get sorted. They're selling, without a remote, for 370 USD.
As always, for more information, including some excellent rebuild videos, you can hit up BikeYoke's website. Full re-buildability being a key feature of all BikeYoke droppers, I'm going to wait and teardown this specific post further along in the review process.