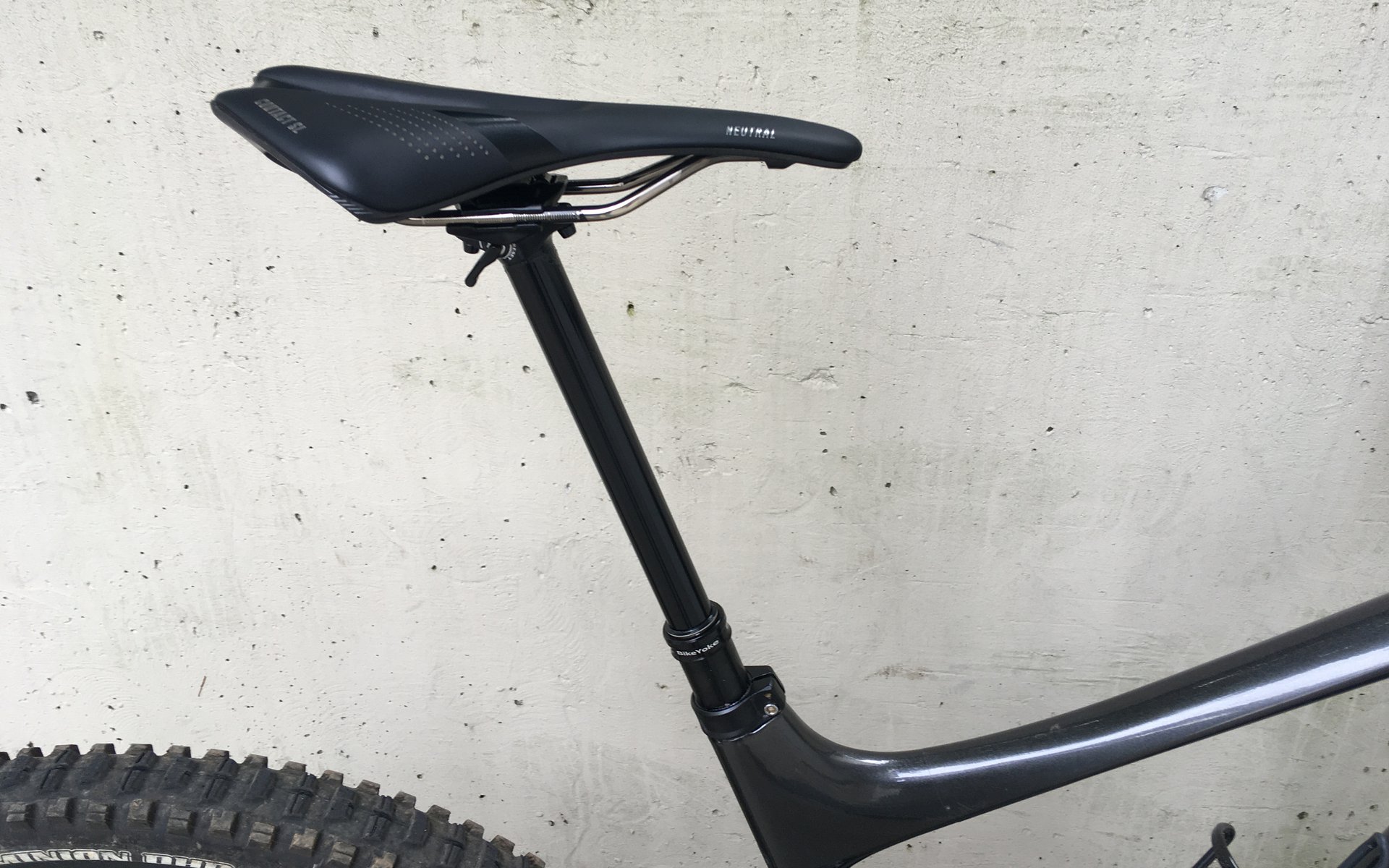 REVIEW
BikeYoke Revive 2.0 213mm Dropper Post Long-Term Review
In the 5 years that it has been on the market, BikeYoke's Revive dropper post has built a solid reputation and has become almost synonymous with reliability. NSMB covered the original Revive in a teardown article and a long-term review and we were quite enamoured of it. In fact, I kept riding the post used from that review for another 10 months without any issues before it was replaced with another review post.
The original Revive was available in 125, 160, and 185 mm travel. In the meantime mountain bike frames evolved to accommodate ever longer dropper posts, and BikeYoke went back to the drawing board to redesign the Revive for the increased lever and load requirements of a 200+ mm dropper. The result was the Revive 2.0, announced last year, now also available in 213 mm and with the following improvements:
3D forged, one-piece upper tube design for increased stiffness
Hard anodized pin seats for improved corrosion resistance
CNC-finished actuator lever for smoother actuation
New, longer saddle bolts and upper saddle clamp for easier saddle installation
In this long-term review I'll share my experiences riding the Revive 2.0 for the last 11 months. Our 213 mm review unit came in 30.9 mm diameter. It's also available in 31.6 mm but not (yet) in 34.9 (more about that later).
In The Workshop
When I was offered the 213 mm Revive 2.0 for testing, I first asked BikeYoke for the exact dimensions and measured my size large Giant Reign 29 frame to make sure the post would fit. After double and triple checking, I was confident I would have about a centimetre to spare. Not much, but it seemed like enough. Once the post arrived I went to work and to my relief, it did fit. The actuator at the bottom can be rotated 360 degrees into the most sensible position for the shape of the seat tube and the desired cable routing. Installation was otherwise uneventful and the Revive, which is shipped retracted inside a small cardboard tube, just required its characteristic 'reset' using the small lever under the saddle to get ready for the first ride.
On The Trail
Having used the original Revive for so long, the 2.0 immediately felt familiar. Its ultra-smooth movement remains unrivalled and continues to inspire confidence. On the first ride, I thought I felt a tiny bit of flex during seated climbing, maybe due to the increase in travel. However that feeling quickly disappeared so either it was imagined or I just got used to it.
The Revive 2.0 has quietly done its job ever since without a single issue. This didn't exactly come as a surprise after similar experiences with the original Revive as well as with BikeYoke's Divine model. The closest it came to a problem was when the post locked up after I had left my bike in full sun for a while with the post fully extended. The oil must have warmed up and expanded. Moving the bike inside and letting the post cool down solved the problem. Pro-tip; always put the bike away with the post about halfway extended so the oil has room to expand.
Coming from a 160 mm post, 213 mm was a revelation. I had not expected much because I'd never felt the need for more but I was pleasantly surprised how the extra room to move my body around provided added confidence and made the bike more alive. There is no going back to shorter droppers now.
What about 34.9?
Loyal readers of NSMB may remember Sacki of BikeYoke explaining on these pages why all dropper posts should be 34.9. BikeYoke has offered a Revive Max in 34.9 for years, with the entire design scaled up to make optimal use of the larger diameter.
So why is the Revive 2.0 213 mm not available in 34.9?
In fact, Sacki told us, designs for a 200+ mm 34.9 Revive have been ready and tested for while now. Unfortunately, not enough 34.9 frames are on the market (yet) to justify investing in tooling and setting up a production line. It is expected that this is just a matter of time while more bike manufacturers are moving to 34.9.
(Update: the latest word is that we can expect an announcement from BikeYoke very soon!)
In the meantime he did send us a prototype of a 225 mm Revive Ultramax in 34.9 diameter that Cam tested in the Trek Slash he reviewed earlier this year.
The Revive Max 34.9 remains available in 125, 160, and 185 mm travel options.
Final Words
The Revive 2.0 lived up to high expectations and proved as reliable as the original during what ended up being almost a full year of testing. It was a hectic year for me with lots of non-biking distractions but during such times, when a riding opportunity comes up, one really appreciates gear that can be relied on.
In my review of the original Revive I discussed its value proposition and I think it still stands in today's market. The Revive may not be cheap but its top notch reliability, user-friendliness, and serviceability are worth something in my book. If those qualities are important to you and the Revive 2.0 is within your budget, you can't really go wrong.
The Revive 2.0 213 mm is available directly from BikeYoke or through its distributors and dealers from about CA$ 500 / US$ 400.
125, 160, and 185 mm models are also available in the 2.0 version as well as in the Revive Max 34.9 version.