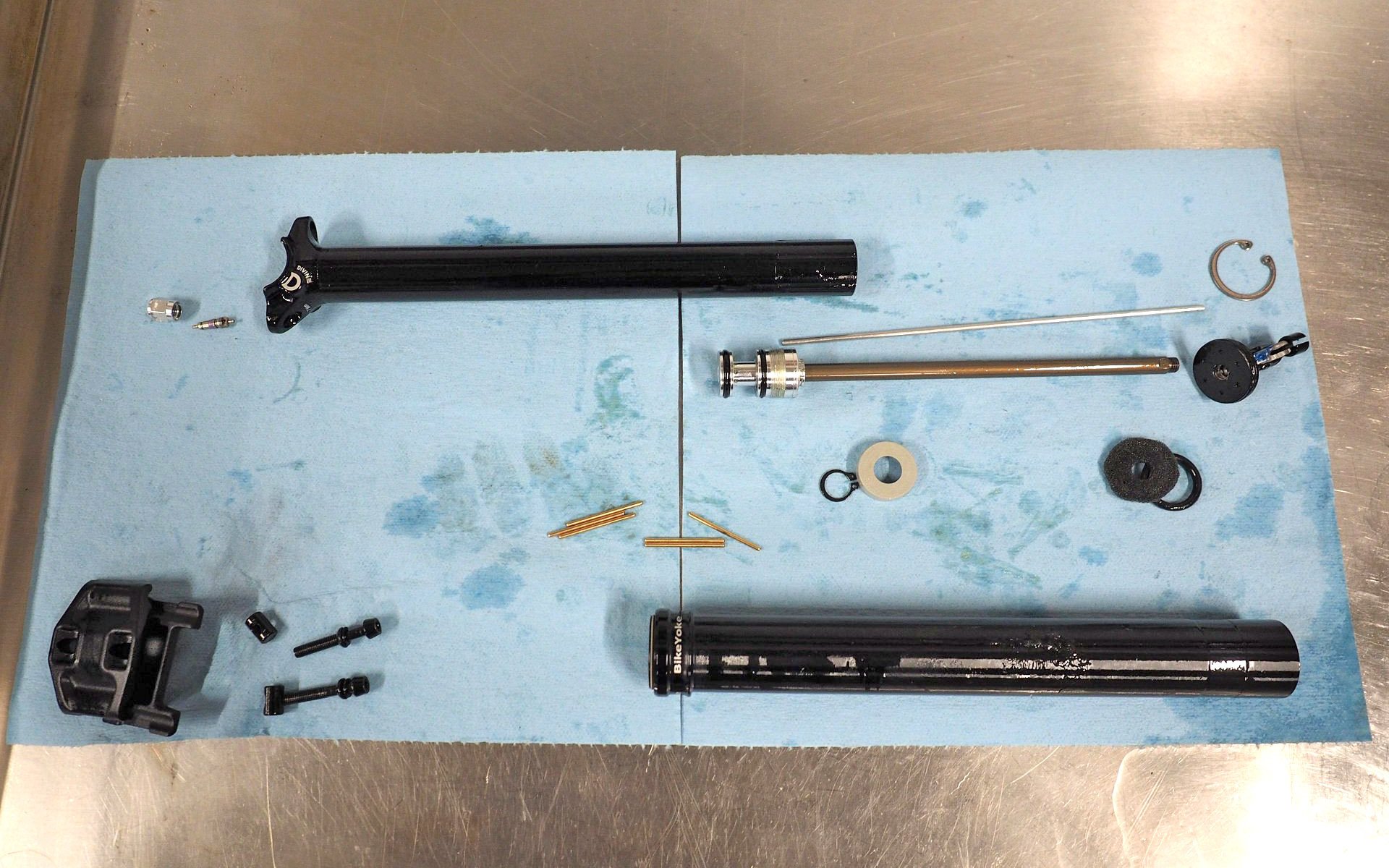 Teardown & Pre-install Impressions
BikeYoke Divine Dropper Post Teardown
Divine Jealousy
NSMB tests a King's Ransom of top-level bike stuff, so it may be surprising that this BikeYoke Divine dropper post marks the first time I've been jealous of another tester. What I'm saying is, as with the Revive, I'm writing about tearing it down, but Niels will be doing the actual testing and review.
I've reviewed dropper posts just as smooth as the Revive, like the PNW Bachelor and Crank Brothers Highline 7, and I've also ridden the Fox Transfer | Race Face Turbine R and the original BikeYoke Revive. But, what's really interesting about BikeYoke's Divine isn't what's there, it's what isn't.
Or, as Jeff put it while laughing: "are you sure they didn't send you one missing a bunch of parts?"
Never mind writing up this piece, it took more time to get the photos off my camera and resize them than Jeff and I spent on the actual teardown and rebuild. It may be faster to do a full service on a post with a Wintek cartridge, but that includes recycling and replacing the cartridge. A splash of oil, a few o-rings; the combination of limited waste and quick, easy, service is impressive. Increased serviceability is a path to a greener bike industry and there are remarkably few wear items in the Divine post.
Once we had a hearty laugh over how damn simple the Divine post really is, Bikeroom-Jeff jokingly, but not entirely jokingly, suggested that Sacki at BikeYoke should stop designing bike parts and instead find simple solutions for global warming. As someone who regularly recommends the Revive to his customers, and is also a BikeYoke service center through his other venture, Wheelthing, Jeff may not be completely unbiased.
But it's clear he's noticed something that sets this product apart. Therein lies the root of my jealousy. I am very curious about how this engineering marvel will conduct itself on the Shore. No pressure, Niels!
Let's have a look inside.
Teardown Time
The Divine is a twin tube post just like BikeYoke's Revive model and in terms of basic design, they function in the same way. Push the button on the dropper remote and it smoothly actuates the lever arm at the bottom of the post. That lever pushes a long rod that opens a port. Sit on the saddle, oil flows through into the outer tube. Let off remote at desired post height. Unweight the saddle and hit the remote again and air pressure returns the saddle to full height as oil is cycled back into the inner tube.
There is no internal floating piston (IFP) to separate the air and oil so it is possible, occasionally, for air to get trapped in the inner tube. With the Revive this necessitated a couple-of-second procedure to bleed the post by tripping the 'Revive' valve. That's a couple of seconds versus having to rebuild a post with air trapped on the wrong side on an IFP.
The Divine is another level more brilliant in that it self-bleeds every time the post is fully lowered. That means that for most of the folks I regularly ride with, the post would be bled almost as often as gears are shifted. For any half-masters out there, if a Divine post develops a bit of play, a quick trip to full bottom should sort it right out.
The Divine is also travel-adjustable via clip-on spacers although a teardown is required. Let's call it a 5-10 minute job depending on aptitude and experience. A lot of posts offer this feature now to the point that I wonder if I'm missing something. Are there that many riders that need to lower a 160mm post to 155mm in order get them to fit their frame or body dimensions?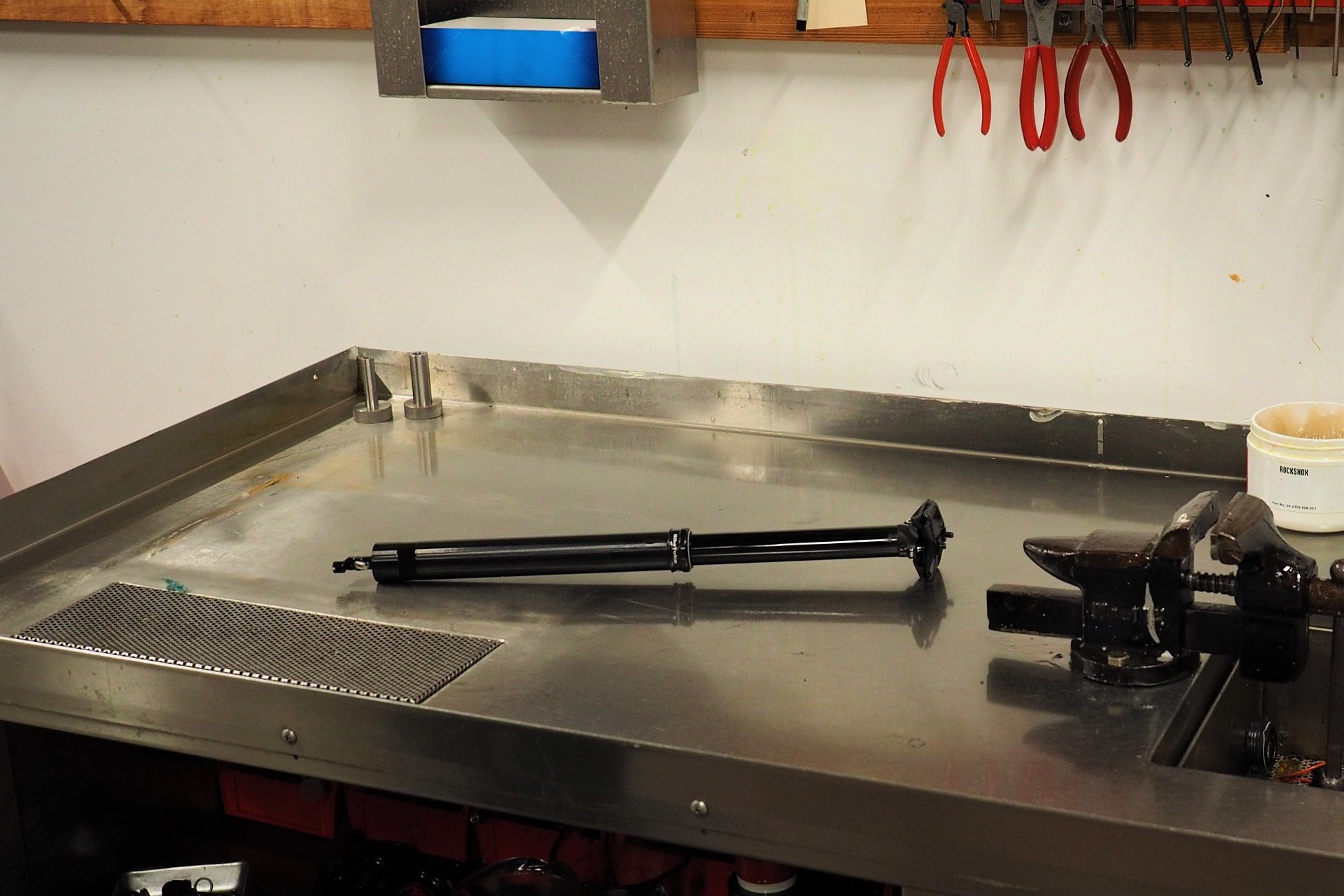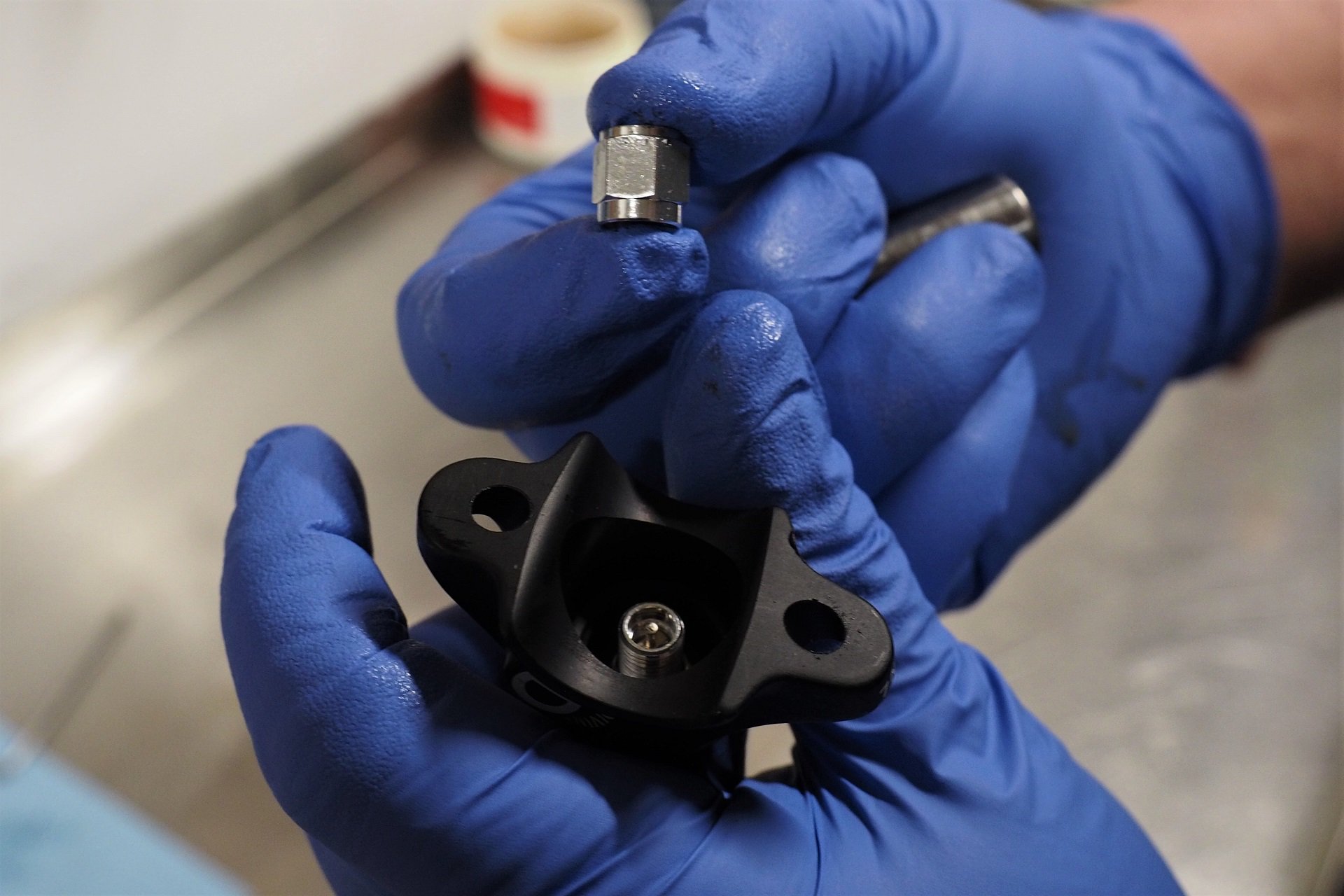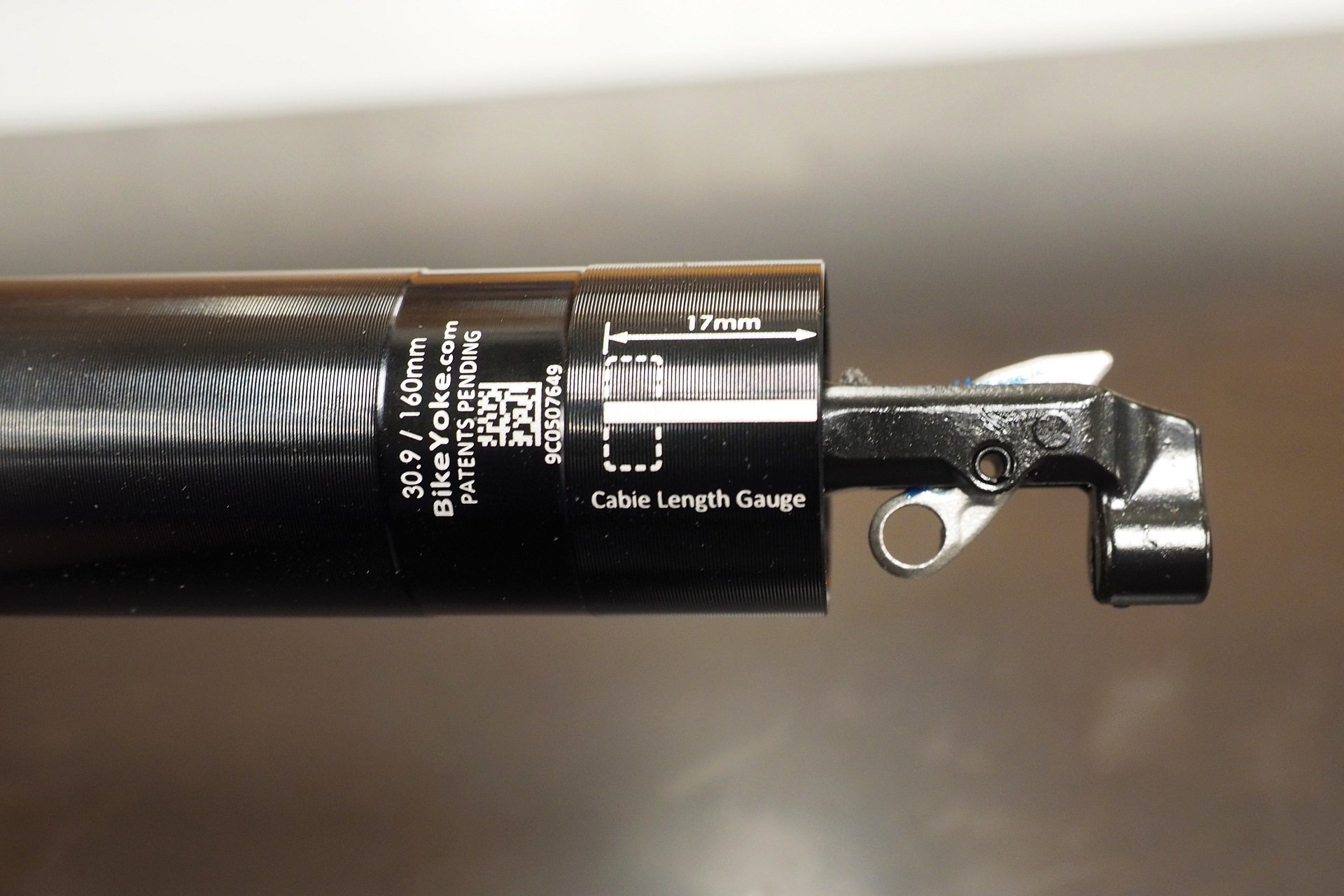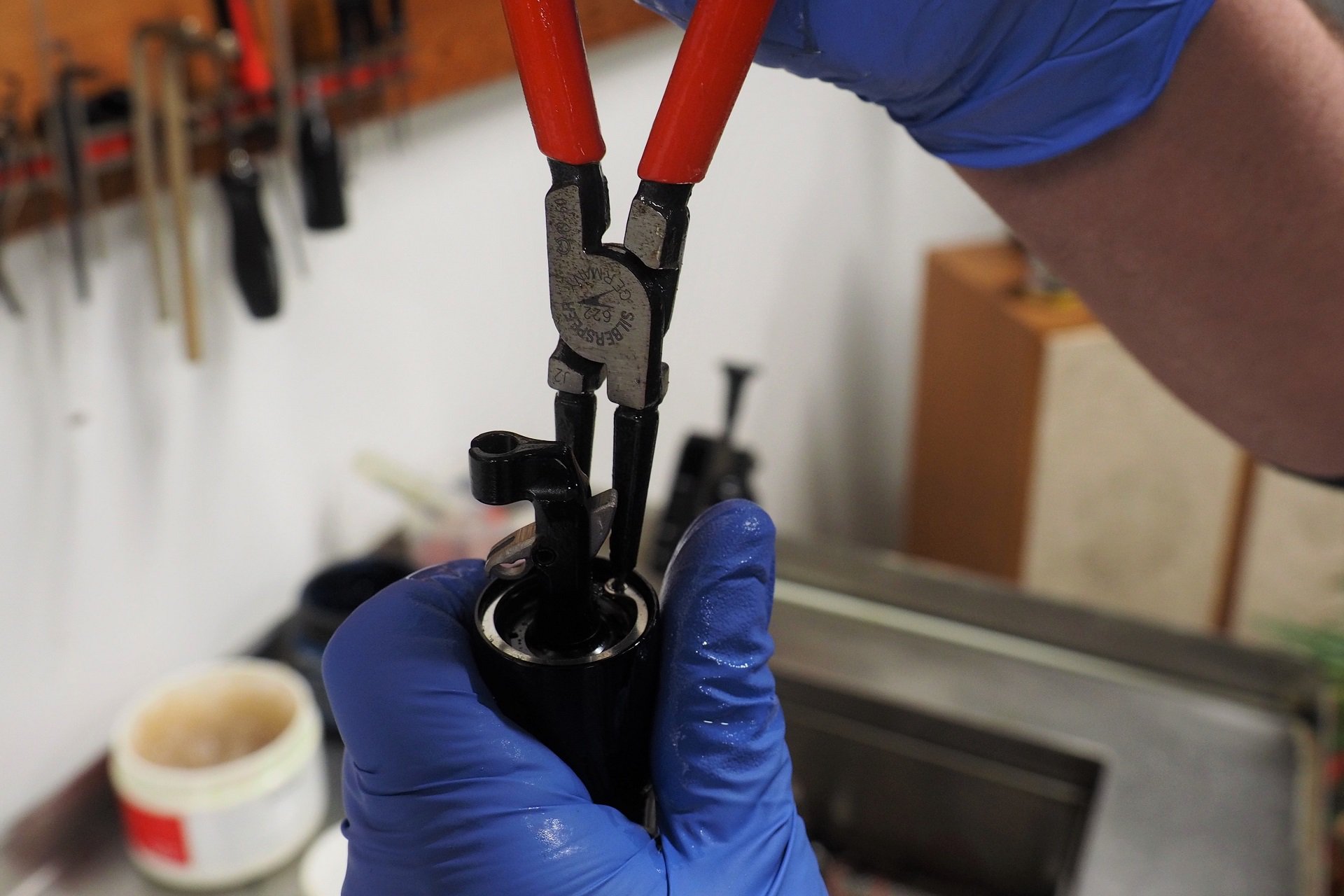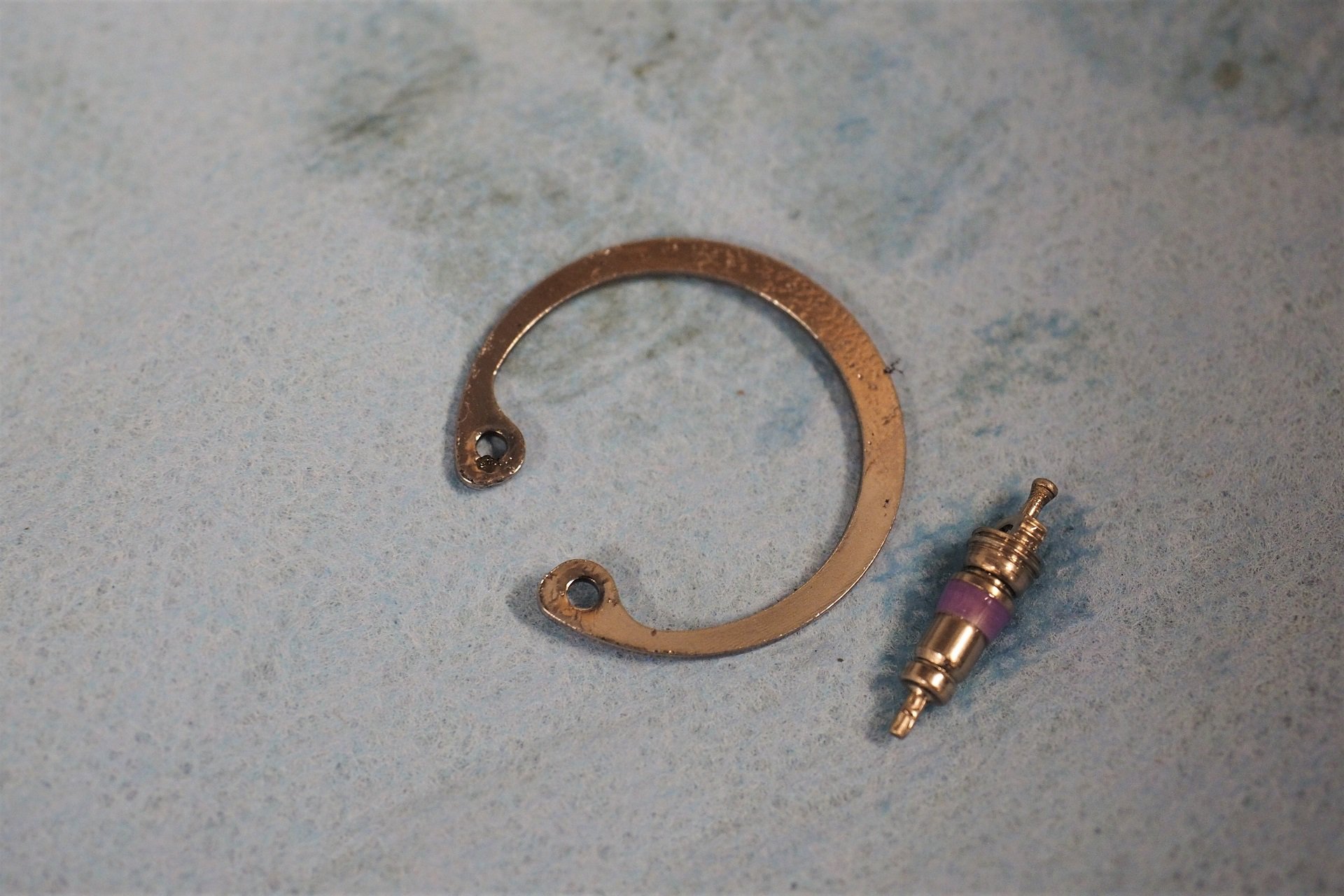 BikeYoke claims their Revive system is marginally smoother, but the Divine feels smooth-as out of the box and it's a decent few Euros less expensive. If the reliability ends up being similar I think Divine sales will eat its lunch.
Speaking of smooth, have you ever tried a Tequila Negroni? It's a great placebo cure for the man flu and also fantastic filler content when you have lots of photos for a teardown but most of what you have to say goes in the photo captions. It's a super simple 2:1:1 concoction that can be made fairly cheap or heck, go all out with local liqueurs.
Two measures of tequila,
One measure Campari (or lately, Amaro),
One measure vermouth,
...and it's business time. Sit down, hit some keys, write an article.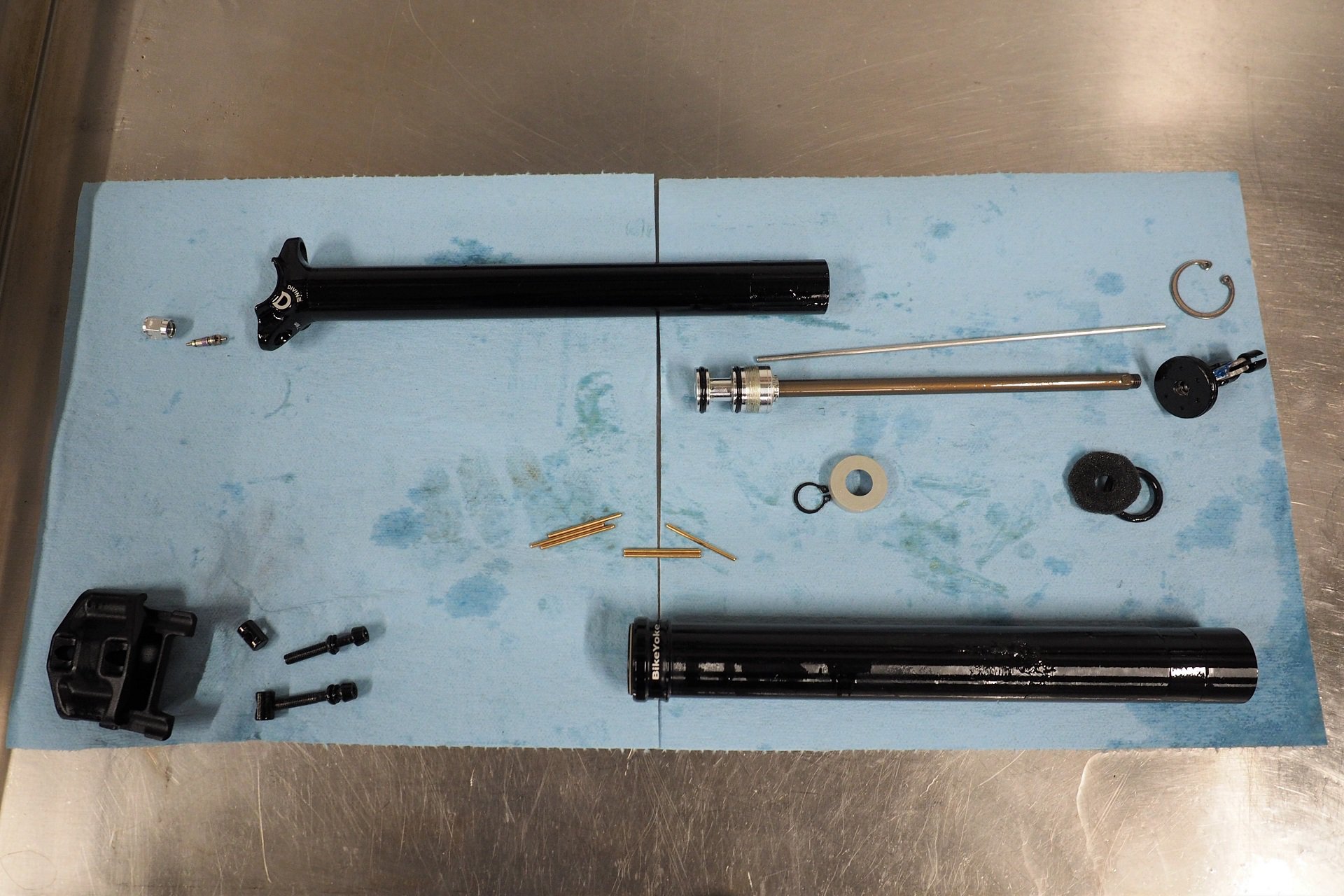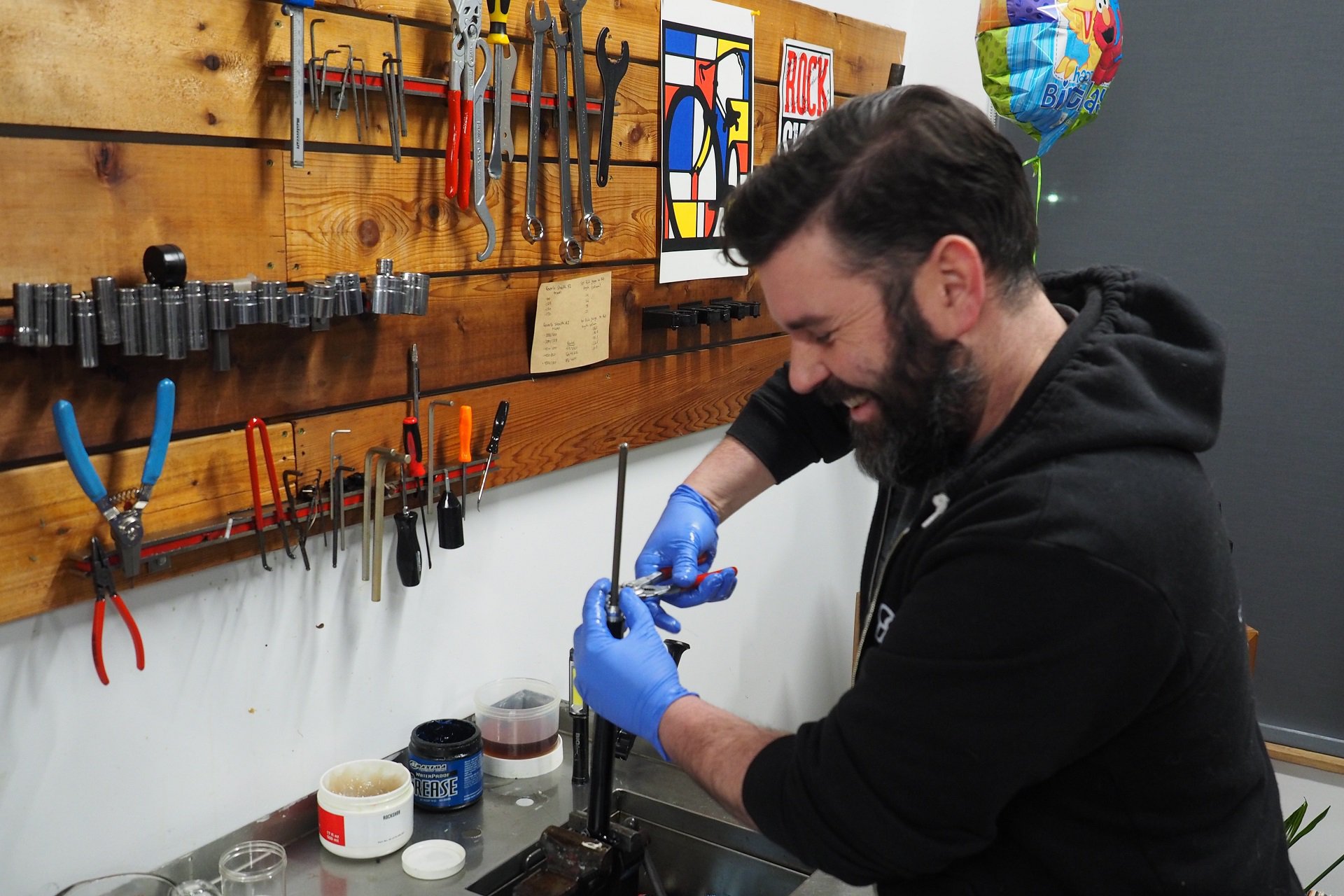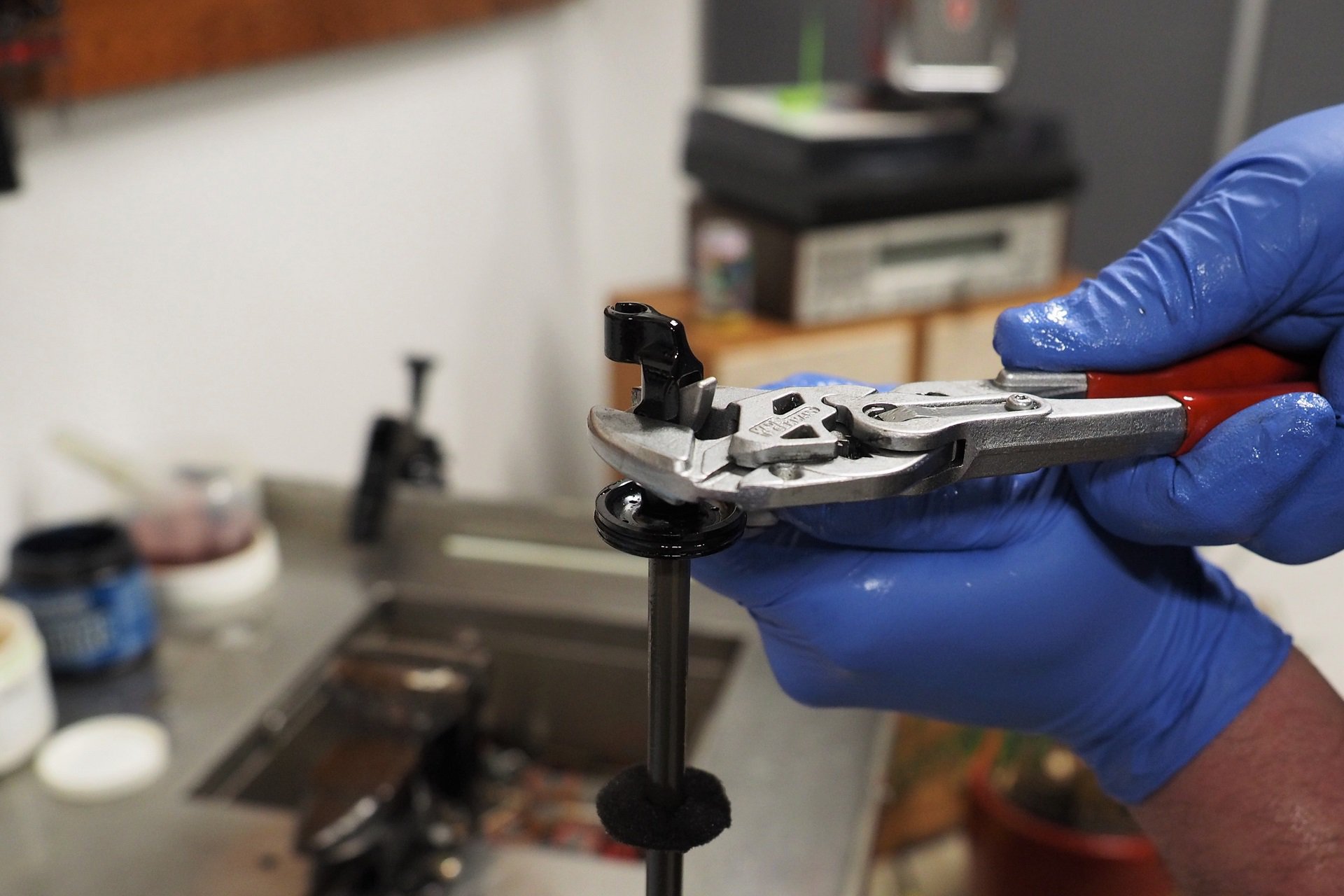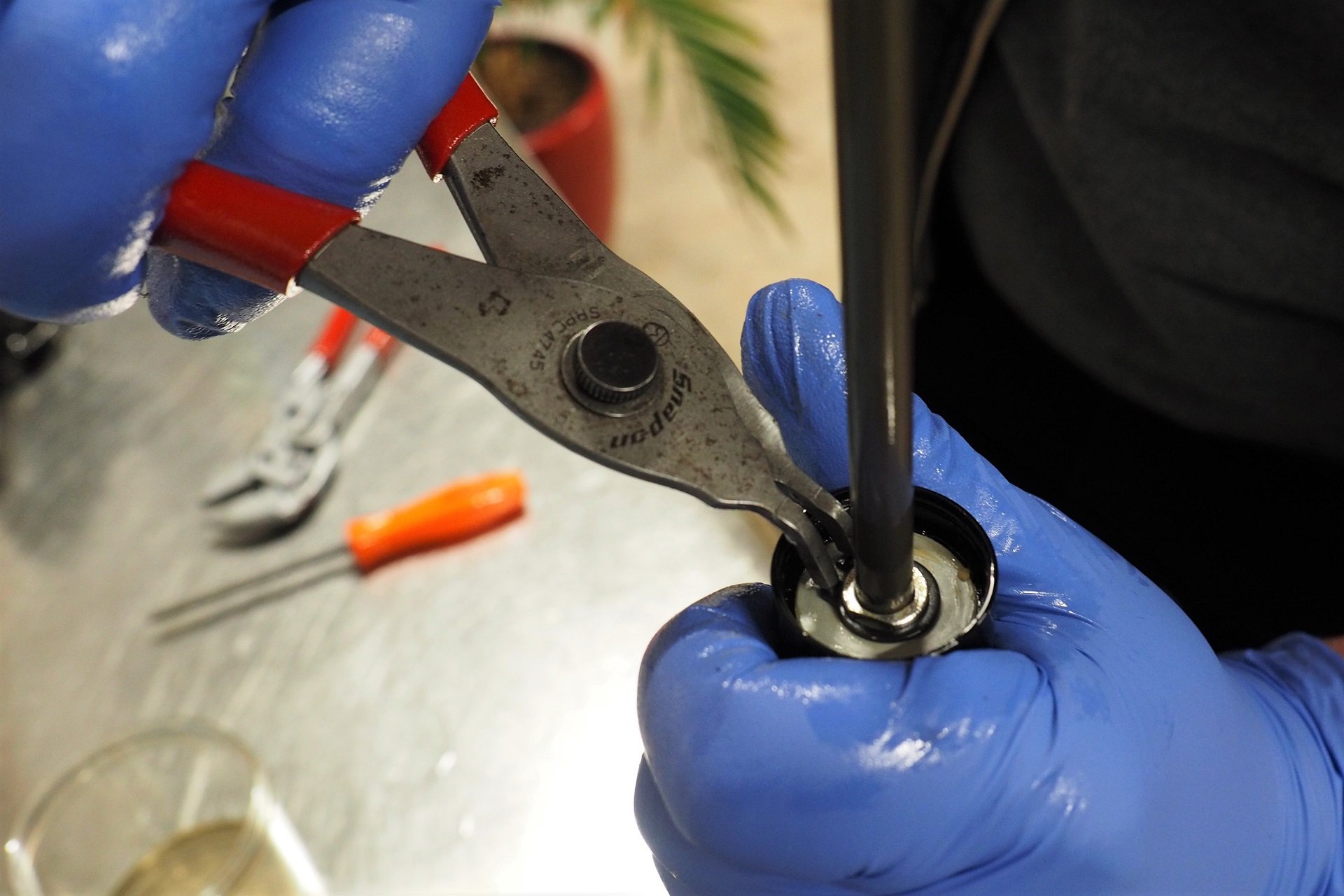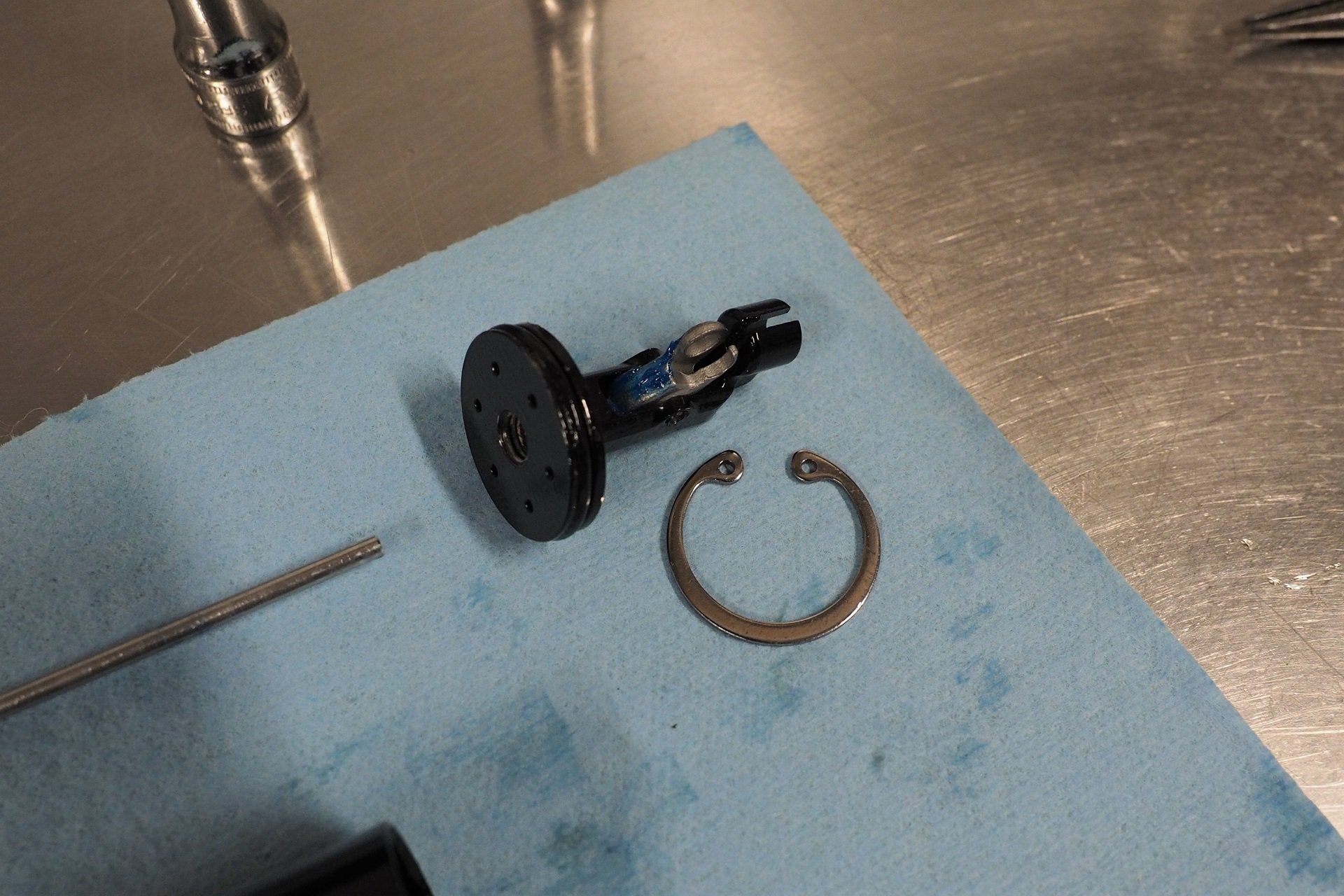 When I'm talking about the parts that make up BikeYoke's dropper posts, the obvious quality is my second favourite talking point. I really like the upfront, transparent availability of replacement parts. I can order any component for these posts easily either straight from BikeYoke or from one of their retail partners.
Whether that's wear items like keyway pins and seals or chassis parts, you'll always be able to get what you need and know what it costs. The Divine also shares a plethora of components with the Revive post, so there's no question of availability for new vs. old products.
BikeYoke is now selling its posts with or without remotes. They're available in 30.9 and 31.6 sizes in 125mm, 160mm, and 185mm travel options. Prices are based on travel and range from 270 USD to 315 USD without a remote.
As with every BikeYoke product, there is a flood of information available about the Divine on their website including some well-crafted videos. I, for one, am really interested in reading Niels' full reporting.