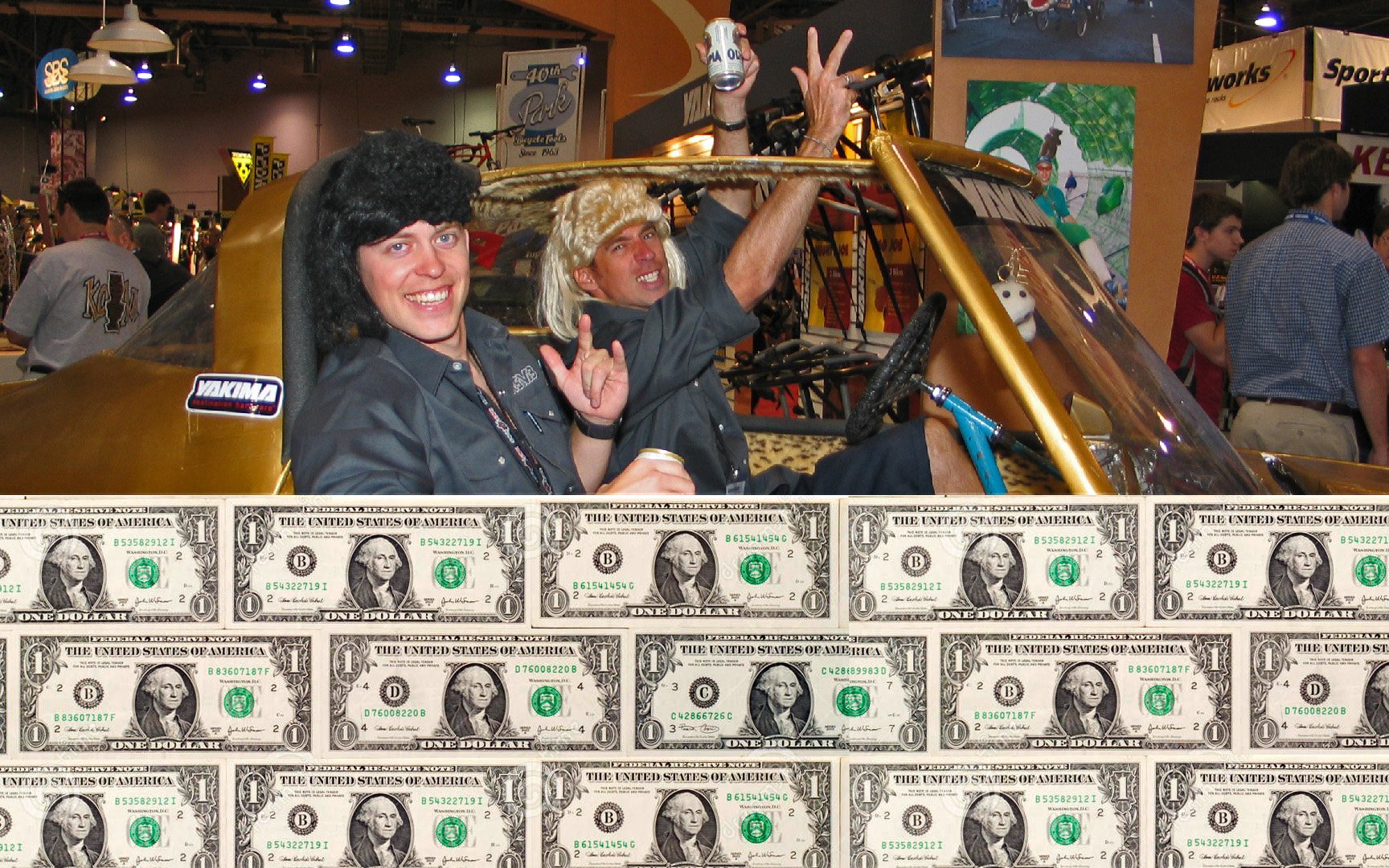 News Release
(April Fool's!)Big Changes at NSMB.com
After wrestling with this issue since front derailleurs were a thing, we've had to face some hard truths. Despite all-time traffic and incredible engagement numbers, we've been forced to make a big decision.
Running a second-rate mountain bike blerg that posts once a day is very expensive, and inflation and rising fuel costs mean that shuttle runs and parking lot beer parties have become more of a budget bummer than this website can bear. As a result, we need to put integrity and originality on the back burner - probably forever - and instead, prioritize pulling down fat stacks of cash money. Several wheelbarrows full. Which means we're putting up a paywall. 
In case that wasn't clear, that means you are going to have to give us some of your money. Other than that, nothing will change.
We're actually not thinking of this as a paywall though, and neither should you. Think of it as an opportunity for you to be more involved in our content - by paying for it. For that privilege we now think of you as team members. We're on the same team, only you're paying to be team members, and we'll be paid team members. 
To make it even more confusing, we're going to split this up into three tiers. Or maybe castes.
Non-paying team members will be referred to as Dead Sailors - you aren't dead to us, we're just treating you like you are. The Dead Sailor package will grant you access to the comments below articles - just not the articles themselves. If you're a social media troll that only reads headlines and then goes straight to the comments, this is the tier for you! Cost = free!
The free version of nsmb.com will be like nose-casing the landing; you aren't going to be very happy but at least your friends will laugh at you.*
*You will not however end up in hospital; it's not a perfect analogy.
After Dead Sailors, the next most despised tier will be called The Joeys. Joeys will be able to see the articles, but not the comments. We're granting you the right to read, but no one cares what you think, so no comment privileges for you. Being a Joey is kind of like a 50/50 landing, you'll survive and maybe even finish your ride, but it won't be very satisfying. Cost = more than you'd like to spend
Our premium "Brown Pow Package" is all about privilege and style - you'll nose manual down every transition and it will be high fives and good times every day. You will get a brown check mark beside your name in the comments and anytime you downvote a Dead Sailor, their comment will disappear forever. 
The Brown Pow version gets you the articles, comments and a free sticker* every quarter.  Cost = double what you don't want to spend
*Postage not included
This is a strategy we've avoided for a long time. Almost as long as we avoided gravel bikes. We'd prefer to be accessible to all, but business is business. The hundreds of dollars generated by this new strategy will enable us to do things like put gas in our trucks and even buy some chips to go along with post-ride beers. And to expand our content to Saturdays and holidays. Sundays of course, will continue to be reserved for dirt church. 
There will however be discounts available for access to certain writer's articles. For example, a verified photo of you riding a hardtail will give you 10% off every Andrew Major article. If it's steel, that discount increases to 11%. Fully rigid gets you to twenty, and if it's a steel, fully-rigid singlespeed with 29+ wheels, you'll save 50% and he'll call you on your birthday.
Mountain biking in genuine and verified plaid flannel will get you all of Mike Ferrentino's Beggars Would Ride articles for free, but if it turns out you were trying to pass off some check-patterned lycra, a surcharge will be applied to your account. And he will promise not to call you on your birthday. Every year. 
We realize this will be unpleasant news for 17 or 18 of our tens of users, and we really are very sorry. Very very. We are however excited to have you give us your money. And join the team.