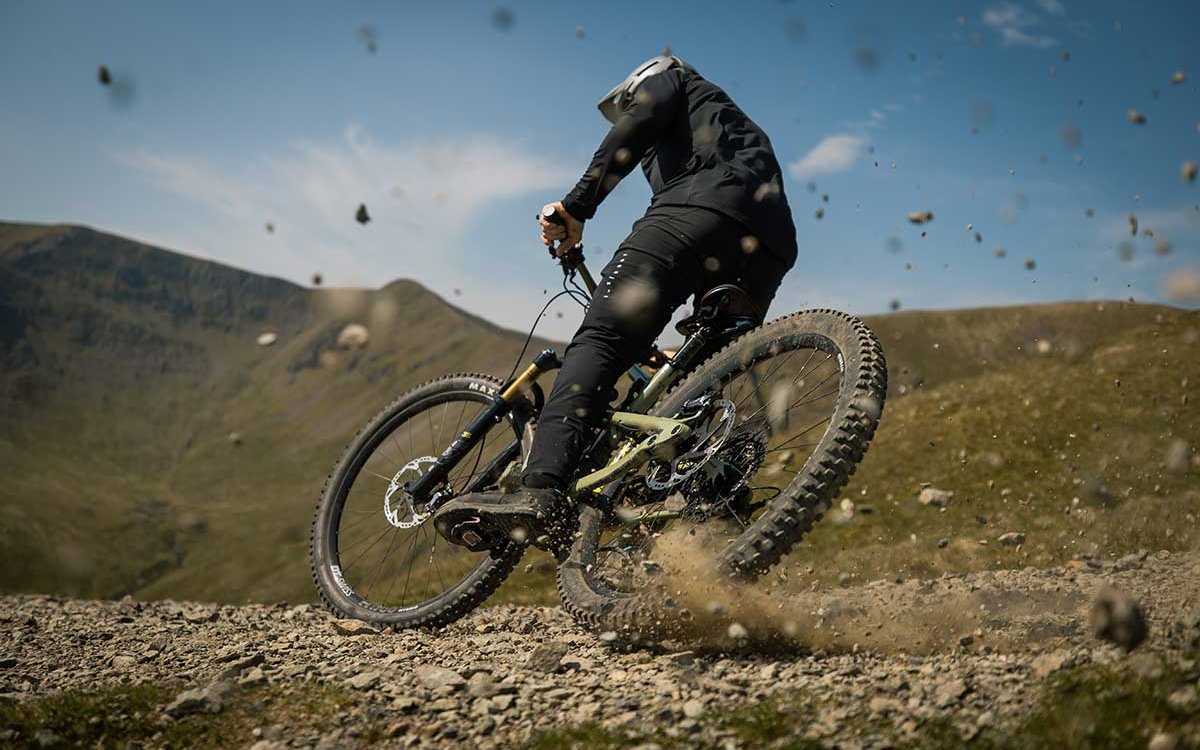 Beggars Would Ride
Better Than Christmas
The smell has a unique footprint. Slightly acrid with a note of outgassing butyl, it should be a pungent and negative thing. Sitting somewhere on the olfactory spectrum of between motor oil and burning plastic, It's not the kind of scent that any human nostril recognizes as natural or positive. This is not something we are genetically programmed to feel an affinity for, not like the smell of rain, or pine forest, or the sea with its galaxy of musky personalities. It's not a smell we should like.
But the signature scent of fresh rubber is something that any of us who have been riding long enough can easily recognize. And, for me at least, there's some rewiring of my nostrils that happened over the past few decades. Instead of reflexively backing away, trying not to inhale the chemical telltale, I breathe it in. This smell can mean only one thing.
New Tire Day.
Look, I know how absolutely inappropriate this clip is, and apologize in advance for any trauma posting this may cause, but whenever I catch a whiff of new tires, I am reminded of Robert Duvall's love affair with napalm. This is really not a good smell, but here I am, sucking it in and ignoring all the animal alarm bells my Lorax brain is setting off...
Rolled up, held together with a tiny rubber band, that new tire represents one thing. Potential.
A rolled up new tire isn't a whole lot bigger than an apple fritter, or a couple donuts stacked on top of each other. Two tires, a facsimile pair of dense rubber donuts, is a promise of performance waiting to be unleashed. Dollar for dollar, there is nothing you can do to your bike that is as profoundly impactful as a new pair of tires. Nothing. I dare you to find some product, any product at all, that has such a big impact on how your bike performs, that can so dramatically change the character of your bike, change the way you ride. Dump all the money you want into multi-thousand dollar shocks. Argue pedantically about the merits of a 210mm dropper post when compared to a paltry 175mm post. Go ahead, buy those sexy titanium cranks. Nerd out to your heart's content on stems and bars. Those are all very attractive money pits, but the gains from them are incremental. New tires? New tires are transformational.
This transformational awesomeness applies well beyond the narrow confines of mountain biking. A few summers ago, I managed to punch holes in two tires at the same time on my van while driving down a dirt road in Nevada that had apparently been built entirely from old axe heads. The Continental tires I had at the time were maybe 25,000 miles old, had been rotated regularly, still had about half their tread. I limped into Fallon on the spare and a questionably plugged damaged tire, found a tire place, was offered a killer deal on a set of four sorta similar looking Pirellis, and decided to live large for a day. A couple hours later, I was driving west and could have sworn that I had just purchased a brand new van. So quiet. So smooth. So… luxurious!
We get used to the degradation of our tires. Aside from those knob shredding or sidewall slicing moments of tire death, the performance drop-off happens slowly. We don't always realize it is occurring, and recalibrate unconsciously to how our tires are behaving. And at some point we find ourselves riding around on ground down treads that have hardened to about the consistency of Tupperware, wondering where all the traction went. Or, in some cases, we start out on tires that just do not cut it for the terrain we are riding.
Case in point; that Rocky Mountain Element I'm testing. It's got some decent "ride most places sorta well enough" rubber in the form of 2.4" Maxxis Rekons front and rear. After two weeks spent slithering the Element around greasy blue-groove hardpack topped with a light skin of kitty litter, standard fare for this sunblasted part of California, I lit out for some mountain and desert exploration in Oregon. There, I found myself continuing to overcook it into turns and push the front wide at every apex. Loamtastic black alpine soil that had just been released from the snow, drifty loose pumice that was already dusty ahead of summer; it didn't matter. Commit to an entry, weight the front, push the tires to dig, blow the apex. Again and again and again. It felt like I had forgotten how to ride.
It could be argued with credibility that I never really knew how to ride in the first place, but that's beside the point.
The entire time I'd been sniffing out new trails in Oregon, there had been a brace of tires in the back of the van waiting to be installed, along with a couple bottles of Orange Seal. But I kept on strugglefighting the stock rubber, feeling like I needed to perform my due diligence as a bike tester but also not wanting to sacrifice the easy pedaling, easy climbing virtues of those Rekons. Finally, after another full week of bungled apexes and drifting off the edge of the trail, I decided enough was enough. With a day of soft pumice and pine needles on the menu, I danced around in a gravel parking lot trying to stay moving fast enough to dodge the fresh hatched mosquitos, praying that I could get some fresh tires to bead up with a floor pump. With a little fluffing and massage, the new meats eventually made their happy pop-pop sounds and we were ready to go. 2.3" Specialized Butcher T9 front, 2.3" Butcher T7 rear. 100ml of Orange Seal per tire. 24psi rear, 23 psi front.
Sticking my fingernail into that blocky front tire, watching with satisfaction as the knob compressed and flexed softly back into shape, I felt a twinge of anticipatory glee. A couple quick cutties in the gravel, and I caught myself laughing reflexively.
To steal an old Mudhoney lyric; "Brothers and sisters, do you know what I'm talking about? I'm talking about a full on, motherfucking revolution."
I mean, it may not be the kind of revolution that Mudhoney are talking about here. I can't speak to the transformational qualities of a morphine suppository. But dear lord, those tires CHANGED things. Ripping down a fresh cut of trail, mostly loose pumice studded with hard rock, plucking the bike up over the big chunks and then weighting it down into the deep pillow of each turn, pushing the inside bar and outside pedal down hard and feeling it bite and hold. Praise be! Exiting the turn on my line, instead of flailing a foot or two outside of where I needed to be. Halellujah! Blitzing over sloped tree roots and using them for traction instead of wincing as they realign my trajectory. Can I get an Amen? I hadn't forgotten how to ride after all (although it could be argued with credibility that… nevermind).
People like to complain about the price of bicycle tires, and I guess there is some merit to that complaint, given how little rubber there is compared to a "not much more expensive" car tire. Step outside of that comparative trap, though, and think for a minute about just how much of a change the right tires can make. I'll say it again; dollar for dollar, nothing else comes close.
God I love new tire day.