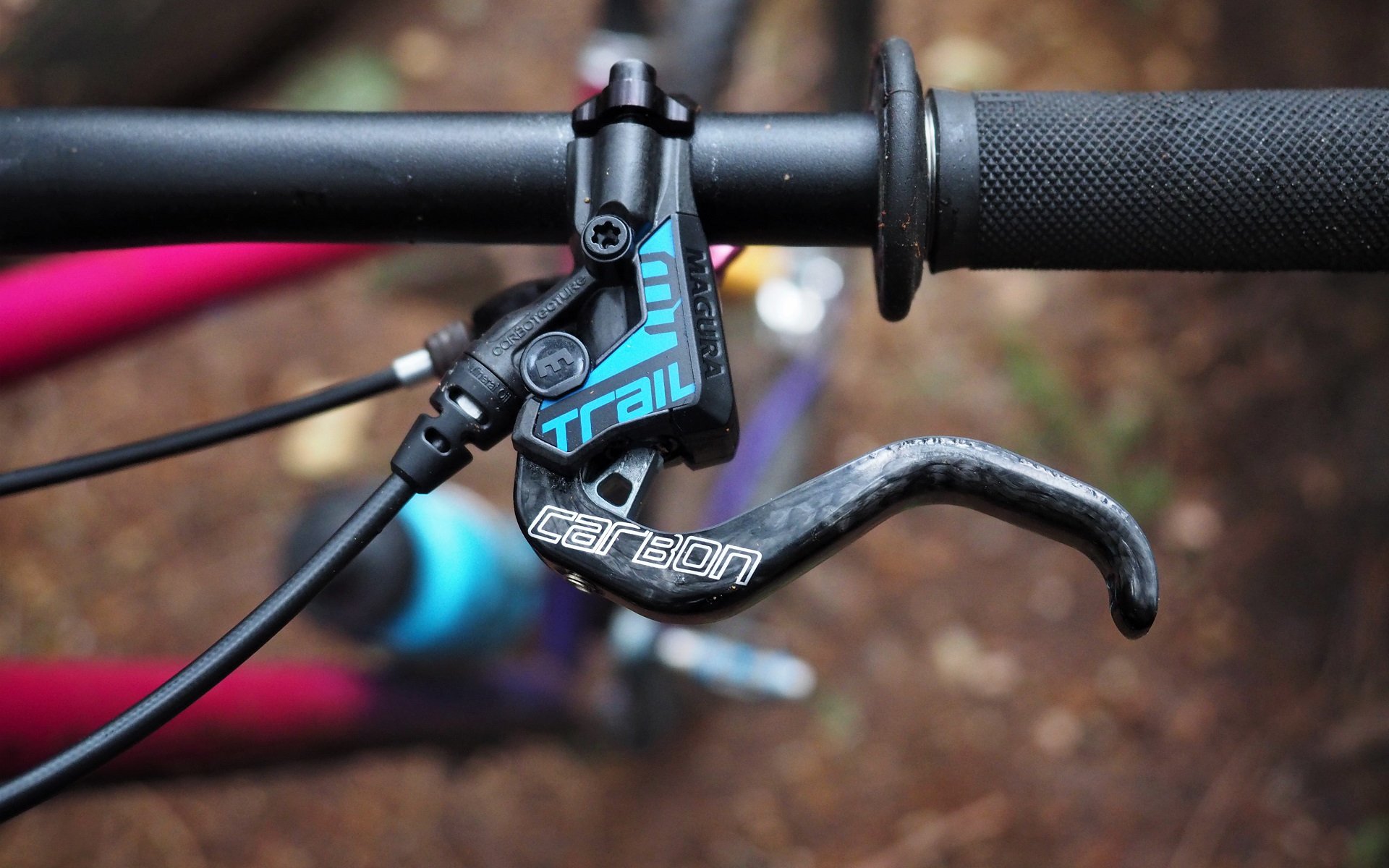 Editorial
Better Living Through Carbon Fiber
Carbon Captured

For once, I'm not here to talk about bang-for-the-buck-beauties or to rag on plastic fantastic. Sort of. Value is, after all, relative and as it turns out I've become a bit of a wuss of late. Specifically when it comes feathering cold-as-ice* aluminum brake levers down North Shore trails on wet winter** days.
The troubles I've been having with cold weather dexterity have been getting progressively worse the last couple of years to the point that what I previously saw as a luxury, carbon brake levers, have become a take-my-money-I-want-to-ride-my-bike item.
It's left me thinking about carbon fibre, and relative value, a lot lately. I've specifically left out stiffness because I'm quite convinced system-flex in bicycles is a good thing but otherwise I've sorted the benefits of carbon fibre into three categories:
Weight savings: often quite a bit

Enhanced durability: impact, fatigue, and design

Comfort: I'm not talking about that vibration damping bullsh*t
*Apologies to anyone who now has Foreigner stuck in their head.
**Yes I know - 'cold' is a relative term and I'm not even generally talking about below-freezing. It's a wet cold okay‽ Wah!
It's a funny thing talking about the value of premium products, but I'm at the point - on wet winter days - that I'd ride a Deore-spec bike with carbon brake levers over a brand new XTR super trail slayer with aluminum blades, so there's that.

Also, as someone who has always been attracted to steel bikes, even for full suspension, from my old Balfa, to the unique beauties coming out of Altruiste, to the Starling Murmur that Perry tested it's beyond bizarre, to me, that I think the hottest bike released this year is the carbon fibre creation of Owen Pemberton and the Cumberland crew at Forbidden Bikes.
Weight

More material where you need it and less where you don't. Carbon is to aluminum what fluid formed aluminum is to butted steel tubing - evolutionary. And, at the same time, for those that couldn't give two sh*ts about weight not so much.

But even for a non-gram counter, and I count myself in that camp, you have to admit that weight savings possible with carbon fibre, especially frames and cranksets, are impressive. I ran into a guy last year on a sub-30lb Specialized Enduro carbon with a coil shock and fork and real-ish tires.
I haven't had the best luck with any carbon cranks myself but swapping from Atlas arms to Next on my single speed would save me 250grams (a half pound) with no change in performance. It's actually surprisingly economical compared to other ways I've seen riders nickel-and-dime themselves to save grams and if I was racing it would be a hard upgrade to argue with.
The lightest carbon wheels and bars can also ditch a healthy number of grams compared to their aluminum counterparts.
Durability
More than one person involved in bike design has remarked to me that carbon bikes could be built up to be much more durable than aluminum at the equivalent frame weight. That is if riders were willing to pay the carbon premium for something with no appreciable performance gain that may end up being a solid investment over the long term for some riders.

There are of course exceptions to the carbon-for-weight rule. Bikes like Marin's Wolf Ridge, the un-named Forbidden, and Norco's Aurum HSP are obviously optimized around carbon construction.

It sounds a bit silly as a frame design philosophy, especially because aluminum and steel frames are awesome, so I understand why the main point of carbon frames remains weight loss; however, the philosophy is a bit different with wheels with an increasing number of companies offering impressive warranties on their carbon rims designed for trail smashing.

With carbon rims, like the made-in-Canada Agents from We Are One, carrying a 'no questions asked' lifetime warranty there's obviously manufacturer confidence and for many riders who are hard on wheels there's value proposition to consider based on how many aluminum rims (rim, spoke, nipple, labour) being laced up over the life of one Agent.
Comfort

"I broke my carbon handlebars on my winter fat bike so switched to some aluminium ones. I really noticed the difference in warmth (living in Calgary) so bought some more carbon." - Sweaman2
Full circle. Riding in summer weight gloves in the winter is a luxury that I've been enjoying immensely with a set of Magura's carbon HC lever blades - compatible with the MT 6, 7, 8, and Trail Carbon brakes. When the mercury does drop my winter gloves are genuinely comfortable where previously my the cold crept right through them.

Suddenly I'm thinking about carbon handlebars as well, although appreciating the difference they deliver may require colder temperatures than the North Shore generally delivers. Certainly, I've come to think that investing in carbon bars and brake levers should be a goal for any product managers working to spec fat bikes for snow riding.
This year I asked Santa for plastic lever blades in my favourite shapes to bring cold weather comfort to more price points.
Absent a cheaper composite HC lever option, Magura can take my money considering the on-trail difference that the HC Carbon's are making to my ride experience.
---
How does carbon fibre change your riding experience?