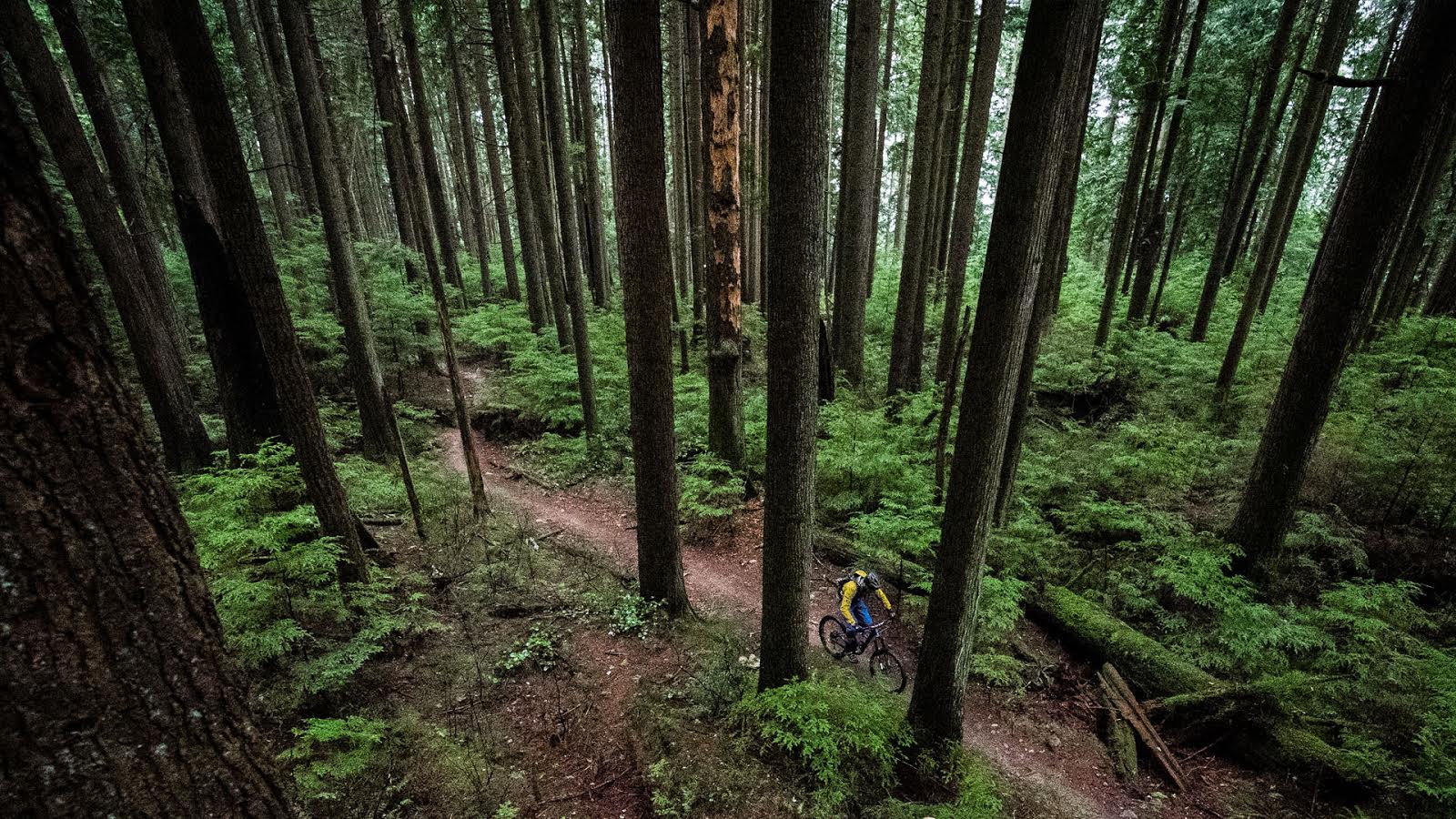 Loam Cologne
The unthinkable happened two rides in a row. I left the house on Friday with a dirty bike and a dirty ass. Tires and downtube were caked in mud and the ass of my shorts was similarly smeared. A few hours later I returned with spotless tires and the frame and my shorts, while not totally clean, were much cleaner than when I'd left.
The weather was cool and dry and I managed to wear the right number of layers so I didn't sweat much at all. At the end of the ride my loam cologne™ was so sweet I knew I'd only smell worse if I showered. So I didn't. I don't mind getting dirty but it's a relief when bike, body, car and clothing don't require a serious post-ride clean.
Your favourite riding season is likely related to your longitude and latitude. Riders in Arizona aren't enthusiastic about August rides just as riders in Manitoba won't be loving it in January. For most everyone who is far enough from the equator to get a little snow every year, winter isn't likely in top spot. Riders from Michigan would argue we don't get a real winter around here, but the combination of monsoons, dipping mercury and the occasional snowfall keeps most traffic off southern B.C. trails from November to February. But not this guy.
I love winter riding. I wouldn't say it's my favourite riding season – the fall gets top spot – but for me the best winter day often beats the best day of any other season. Part of that stellar impression comes from the rarity of those perfect winter days, but I'd argue that even in absolute terms they rule. Maybe it's frosty and dry serving up velcro grip or there's a skiff of dry snow making the singletrack silent and forgiving – both can be world beaters. Of course winter can be less pleasant, when it's a few degrees above zero and raining sideways, but at its best it's unbeatable.
I realize my winter isn't going to be like your winter most of the time, unless you live in southwestern B.C. or Northern Washington, but if you get a real winter occasional perfection will arrive. If you live in a place that sometimes gets snow you've had those cold clear days, and with luck sometimes you'll be riding above the clouds, enjoying balmy temps while those at lower elevation suffer through cold, damp fog. And you'll get shoulder season days when it's cold enough to solidify the trails but not your toes, fingertips, testicles or nipples. Those of you in San Diego, Tel Aviv or Sidney have no idea what I'm talking about – but you are missing out.
Things can get ugly if it freezes immediately after a rain. Ice patches covered by a dusting of dirt will hurl you to the ground and mud ruts form into tire-grabbing shark fins. But if it wasn't wet when the temp dropped or if a cold snap stretches beyond a few days, the ice disappears, the bumps smooth out and the grip hits all time status. Tech climbs that are usually loose become Moab slick rock and you dig into corners like they've been asphalted. And if you have any wood where you ride you'll know that it gets more friction as well. Super hero conditions.
Another bonus is that when trails are frozen hard they can take a massive amount of traffic and escape unscathed – and everyone likes a happy trail builder.
I'm not one of those people who suffers in the heat. I enjoy a good sweat but a steep fireroad climb when it's scorching hot isn't anyones idea of a party. When your head starts to throb, your water is gone and the climb's half done, things look pretty bleak. In the age of waterproof breathable jackets, plentiful merino and winter-specific gloves and shoes, getting comfortable in the cold isn't as hard as it once was. With some layer management you can usually keep yourself above or below the sweat threshold, depending on your preference. And what feels better than a lungful of cool fresh air?
Winning the conditions lottery makes any ride sweeter. That feeling when your weather app says batten down the hatches but the sun sneaks through; those days make you glad to be alive. Any good ride in the winter feels like that here in Canada. Or anywhere that has winter. That feeling of serendipity bathes every corner and jump in a golden hue. When you've stolen a day from Mother Nature the post-ride beers become nectar of the gods.
Snow riding is a crap shoot. We rarely get dry snow, but when we do it's game on. Snow riding in the right conditions can be better than the best dirt surfing; forgiving, consistent and loose. As soon as it melts, whether it freezes again or not, it's done. Unless conditions conspire to freeze a layer of snow so hard you can ride on it. Rain falls on top of a recent dump and the whole thing freezes again making trails irrelevant. When this rare condition arrives you can ride anywhere in the forest – all the while aware your front wheel might hit a soft spot and catapult you OTB.
I like the energy of other riders on the trails but feeling like your group has exclusive access is tough to beat. On Sunday's ride near Squamish we saw one other group on the fire road, but over three hours we didn't see anybody on the trails. Winter brings out the keenest riders, the diehards – and those, like me, who don't get their fill in the summer. Kindred spirits make excellent company.
After an October that had Noah chuckling, this cool clear snap was as welcome as the Koch Brothers on Fox News. In the morning the mercury has been dipping just below freezing and up in the woods the trails are solid, grippy and dry.
Bring it on Ullr. I'll be waiting for you on the mountain.
---
Are you ready to hibernate or do you, like Cam, thrive when the frost hits?