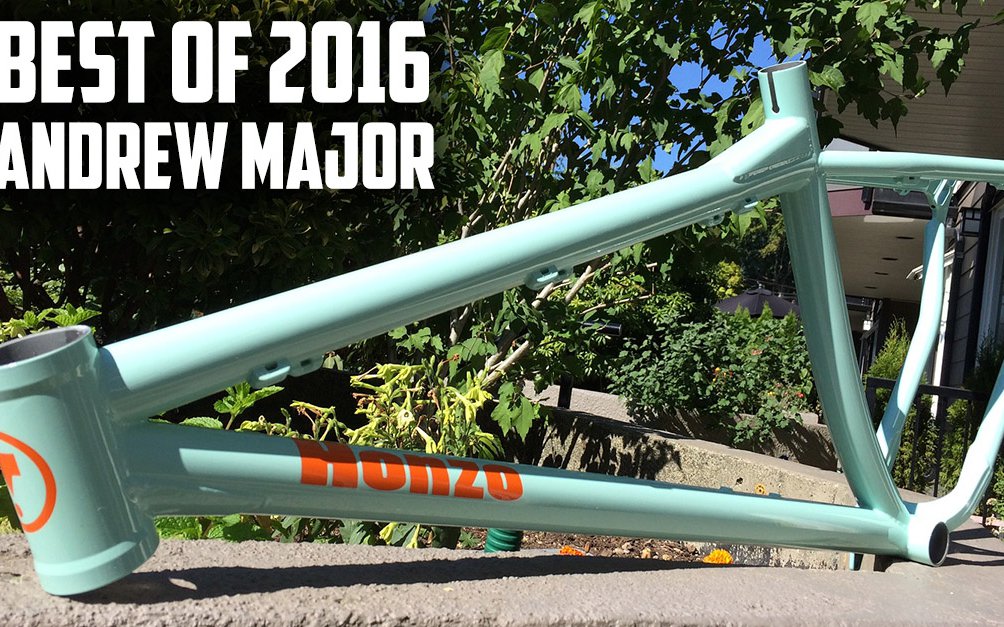 Best of 2016 – Andrew's Picks
The Best of 2016
It took more time than I care to admit to come up with this list and write this piece. I enjoy taking 'bicycle stuff' seriously because it doesn't really matter, but for 2016 I wanted to talk about things that have a significance for me beyond their material worth.
"Me Help?" – My two-year-old and I were out for a little hike on Mt Fromme when we happened upon Pat. He was clearing drains on his latest work for the NSMBA.  Pat making the time to share in some shoveling is a small sampling of what is often so great about our community.
As much as I stand by my picks for Best of 2015, I'm disappointed that it's all just stuff. Here is my best of 2016 – the things and some stories around them.
Custom Paint
What is more vainglorious than taking an expensive toy and spending money on having it custom painted? It didn't have to have virgin paint. And certainly, if it did require a refresh, it didn't need to be a certain shade of 1980's Bianchi Celeste with graphics colour matched to Chris King's Mango by local painter Toxik Harald.
And yet if it wasn't for the custom colours I never would have seen it again.
Honzo when the Toxik Harald paint job was fresh. It's back in my stable getting regularly single speeded after a brief stay with some ne're do wells. Serendipity provided by the one-of-a-kind paint job, social media, and an epic chase by my friend Mr. JL Russell.
One part complacency. One part stupidity. One part scum-sucking-douche-bags. One part… well, who do you think is buying high end stolen bike sh*t? It was gut wrenching when the Honzo was removed from my possession. I was euphoric when – thanks to the custom paint job – it made its way home via my friend JL Russell. JL recognized my bike flying by and chased it across Vancouver to get it back for me.
Yes custom painting a bike, or part, goes deeper than that for me. But getting it back paid for itself. Harald has done other work for me and he's just one of those people – an artist – who I feel good about supporting. It makes my bike feel less a disposable commodity and more a part of my story. The Honzo makes me smile every time I look at it. Thank you JL.
Maxxis DHF 29×3.0 & RaceFace ARC 40 Rim
The current crop of carbon super bikes – of any travel configuration – are simply amazing and amazingly un-simple. I ride alone a lot and the Toxik Harald painted Waltworks fork on my single speed makes me happy. Pure shenanigans. Custom stealth dropper routing by Jordan. More photos of the bike here.
No matter how creatively 'the industry' tries to sell it, I can't envision where Plus tires will ever make sense for regular racing applications. I think that's awesome. Most of us ride for the sheer joy of it and little innovation has ever been focused on people riding mountain bikes vs. racing them.
A couple hundred grams in jacked up sidewall support and flat-free performance is a win. Following lackluster first experiences with 27-Plus, my interest is seriously re-piqued. I'm hopeful  'the industry' stops trying to make lightweight, paper-sidewalled Plus tires and hedging on narrow-ish rim widths.
Bearings. So. SMOOoooooooTH. Jeff tensioning everything for an upcoming True Precision – front & rear – teardown. That's a BIG tire.
The combo I've been riding up front – 29 x 3″ DHF 3c & 40mm internal width RaceFace ARC – has excellent sidewall support and ridiculous traction in most situations. I'm considering a fast rolling, proper sidewall, 27-Plus tire to replace my current 27 x 2.5 DHR2 3c out back.
I often run a Cannondale Lefty instead of my Waltworks fork. I'm planning to rebuild the wheel for that fork to accept exactly the same setup, except with almost 4″ of travel. The DHF and ARC-40 combo are great fun on techy North Shore trails.
Trail Association Directors
Trail building is hard work.
Digging holes. Working in the pissing rain. Carrying heavy sh*t. Getting friendly advice from everyone and their five dogs that rolls by. Hard work. It's also mythical, magical, and legendary. Where I started riding Vic Gioia and Burke Mountain are mountain biking's answer to St. George and the Dragon.
Even clearing drains by my lonesome on a pissing rainy day there is a sense of having accomplished something. That is not always the case for people that volunteer long hours working with land managers.
Trails like this don't build themselves but it's often the case that hour upon hour of advocacy, planning, grant writing, membership drives, and sponsorship requests happen before a single rung gets split. Photos : NSMBA
I know when I'm out riding there are people skipping out on going pedaling to protect and expand the network I enjoy. Even the unsanctioned trails I ride benefit greatly from those efforts to legitimize, promote, and champion the community.
Support these volunteers by buying a membership from your local trail association. It gives the association weight in dealing with land managers. I certainly don't always agree with, or understand, the decisions of the directors of the associations to which I belong. But, I believe in the trail users who volunteer hundreds of hours of their time to an oft underappreciated enterprise.
Upcycling
I'm a mountain, commuting, road and re-cyclist. I hate throwing out good gear if I can bleed it for more riding. I like saving money. I'm consistently amazed at what can be repaired or improved locally at a fraction of replacement cost.
Buy it, mount it, ride it, love it.
Crash it, crack it, now… Replace it?
Zip it, wear it, crash it, rip it.
Stitch it, glue it, quick – repair it!
My new Goretex waterproof vest used to be an under-utilized Gore Bike Wear jacket. It has an Active Shell membrane and a softshell like face fabric that is really nice. As a jacket the fit was poor and the breathability paled compared to my go-to Polartec Neoshell jacket from Mission Workshop.
My least favourite jacket became my most favourite piece of kit. I wear my Gore Bike Wear vest with a merino wool base layer and add layers depending on conditions. It has to be pissing rain to warrant a full jacket.
I lusted for a Mission Workshop Meridian waterproof vest, made here in Vancouver. But I couldn't justify the cost for a super high end jacket sans sleeves.
Now, thanks to Sherry's tiny shop,  I have an awesome Gore Bike Wear waterproof vest. Instead of an underutilized jacket, this is my go to piece for any days where the rain isn't assaulting me.
It keeps me dry from most splash up, is much quieter than my jacket was, packs up smaller, and breathes better than any jacket on the market. Even when I've been caught out in worse than expected weather it's been great for keeping my core warm and dry.
Crankbrothers Highline Dropper
Who doesn't love an underdog?
The Crankbrothers Highline dropper post is not perfect, but, it's easily the most reliable dropper post released in 2016. In fact I think it's the most reliable dropper post on the market – at least it's been running tight longer than any other I've tried. It's definitely one of the best values comparing its $350 (USD) price tag to other posts on the market.
As a package, this Crankbrothers' Highline is the best dropper post on the market."
I still wish the remote lever was a touch longer. I still would like to see some different seatpost hardware. I'm surprised it is perfectly tight and continually functions like it has since the initial break-in process. It is also by far the easiest dropper post I have installed.
I tested a lot of great products this year but only one was an absolute underdog that exceeded all my expectations. I think the Highline is the best dropper post on the market.
My best of 2016 could have included a number of best-in-class products I used. The Renthal 1XR ring, Magura's MT Trail Brakes with HC lever blades, Fix It Sticks modular t-handles, my Mission Workshop Hauser backpack, or even some PEI Potatoes. I chose the Highline because it has altered my expectations for Crankbrothers products and dropper posts going forward.
The only negatives I can think of are the lack of an option longer than 125mm of travel and the endless razzing from my friends about loving a Crankbrothers product. I've never gotten this much heat but I'm good with it.
Welcome to 2017
Throw a leg over a Plus bike with wide rims and awesome tires. Re-purpose some underutilized gear. Buy a trail association membership (or three).
---
Welcome to 2017.