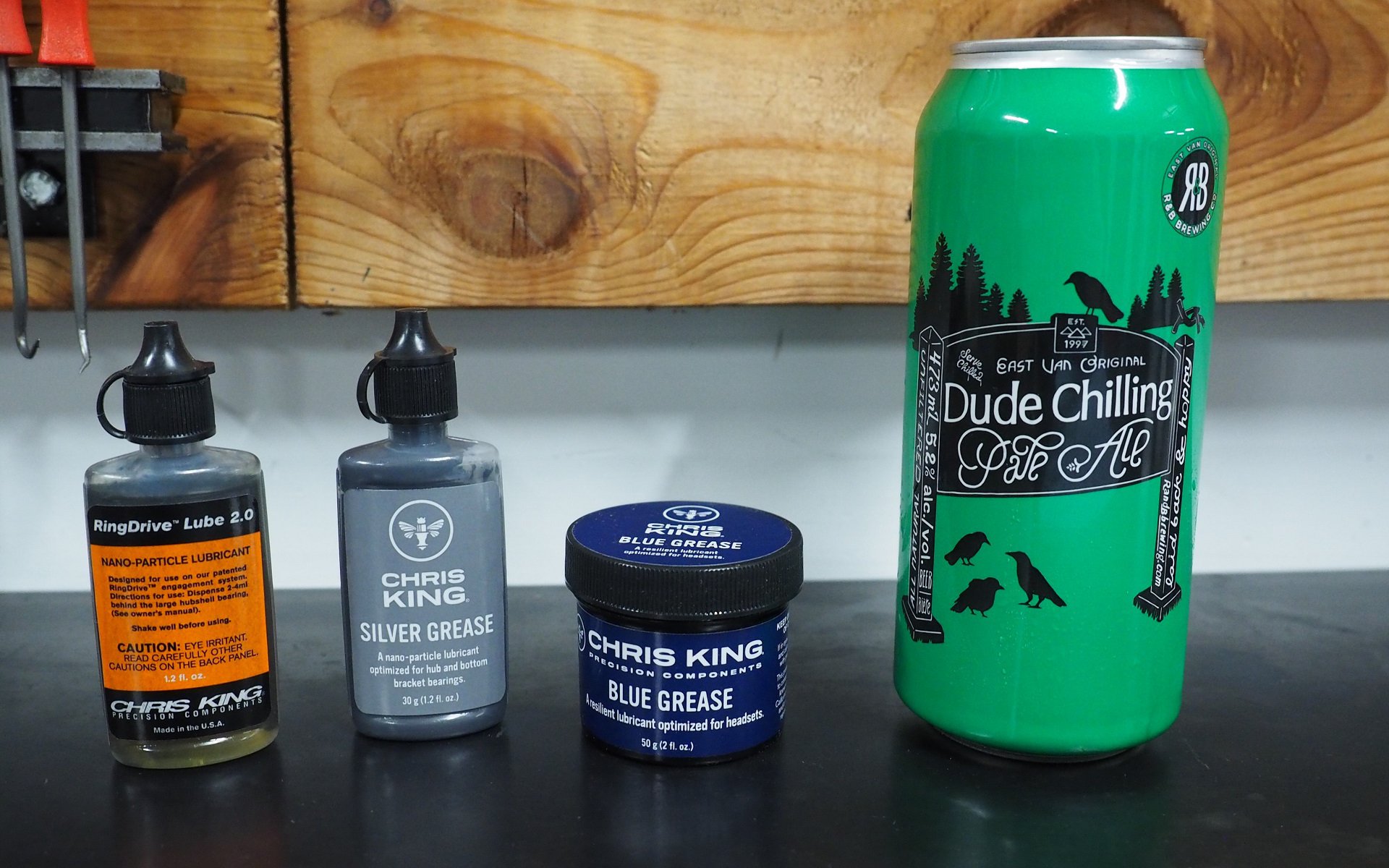 EDITORIAL
The Best Of Lubes vs The Rest Of Lubes
The Best Of Lubes
I recently have received a couple of messages from readers regarding the Permatex Copper Anti-Seize I use when assembling bikes. I've lost count of the number of jars I've been through over the years starting with my first few titanium bolts. From bottom brackets to headset cups, to stem bolts, if I want to put something in my bike, have it stay there until I want to remove it, and then make removal easy, this is my go-to. If it's the best stuff for keeping titanium bolts from bonding to other metals, and keeping other metals from bonding to titanium frames, then why wouldn't it cross over to other materials?

Doing a wet pedal up the No Quarter climb on Fromme, it dawned on me that we're approaching Spring Service Season. It seems like the right time to talk about lube since there are many inferior grease and lube products on the market. What works for me may not be ideal for your riding environment, but here's a quick look at products I prefer in my home shop.
Slickoleum
No, I'm not sponsored by Slickoleum. I mention it because I've been asked plenty of times since I started doing teardowns for NSMB in 2016. And yes, the stuff is that good. In fact, for a whole lot of applications, it's the best. Whether I'm lubing the seals on my Suntour Durolux, the seal head on any dropper post I've used, or the air seals on any suspension product, it does the trick. And you know who agrees with me? SRAM. Because their lastest 'Butter' is just that. Slick Honey is the same stuff too.
I go through a fair amount of Slickoleum a year keeping the bikes in my family rolling. In some cases, whether it's service or a fresh ride, lubing up the air can or fork lowers on budget test bikes has been experience-changing. If you're working on your own suspension this is an absolute must-have product.
It's easy to acquire, relatively cheap, and everyone planning to do basic service on their suspension fork, air shock, or dropper post should own some. I've used it around the house on a few different things that need to slide - reducing breakaway friction - and it's become common enough in my life that I start getting nervous when I'm down to the last 1/4 of a container. Locally it's available at plenty of bike shops, SuspensionWerx, and MEC or you can find it online.
Dumonde Tech for Freehubs
Pro X Freehub Oil or Pro X Freehub Grease? That is indeed the question and for many hubs. The answer is slurry of both. I'm also a fan of Dumonde Tech's Regular formula chain lube but I know personal preference reigns in that category. Another good one is Boeshield T9.

Lubing up hub guts, on the other hand, is settled law. Any hub with pawls, I'm running Dumonde Tech Pro X Freehub products. Hubs with coil springs like the Industry Nine Torch get the oil only and for hubs like the new Industry Nine Hydra or Race Face Vault that use leaf springs, I use grease on the springs and add a bit of oil to the works. I've also used Dumonde Tech Pro X Freehub Oil in place of mineral oil on the True Precision Stealth roller clutch hub and with the magnetic pawls of the Project 321 hubs.
Neither the oil or the grease gets gummy even as the winter months make the guts of everything on my bike disgusting, and for all their resilience, both products clean up fairly easily when it's service time. I also find that because the guts don't get gummed up and because the products are resilient that my service intervals are reduced.

I may sound like an evangelist for these products but I've yet to meet a convert who's gone back to using anything else. Neither product is inexpensive, but I use so little that even with maintaining multiple bikes and doing NSMB teardowns the stuff lasts a long time. I've used various oils and light greases over the years and nothing holds a candle to Pro X when there's pawls involved.
Pro X Freehub oil is also the best product I've come across for cables and housing by a large margin. It stays smoother longer than any other product I've flushed through my gear or dropper housings and I've tried plenty of different lubricants over the years.
I've run multiple dropper posts using the same Shimano 4mm housing on my hardtail for almost two years with no thoughts of replacing it. I also ran a few drivetrains on my last full suspension bike with just a few drops of oil at the start of winter and the start of Spring. It doesn't take much and nice stainless cables and housing are expensive so I think it's a very decent cost savings in terms of both time and material.
Chris King
Not just for King products, my new favourite grease for bearings in low rotation applications and my new favourite grease for bearings in higher-speed applications both come from the Portland-based company. I have to add a massive caveat here as, while I've used Dumonde Tech Freehub Oil and Grease for a few years, and Slickoleum for almost a decade, these Chris King lubricants are comparatively new to the market. Let me disclose that I'm beyond chuffed with them and so tempering my bike-nerdy desire to write flourishing sonnets to their lubricating qualities is proving a chore onto itself.
I know what you're thinking, is the product really that good? When I factor in labour (mine or paid) versus longevity and performance I can easily justify using them myself and recommending them to every discerning year-round rider and, frankly, my one complaint is that wish I could buy it in larger quantities to cut the cost down.
But, with that said, while the stuff is expensive compared to a giant tub of generic waterproof grease from the auto shop, I was actually very surprised it's not more expensive. Compare the Chris King lubricant lineup pricing to most the similarly-sized, repackaged crap sold for bicycles and it's fairly competitive without even taking performance into consideration.
I'm running CK Blue Grease in the bearings of a Chris King, Wolf Tooth, and Works Components headset. I'm also using it in some suspension frame bearings that I flushed and repacked to see if it prolongs my service interval over the trailer bearing grease I usually repack these bearings with. It's designed first and foremost for resilience and protection and it's thick. Not something I run in a bearing meant to spin.
That's where Silver comes in. After flushing an Enduro bearing and installing the Silver Grease, I've decided to flush my next set of replacement bearings and run this grease in my hubs going forward. King is aiming to maximize longevity and "provide extremely low drag." The drag factor is definitely so it's just a matter of durability - something King is legendary for with their other products. I'm also running the Silver Grease in a Chris King hub.
I haven't used Chris King's original Ring Drive Lube in maybe a decade. For both my wife's King hubs and my own I've preferred to run a full synthetic Royal Purple 0W-10 motor oil with the viscosity of water that James at SuspensionWerx tracked down. Less drag in exchange for more frequent maintenance.
With their new Ring Drive Lube 2.0, Chris King makes a play at winning back my business by matching the low resistance of the Royal Purple and beating the longevity of their previous product. My wife has a fully broken-in King hub on her bike and I'm impressed with the results once installed.
And, I'm curious. Always curious. Since I'm using the Silver Grease in non-King hub bearings, and the Blue Grease in non-King headset and frame bearings, I'm also figuring on experimenting with the RDL-2 in a non-King hub where I normally run Dumonde Tech Freehub Oil on the coil-sprung pawls to see how it holds up in a non-Ring Drive application. Never stop trying things!
---
Do you have a best in class lube recommendation either generic or specific to where you ride? Please post below, I'd love to hear it.
---
Products mentioned and where to buy*:
Dumonde Tech Pro-X Freehub oil
Dumonde Tech Pro-X Freehub grease
Dumonde Tech Pro-X chain lube
Boeshield T9 lubricant
Slickoleum / SRAM Butter / Buzz's Slick Honey (they're all the same product)
Royal Purple 0W-10 motor oil
Chris King grease and lube products
*Some product links in this article are affiliate links and resulting sales may earn NSMB a small commission. This doesn't increase the cost to you, but it does help us out a little if you follow these links and decide to buy the linked product or something else from that retailer.