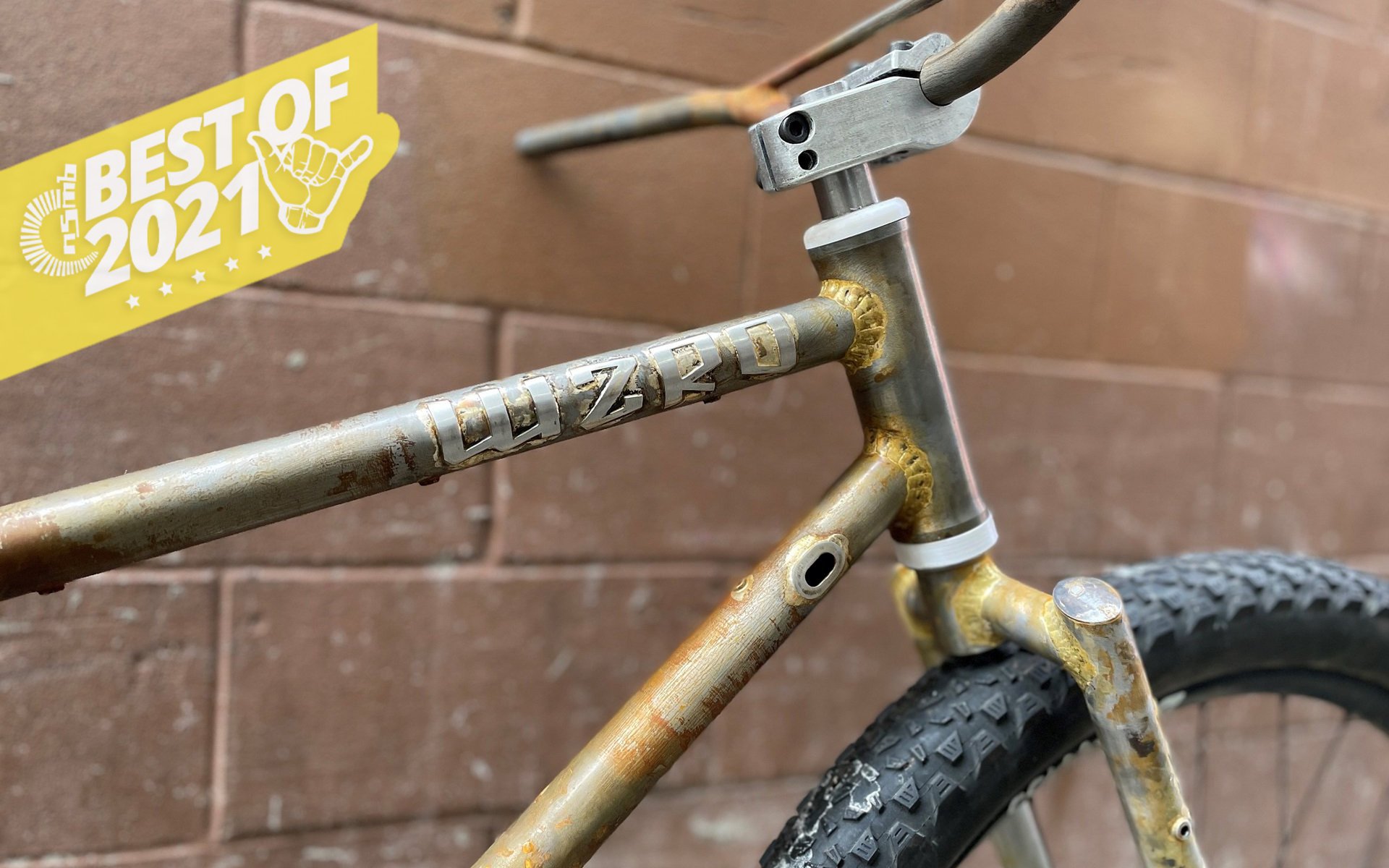 WRAPPING UP 2021
Best Of 2021 - Andrew's List
The Rise Of Rigid
If you listen to some folks, you probably think that every piece I write for NSMB is a thinly veiled attempt at getting you to join my single-speed and rigid fork cults. Plural. It's not true. I don't care if you ever ride a modern rigid rig, but it would be cool if you'd keep an open mind if you've never tried one. Think about all your friends who've switched back to hardtails, or discovered hardtail riding for the first time, after years of riding full suspension bikes. If a hardtail with current geometry can be unexpectedly awesome, then I don't think it's that much of a stretch to say the same for a modern rigid bike.
Rigid bikes? Top of my best of 2021‽ A bizarre thing has happened this year, which I think is very neat. Amazing even. I've received more direct reader correspondence about rigid bikes than any other topic. Often the messages are from people trying to dial in their personal frame geometry but there are also plenty of inquiries about trying rigid riding without the full-custom budget. I figured I'd take a minute to lay out some of my greatest hits when it comes to responses.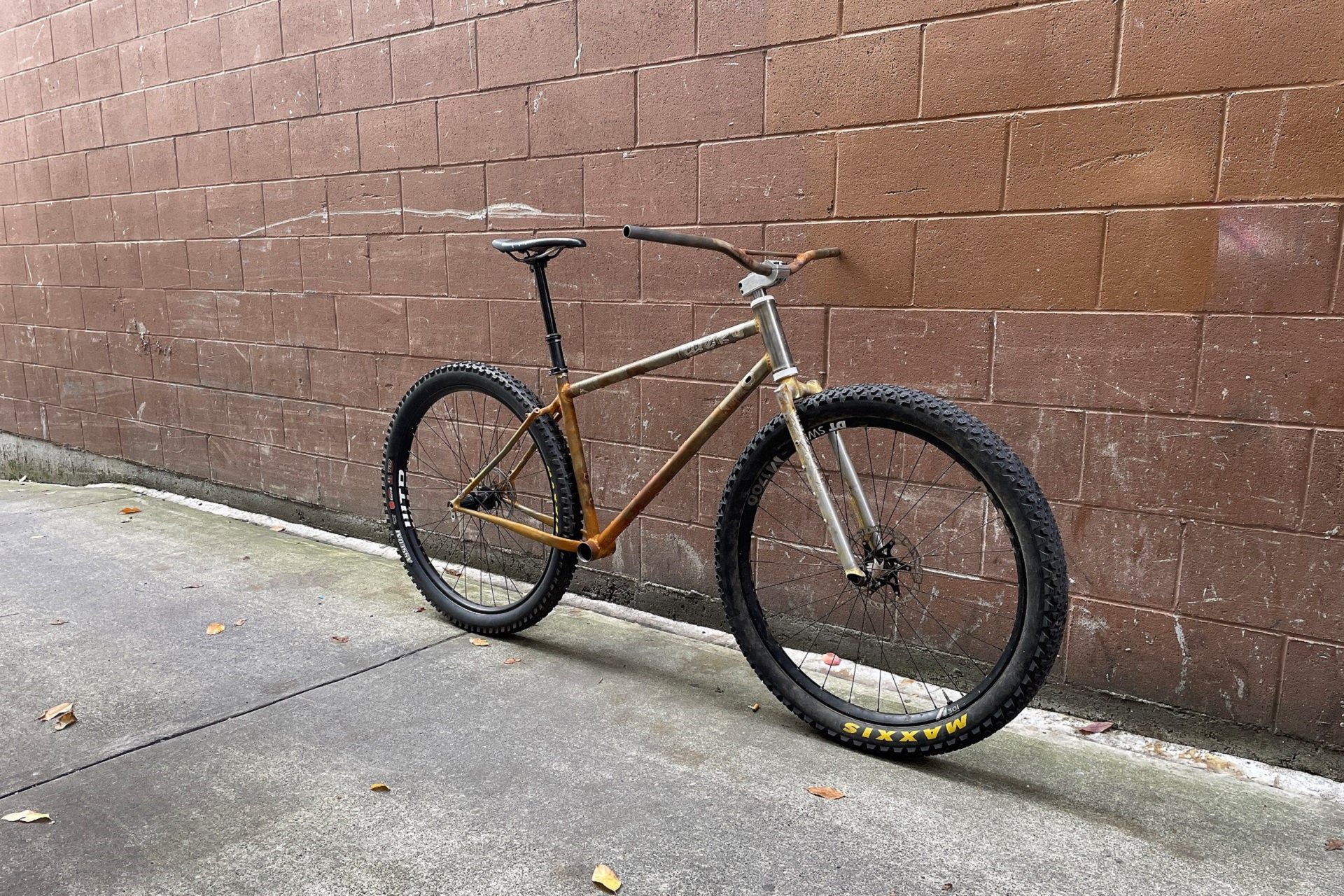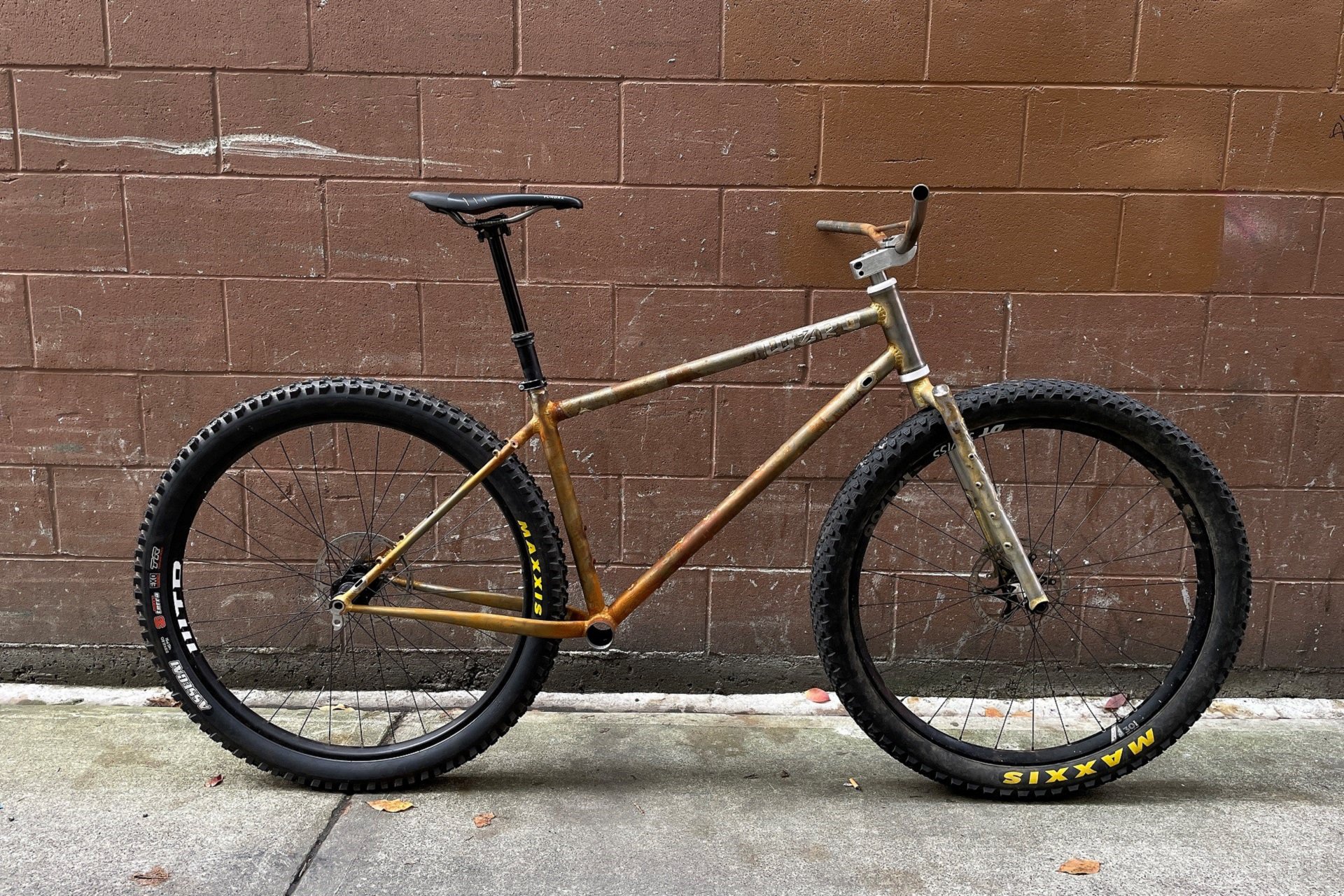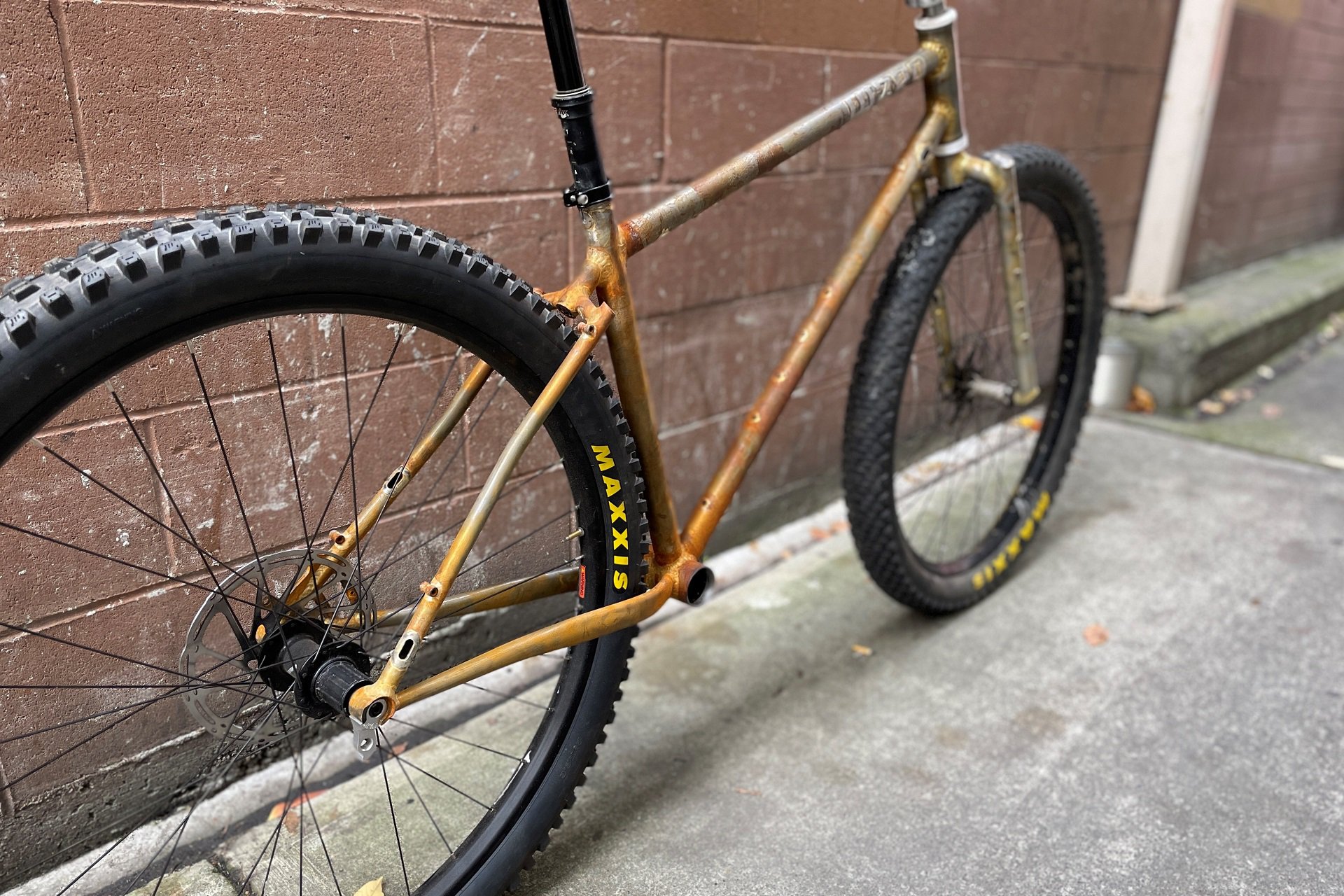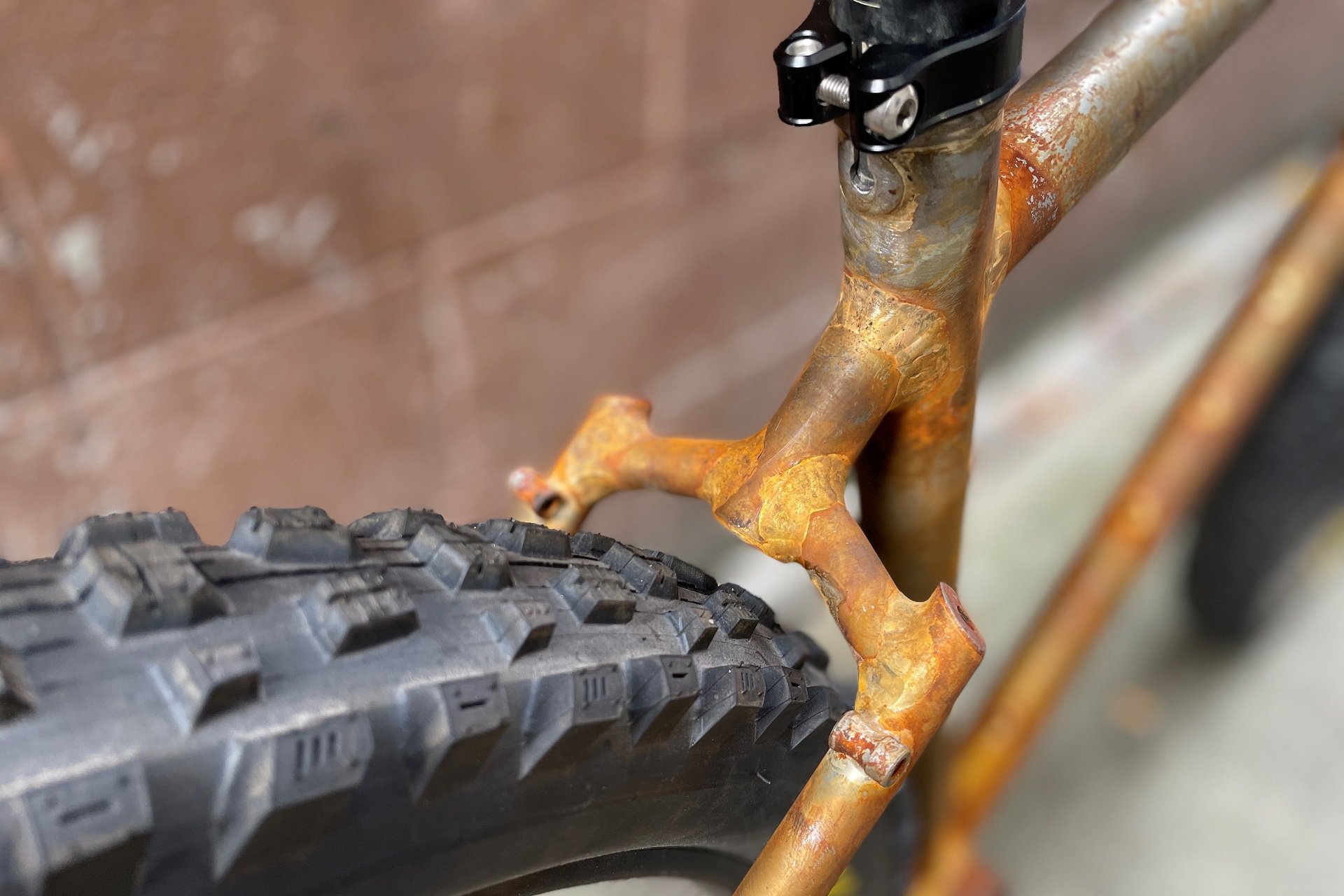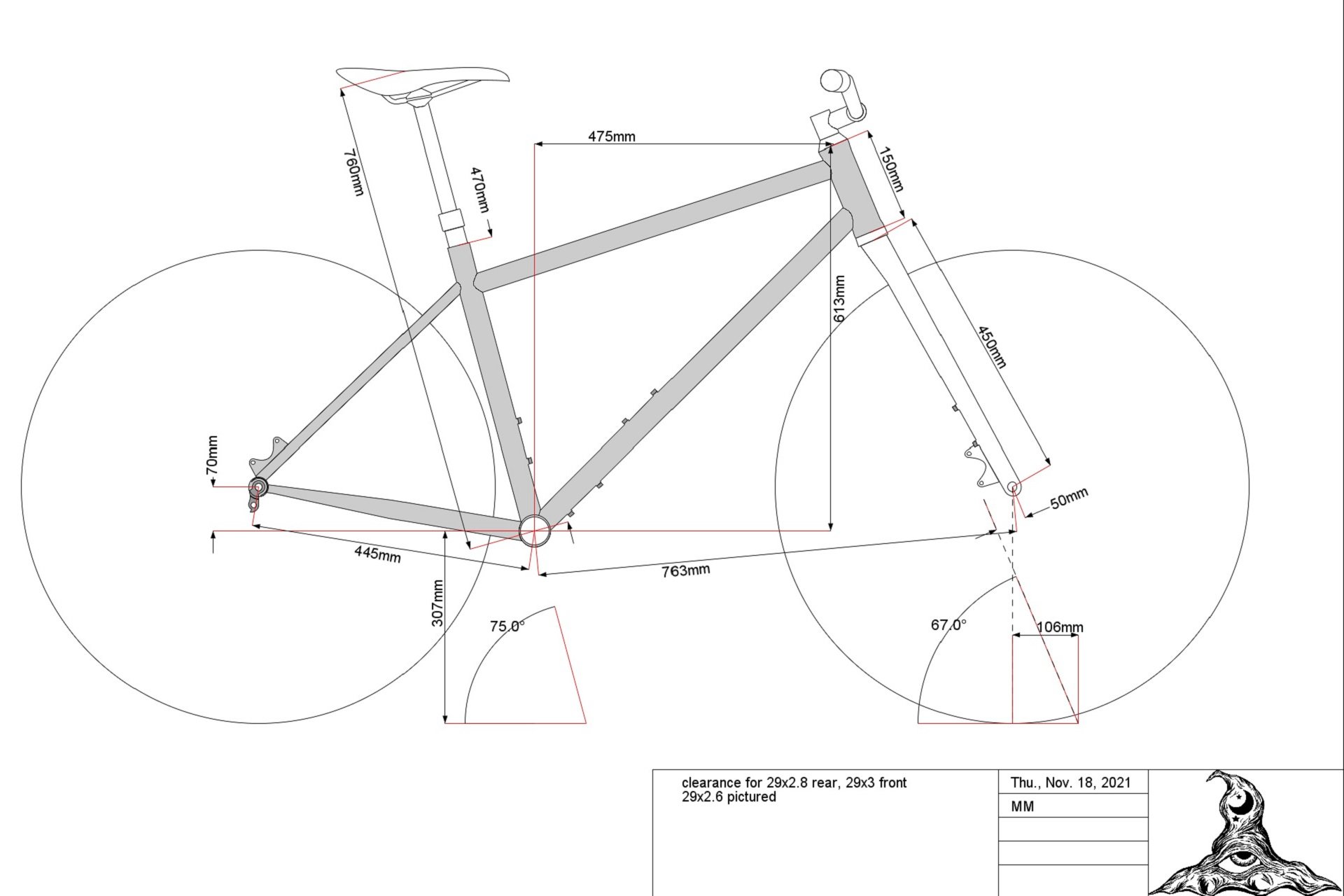 For those that already have a hardtail, the obvious choice is to track down a rigid fork that matches your sagged axle-to-crown height, plug it in, and ride. There are even many options now that have Boost 110x15mm axles. Surly is a great place to start, as is Kona, and both sell nice quality steel rigid forks that will cost you less than a suspension service - even after purchasing a reducing crown race and a new brake adapter, if required.
If you need something taller, then any solid custom builder can put a fork together for you. If going custom, consider a tapered steerer tube to maintain your bike's aesthetic. Expect to pay around 500 USD. Once you're in that price zone you can also talk to your local Trek dealer about picking up their carbon 1120 fork. It's tall enough to replace the suspension fork on the front of the Stache, so it will work for most 29" hardtails designed around longer forks and has plenty of clearance for 29+ rubber.
Also, while I'm spending your money, if you're riding technical terrain I'd highly recommend adding a Plus-sized tire (29" or 27") and a wide rim. An internal width of 35mm will work well with a 2.8" or 3" tire and is still awesome with a Maxxis 2.4 or 2.5" WT tread.
Going with a fresh bike? Stooge makes the most aggressive rigid bikes on the market (geometry-wise). If they'd been an option, my Waltworks V1 probably never would have existed. A Stooge MK5, or the Klunker-style and similar geometry Dirtbomb, are both around 900 USD for a frame and fork - when they aren't sold out.
My favourite production rigid frame & fork is still Kona's Unit. And this year it comes in a pink colour that makes me wish I could justify another suspensionless rig. Just slap in a -2° angleset, plug in a mean front tire, and let it rip. Why the Unit over a Stooge? Having owned multiple examples of both, I strongly prefer sliding drop-outs over an eccentric bottom bracket. I love the Unit's clean lines. And, for folks who don't dig the rigid experience, it will make a fantastic hardtail with a 100-120mm suspension fork installed.
While I'm playing the hits, this conversation isn't complete without a shout out to Surly's Krampus in their 'First Loser' build. The Krampus has been around a long time and I wish it would receive a significant geometry update. Also, if you're playing the used market, as hard as it is to believe, Niner actually used to build some interesting bikes, and their ROS 9 Plus was ahead of its time six or seven years ago. In both these cases, and talking about the Unit, you can go ahead and say it with me: "Angleset."
Fresh Cedar By Ken & Andy
All the great trails on the North Shore, and elsewhere, originated from people. People with jobs, and families, who also wanted to ride their bikes. People who had a need to create something in the woods for themselves and their friends.
People like Vic who built the first trails I fell in love with, at Burke Mountain. People like Digger whose name is synonymous with the kind of trails for which the North Shore became legendary. I'm going to stop there but the litany of names I could pull out of my simple head just for the lower mainland, is staggering. I'm certain wherever you ride there are some legendary folks who gave a lot of themselves for great riding to exist.
Ken on Pipeline and Andy on Upper & Lower Crippler, are two people working on classic trails in a classic way. They work full-time jobs and balance life's other responsibilities with a need to dig in the woods. They largely build alone, bringing in labour when they need it to move materials. Neither is a self-promoter and they derive no compensation or glory from what they do - if anything the opposite - as they buy their own tools and regularly hear entitled riders bemoaning the pace of their progress whether building new features or replacing old ones.
I don't say any of this out of a disenchantment with efforts to build more trails for everyone. It's amazing how much terrain there is here now that I can legitimately take my seven-year-old to ride. I think our local trail network is in amazing shape, as are our relationships with the various government land managers and that is all thanks to the hardworking folks at the NSMBA - support your local trail association. I also think it's very important to have a full range of mountain bike experiences in any trail network, just not by always cannibalizing what came before, and is still being enjoyed. There is plenty of recreation-grade front-country forest for everyone.
As such, I appreciate that both gentlemen build independently from the current pro-flow influence that permeates much of the local mountain bike scene, especially talking here about sanctioned trails you can find on Trailforks. They hold their permits directly through the District Of North Vancouver. My dream bike network includes Pipeline and Lower Crippler, ever-evolving but thematically true to their unique selves. My best of 2021, and every year really, includes all the folks giving their time and sweat building trails for us, and especially those maintaining a special make-your-own-flow experience that is mountain biking for me and a lot of my friends.
Thanks to you both, Andy & Ken.
Big Vigilantes Temporarily Escape Execution
The 29 x 2.8" WTB Vigilante is much more than a sum of its physical components. It's all of my traction down greasy spilled-out spaghetti dinners of shimmering roots. It's my suspension on the rock-armoured trails and old school jank I want to ride. It's the perfect companion on built-up cedar structures - both fresh and well-weathered. The first time I rode the 29+ Vigi it changed my rigid Waltworks V1 from a bike I enjoyed riding on selective Shore trails to my every ride rig. This tire makes riding my rigid mountain bike more fun, and it was a significant part of the motivation behind my Waltworks V2.
The big Vigilante's demise is easily the saddest I've ever been about a bicycle product - any product actually - being discontinued. It simply has no rival on the market, and no brand I've talked to plans to add 29+ rubber options. On hearing of its demise, I reached out to Wilderness Trail Bikes to beg for clemency for at least one SKU of this beautiful beast of a tire. They love the big Vigilante too, but when it comes to sales even the shitty old Velociraptor eats its lunch...the circa 1994 Velociraptor.
You can imagine my excitement on learning that, after being told the Vigilante was dead, it was suddenly available again on WTB's website. In my favourite combination even - High Grip rubber and the Light, but still tough, casing. It turns out, sadly, that this is only a temporary reprieve. An aftershock of inventory in our weird world. But, what about all these new rigid mountain bikes with modern geometry? Once all those Stooge riders start exploring just how capable a rigid bike is going to be, I think the 2.8" High Grip Vigilante is bound to be their only front tire of choice. If they can still get one.
Re-Anglesets
Whether it's taking a stock rigid rig and making it more janky trail friendly or repurposing your current rig rather than buying another, I think Anglesets are one of the highest value component upgrades out there. In addition to high quality press-in options from Works Components and Wolf Tooth, the various IS-standard SLACK-R options from 9Point8 make it so that almost any bike can be slackened a notable amount.
Sometimes this will breathe fresh life, and interest, into a bike you're thinking of flipping. Sometimes this will make a bike more fun to ride. Sometimes the only value is in the experimentation itself. Any way you look at it, Anglesets keep more bikes on the trails longer and I think that's a huge win.
That "HOME" Feeling
Don't you despise it when your go-to product changes? The one helmet that really fits your weird-ass head gets changed to fit like every other helmet on the market and you're back to square one. Suddenly you can't squeeze your hand into a pair of gloves when for the last decade you've reliably been a medium in all of a certain brand's models. Maybe my medium-large hands and abnormal noggin set make this unique to me, but I doubt that. Lately, I've been having a lovely time with all things contact patch on my personal rig. Lately most of my rides have been on a pair of NSBillet Daemon pedals, with my sh*t-kicked Crankbrothers Stamp Lace shoes, wool Esker The Approach insoles, and some socks my mom knit for me.
As much as I love my 16° backsweep bar or the Chromag Wax push-on grips I've been using, it's the interface between the in-house NSBillet pedal pins and concave platform shape mated to the Stamp's Match rubber sole that's la pièce de résistance with my setup. I can reposition my feet without a second thought and at the same time, I've yet to slip a pedal even in the wet & cold conditions where my past aversion to super sticky soles becomes questionable. I ride other pedals and shoes with good results but nothing feels like 'home' the same way.
I could have written one of these pieces a week for the whole month of January without having to whip up any filler. I mean, I started this piece by automatically disqualifying everything I wrote about last year and then deciding that I'd written enough about my Banshee Titan experience and it could sit out an article. And wow. I'm beyond thankful that hacking down my potential best of 2021 list was like butchering a tyrannosaurus - I've carved up the left leg and we're all totally stuffed. Oh, you saved room for dessert?
How delicious is this? I've noticed lately that folks riding on the trails seem a lot more relaxed, dare I say normal - at least for a bunch of weird adults obsessed with riding expensive toys in the forest - than even a few months ago. Courtesy and an exchange of smiles dictate right-of-way again in a vibrant way that I hadn't really noticed had faded. Mountain bikers, hikers, runners, dog walkers, and all - be nice and earn it back twice. I really hope the vibe carries on through the smaller winter ridership into next summer and beyond. Best of 2022 material right there.
Happy New Year!