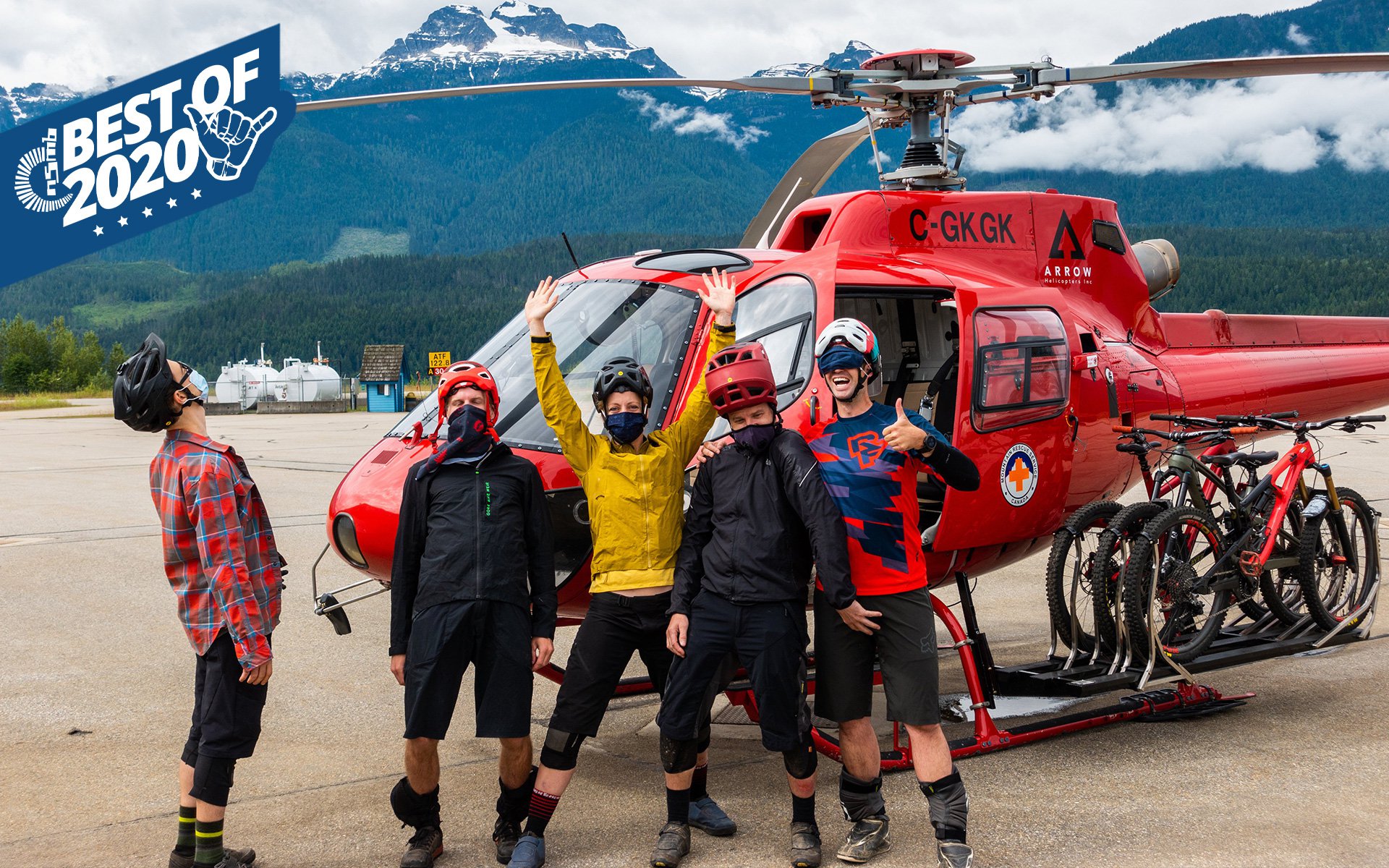 Year in Review
Best of 2020 - Tim's List
Whistler Bike Park
I've been a long standing fan of the Whistler Bike Park (WBP). The summer season got off to a delayed start as the folks running the Bike Park figured out how to open in the safest way as possible. There were a lot of negative comments about Vail and WBP for high prices, reduced operating hours, reduced terrain, and a short season but, given the severity of the global pandemic we're in, the folks running the bike park did an excellent job. I was on site for Opening Day and I disliked the masks as much as the next guy, but if they were needed to keep the lifts turning, I was all for them. I had a ton of fun with buddies on the mountain, and we all concluded the trail conditions this year were all time; the folks maintaining the trails this year should be applauded. The bike park remained busy until the last day, with an energy that was a welcome escape from the negativity of COVID-19.
The Ember Mug
My wife gave me this mug for Christmas 2019 (which feels like a decade ago). I pulled it out of the box with a confused face, "WTF ... why do I need to update the firmware on my new coffee cup?! What a stupid thing? Why would I need a smart mug that connects via Bluetooth to my phone?"
My wife looked concerned at first but the tide turned. This product is brilliant. I like it so much, I severely miss it when I'm away from home. I know, I know, it's ridiculous. No one needs an expensive mug that keeps your coffee at the ideal temperature, but hear me out. I like coffee, and I enjoy a cup or two daily. I tend to drink my coffee slowly, and I'm easily distracted. Which means my coffee gets cold, and I dislike cold coffee. Cold coffee happens a lot when you're easily distracted.
"But you could just use an insulated mug," they say. This is better, way better. With an open mug you get to enjoy the aromas far more and the form of this mug is just so satisfying. Using your phone, you select the temperature you'd like your coffee to be and the mug remembers that setting. When you pour in your hot coffee it lets the coffee cool to your desired temperature, and then magically holds that temperature until the battery runs out (about an hour with my mug). When you're done, give it a rinse, plop it on the charging saucer, and it's ready for the next time. The industrial design is near perfect, I love the way it feels, I love drinking out of it, I love how easy it is to use, and I love that it keeps my delicious coffee at the perfect temperature. I have the 10 oz. version, which is perfect for the size of coffee I make but there is a newer 14 oz. version if you prefer a larger mug. I'm almost embarrassed at how much I like the Ember Mug, but it's truly been one of my favourite products of 2020.
The Bubble
The 2020 came with many changes. We were all encouraged to shrink our interactions, and spend more time with a few select humans. Through a trying and challenging year, our own regular little bubble was full of constant laughter. There isn't a single photo without someone goofing off over so many wonderful rides this year. The focus of the group was maximizing laughs, and it usually involved bikes. We rode every Thursday, and at least once every weekend all year. I've relished the deeper connections formed with a smaller regular riding posse. So a huge thanks to all the folks that made my 2020 a whole lot better than it should have been. You're an awesome bunch.
Staying Local and Supporting Local
I love traveling just as much as anyone else and many of my "Best of ..." picks from previous years have been from international vacations. I'm a big believer in living life and experiencing as much as possible. I've really missed racing, traveling and events this year. However the pandemic has forced us all to narrow our horizons and rediscover home. Working from home has been excellent, and it's been great to spend more time with my wonderful wife (I hope she says the same). I discovered a delightful little coffee shop / roaster that is walking distance from home with phenomenal coffee, excellent service, and a terrific lunch menu. The Chinese restaurant next door has the most incredible coconut buns. We've been trying to support the local business as much as possible, buying local beer, local wine, ordering take out from our favourite local restaurants etc, and it's all been really good. We've seen and connected with our neighbours more than ever before, which has been great. Instead of an international trip this summer, we did a BC road trip, and that was absolutely amazing. Rather than focusing on what I've been missing out on, I've been focusing on finding gems locally and appreciating just how great home is.
Also...
Best Entertainment - Formula 1 again. What a season!
Best Non-Biking Activity - Track Days! Track days with friends are some of my favourite days of the year. I mentioned this in previous years, but track days remain a highlight. I checked out Area 27 in the B.C. interior for the first time this year, and what an incredible facility that is.
NSMB Article Comments
I'm growing to really like the growing readership on this website. This year the comments section of many articles has resulted in wonderful, thoughtful discussion. In a world of trolls, sensationalizm, over reaction, and hate, the readers (and commenters) on this website have been the complete opposite. A huge thanks to this community. Please keep the respectful comments and thoughtful discussion going.