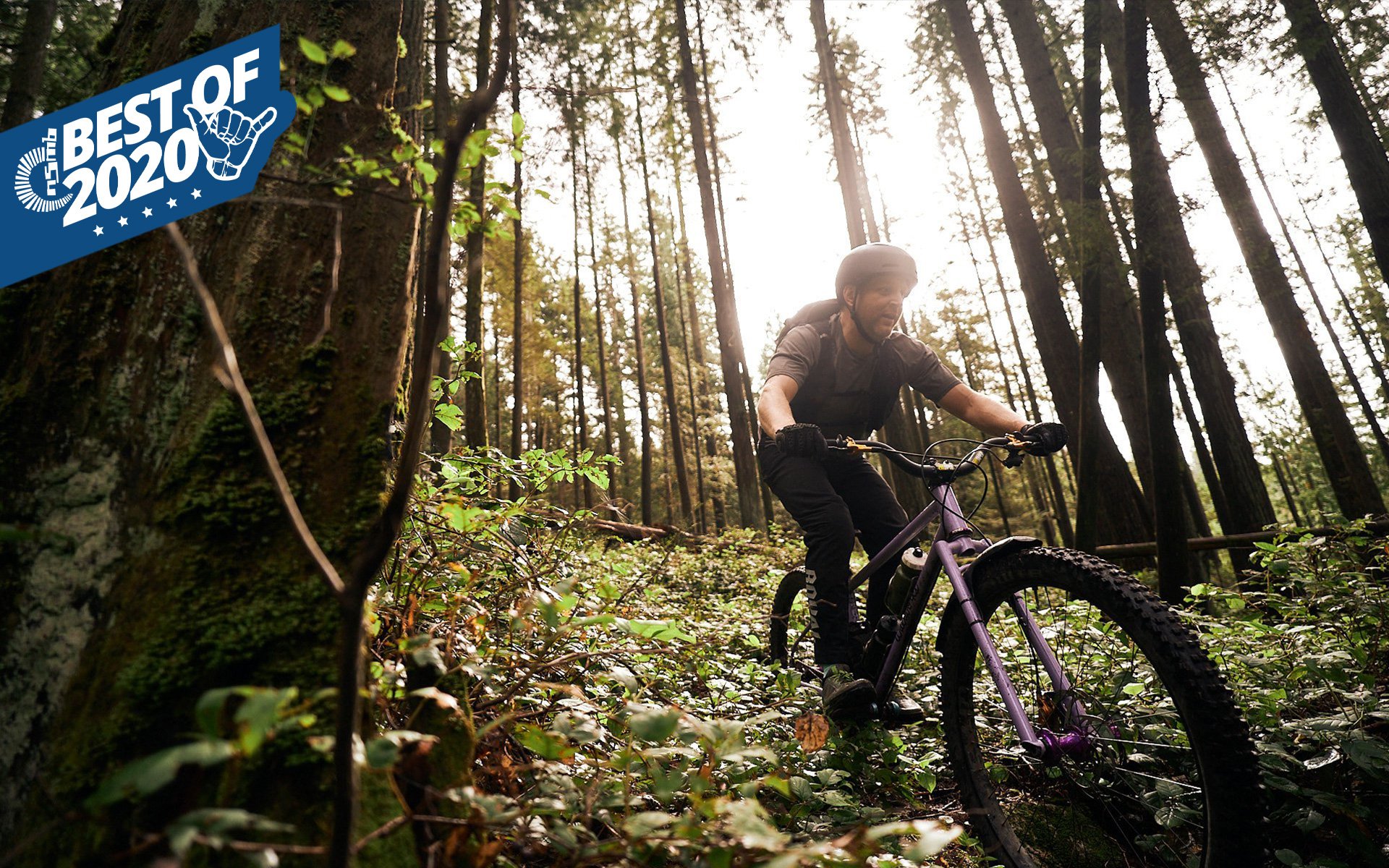 Wrapping Up 2020
Best Of 2020 - Andrew's List
Déjà Vu
My fingers swarmed the keyboard like a nest of Bellinghamster Murder Hornets, unaware the BC-Washington border is closed, performing their biologically programmed duties. As fast as I could type, my stream of consciousness laid out my Best Of 2020 article. I had it all - over $2200 raised to build gnarly fresh wood on Karen's Boundary Trail, some strong support for rider driven companies, and some hearty pandering to the readership. Really, there was just one issue; that's my Best Of 2019 article.
Luckily, late at night staring at my computer screen, I noticed my case of Deja-Andrew before I'd invested too much effort in recreating last year's list. But it did result in going back to the ground and building up some fresh silver linings in a year that's been generally meh. Anyways, crack the tab on a can of Hoyne Dark Matter (the best beer of any year), or whatever your current beverage choice is, as I recount the slivers of joy I uncovered in 2020.
Best Thing I Got
I hit the trails on plenty of interesting bike parts this year, and my absolute favourite is ProTaper's 76mm riser bar. Fit Before Fashion, my friends! And yes, on paper it's just an aluminum riser bar with fairly boring geometry numbers. Actually, on my bike, it's just an aluminum riser bar with fairly boring geometry numbers too. But as with many of the best things in life, it was an experience-changing object I wasn't even looking for.
With the bar rolled back 'just so' and cut to 780mm, with my stem flipped upside down for negative rise, and after a pile of rides to relearn body position, I adapted myself to a better experience riding my hardtail on technical trails and changed a lot of my thinking about bar height on all bikes at the same time. I'm loving the higher riding position for technical descents, I have no problem weighting my front wheel, and at the same time, I don't feel I've given up much on climbs. Now that I'm used to the position, I'm seeing Stack heights on many full-suspension bikes that would have me running a 50mm+ riser bar.
I'm currently testing a large Banshee Titan that has a 130mm headtube length for a static Stack height of 644mm before I take into account my fork being 13mm taller than spec. Combined with a 1 cm spacer under my stem and a 25mm rise bar, I'm not far off being able to plug the ProTaper into any number of 29'er frames with stubbier headtubes. Like my hardtail, the Titan has long chainstays - especially once I installed the long dropout kit - and, as I'll eventually explain in more detail, this is the key to making the tall front end fly.
The other thing that's unique about the ProTaper is how offended a surprisingly large number of riders get about it. I've had significantly more unsolicited comments about the 3" riser than I have about the Fasst Flexx bar and that thing is a hate-magnet for the mountain bike fashion police.
Best Thing(s) I Bought
My custom Waltworks V2 hit the trails in December 2019 but I wrote about it in May 2020, so I've decided that on its first birthday it can still qualify as one of my best purchases for 2020 and beyond. I wrote an entire article about it so I'm not going to go into any great detail except to say that this is the first bike I've ever owned that was 'the one.' Every other bike, going back to my very first off road rig, has been the placeholder for my next bike. It probably sounds ridiculous to you, but it's bizarrely special to me.
On a much smaller purchase note, I love my Kickass Cogs. It's not that there aren't other high-quality aluminum cogs available from other great companies - looking at you Wolf Tooth - but ever since I read this 2013 story about Endless Bike Co, and the woman who owns it, it's been obvious why so many single speeders are passionate supporters of Shanna Powell - company owner and prolific mountain bike coach.
The Endless rings and cogs are machined and anodized at Industry Nine - so you know the quality is tops - and the company is just one of those little outfits that are lovely to support. Even if it's just buying one of their sweet "I'd rather be rad than fast" or "Fuck yes, I ride like a girl... do try to keep up" sticker packs.
The cogs last surprisingly long for the terrain and conditions I subject them to and I never feel like they owe me anything when it comes time to upcycle them into shop-wall ornaments. And they come in a wide variety of sizes right up to a massive 25t in case you want to gently break yourself into some North Shore single speeding.
Best Thing I Didn't Test (Yet?)
My Atlas cranks are currently spinning on a few-years-old Chris King bottom bracket with a Cane Creek aluminum bearing preloader and I think it's a premier package. But, that doesn't stop me from really wanting to try out Cane Creek's Hellbender Neo Bottom Bracket. The bottom brackets use SKF MTRX "solid oil" bearings, which replace grease with an oil-filled polymer matrix so there's literally nowhere for crap to get into the bearing assembly and oil can be released constantly.
Since Fox started selling forks with SKF Low Friction seals, around eight years ago, the company has slowly taken over high-performance spec on essentially every suspension fork worth owning. It will be curious to see if their cartridge bearings follow a similar trajectory.
This probably sounds silly given some of the amazing forks, bikes, brakes, wheels, and so on that, I've been privileged to test but this is the product I currently most want to put in my bike and murder. And then, assuming it holds up as claimed based on SKF and Cane Creek's reputations, I'd like to ask why Cane Creek is the only company on board with this system.
It makes my list because I WANT it to be awesome. The idea of a BB that outlasts my frame is beautiful. I'm living it currently with a King PressFit 30 BB, for which I own an install tool and grease adapter, but I can't help but feel SKF MTRX bearings have the potential to bring that forever-experience to a much, much, wider audience for significantly less money. Actually, I'd like to try MTRX bearings throughout my bike.
Best Riding Experience
I've mainly been getting on the trails pedaling from home. Often solo and sometimes I'll meet up with a friend or two. That aside, I've had some really great rides and also progressed my riding in a few areas. I'm very fortunate to live near some of the best trails in the world both in terms of feeding my mountain biking habit and in terms of being able to easily escape from other people for a long mental health break.
As good as all those rides have been, they've paled in comparison to the joy of riding with my six-year-old. Cycling is just something our family does so whether riding in our cargo bike, pedaling our trailer bike, or riding herself it was never a question of if she'd be getting around by bike. But, my wife and I left mountain biking entirely up to her. Well, okay, to be honest, we both love riding mountain bikes so it's not like there wasn't positive reinforcement of how great the experience can be, but the transition from simply going into the forest to going into the forest by bikes was driven by our kid.
With my elbow pads for leg armour, a full-face helmet, a lightweight Early Rider 20" bicycle, and the right attitude we're out at least a couple of times a week experiencing North Shore single track, and it's wonderful. Smiles, crashes, successes, tears, celebrations, bruises - we've had it all. And I'm beyond jealous of the progression curve every time I'm watching her ride compared to last month, last week, and sometimes even yesterday.
Sometimes I feel like a bit of a hardass making her push her own bike up hills she can't climb or check her own bike in the stand to make sure the brakes and shifting are good but I suppose for me the beauty of mountain biking has always been the payoff for your individual effort and preparation. I know plenty of people who've capitalized on the opportunity to short circuit that these days, but I aspire to model the experience that brought my wife and me to the sport we met over.
Most importantly, we have endless fun, sleep well at night, have lots of bruises to tell stories about, and we eat plenty of sour gummy bears. I used to be all about the #EnduroPotato but these days a black coffee and some Albanese Gummy Bears are all it takes to make the wheels go round and round.
Best Photo Taken Of Me
Maybe this is narcissistic - sorry if it is - but as someone who has never really been stoked on how I 'look' on a bike - uphill or downhill - this photo that Deniz took just makes me go "f*ck yes." Whether I'm slogging up No Quarter out of the saddle or walking back down the climb to attempt those switchbacks on R&R one more time, and even just powering up an FSR, or hitting the road home from work, this photo captures how I always see myself, in my mind, on my single speed.
Life's been so busy lately that sometimes I just can't get out for a ride when I need to and this is one of a handful of shots that I'll pull up on my computer when I need a little kick. It's that rush of damn, that guy knows what he's doing. That guy has power, grace, agility, perseverance. Anyways, thanks for the pick-me-up, Deniz! I think a lot of the time it's the small things that keep folks moving forward and this is one of them for me.
Best Value For The Money
Riding with my kid, a bottom bracket that will last forever(?), a photo that gets me stoked, a fresh Kick Ass Cog, and my Walt. I have a hotlist of things to be thankful for as 2020 pulls over and lets 2021 pass. Yeah, in many aspects it's been a shitty year but I'm very fortunate that in a lot of aspects it most certainly hasn't been.
One way I've been fortunate this year is to have spent hours and hours on the trails last spring - when school was closed - doing maintenance with my grom. Raking, pulling holly, building braid blockers, and generally giving back. I've also been privileged to get invited out to fetch & carry materials for a few good folks who give back hundreds and hundreds of times the hours I do.
Whether you bought a membership to your local trail organization, donated to a trail you rode directly on Trailforks, left a gift card to the local tool store for your favourite builder, or carried some heavy sh*t so they can make it happen; however, you helped keep mountain biking fantastic - Thank You. You obviously recognize that the biggest assets in mountain biking are the folks who maintain the trails and I, for one, appreciate whatever way you've found to support them.
I wish you and yours all the best as 2020 rolls to a close and hope there is lots of mountain biking with friends and family to come in your 2021.