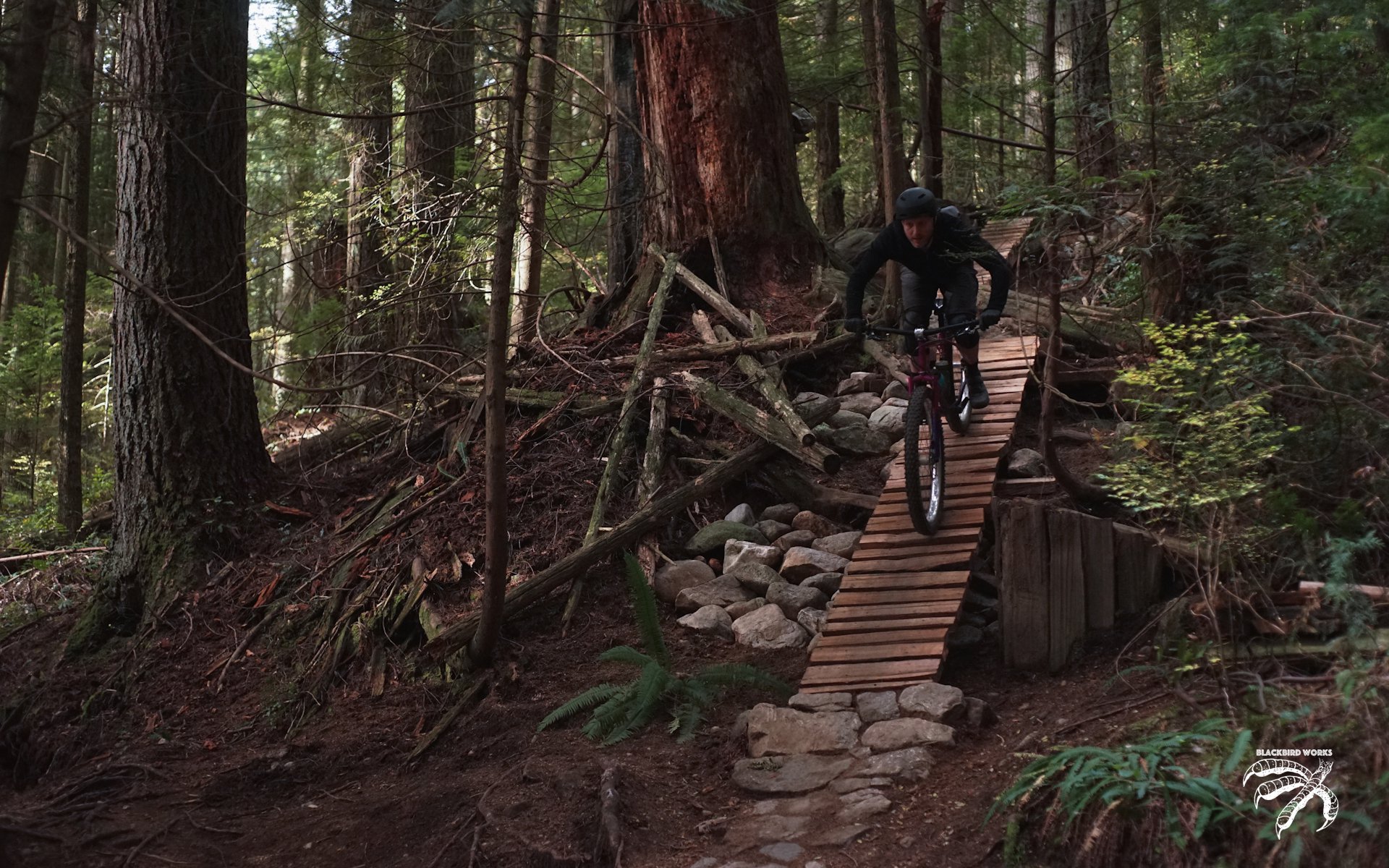 Wrapping Up 2019
Best Of 2019 - Andrew's List
2019
It seems bizarre that we're already nailing the coffin on 2019 and preparing to launch the year of perfect vision but, alas, that's the case. We've had the most amazing October and November I can remember in my years living on the North Shore and the trail conditions have been pretty amazing - folks just need to remember to factor the weather into their trail selections so that we can have nice things.
Anyways, I'm keeping it brief this year. Here's my best of 2019 for the, definitely round, world of NSMB.

*Cover image Deniz Merdano
Reader Feedback
I know how this looks gosh darn it but I'm really not intending to blow sunshine up your chamois. This year there was a king's ransom of excellent feedback and discussion in the comments around reviews and editorial pieces on NSMB. I think this constructive, intelligent, respectful, and sometimes hilarious dialogue is appreciated by the folks reading and creating content here.
I think this community is an institution in itself.
I also received quite a few e-mails and Instagram messages about articles. Apologies if I took a long while to get back to you or responded sporadically. I always try to answer questions and I really appreciate a good chat about bikes I just run out of time.
There is lots of interesting stuff coming up on NSMB for 2020 so I'm really looking forward to reading and partaking in the comments.
Fresh Wood & Gnarly Trails
In my years riding Fromme, I don't think I've ever heard of a lineup of riders waiting to drop into Boundary Trail. Espresso? Bobsled? 7th? Sure. But Double-Black Boundary? It turns out that if you build it they really will come and Pat, Sean, Joe, and the rest of the NSMBA Trail Crew nailed it. Those Karen-style slats offer piles of grip even when it's wet and the new ladders preserve the character of the trail beautifully.
There were countless rumours this year about the impending demises - through decommissioning or repurposing - of some of my favourite trails like (upper) Digger not to mention the end of teeter-totters on the Shore and there were a lot of pitchforks and torches being dragged out to protest the sterilization of wicked, heritage, Shore routes.
I think the mountain biking community delivers an indisputable economic good, in people coming here to ride spending money, and social good, in maintaining trails for everyone to use, but we still have to be ever vigilant because in some peoples' eyes we'll always be #Scofflaws which is why it's so important to continue electing reasonable multi-issue candidates who understand the community and activity of mountain biking (Hi Mathew Bond).
That said, it's really uplifting to read the Mayor, Mike Little, who's sitting upon the largest horde of great trails on the Shore come out in favour of personal responsibility: "I have no interest in seeing our public lands sanitized from risk and therefore sanitized from recreational usage." May that sentiment be carried forth to playgrounds, pump tracks, skate parks, and so forth.
Don't squander the opportunity this delivers to go out and challenge yourself in 2020. Go ride some trails you've never hit before, or haven't hit in a while. Take a snack and session some features like it's Y2K. SCARE YOURSELF! Or, if you're past scaring yourself then go for an adventure in your back yard.
And while you're doing all that, make an effort to ride with some folks you've never pedaled with before. Maybe they're a stronger rider or a weaker one but either way, there's a lot to be gained checking out trails with fresh eyes.
Rider Driven Companies
In the past I used the term 'rider-owned companies' but that doesn't come close to capturing what I mean. There are plenty of outfits that empower employees who are embedded in the activity and there are plenty pushing stale products where I'm sure the owners identify themselves as riders.
I'm not interested in dwelling on the companies trailing behind and I couldn't come close to a definitive list of companies pushing the needle, but here are some strong examples in my mind.
Rocky Mountain isn't a small company beating its owner's drum, like Knolly or Chromag, but for 2020 they've released two bold bikes that I think perfectly strike the balance between being for everyone who mountain bikes and also delivering geometry that will be current for a while yet. It's definitely a case of empowering a team of folks to design the bikes they want to ride.
The first is the 2020 Slayer series which is a fully modern take on Shore bikes of years past that were meant to be ridden to the top, hucked off drops, shredded at the bike park, and ridden all day. With a coil rear shock and a suitable spec, these are not weight-weenie bikes but they can be pedaled up anything by a motivated rider and they are awesome fun on the way down.
The second is the 2020 Growler hardtail series. Starting with the Growler 20 I tested, at 1000 USD, these hardtails have proper modern mountain bike geometry despite their modest prices. Most budget hardtails have static (no sag) head tube angles in the ballpark of the Growler when it's fully bottomed out.
On the much smaller end of the company-size scale is Alberta based Porcelain Rocket whose entire manufacturing facility wouldn't hold Rocky Mountain's North Vancouver lunch room. Their team assembles functional, prime-quality, gear that works for their own riding and adventures and sells it worldwide to folks seeking stuff they can use for a lifetime.
My Dumpling hip pack is a handy rolltop with exactly the right amount of room for everything I need to carry, including my Micro 4:3 camera and a 14mm pancake lens. It's seam welded so it's as weatherproof as any pack I've used. My wet jacket straps on externally under the bungee enclosure if I need to take it off, so the rest of my gear stays dry. The generous hip 'wings' make it incredibly comfortable to wear even when it's maxed out with tools and kit to its full 3L volume.
In addition to the team at Porcelain Rocket imaging, creating, and testing their gear the company has a wide network of friends using their products for everything cycling from commuting, to massive offroad touring adventures, to aggressive mountain biking and you can imagine. Their stuff isn't cheaply made or cheaply priced but their passion for good Canadian-Made gear and experience on the trails and adventuring is included in the price.
And 'Passion' is the keyword. Not just having it, because most mountain bike company workers are passionate about our sport, but rather finding a way to tap into it.
Whether it's an embedded company culture fully on display the likes of Transition Bikes or a more subtle examples like Marin's min-maxing, Rocky's Growler line, or Wilderness Trail Bikes making amazing niche tires their staff wants to ride that's the kind of gear I want to buy when I wear out my current stuff.
I'd love to read about your favourite example in the comments below!
Happy New Year!