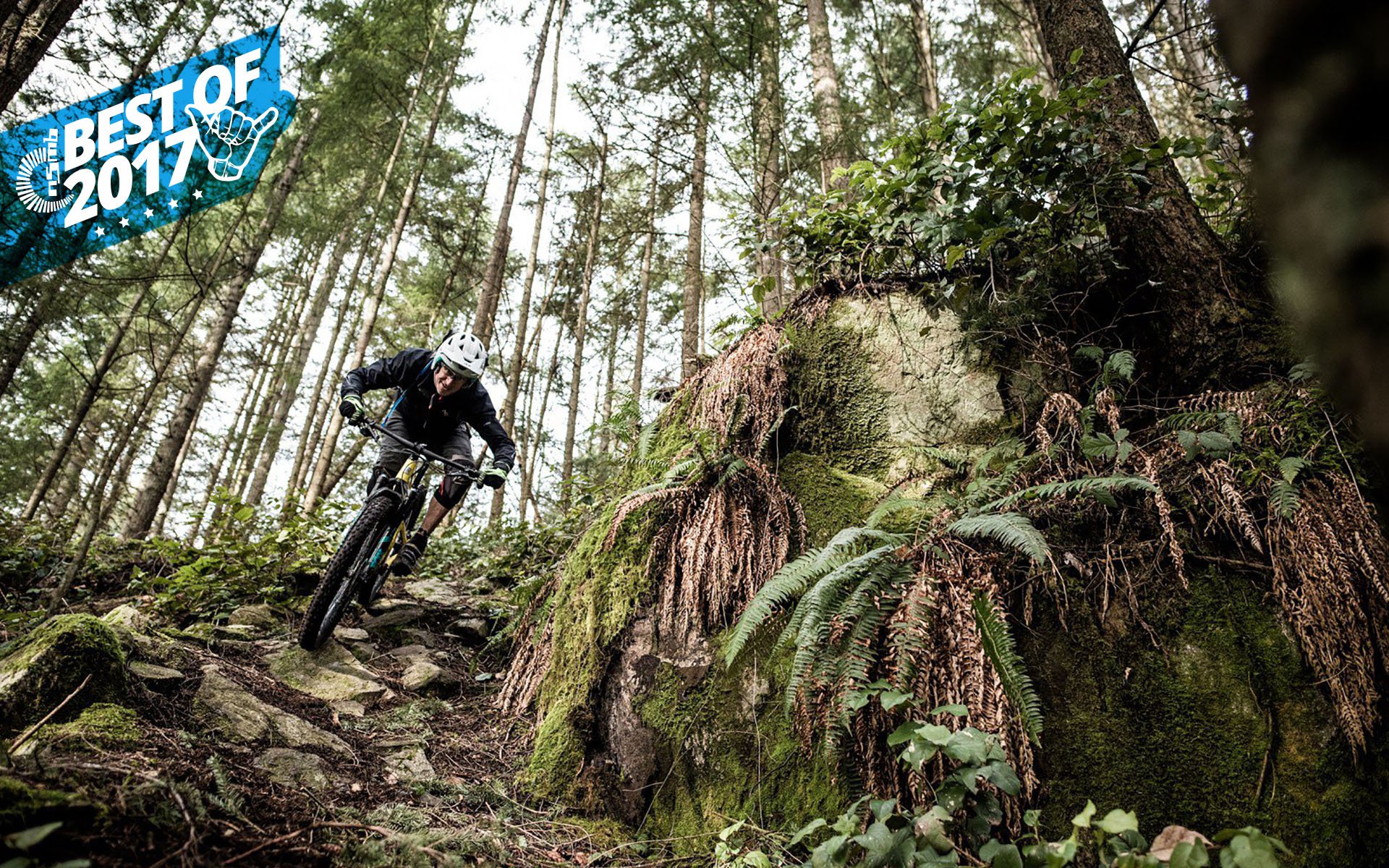 Mostly Sweet, Briefly Very Ugly...
Best of 2017 - Cam McRae
Wait... didn't we just do this? I swear I was just finishing up last year's list. Despite the accelerating hamster wheel we all seem to be on there were more than enough highlights for this list. One was more of a swampy pit to be traversed that revealed a shining citadel. Kind of like Bill Murray in Scrooged, which I watched for the first time last night with my son. But let's not get ahead of ourselves.
Movie of the Year - The Moment
Darcy Turenne was given hundreds of hours of film and video footage shot by Christian Begin and Bjorn Enga and tasked with creating a narrative to portray the birth of freeride. The finished product is masterfully woven together to bring us back to the days of 26" hardtails when riders in several corners of B.C. were trying to find out what was possible on a bike. The Froriders feature prominently as well as the rivalries between the North Shore, Kamloops and the Kootenays. 
Mountain Bikers! (Cracking the Case of Stelianos Psaroudakis)
The sordid tale of the Calgary man who injured himself on an ATV, and then reported to police that he had been garrotted by barbed wire strung across an MTB trail at Bragg Creek isn't pretty at all. Stelios' motive was revealed as pure greed after he set up a GoFundMe* for his bike that was apparently stolen at the scene. What impressed me was the way mountain bikers doggedly pursued the holes in his story and made noise about it so the media and police couldn't ignore it.
*which was at $900 or so and rising when it was shut down
Riders who had been on the trails in Bragg Creek that day reported they failed to see Mr. Psaroudakis, his bike or any evidence of barbed wire. They pointed out that the parking lot he claimed to have used was closed that day and that the exact bike he valued at $8000 was currently on pinkbike's buy and sell for around a grand. This sleuthing forced the police to act and led to charges for the 'barbed liar.' In the end Stelios skipped trial and possibly the country but by that point mountain bikers had made it clear that we aren't going to let some lowlife get away with a scam in our name. Well done people!
SRAM GX EAGLE!
I have a long term review on GX Eagle coming up shortly, so I'll keep this brief. This shit's legit. Riding along, shifting under power, in the mud and grime; there was never a moment when the GX version of Eagle was distinguishable from the much pricier XX1 or X01 versions. Shifting is light and precise, the interface is quiet and reliable and you can even pedal backwards without losing the chain. I don't have enough miles to comment on durability, which has been excellent with the higher priced groups. There's a weight penalty, but only in the crank and cassette with any significance (details to come). All this for about half the price of a an X01 Eagle group. It strikes me that SRAM made this a little too good; aside from weight weenies and racers it's hard to imagine people wanting to buck up for the pricier stuff.
Trail of the Year - Lord of the Squirrels

Niels upstaged me on this but I'm going in anyway. Whistler's Sproatt Alpine trail network officially opened on August 4th. and we managed to wedge it into our Crankworx schedule. Instead of riding from Creekside or Function we went from the Callahan side and eventually up With a Twist and through the alpine along On The Rocks where we stopped for some lunch at the convenient chalet. Just kidding it was a bag lunch, this isn't Switzerland. And then we tipped into LOTS. I had heard a few stories and some uneven reviews, and it took me a little while to realize what a masterpiece of building it represents. 
The trail network was built over 3 seasons beginning in 2014 with WORCA leading the charge. When all was said and done 8784 hours of trail building went into the project, including building 29 bridges, 17 armoured drain crossings and 60 elevated rock walls. All of this work wrenched from the unforgiving alpine environment, often in nasty weather.
You could praise LOTS for the masterful use of terrain, the unobtrusive alignment or the skilled craftsmanship - all of it is first class but it wasn't what impressed me most. The riding in much of the corridor from the North Shore to Pemberton is almost always about braking because it's so damned steep. The wizards behind Lord of the Squirrels managed to build a rowdy challenging trail while keeping braking to a minimum. It winds and undulates so much of what's next is blind but you soon learn to trust the builders and rip through the Ew1ok Forest on a speeder bike. It's rated blue but relatively new riders and pro riders can all have a blast on LOTS. Way to go Whistler!
I wasn't even looking forward to testing the TB3. 110mm of rear travel? For the North Shore? I imagined picking my battles and often being outgunned but in the end the quality of travel and the nimble but robust chassis made the TB3 a formidable companion. 
Here's how I summed up my review: For the riding I do close to home, this bike wouldn't be my only bike, but it would be a brilliant number two and one that I would take with me travelling most places. This is a versatile, fast and capable trail bike with world class climbing attributes and a thinly veiled mean streak. It may look unassuming, and your riding buddies will think you've brought a knife to the gunfight, but you'll know better. Throw anything you want at it because it don't give a shit – just like the Honey Badger
Honourables
Cushcore was a big one for me this year. Run low pressure without squirm, damping in your tire and a lower volume air cushion? How about the ability to ride capably without any air? They are worth a look.
Gore's Rescue Windstopper Shell is a feathery garment that is capable enough to get you out of all sort of trouble.
SRAM's Codes are the brakes I've been waiting for. 
And that's my list. What's on yours?