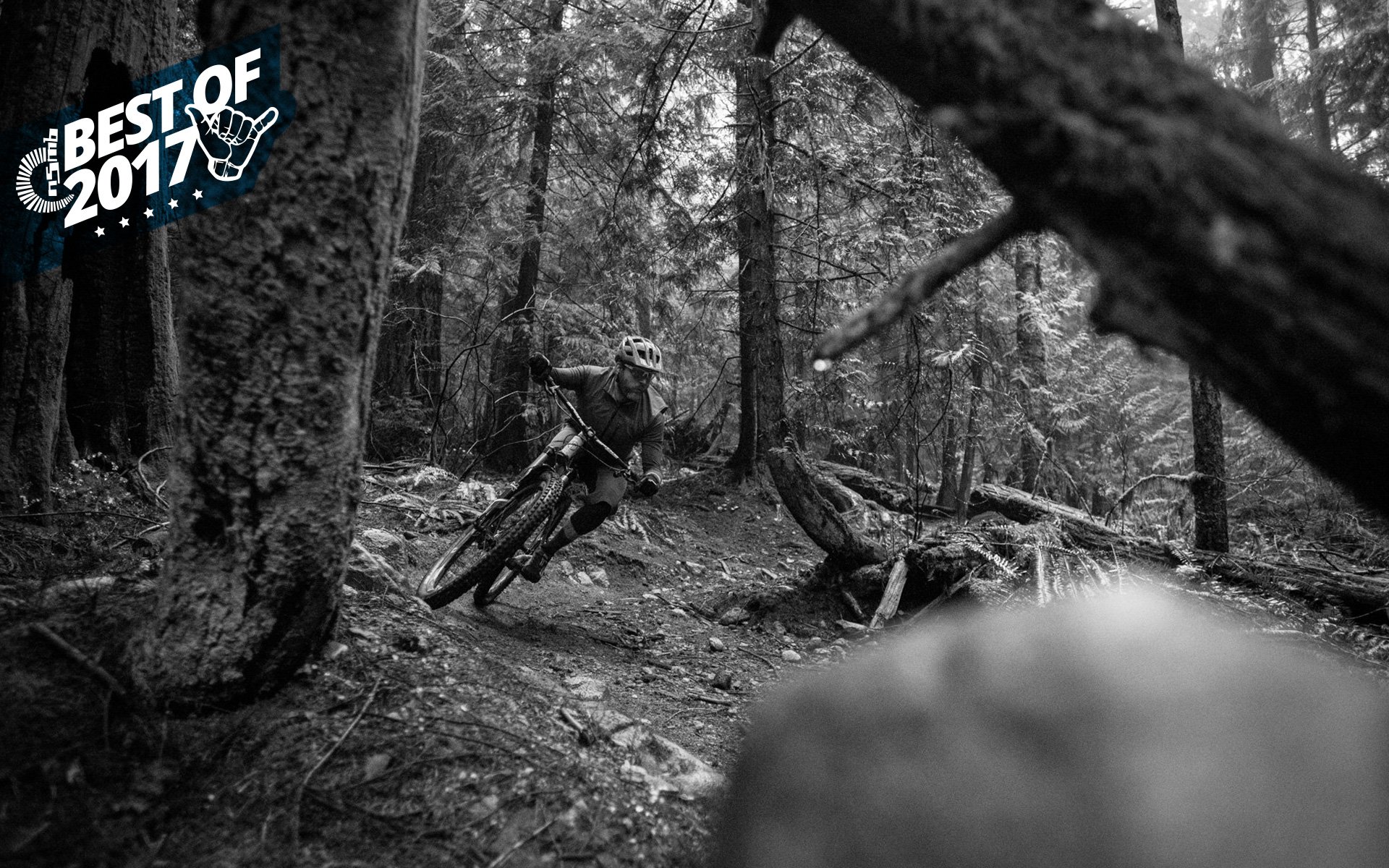 Year in Review
Best Of 2017 - Andrew's List
My 2017 In Bikes
From boutique True Precision Stealth roller clutch hubs to basic-is-beautiful Race Face Aeffect cranks there are a number of parts that could have easily graced my 'Best Of' list for 2017. 
I could write a second piece just for my runner ups. The really fun complete package of Marin's 1500 USD Hawk Hill (that clocks in for a few bucks more than a high end suspension fork) and the awesome Mavic Deemax shoes would be in there as well.  My fastidious inner bike nerd is stoked on anodized 'oil slick' brass nipples from TLC, Wolf Tooth stainless steel narrow wide rings and I could go on. But, I wont. 
Making a list. Checking it twice. I wrote it all down, considered it over a beer or... well... and then whittled it down like an alloy chainring over a North Shore winter and here's what's still cranking around in my head. 

My SQLab Experience
My review experience with SQLab's 30X handlebars, in both 12º and 16º back sweeps, was excellent. I'd definitely say the same for their supportive-yet-compliant 611 Ergowave saddle. 
What made them, equally, the best review experience I had in 2017 wasn't just how much I enjoyed the product itself but the response from readers. There were a number of folks who had already discovered that enhanced back sweep on bars or the enhanced 'wing' compliance made mountain biking more comfortable. Most rewarding to me is the number of riders with back pain or other comfort issues who gave an, admittedly expensive, saddle a shot on my recommendation and experienced a difference in how long or how often they can ride. 
The same story with the bars, or other bars with similar sweep. I'm not sure how 7–9º sweep became the norm but swapping to 12º seems to help a lot of riders with elbow pain, wrist pain and hand numbing with no learning curve or other negatives. 
In my experience the 16º is certainly more of an acquired taste, or maybe a longer learning curve. I love it on my single speed but I prefer less sweep on any other bike. It took a few rides to get used to but compared to hanging up the cleats, or flat pedals, it's a small expense in time and money that can pan out huge if it works for you.   
I continue to get regular messages with questions and feedback about these products both directly and in the article comments.  
Eric Porter's Tube Trick
Eric Porter is like a big kid when he's on his bike. Grinning ear-to-ear as he pedals all day on flat pedals and inventively scrolls down the trail. All day. He's also got the technical chops to wrench on his own bikes and to dominate the debate on which tube is the best to carry in your pack. 
Before meeting Eric I carried a 27" tube that could be stretched into a 29'er or stuffed into a 26" tire. Now one 29" tube has me covered from my daughters 14" Spawn to my 29+ hardtail. 
Eric's trick is to sleeve the tube into itself to resize it down to whatever size is required. Once the sleeved tube is installed on a rim and the tire mounted air it up and ride my bike!
I admit I wasn't 100% convinced until I tried it myself. Now 29" is the only tube I carry and I always have the right thing in my packs without even checking. It makes my 'Best Of' list this year because it's a great reminder that there are new, simple, ideas out there if you keep an open mind. 
Bontrager Rally MIPS Helmet
I know I have to be careful throwing around the term 'all time favourite' as in most cases I think it actually means 'current favourite, ask me next week.' As bike gear generally improves over time new gear should dominate the old stuff in performance and/or value. 
There are of course products that simply stand the test of time based on performance, like King titanium bottle cages and Chris King headsets, and there are products that I don't use now but are imprinted on me for how superior they were in the day, like my 1998 Profile Racing cranks or my first Thomson Masterpiece seat post. 
I've simply never had a helmet that fits me as securely and comfortably on a ride, short or epic, as the Bontrager Rally MIPS once the BOA adjuster is tightened. I can think of helmets, like the original Giro Xen, that were closer to a custom-fit-feel in terms of how well the shell matched my unique skull but nothing comes close once it's cinched up and I'm riding, and crashing, bikes. 
Best lid I've worn personally, so an easy choice for the Best Of 2017. 
Crankbrothers Highline Dropper
It's been a year since I put this same post on my Best Of 2016 list and it still functions as good as new. 
I've opened it up once since then for a complete re-lube and flooded the housing with TriFlow. As I've noted previously that's at most a one beer job involving a crescent wrench, a hex key and some Slickoleum. 
I've ridden other posts, like the X-Fusion Manic, that present solid performance for a lower price than the Highline but it's such a uniquely well thought out product, from the way it's actuated to how easily it is serviced, that I still think it is the best buy on the market. I don't hesitate to recommend it to friends I ride with and so far everyone I know who has bought one echoes my experience with reliability.  There's also now a 160mm version for anyone who passed it over due to the 125mm max drop.
Random Encounters 
Sometimes there seem to be so many people riding mountain bikes on the Shore that I forget how small the local scene is. Maybe two degrees of separation? Never is it more apparent then when I meet someone on the trail and they want to compare notes on cooking baked potatoes or to take me to task for my attempt at satire. 
This year the number of wise cracks I've heard about the airing of excuses, the quiet chants of "saaaandbagger, saaaandbagger" as I ride by and the friendly conversations I've had about mental and physical fitness were a hilarious, appreciated and/or inspiring highlight.

Reader reactions to Fatness Goals, which I certainly didn't achieve, and Survival Of The Fattest, of which I delivered a year long master class, were my NSMB highlight for 2017. I spirited them away for when I needed to give myself a pick me up smile or a laugh. 

Thank You. 
Looking Forward
There are lots of exciting things coming up at NSMB for 2018. Interesting bikes and gear being reviewed, teardowns with Jeff at Bikeroom and James at SuspensionWerx, maverick editorials and interviews that I'm really excited to read and who knows what else Cam & Pete have brewing. 
Happy New Year and Happy Trails.