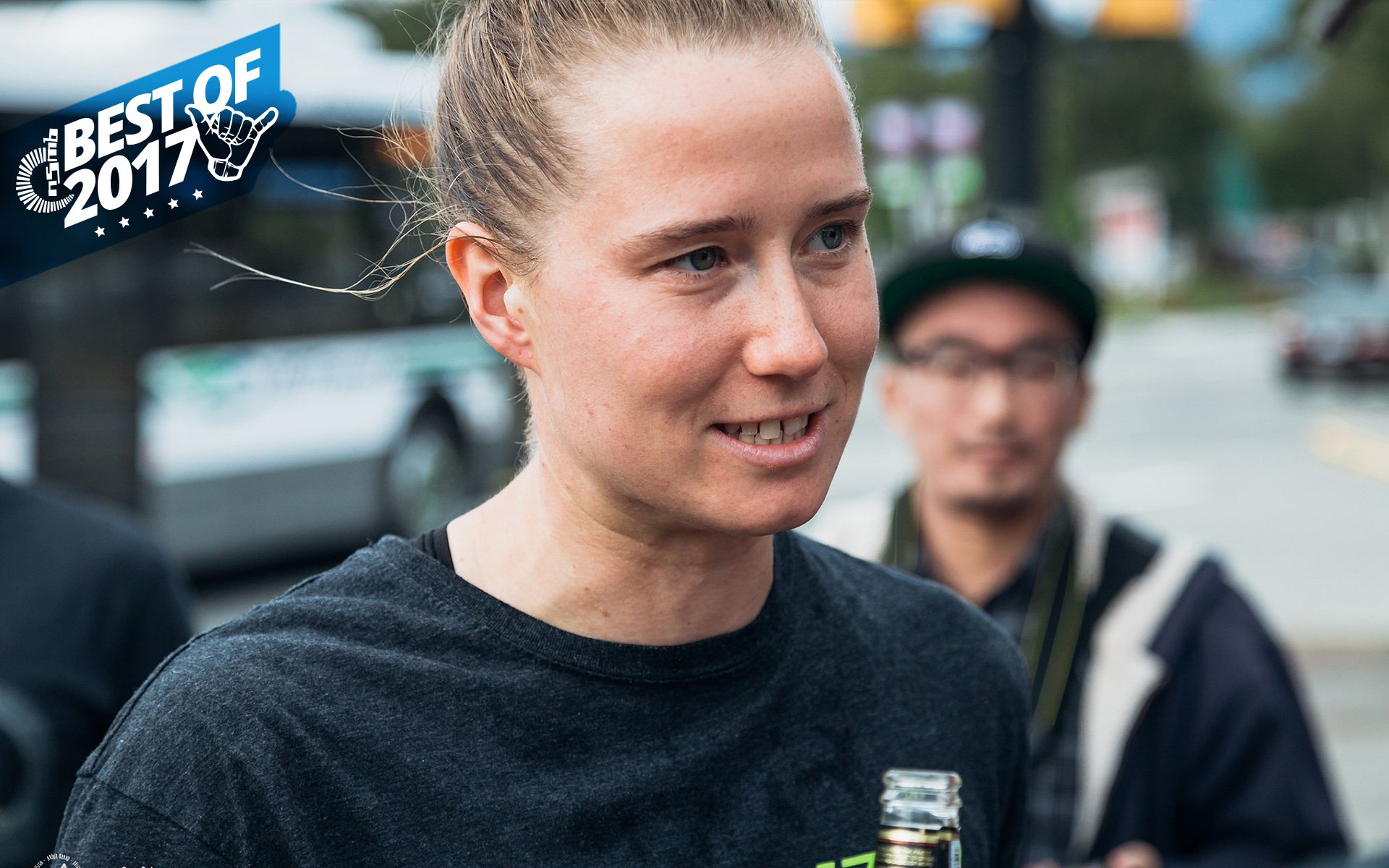 The People, the Event, and the Bike
Best of 2017 - AJ's List
While I don't feel that 2017 resulted in too much in the way of major progression in bike tech, there were a lot of smaller moves that will benefit many more riders. Some of these product-related items got me excited during the year but it was the events that kept my boat afloat, so I'm going to focus a little more on things that happened during the year and were of note for me.  
Miller Claims the Rainbow Stripes
Without a shred of doubt, this takes the cake. Having worked with Miranda on some projects over the last six years—getting to know her better on and off the bike—I've become a big fan like so many others. She's charismatic, has a great sense of humour, is incredibly skilled on a bike, and is one of the hardest working, most determined people I've ever spent time with. 
Coming into 2017 Miranda finally had the support that many felt she deserved. No longer a privateer hitting only a few of the World Cups, Miranda landed a spot on the Specialized Factory team for a full season of World Cup racing alongside the likes of Loïc Bruni and Finn Iles—a couple of terrible role-models, huh. Despite a nagging injury sustained in Fort William, Miranda pushed on and in Australia put down a solid, consistent run on the blown up track. 
Miranda's run stuck against the likes of Tahnée Seagrave and hometown hopeful, Tracey Hannah, who both pushed a little hard in the tough conditions and crashed as a result. World Cup overall champion Myriam Nicole came close but still fell short, leaving Miranda stunned in the hot seat with no riders remaining; she is now a World Champion and can wear the rainbows for the rest of her career! 
At home, Squamish lit up. Screaming could be heard coming from homes throughout town as the inhabitants stared at their screens in amazement. The celebrations continued after she returned home, which saw generations of fans and supporters show up at CORSA Cycles to welcome "The Champ" back. 
What a year for Canadian Cycling and most of all, Miranda Miller. Congrats again, mate.  
Trans B.C.
The 2017 Trans B.C. was my return to bike events after deciding some time ago that riding for fun was more important than training for events. Regardless of there being a clock on the majority of what we rode, I did the event as a participant, with no focus on times or results, instead, the focus was on enjoying the experience and new trails. Little did I know how good this event would turn out to be. 
For 2017 the Trans B.C. started in Fernie and went to Panorama, Golden and Kicking Horse, finishing with two days in Revelstoke. Having never ridden any of these locations I had no idea what any of us were in for. Turns out it couldn't have been any better, with the trails, communities and event as a whole being things I wont soon forget. Every town we visited had an incredible riding scene and there was a good amount of variety from town to town. I can't wait to go back to each. 
However, what really set this event apart from others was the way it all came together thanks to the incredible event director, Megan Rose. I've never experienced an event that pushed participants out of their comfort zone the way that Megan did and the days were incredible, from early morning scree slope missions to access the first stage from the top of a mountain, to sliding down some of the steepest and deepest trails in B.C. What enduro event organizer would have the riders dropping into Dead Dog on Mt. Seven?
Megan's events are quickly becoming legendary and it's now easy for me to see why. If you're on the fence about what experience to take on in 2018, definitely consider one of Megan's Trans events. It was the best week of many a participants' year and one of the better ones since I began riding these wild mountain bicycles. 
Sam Hill's Return to the Top

I have something to confess; I'm a fan of Sam Hill's riding. Yup, like many others in the world, backing Sambo during his race career is something that I'll likely always do. The guy is so incredibly talented that he could probably corner a tireless department store bike through a turn covered with ice, taking it on the inside and handle it with style… Maybe that's a stretch, but you get the idea. 
Hearing that he was going to retire from racing downhill was pretty hard to take, but it's understandable when you hear where he was coming from. In the end, Sam, like many of us, wanted to ride new trails and experience different places on his bike and with the World Cup Downhill schedule regularly looking very similar year in year out, he made the choice to move over to Enduro. 
Of course, the move came after first testing the waters and realizing that he had potential, but after the first few events on the 2017 Enduro 'Wet' Series it became clear that not only was it possible for Sam to do well, he was shaping up to fight for the top spot. Like any athlete, Sam worked hard on his fitness in an attempt to get it to a point so that it adequately supplemented his incredible bike handling skills. He admits himself that he still isn't fit enough and is no doubt hammering away at that this off-season, but it was enough to see him at the top of the sport again, only on a slightly different bike.  
Wider 1x Gear Range Options
In 2016 SRAM released Eagle, a 12-speed drivetrain set to completely kill off the front derailleur (or at least they hope). Having personally not been a fan of front derailleurs (I blame downhill and BMX), the continual progression to a wider gear range with one chainring has always been a welcome one for me. Sure, 1x10 was fine at the time, then so was 1x9 before I knew better but the move to eleven gears resulted in much happier knees without the fuss of a front derailleur.
Still, the 11-speed range wasn't enough for many, so SRAM pushed it to twelve pretty quickly, even more promptly bringing the range and tech of Eagle down to a more palatable price for the consumer with their GX-Eagle drivetrain. The entire group comes with a 495 US MSRP and the replacement cassette retails for 195 US. Though the wider range is great, another benefit to Eagle and one that GX-Eagle includes is the light, precise shifting and quiet action.
Prior to the more affordable Eagle landing, there were a number of great options to widen your gear range utilizing an 11-speed drivetrain, making it possible to run Shimano's ultra reliable and great value XT drivetrain (or SLX if you wanted even greater value) and still get great range. I found e*thirteen's wide range cassette to be one of the more complete options. Featuring an incredible 511% via a 9–46t cassette range, it includes a great spread that results in reliable shifting when set up well. It's a great option for those not looking to purchase an entire drivetrain or those that would prefer to run Shimano. At 249 US it's not cheap to replace and is still a little more than the GX cassette, but if your options are limited by any of the above, it's a great way to go. 
It remains to be seen if 2017 was the beginning of the end for multiple front rings on a mountain bike but one can only assume that Shimano has a 12-speed option in the works—if and when that is released it would be fair to say that the front derailleur will become a figment of our (wildly overactive) imaginations. We can safely say that 2017 was the year that 1x drivetrains were more widely accepted thanks to the more affordable options providing sufficient gear range for the masses.   
The GeoMetron G16
While it may not be a brand new bike this year, I was lucky enough to have my first experience on one and there have been some updates to the frame for 2017 as well. For those unaware, GeoMetron is a boutique brand from the mind of U.K resident, Chris Porter. With the assistance of Germany's Nicolai Bikes, who manufactures the frames for Chris based on his years of research, we're now looking at the 2017 version. The GeoMetron G16 now has a Boost rear end, a wider 83mm BB (you read that right, a trail bike with the same BB width as most downhill bikes) and the most progressive geometry available. 
The process of me reaching a point where the G16 had a larger appeal more or less began at end of 2016 when I suffered an injury that kept me off the bike for some time. Once healthy enough to begin riding again it became clear that my bike was too small. I sold the frame in favour of a larger size and noticed that it felt better and low-back pain while riding hard was virtually non-existent. From there I've gone from big to bigger, eventually settling on the 2017 G16. 
Coming from a background of riding bikes that are too small, it was initially a little difficult to understand the way a GeoMetron would actually ride when first hearing about them a number of years ago. Nevertheless, I was very interested in some of Chris' concepts, even at that time. With every bike I rode growing longer with steeper seat angles and still not hitting a limit, it was time to try one. After getting some time aboard a G16 late in the summer months, I was convinced that this was not only the bike for me but that so many, including myself up until more recently, don't understand it because of too much focus on static geometry numbers and more so, individual segments of those numbers rather than how they work together. That's a whole other story, but I've found the G16's abilities astounding in all situations thus far.
Now having spent more time on one I experience no back pain, climb with far less rider feedback (squirming up and down the saddle etc.) and otherwise maneuver the bike the same as any other I've ridden over the years. This is the bike that I will be testing most products on from here on out, and it will be my personal ride for years to come.  
For more check out the GeoMetron website...