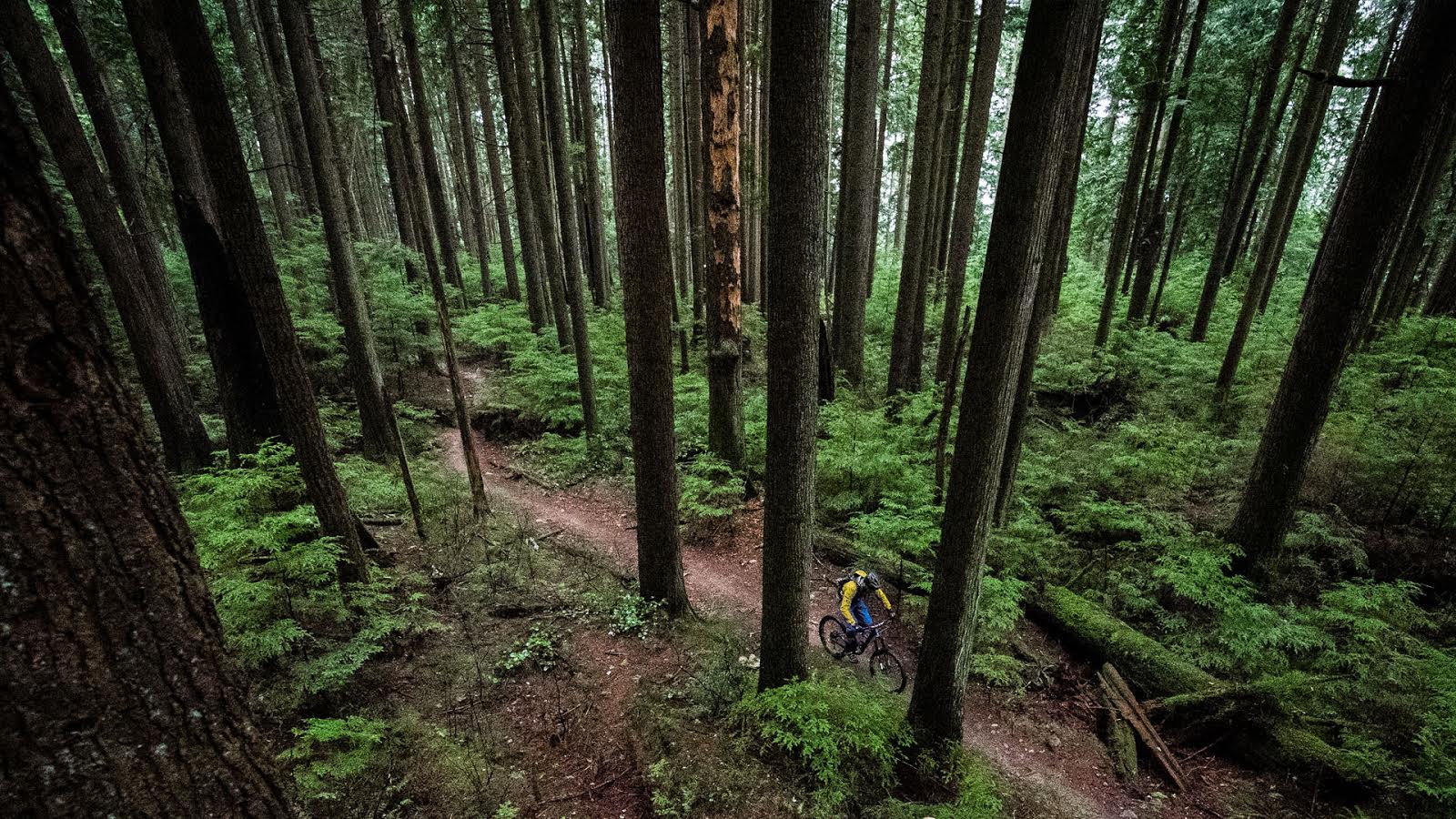 Best of 2016 – Pete's List
If anything, 2016 altered some of my preconceived notions. My eyes were opened about some bikes' capabilities, and more importantly, I re-learned a few lessons about having fun on bikes. I could stop right there, but I won't hit my word count, so let's add a little context.
Less Travel doesn't mean Less Fun
Rapid, drastic innovation is more or less behind us in this sport. What we get instead are incremental gains and progress that is harder to chart because it comes in smaller doses. Yes, drivetrain innovation was a big one this year (SRAM Eagle, OneUp Shark, Shimano XT Di2) but we're also seeing the payoff of incremental gains in suspension tuning and design as well as geometry and construction. Carbon bikes are lighter and stronger, and if you don't feel 100 grams / year or so coming out of a company's frames in a single iteration, you sure as hell do if they roll out a frame that all of a sudden weighs 3-400 grams less that is also stiffer. If that 150mm bike has a better shock, better tuning (not to mention geo), and comes on a lighter chassis, those things all add up to a significant gain, whereas on their own they might have been less impressive. If looking back two years doesn't impress you much, look back five years at what top of the line bikes weighed and how they rode, and all that money going into R&D (which translates to higher bike prices) makes more sense. The bikes we can ride now are so much better than they were five years ago that you can cover a spectrum with fewer bikes. I'm not saying fewer bikes are better per se (n+1 forever!) but it's possible, and de-cluttering is a good thing. Since I feel like I gained some added perspective this year, I'm reminding you to try it on for size as well. It won't make your next bike cheaper, but it might make that investment a little easier to handle.
Santa Cruz Hightower
Opened eyes started early in the year for me, with a trip to Aysen, Chile, for the launch of the Santa Cruz Hightower. Granted, a 135mm 29er isn't exactly a short-travel bike, and the terrain there was not steep or consistently technical, but that didn't stop me from being impressed by what that thing could do, down in Chile but especially back home on the Shore (as well as in places like Santa Cruz and Ashland). It likes to go fast and feels stable but still complies to quick directional changes, and when you hit the bottom, turning around to climb back up is not a chore. In fact, it encouraged me to pedal more and longer when I got back home. The only time the Hightower reminds you that it's not a bigger bike is exactly when it should be expected: at high speeds in the really rough stuff. If I lived anywhere else, this bike would top my list and serve almost all my needs, because I don't race XC and I now know there are bikes that can handle all but the nastiest, steepest, technical lines with less travel than I thought. Bonus points for plus tire compatibility, even though I don't feel the industry has mastered that genre yet.
If I learned in 2016 that I can love a well-designed 29er, I was also reminded that 27.5 isn't going quietly into the night. Two bikes that slightly blur the ever-changing lines also impressed me and were a good reminder that there is no single recipe for the perfect bike.
Rocky Mountain Thundervolt
We built a Rocky Mountain Thunderbolt up with a Shimano XTR Di2 group. It was a Gucci build, no doubt, but the striking thing is that a bike with the Thunderbolt's intended use (TechC meets BC trail riding) would generally be drawn up on a 2017 drawing board as a 29er. However as we zeroed in on the build and setup for that bike that most suited our trails and riding here in North Vancouver, it became apparent that a bike with XC roots that was cross-bred with something a little zestier could absolutely still be perfect with goldilocks wheels. I can still remember one ride in particular on the Thundervolt that goes down as one of the best of 2016: it was the summer solstice, conditions were perfect, the beer up top tasted great just as the sun started to set, but the bike felt perfect on the way down and was the ideal complement to the steep, techy shore lines we chose for the longest day of the year.
Trek Remedy
The other bike that defied the trend towards bigger wheels was the 2017 Trek Remedy, which I first got to ride at the Trek Global Launch in Squamish this spring. Trek did something unusual by discontinuing the 29er version which had been labeled as a favourite bike of 2015 for many people and editors. They were able to do this, of course, because they re-released the Slash and made it available only as a 29er – and also with 150mm of travel. I was surprised to see the Remedy 29er just disappear like that, however all the bases are still covered with fewer models. And although I came away from that media camp having been even more impressed with the new 130mm Fuel EX (another time a lower-travel bike really opened my eyes in 2016), once I got more time on the Remedy I came to deeply appreciate it. Lines I had only comfortably ridden in the past on my Nomad felt even more comfortable on the Remedy, which gives up 15mm in rear wheel travel, and 0.5 – 1 degree at the head tube. And it pedals much better. A year ago or more I would have insisted that you want as much travel as you can comfortably pedal up for the nasty lines on the North Shore; now I heartily subscribe to the idea that I'm happier on a bike that emphasizes pedaling performance as long as the geo is balanced and the reach and true seat tube angle are well balanced for my body.
My preferences changed, and it only could have happened after spending time on shorter travel bikes that don't sacrifice much when you point them down. So all three of those bikes hit my best list, because all together they worked to shape my opinions as a rider and tester.
Shimano XT Di2
Last year, Shimano Di2-equipped bikes started appearing, mostly on XC race courses. And everyone knew that the XT version was coming, and that it would herald the beginning of electronic shifting on MTBs in any kind of real numbers. We're still not going to see too many bikes with XT Di2 until halfway into 2017, but it's coming. And it is good.
With XTR Di2, a lot of noise was made about the fact that you could use one shifter to control both derailleurs. However, even though riders in Europe and some other parts of the world don't want to give up their front 'mechs' just yet (and Shimano's latest front derailleurs are superb), its days are numbered for most riding areas and populations. So we're testing XT Di2 as a one-by setup, and the technological marvel that it is is no less impressive even though it's only controlling one derailleur instead of two. Shifts are precise, fast (and speed is controllable via the app), and require a very light button press. The added longevity afforded by a self-adjusting derailleur will be welcome – as will a lighter and more elegant rear cluster once Shimano have had a bit more time to release it. And although it isn't 'cheap', it's now fair to say that Di2 is within the realm of possible – it's about the same price as mechanical XTR at least as far as what bikes you can expect to see it spec'd on.
The reason it's on my best of list is because it represents a terrific use of technology, and although it is far from essential – and it won't herald the death of mechanical drivetrains – it does represent significant progress. And it works really, really well. We'll have more to say about that soon.
I'd be even more excited if we were talking about wireless drivetrains, but we're still a year or two away from that, and it's going to be the folks from Chicago that roll it out first unless Shimano have a really big surprise up their sleeve.
BC is as Good as it Gets
From the Desk of the Department of the Obvious: the riding in BC is amazing. In a year that started with a trip to Chile and included riding in some incredible places like Oregon and California, however, I had quite a few reminders that BC is far and away the best place to ride a mountain bike, but only if your criteria include quantity, quality, and variety of trails. From Squamish to the Sunshine Coast and the Chilcotins, major bike brands booked their media camps in our province this past year, and it was a lot of fun watching editors from other parts of the world come and ride these trails, often for the first time. The trails in BC are a part of my best of in 2016, and will be again in 2017 and every year thereafter.
If you haven't ridden your mountain bike here, maybe 2017 is the year. Trail associations are stronger than ever. Tourism associations are jumping behind the ability of mountin biking to draw visitors, and more and more businesses are springing up with the goal of servicing those visits. Sure, come to Whistler to ride the park, but don't forget all the other bike parks, and certainly don't pass up a chance to visit the incredible trail networks up and down the sea to sky (Vancouver to Pemberton), or on Vancouver Island, or the Interior, or the North, or the Sunshine Coast…see what I mean? It's amazing here, and we have room for all of you to come and visit.
Jackets – Patagonia Alpine Houdini, Bontrager Lithos Softshell
We give jackets a lot of attention around here, and for good reason. We all ski or snowboard, but we also ride all year round, and this year in particular has had us talking about the snow conditions – as mountain bikers – a little bit like backcountry skiers talk about how weather patterns affect snow pack and stability. We had an incredibly wet and shitty October – great for testing waterproof shorts and jackets – and then November got cold and all of a sudden we were night riding in the snow. And it was glorious.
For those colder nights when waterproofness wasn't the number one concern, I reached time and again for a Bontrager soft shell that I've had since last year. It's called the Lithos, and it's been with me for riding in cold, mostly dry weather (but it can stave off a squall), on backcountry ski tours, and several hikes in the late Fall. When I've needed a packable, lightweight shell that will hold up to a legitimate rain storm, or keep me protected for the ride down the hill (ie. 60 kph windchill), and fits into any pack or even a hip pack (don't call it a fanny pack!), the Alpine Houdini has seen a lot of use since the spring.
Neither one has terribly useful pockets. The Lithos' zippers are more for ventilation but you can barely fit an iPhone 6 in top section of the largest one. The Houdini has just one chest pocket, which also fits my phone. But neither are intended to be pack horses – they're both utilitarian pieces designed to provide just the protection you need. It's probably impossible to find a jacket to fit all needs, but this duo covers almost everything, especially if the Houdini is big enough to cover the Lithos in really hideous weather. And that's the only thing to note about the Houdini – at 6'1 and 190 (mebbe a few more LBs right now – thanks Egg Nog!) I still have room inside a size M. On the other hand, it's long enough to cover my ass and fit over multiple layers without being drapey, so I have to say the fit actually works for me even though it's not a traditional bike-specific fit.
I highly recommend them both, and rather than spending big bucks on one jacket, the budget-friendly choice is to buy a few pieces that cost less and use them wisely. These two will cover you for 90% of all riding needs when a jacket is warranted, and both work well for other activities.
Lezyne Super GPS
I use Strava casually. I'm not a fervent data analyzer. KOMs aren't important. But in advance of my trip to Chile, I was pumped to have the Lezyne Super GPS in my bag. Not only could I keep an eye on how many kilometers we'd covered and meters we'd climbed, it also meant I could track my rides without the risk of wearing down my phone's battery on day-long rides. Even better: the Lezyne Super GPS is easy to use and holds a charge for multiple days of riding. In fact, in four days of riding about 8 hours a day, I charged it once, but didn't really need to.
The Super GPS was easy to setup and is easy to customize the screen to different needs, whether you want two or three data prompts on the screen – I settled on speed, distance traveled, and usually amount of climbing. It is waterproof, durable, the fastener is quick and simple and stable, and it took me only a few rides to be able to find the right button to activate the light or scroll through different screens without any fuss.
In short, it does its job well and simply, is built to last, and delivers a ton of utility. It is bluetooth-ready, which I like the idea of but found it difficult to read text messages that came in while riding, so I usually turned that off. But you can also connect to ant+ if you're a cadence geek or want to dig into your data. There are smaller, cheaper versions, like the Mini or Macro GPS, which might be my choice, that start at USD $99. If you like to track your rides and travel or are worried about running your phone's battery down or want the extra functionality, Lezyne's GPS units are a great choice.
---
Utility and value always go a long way for me, but I was especially happy to have my mind changed on a few things this year. What about you?