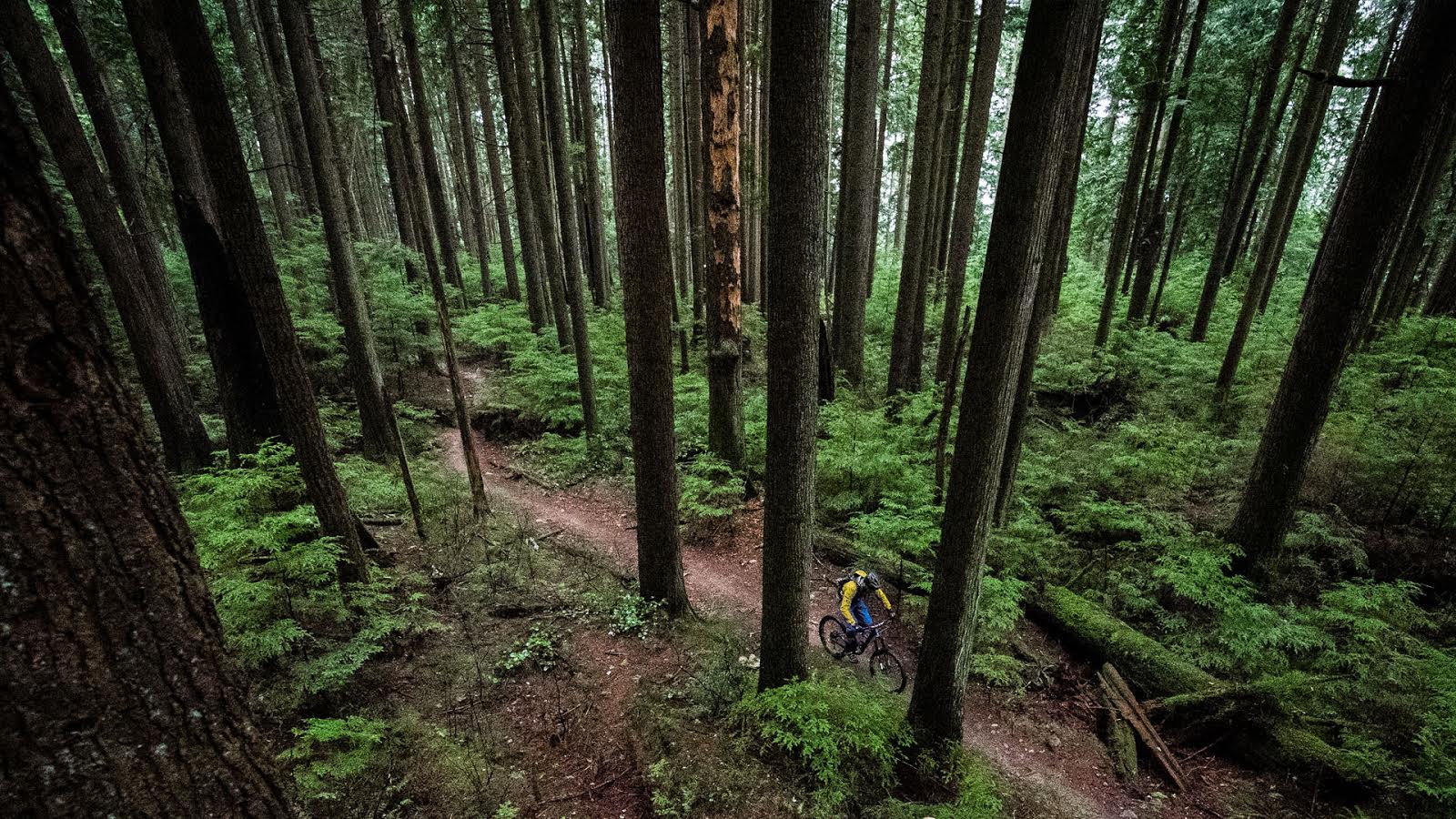 Best of 2015: Pete Roggeman's list
Stuff. Sitting here thinking about it. Writing this because I said I would. What I really want to write about are my favourite rides, or the best post-ride sips of beer. Not the pieces of metal and plastic that helped make those rides happen. So here's the compromise: I will write about stuff a little bit, and in a few weeks, I'll write about rides and the beermories that came later. Summing up 2015 is not appropriately done by talking about stuff, but here is some stuff that helped make some great memories this past year.
SRAM GX
For years, riders surfing the line between value and performance were likely to choose Shimano XT components. Light weight, reliability, and reasonable pricing made it hard to beat. SRAM's introduction of XO1 threw a cat amongst the pigeons, but budget-conscious 1x wannabes were left waiting for the trickle to double down. X1 was a step in the right direction, but one-piece even its multi-piece cogset prevented the price from coming down to a level that justified a switch for many, 1x drivetrain temptation notwithstanding.
In April (details), SRAM announced GX, the next level in the 1x layer cake. Its positioning as SRAM's 4th tier 1x group might imply pricing would be comparable to SLX or Deore, however it's actually identical to Shimano XT instead, which says as much about the pricing of the uppermost SRAM groups as it does about the amount of trickle down performance built into it.
And that built-in performance is considerable. I've been running GX since attending a Rock Shox tuning camp in early June. The stuff it replaced was a wish list of XX1 and Race Face SiXC, and while it's hard to be disappointed with a fresh drivetrain, I was a little sad to be gaining about a pound of weight on the bike and (maybe) giving up a bit of performance, but you can't always eat filet mignon – sometimes you have to settle for (not so) lowly prime rib.
I needn't have worried. Thinking I'd run it for a few months and then swap it back out, the GX stuff hasn't given me a reason to cast a single hairy eyeball in its direction. Had the chain started dropping or my shifts suffered some skips, I might have rationalized a swap. "I've given it enough time, it works pretty well for a budget (sort of) group". But those issues never materialized. Plenty of abuse has been heaped upon that drivetrain: grime and snow didn't affect the shifting; Whistler bike park's infamous mud was simply shrugged off; imperfect shifts didn't expose a lack of stiffness; and I haven't had to monkey around with it to keep the shifting precise and smooth. It's almost embarrassing how well the drivetrain is still working despite a lack of maintenance, other than infrequent de-greasing and cleaning.
I didn't pay for that GX group, but if I had, I would be very happy with my investment. I also haven't spent nearly as much time on Shimano's M8000 XT group yet, but the gap is narrowing and it's fair to say that even die hard Shimano fans may be giving GX a second look the next time they're putting a build together.
---
Arc'teryx Carrier Duffles
There must be a formula that considers the relationship between the number of road trips and happiness. Someone figure that one out, and maybe we'll make it into a t-shirt…
This past year saw plenty of road trips and miles racked up with gear and bikes in the back of a truck. The Tacoma is hard to beat for hauling bikes and bodies around, but like all pickups, it has an achilles heel in the mountains (or wherever weather isn't predictable): the open bed leaves your gear exposed to the elements. If you can't stash all your stuff in the cab, you're in need of protection. For the last year and a half I've been hauling gear around in Carrier Duffles from Arc'teryx.
Designed to be light, easy to carry, and to provide protection from the elements, the carrier duffles live up to those intentions. Arc'teryx stops short of calling them waterproof but in my experience water has never snuck in to dampen the gear inside. I even left them out in the rain a few times on the portion of my patio that doesn't drain well – puddles stayed on the outside, gear stayed dry on the inside.
Unlike comparable bags from The North Face or Patagonia, the Carrier Duffles are lighter and more supple, letting you roll them up and stash them easily if needed. On occasion I left home with one rolled up, and came home with it full of acquired goodies from my travels. That's handy for camping trips or re-supply stashes, or anytime the amount of stuff you're hauling changes. And that adaptability is a good thing, because if you invest in one or two of these, you're going to want to use them a lot. The 50 and 75 litre versions I've been using cost $159 and $179 USD, respectively. They probably won't replace your luggage for all trips – duffels are not nearly as easy to dig through for your favourite pair of Saxx as clamshell-style luggage. On the flip side, they are durable enough to withstand baggage handlers and the backpack straps are removable and can be tucked inside or left behind altogether.
---
Pacenti PDent
Skeptics and fearers of change, take note: Kirk Pacenti's PDent is a simple idea that will have larger future implications – without requiring you to buy a new wheelset or make you want to trade in your current ride. Better handling is only a dented bar and shorter stem away.
So many good bikes have been released in the last few years that we've often found ourselves discussing geometry as much as frame design or suspension kinematics. For many, geometry and its effect on handling will have an equal or greater impact on ride enjoyment and performance as suspension design or tuning. The advent of 1x drivetrains (and, like it or not, Boost) has allowed engineers and designers more flexibility with pivot placements. For example, if you remove the front derailleur, certain frame designs become easier to adapt to longer travel iterations or geometry tweaks that improve handling. But the lowly stem has been a limiting factor – until recently you couldn't make it shorter than ~35mm (for a 35mm diameter bar) without placing it atop the steerer tube, which is far from ideal. Pacenti put together a pretty good synopsis of the thinking behind PDent and stem length and it's good reading if you want a little more to chew on.
Kirk Pacenti bypassed this issue by simply putting a dent in the handlebar. All of a sudden, 25mm stems are in play. Or 20. Or even 15. My sample 25mm stem and accompanying 800mm carbon bar arrived in August, and I'm not planning on supplanting them anytime soon. The switch from a 50mm stem down to 25 was obviously very noticeable, and the faster handling was welcome, and didn't come at the expense of stability at high speed. In steeps, the added control has piled more confidence onto what was already (I thought) an ideal front end. At slower speeds I can make faster adjustments to correct for my mistakes.
The only place I have noticed a negative impact is on technical climbs. For a bike that was already a demanding climber, the Santa Cruz Nomad is now twitchy on the way up, and sometimes I confess it gets the better of me. However, since I'm never giving up red wine and fondue, descending performance will always trump climbing speed. I'll take an occasionally disobedient front end in exchange for blink-of-an-eye handling and line adjustments.
So PDent is on my list of favourite things for 2015, and for anyone looking to speed up their handling or help justify that wider bar, a 25mm stem (and yeah, you'll need a PDent compatible bar as well) may do the trick. The larger impact of the system, however, will be felt as frame designers start to design around a 25 (or 20 or 15) mm stem, giving us longer top tubes and the associated handling benefits those bring.
---
What'll be on this list next year?