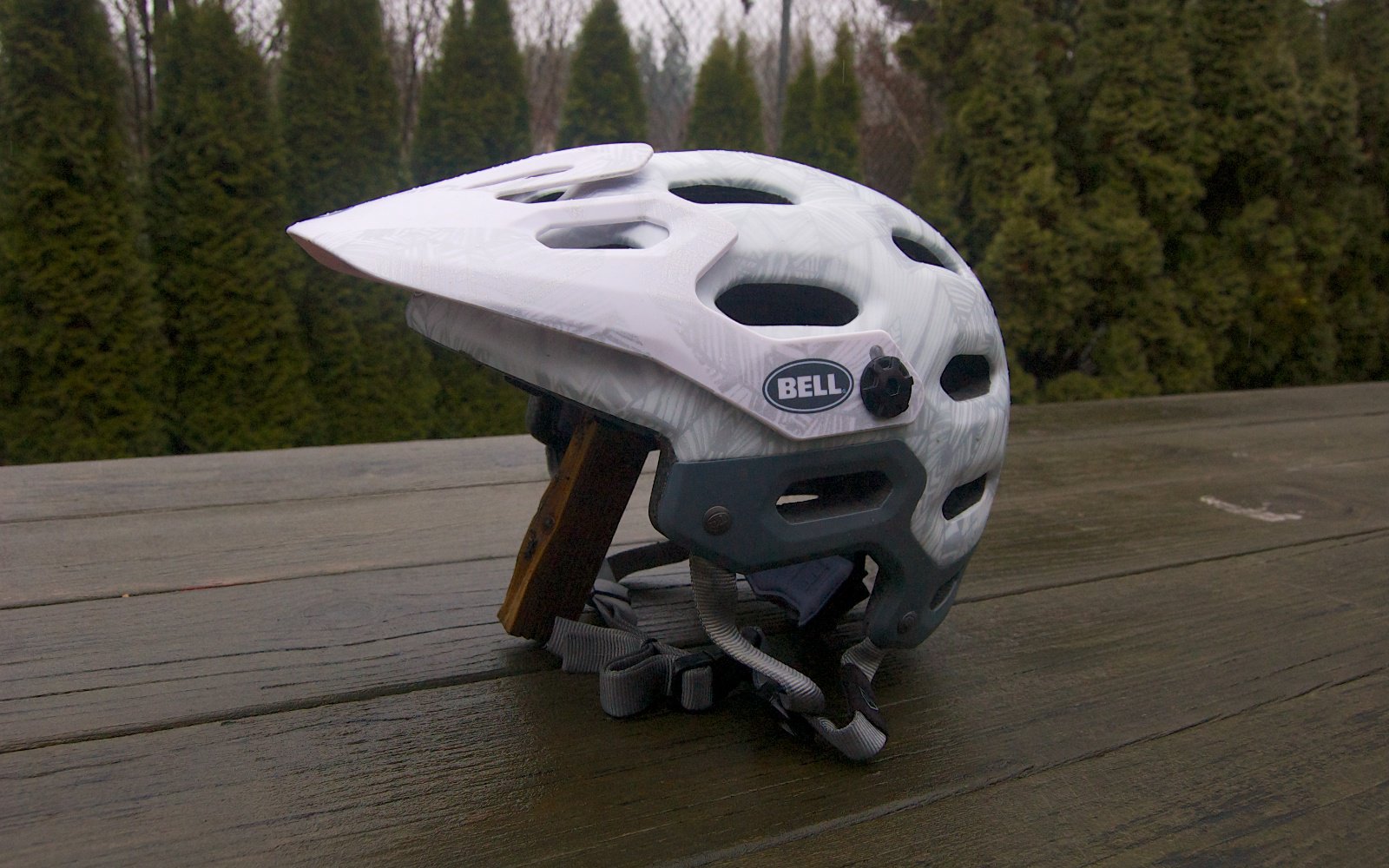 Bell Super Helmet: Reviewed
With "enduro" being a hotter marketing buzzword than "xtreme" was in the 90s, it's no surprise that most of the major helmet companies are producing something with a bit more coverage than an average XC lid. The Super is Bell's entry in this category, and with a deep fit and lots of coverage in the back, it's proven popular with racers and trail riders alike over the past season. I've had the chance to use the Super for a while now, and overall I've been rather impressed with its performance.
The Super. Cape sadly not included.
My biggest concern with a full coverage helmet is ventilation. I wore a skate style skid lid while trail riding for longer than I care to admit because I liked the level of protection. Since then I have been on a quest to find a helmet that keeps my sweaty head cool while still offering up that increased level of protection should I make an unscheduled dismount. Thankfully I haven't had the opportunity (or misfortune I suppose in this case) to test how the Super protects in the event of a severe accident, but I have had the chance to see how well it works otherwise.
Looking at the outside, one can't help but notice all the vents Bell has put into the Super – 25 to be exact. This is good news, as they do an excellent job of moving air through the helmet while riding both up and downhill. During extended road descents, I found myself coming down with symptoms of brain freeze due to the cold air blowing through. No doubt this will come in handy once the weather warms up again.
Lots of vents. This is one of a whole pile of colours offered and lands somewhere in the middle between understated and outlandish.
On the inside, Bell has padded the Super with X-Static anti-microbial padding. There's a whole bunch of science and silver fibres that go into them, but the long and short of it is that the pads resist that awful funk that inevitably develops over time – and I've also found they don't soak up sweat like a sponge.
An inside look at the Super, and its science-y padding. The grey plastic vents at the front help direct air down into your goggles, keeping them fog-free on the descent.
Fit is another key factor to look for in a helmet: it can have all the best whiz-bang technologies in the world, but if it doesn't work with your noodle, it's pointless. I found the Super's fit to be relatively deep, in that it sits low on my brow and the back of my head. Personally I like the way it fits, but some may find it too deep or low on their face. As with any helmet purchase, you're best off trying this one on before pulling the trigger.
The familiar dial type adjustment at the back of the super works as expected.
While this winter has been a relatively dry one there have still been days where conditions have been soggy, and I find myself reaching for my goggles. This is another area where the Super shines. The visor is easily adjustable and has enough real estate underneath to comfortably perch a pair of goggles. Just don't let your friends catch you riding with the visor in the sky-high "joey" position.
There's enough room under the visor to shelter a horse in a storm.
All that being said, I do have two little nitpicks with the Super. The first relates to the integrated camera mount on top. While I think the concept of an integrated mount is an excellent idea and would love to see more helmets offer such an idea in the future, I was a bit miffed that the only thing I could mount was a GoPro camera.
The mount in question. Dear bike industry, can we develop a universal mounting system sooner rather than later?
I understand that there is no universal mounting system for head-based accessories (at least not yet), but it's frustrating to have both a POV camera and a head lamp and not be able to use either right out of the box. Of course the hackers of the mountain bike world have sorted out ways to mount other things to said GoPro mount, but it would be great if there was an OEM solution.
Helmet with the mount attached. Shame I don't own a GoPro.
The only other issue I take with the Super has to do with its rear retention system. The system is adjustable between three different positions to optimize fit, which is an excellent idea in concept and one we see implemented on many helmets. The snaps that accomplish this task are quite small, and with my fists of ham I was afraid of snapping them off while trying to adjust them. This won't likely be a problem for most people, but be careful while mucking about with it.
All in all though I've been quite impressed with the Super. It does a good job of keeping my head cool and sweat-free while providing a higher level of protection than my old trail helmet. There are a few little bugs to deal with, but neither is a deal breaker. If you are looking at doing some serious descending this summer but don't want to bake in a full-face, I highly suggest giving the Super a look. It weighs in at 390 grams and runs for $125 USD.
---
It's nice to hear that protection no longer has to come with the sacrifice of wearing a sauna on your head…