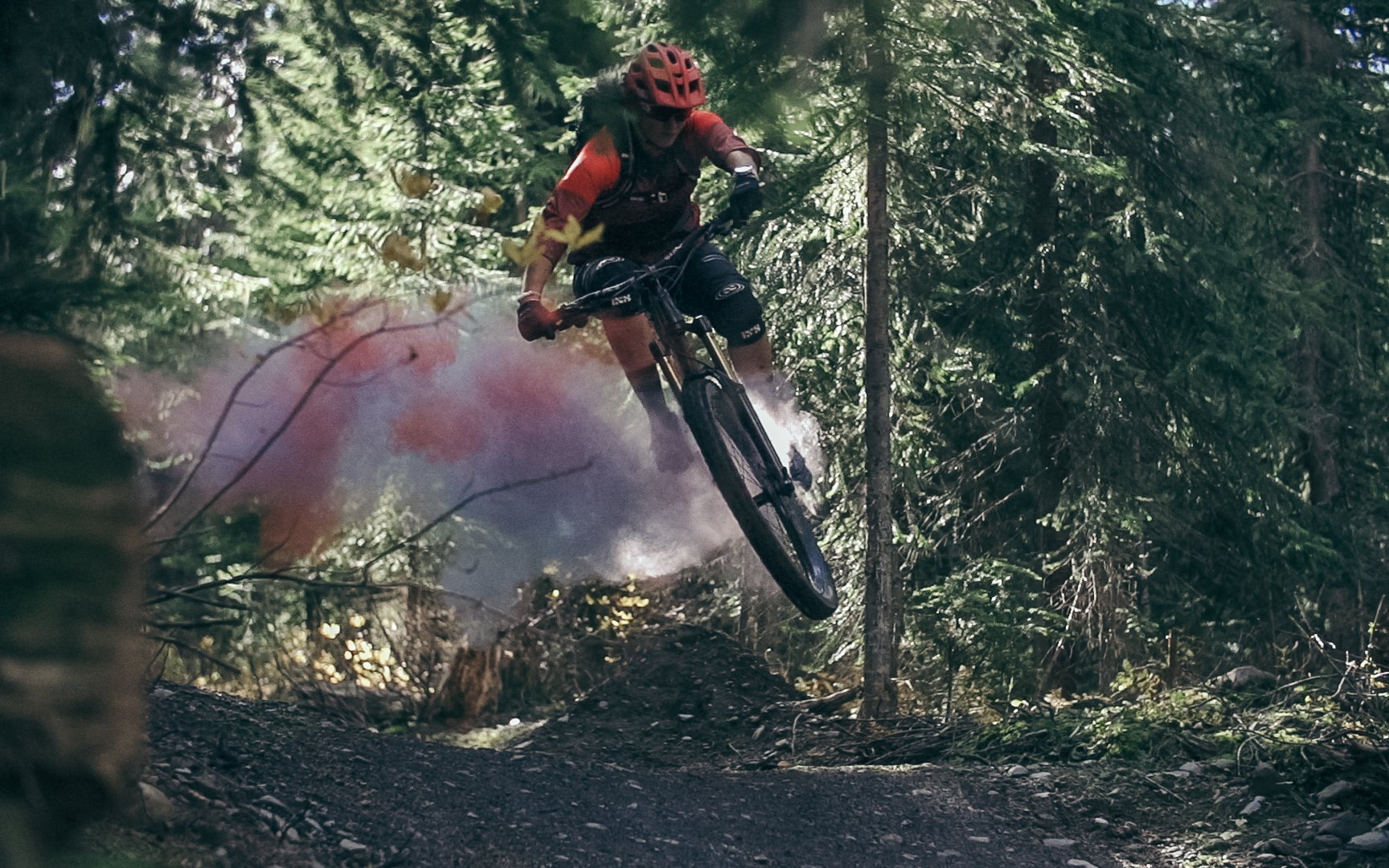 Lacy Kemp and Micayla Gatto
Intersection: Behind the Scenes of an Award-Winning Short Film
This Friday the Banff Mountain Film Festival returns to North Vancouver at the Centennial Theatre for the 2017/2018 World Tour. A second showing of different films will be held Saturday night, downtown at The Centre Theatre. The Friday show will feature a North Van native with Micayla Gatto in Intersection. You've probably seen her summer hit Ferda Girls that took the Crankworx Dirt Diaries by storm. Intersection was actually filmed a year prior at Retallack Lodge. Directed by our southern neighbor, Lacy Kemp, the film won Best Mountain Sports Film at this year's flagship Banff film festival.
What you don't see while watching the short film is the effort and struggles that the team went through to produce the piece. Lacy Kemp gives us some notes from behind the scenes, making it all the more enjoyable when watching the finished product. 
While everything looks tidy on the screen there's always behind the scenes shenanigans that make every project a bit more interesting.  
On day one of filming, our second (of two) filmers didn't show up. That's 50% of the manpower needed. That was a total shit show. Due to some unforeseen circumstances, he was unable to join the project but did provide us the number of Dylan Siggers, a Fernie local who is well-known for his ski films. Dylan drove through the night to join three total strangers. There is no way this would have worked without him. 

We shot this project on a skeleton crew. Two filmers ran five cameras, including the drone.  

Believe it or not, Micayla had Ebola the entire time during the shoot. She was so sick she could barely push her bike back up the trails. Somehow, she made it through.  

On day one, while filming in the alpine, a deer ran in front of Micayla and almost became our dinner. This shot didn't make it into the piece, but the footage is wild. (Pun intended.) 

Our first day began at 4am with a sub-freezing hike to Reco Peak in the alpine. Our intentions were to fly the drone and get that first purple light. Unfortunately, the drone batteries had other ideas and refused to power on due to the cold temps. I ended up shoving batteries down my pants to warm them up to the point of being able to work for just enough footage to shoot the opening scenes. It is not comfortable hiking mountains with batteries in your pants. 
None of the color effects were added after the fact. All the smoke and colored puddles happened on site in real time. Everything we used was environmentally friendly. No mushrooms were harmed in the making of this film. 

During some downtime, Micayla wrestled our guide, Johnny Smoke, and one of our filmers on the lodge wrestling mats. She pinned them both within seconds every single time.  

Johnny and I carried dozens of 10-gallon buckets of water up a hill. This may be the best/worst workout ever. 

In order to achieve that dank foggy look in the woods, I used a leaf blower while pouring pale yellow colored powder in front of the spout to spread it through the air. I still have MIcayla's dad's leaf blower and I don't think he's very happy about that.
The drone shot where Micayla is riding down Gem Trail that eventually turns into a painting at 2:06 took over 90 minutes of waiting for the clouds to part and for the sun to hit that ridge. The cameras amassed frost in the below freezing temperatures. During that time, we encountered several areas where grizzlies had been earlier that day. Fortunately, we didn't see any during the shoot.

The art piece Micayla created in the studio sections of this shoot is hanging, unfinished, in my house. That ridge is the same one we waited 90 minutes for, and Micayla says it's her favorite line she's ever ridden.

Micayla estimates that she probably worked 80+ hours on the paintings for this piece. 

Q&A with Micayla Gatto
What's your favorite memory of the shoot?
It was my first time at Retallack Lodge, and I was just blown away. Hiking up to the top of Reco Peak before the sun rose to get those first few shots was one of the most beautiful places I've ever experienced. The Gem Line that I've now painted over and over will forever have a lasting impression on me as well. I'd say my fondest memories of the trip, however, were the people. The staff at Retallack quickly felt like family, and to have a great film and production crew there as well was super special. 
What was the hardest part of the shoot?
Saying goodbye, and how sick I got! I completely lost my voice and actually developed a lung infection afterward, so all the hiking up throughout the day was definitely a challenge. 
How many hours do you think you put into painting? What surprised you most about this project?
How many hours go into editing and how long it took for me to draw all of the scenes. It was the most labor-intensive project I've ever been involved in. The riding was the easy part! We worked for weeks, even months, drawing everything up and lacing it into the edit. 
Any funny stories?
Too many to count! Actually, I can't think of anything specific; all of my Retallack experiences are slowly blurring into one amazing memory haha. I guess the wrestling match was pretty hilarious though. I was paired up with some of the guys, and I think I might have injured one of the guides (sorry Johnny). Overall though, the whole project was tons of laughs. 
What's been your takeaway from this project?
I'm stoked with how it turned out, but obviously, I'm always looking for ways to go bigger and higher and be more creative. It definitely opened my eyes to more opportunities, and what really goes into making a high-production video. It was the first time I'd really been featured in a big edit like this, so I learned a lot.
What was your reaction when you heard you won Best Mountain Sport Film at the BMFF?
I was floored. I had no idea! It's been overwhelming the response we've gotten from it, so to win Best Mountain Sport Film was just the curry on top. I think the whole team was surprised. Sometimes you can just be so close to a project that you lose sight of what it really is, and how different and unique it is. 
Sounds like you were sick and maybe had a broken foot. How did you survive?
Haha oh mannn the foot! Yes. It was a tough few days. Like I mentioned earlier, I was ridiculously sick, lost my voice, and could barely breathe. Then, on top of that, we were kind of rough-housing in one of the hotel rooms, and I pretty much unintentionally soccer kicked the end of one of the boy's tripods that was attached to their 60lb camera bag, with the top of my bare foot. My foot swole up massively and I could barely walk. We only had that time to shoot though, so I made it work. I never got it looked at, but it definitely bugged me for about 6 weeks after, and still feels weird in ski boots, so who knows.
Anyone you'd like to thank or give shout outs to?
Lacy Kemp for sure. Our filmers Garret Van Swearingen and Dylan Siggers as well. Rylan and Johnny Smoke from Retallack Lodge for being amazing (and patient) guides the whole trip, Tucker for filling our bellies every day with some of the most delicious food ever. Gemma and Kia for organizing our stay and making us feel right at home. Mike Kinrade for letting us come up and film so late in the season, and the entire Retallack staff. Scotty from Juicy Studios for editing the whole thing, and being so receptive to new ideas and changes, and for organizing the unique musical scores. Red Bull for funding the project, and to all my sponsors for keeping me kitted out and feeling good in my equipment and on the bike.
Intersection is intended to be a series of films featuring athletes that also double as artists. It'll be hard to top the success of this first one, but nothing bad ever comes from setting the bar high. Stay tuned to see what the crew comes up with next!  
Lacy continues to create content that is unique and of a high caliber, and Intersection is no different. Watch it below and if you're in the Vancouver area, be sure to head to the Centennial Theatre in North Van. on Friday night to watch it on the big screen as part of the Banff Mountain Film Festival's world tour (along with a selection of other amazing films).