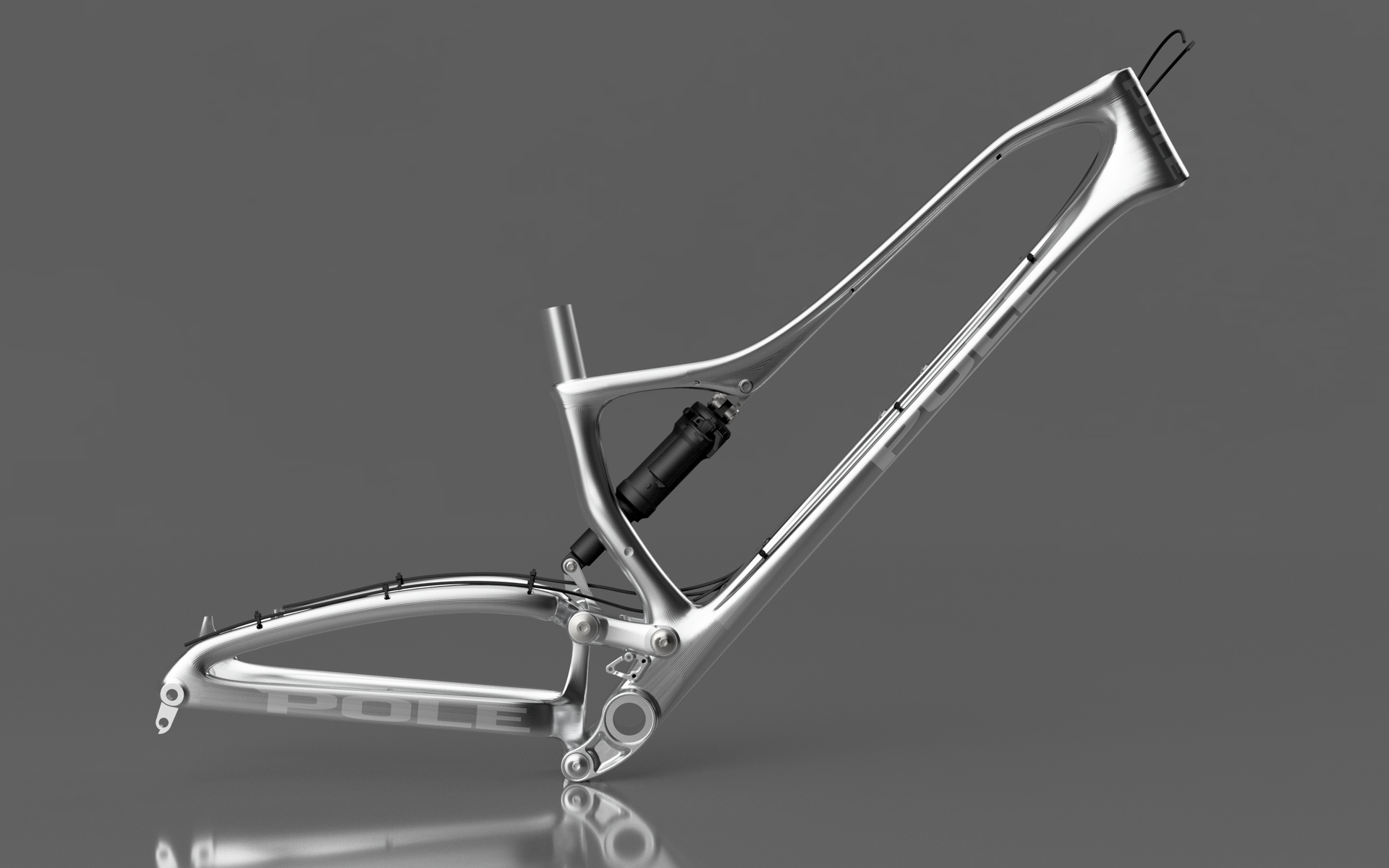 Interview with Leo Kokkonen
Behind Pole's CNC 'Superbike' - The Machine
Finnish bike company, Pole Bicycles made some notable headlines in the latter half of 2017 with news first breaking about scrapping the carbon frame thanks in part to environmental reasons.  Then followed news of the company's CNC manufactured frame, the Machine. Before we dive into the discussion on the new frame and how it came to be let's back up a little and delve into the company's background. 
Meet Leo Kokkonen, an Industrial Designer, DJ, previous international Judo competitor, and perhaps most importantly, a rider. While today Leo is a passionate rider, that part of the story took longer to build. At sixteen Leo saved enough money delivering papers to purchase his first mountain bike and at the time he was busy participating in Judo competitions around the globe. Riding his bike brought him and his friends great joy, but for Leo, it remained secondary to his martial art. For years cycling remained something he did for fun with friends.
After a stint in the army, Leo enrolled in school to become an Industrial Designer, working as a DJ to make some money. In 2004, straight out of school, he founded his Industrial Design company and was happy to be making enough money to buy some better-equipped bikes. When Leo lost his drivers license in 2008 he decided a new bike was in order, and this is where the hobby took a drastic turn.

Leo purchased a downhill bike and immediately began racing DH. He found his passion for mountain bikes riding dh and it took over his life. Ever since he has spent all of his free time on mountain bikes. Through his Industrial Design company, Leo was already working on a number of projects for other brands covering the gamut of product development, marketing and user interface ideas. With the experience and services that he was offering and a strong sense that trail bikes weren't as good as they could be, he felt it was possible to do it all for himself and in 2013 he founded Pole Bicycles. Sales began in 2014 and the Evolink range of bikes first hit in 2016. 
Leo has since removed himself from any other companies that he was a part of and is solely focused on working with the mountain bike brands that he is involved in; Pole and Huck Norris. 
The Machine
The Pole Machine is a 160mm travel 29er built with a focus on aggressive downhill riding but with climbing capabilities. The team at Pole claim to have worked on a number of key features with the new bike, including; low standover height, lots of tire clearance with room for 3" 29er treads, three bottle mounting locations, clean external cable routing and the use of an asymmetric shock mount for greater clearance and longer seat tube insertion.
The bike features a unique/radical geometry, sporting a 63.9-degree head angle and a 79-degree (effective) seat tube angle coupled with long 455mm chainstays. Pole use similar concepts to Chris Porter's GeoMetron, distributing rider weight more central between the wheelbase. Add the CNC manufacturing process to the unique geometry and the result is one of the most distinct bikes, ever. 
Pole Machine Geometry
Rider size:
160–170cm
170–180cm
180–190cm
190–200cm
Frame size:
Small
Medium
Large
Extra Large
Head Angle:
63.9º (591mm AC, 51mm offset)
Reach:
450mm
480mm
510mm
535mm
Top Tube:
577mm
607mm
637mm
662mm
BB Drop:
-20mm
Seat Tube Angle:
78º
Seat Tube Angle (Effective):
79º
Stack:
660mm
Wheelbase:
1275mm
1305mm
1335mm
1360mm
Chainstay Length (Effective):
455mm
Seat Tube Length:
420mm
440mm
480mm
510mm
Head Tube Length:
135mm
Fork Offset:
46–51mm
Front Center:
820mm
850mm
880mm
905mm
Standover (BB to Lower Portion of TT):
360mm
Seat Tube Insert Length:
190mm
210mm
260mm
290mm
Seat Tube Diameter:
30.9mm
Seat Tube Clamp:
34.9mm
Axle to Crown:
581–591mm
Brake Mount:
Direct mount
Travel Front:
170–180mm
Travel Rear:
160mm
Shock Size:
230x65mm
Bottom Bracket:
73mm threaded
Chain Device:
Low direct mount/Pole bashguard
Bottle Mounts:
Three (two on top and one beneath downtube)
Dropouts:
148mm
Axle:
180mm, thread length 20mm, thread pitch M12x1.75
Wheels:
27.5+/29" 730–755mm
Recommended Max Tire Size:
3" (27.5"), 2.8" (29")
Tire Clearance:
91mm (sideways), 384mm (from axle), 11mm to seat tube (29", 3")
Shifting:
One-by only, 36t max
Cable Routing:
External/Stealth Dropper Post
Recommended Shock:
RockShox Super Deluxe L1/M
Material:
7075 T6 Aluminium
Weight:
3kg (Size M including hardware w/o shock
Colours:
Machined Raw
I caught up with Leo after he got back from a December riding trip to Spain, briefly escaping Finland's winter months. We discussed how the Machine came to be, the process of manufacturing a bike frame from CNC aluminum, and what happened to the carbon bike. 
Interview with Pole's Leo Kokkonen
So Leo, when did the planning process for the Machine begin and what was the goal for the bike?

We ditched the carbon frame project in January 2017 and started to look for an alternative method. We want to produce bikes that are extraordinary in performance and durability. With the Machine, we wanted to create something beautiful as well. I believe that beauty is something when the product works perfectly and there is nothing to be taken away from the design.
How did that steer you to the decision to manufacture the Machine from CNC machined aluminium?
We performed lots of research which involved working with universities. The idea to CNC came through collaborations with some manufacturers here in Finland. I personally think it's a really cool idea. It's basically rapid manufacturing. People think that only printing is considered as rapid manufacturing. There are CNC-machines that are removing and adding material, though we only use the machines that remove material.
We heard about the problems that you had with carbon manufacturing. The Machine appears to be quite different from the mule for the carbon, how did changing the material affect the design?
We never went carbon so basically there were no problems. We saw the carbon manufacturing as a big lump of problems. Making bicycle frames in poor countries and taking advantage of their bad regulations is not a very good idea. It often backfires, resulting in low quality, bad waste disposal, and low wages. Mountain biking at the high end is grown-ups playing with expensive toys after all. Why couldn't we make it fair play. As a small company we didn't see any possibilities to change things in the Far East so we started to rethink the manufacturing as well. 
The model in the video we released was a 3D printed plastic mock up. We cancelled the project when we discovered the problems with the production quality, labor, and environmental issues. Changing material always changes some details. Basically I needed to make the 3D model from the ground up. The bike's dynamics are the same as in the first concept.
Pole is renowned for longer than average chainstays and wheelbase. Does the Machine continue on that path or does it push it further?
Making bikes longer every year sounds like corporatism, doesn't it? Pole is a concept of a bike that rides fast, easier. The concept is designed from a clean sheet of paper and unless we learn something radically new we don't change the concept. We experimented with geometry quite a lot when we designed the Evolink and found a good balance between the suspension dynamics, stiffness, and the geometry. Our first concepts were single pivots with BB-concentric swing-arms and we rode them faster than many bikes with a lot of anti-squat. In the process, we learned much about suspension and the kinematics. We have a recipe on how to make a bike ride fast and it's not only the geometry that is involved in the mixture. 

For example, if we change the anti-squat, it will affect the rider (pushes the weight forward on impacts) so we need to change the suspension and head angle as well. When I design a bike, I think about every detail of the bike design at the same time. I myself am responsible for the whole bike's engineering, from kinematics to the industrial design. I use simulation software to analyze the frame stiffness and AI to reduce weight but I cannot use a computer to give me a concept for a bike. The concept has to come out of the engineer's head. 
It's important that the designer of the bike can push the bike to the limits so he can know what he's doing. Knowing about riding fast helps the engineer in communicating with the professional riders as well. Not every engineer is a pro downhill racer so it's a bit hard to transfer the information from the racers to the engineers and vice versa. I see corporations using a lot of equipment to analyze the bike's behaviour but still, they end up doing everything pretty much the same way they used to make the bike. I see that we have more possibilities for a new design when we don't follow the market research. When I ride the bike, I can feel what I did. Every time I go ride I learn something new from our bike.
Why did you move from the more conventional 6061 alloy to 7075 for the Machine? Was it purely because of the manufacturing process or were there other aspects at stake?

7075 T6 is 80% stronger than 6061 T6, therefore, we can make much lighter and stiffer bikes.
So if the move in material was purely to make a stronger, lighter bike, why not make a regular tubed/welded frame?
Because 7075 aluminum cannot be welded.
What were some of the challenges inherent in making a frame from a solid piece of aluminum?
The biggest challenge was that I needed to reinvent the 3D modelling of the frame. I needed to learn several new CAD programs in order to do this. Nobody is making this kind of product so the tools in CAD programs are not very ideal to multi-piece-variable-wall-thickness-tubular-shell design. Now I can control the wall thickness throughout the model and we can create extraordinary structures that are not possible with conventional manufacturing methods. Other than that we are solving more problems with this design than creating them.
What were you able to accomplish with this process that wouldn't be possible with other methods or materials?
7075 T6 aluminum is a fairly coherent material. Compared to carbon fibre it's much easier to control and design. A high-end mountain bike is a very complex product because it needs to be light, stiff, durable, and it cannot break under impacts. Also, everyone seems to ride it differently. Airplanes are much more simple when it comes to this. There are no computer programs, so you cannot calculate, exact flex or stiffness of a carbon fibre mountain bike. You just need to experiment and find the best solution and still, you might not get the best result. 
With aluminum, we just need to add material and adjust the shape to get better stiffness. The 7075 T6 is maybe the best compromise so far when we look at high-end mountain bikes for stiffness, strength, and penetration resistance. We control the wall thickness of the frame and can make internal shapes that are not possible with any other method. We can use some other materials inside the frame as well. Machining removes six phases from the hydro-formed and welded frame's manufacturing process and it's possible to fully automate the manufacturing of the Machine. The bonding is quite a normal process in the aircraft industry so the knowledge is easily accessible for us. The whole process can be done in weeks rather than months and we don't need to guess which size, colour and model people are interested in. We make everything from natural demand.
Why has nobody done this before?
I often get this question. The same question could be asked about the Huck Norris (Ed: another concept/brand that Leo is behind). Why had nobody invented such a simple system before? I think this is more of a philosophical question. I guess when the world comes to a point when something is possible, people start inventing things around it. This year there have been many new bicycle companies. In our case, the reason we ended up this way might be the collaboration between Finnish education, globalism, markets etc. that created the need for these kinds of activities for us and it all bursts out through our desire to make mountain bikes. I think that the Machine is the kind of hubris that we tend to do as humans when we want to take something to the ultimate level.
What characteristics can riders expect on the trail as a result of the 7075 T6 AL and the build process and how would it differ from the bike being built from 6061 T6 alloy?

The Machine is the next level from our Evolinks. The Evolink's performance comes from all the things explained before but the 7005 T6 aluminum that we use on the Evolink is not even nearly as strong as the 7075 T6. The advantage of the 7075 T6 to a 6061 T6 is that we can actually make a lightweight frame without the spaghetti effect that the über light 6061 T6 has. Also, it's harder to dent the 7075 T6 frame. My first impression of the bike was just big, "WOW".
Tell us about the suspension; how does it function and how does it differ from other Pole bikes?
There is more travel and it's more fine-tuned than the previous trail bikes. The Machine might be the first superbike. By superbike, I mean that this bike is very close to a downhill bike's abilities but still may be pedalled uphill and ridden on normal trails. The Machine has a bit more progression to the shock than our Evolinks because the Super Deluxe air shock characteristics are closer to coil shocks. I feel that the Machine's suspension is close to perfect as it can be at the time. When I watch the videos when someone rides the Machine, I see immediately that the bike's platform is efficient and stable.
The front and rear triangle are each built utilizing a series of different machined pieces that are glued together; how is it possible for the glue to hold everything together and how does this process affect ride characteristics?

The details to our frame structure and the bonding process are a trade secret at the moment. The adhesives that we use to bond the frame parts together are high technology materials based on science. We machine the parts (three for the front triangle and seven for the rear) and then they are bonded together with special adhesive. The screws that are used instead of jigs to press the pieces together on the frame could be removed but we let them stay for precaution. The bonding process does not really affect the ride, it's the 7075 T6 material, the shape (internals as well) of the bike and the bike dynamics altogether. 
What is the average weight of the Machine frame and shock? What do you expect the weight range of complete bikes to be?

The weight of the medium frame is about 3.2kg without the shock and the complete Machine EN is around 13.5 kg. We don't know for sure yet and this might change throughout the lifetime of the product as we can improve the design all the time. It might not chance as well… we don't know.
Are pre-orders still open and if so, what can readers expect to pay for a Machine?
We sell customer direct and the pre-orders are open. All bikes are paid first and delivered after. If someone doesn't want the bike, after all, they can cancel the purchase at any time before the shipment but then they lose the machining slot. All bikes are made from orders and we don't keep stock. The delivery time is still not fixed but it's weeks. Our policy is that we try to serve our customers as good as possible. For example, some people wanted to change their pre-ordered Evolink to Machine. We just charge the difference. We also buy back used Evolinks when our customers want to purchase a new Pole.