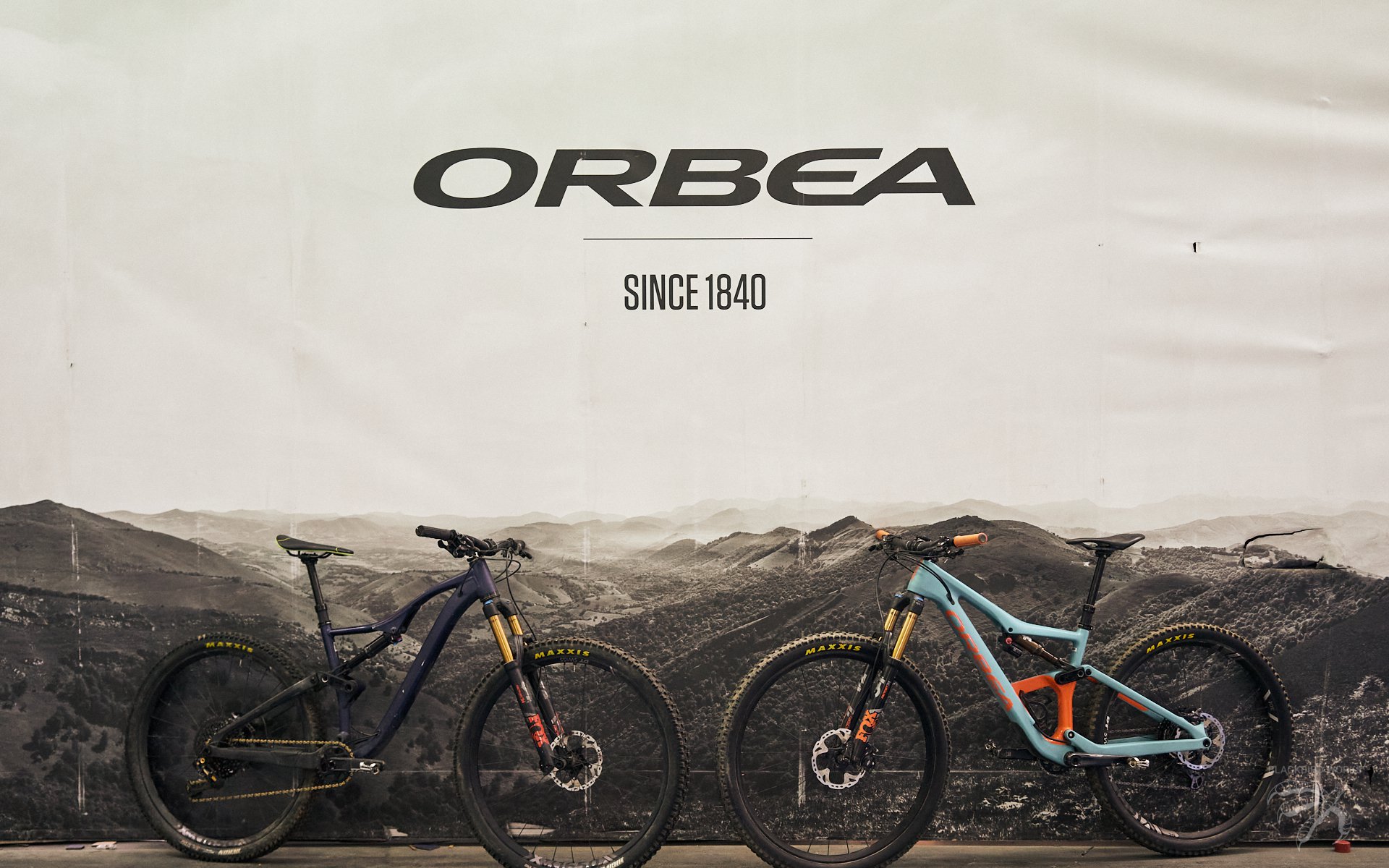 Orbea and the Flavours of the Basque
Behind the Brand: Orbea
January 28, 2020
I kiss my boy goodbye at the Valencia Airport. It is the end of January but still warm for the tail end of my visit to the Iberian Peninsula. It is always a tough place to be for me. Goodbyes don't sit well no matter how many times you do it. But there is always the next visit to look forward to, which usually is never further than a few months away. Little did we know that Covid-19 would set international travel back to 18th century standards. Crazy to think that no planes would be flying over Europe for the coming months.
The plan was to fly to Bilbao, which has the largest airport on the North Coast of Spain, then make my way to Mallabia and San Sebastian to visit Orbea. If the timing and the weather allowed, some coastal riding could be in the cards, too. The plane was small. Small enough that we loaded our luggage ourselves. The flight was short, only about 45 minutes. As we started our descent to Bilbao, and the Euskadi*, I could see the silhouette of the coastal mountains and the lush, British Columbia-like greens and blacks of the rugged terrain. The sun was just starting to peek over the horizon.
*The name of the region in local Euskara language.
I knew very little about the region and the culture that geographically seems to be within Spanish borders. Did some history homework of course, hoping not to be a total idiot. The language however would be nothing I could ever prepare for.
MALLABIA and ORBEA
Being greeted by a big-smiled American holding a strong shot of espresso at the airport was the right recipe for me to ease into the Basque experience.
Jordan Hukee - the Creative Director at Orbea - has been stitching his way between North America and Euskadi for a few years and had digestible information for my curious brain. My mind was still on my boy to whom I'd said goodbye just a couple of hours earlier. I had to focus and get more excited about touring a bike factory in the mountains.
Mallabia is a tiny village in the foothills of the infamous Mount Oiz; rich in iron ore, perfect for building things out of steel. The drive isn't half bad either. It is sunny, which is rare for late January.
Orbea as a company has a long history. They have adapted and changed depending on the needs of the region. Over 180 years old as a brand, they are round tube experts. Think about that for a second. Starting as a small, hunting gun manufacturing operation by three brothers in the 1840s, Orbea ventured into building strollers and bassinets in the early 1900s. By the 1930s, bikes were the new iron horses and Le Tour de France was just taking off. All I could think of was 'imagine if there was a James Bond-esque stroller disguised as a rifle or an Opponent Eliminator top-tube gun on a Tour bike'. Turns out neither was ever made. But I liked the dream.
Julen Otero greeted us with another big smile. He is the Press Manager for Orbea and his experience in information management and hospitality was shining right through. He had planned a great sampling platter of events for us for the next 3 days. There were no offices at Orbea. Mostly bigger, well-lit, open areas with work spaces. Sales could easily talk to marketing and the creative team, or grab a quick meeting with the warranty department in little 4-5 person diner booth pods designated to hold short meetings.
Cool artwork and photography were all over the walls. I gazed at the stacks of amazing photobooks that every person seemed to have on their desk. Then I ran into Jon Fernández, Orbea's CEO.
He was just sitting among the sales people working on a few things on his laptop. He smiled and sat on the edge of his desk to pose for a casual photo I requested. It was Friday afternoon, sunny outside. He could have been taking an extended weekend, but there he was, finishing up work, probably going for a ride shortly after.

Starting as a small, hunting gun manufacturing operation by two brothers in 1840s, Orbea ventured into building strollers and bassinets in the early 1900s. By the 1930s, bikes were the new iron horses and Le Tour de France was just taking off.
The Production
How much space do you need to develop, test, produce, paint, package, ship, receive, and hang out? Depends on your efficiency.
A friend of mine who is an Executive Chef on a river cruise boat once said: "it is so easy to fall out of shape in the kitchen because of how efficient you get to be in a tiny amount of real estate".
Every square inch of space is occupied with product at Orbea. Departments neighbour each other conveniently to avoid too much traveling between departments. Tools and procedures are incredibly fast. Yes you do need a mitre saw that cuts and de-burrs fork steerer tubes!
There are no production frames welded in the Mallabia factory (prototyping excluded). The research team has the best toys and no, I was not allowed to photograph there. Which was a bit of a kick in the nuts.
MyO is a customization program that can be applied to most Orbea bikes. It lets you pick colours and graphics to personalize your Rallon, Occam, etc. Those frames are painted in the factory and boy, were they busy. Some of them incredibly well-coordinated and up my alley, and some of them were the creations of wild minds. Each one unique and well-crafted.
I've grown accustomed to suiting up and sneaking into paint booths at bike brands now. The level of detail expected from the painters and decal masking people are very high. Mistake piles are tall and they all get stripped down to bare material and repainted. The painting department also constantly test new paint formulas that resist chemicals and are more environmentally friendly.
The most exciting part of the tour was the quality control department, however. The sounds of creaking parts and failure and fatigue tests are where I am the most happy. Unsure even if I'd be able to photograph, we went to see the crazy scientists. Orbea has 2 levels of failure testing on their components. One that needs to meet the European Safety Standards and one for Orbea Standards. The Orbea standard extends the test for twice as long at a 50% load increase. Who doesn't love breaking parts, right?
There was a growing pile of parts from various manufacturers that Orbea tests for learning experience. DT Swiss wouldn't be too surprised to get a call from Orbea telling them a wheelset did not pass the Orbea Test. Like waiting for a lightning strike, I gazed at the stress testing machines to see if anything was going to snap. Of course nothing did, but the experience was tons of fun. Some of the bikes were undercover due to ambargos but I managed to get some video footage of what it takes to destroy our much-ridden bikes.
So, next time your mechanic gives you a hard time for not coming in sooner for suspension hardware replacement, have a little empathy for your bike and its components. Your mechanics are speaking on behalf of the bike!
I wondered what would it mean to own an Orbea in North America? I was assured that any part I needed would be shipped from Mallabia to my door in North Vancouver in a couple of days via air.
Julen and Jordan are a friendly bunch. They took no time to introduce me to whomever we ran into on our walk. There was no rushing or urgency in our pace. Inclusive and relaxed, with many opportunities for questions. I was interested in what was for dinner. Don't call me shallow or unprofessional, because when you are in Euskadi, food comes before bikes.
With easy access to the sea and the green pastures of the peninsula, it is not a surprise that one of the best culinary secrets of the world hides in plain sight around San Sebastian. Jordan let me know that we were indeed heading into San Sebastian to our hotel. The dinner plans were out of this world. I imagined a good feed, but what I was about to experience for the next two days were enough to make me searching for reasons to stay.
Donostia-San Sebastian & the Gipuzkoa
With a rugged terrain as the one in the Basque region, the separation between communities can be real. With population density lower than that of northern Siberia, the language that evolved between folks here is like no other. No relation or similarity to any other spoken language, the unique sounds of the Euskara is very utilitarian and often of the earth.
Before recreational bike riding was even a thing, older sporting activities of the Basque coast are harder than kidney stones. Generally focusing on strength and speed, the Basque are built for them: mostly shorter folk that weigh as much as a bull and just as strong. At 5'10 (175cm) I was for once not the short guy in the groups I was around. There is however no way I'd last any period of time in any of the local sports.
Basque MTB and ORBEA
The morning brought rain to the coast. It was still warm but the idea of riding in the mud all day was not one I was excited about. It was my birthday too, which is most of the time celebrated in inclement weather. Breakfast was a standard decent hotel issue with some local exceptions. If you haven't had breakfast eggs with sardines on top, I don't recommend you start now. They do have their place after a hard ride when you consider eating anything within reach.
The rain was set to clear in an hour and it was all the motivation I needed for a good day around the coastal mountain range. I had an Orbea Occam in beautiful Gulf Racing livery to play on, which was draped in a Fox Factory 36, with a DPX2 and Shimano's new XT 12-speed drivetrain; excited would be an understatement.
Orbea has a deep relationship with Basque MTB, a guiding and outfitting company who pour their heart and soul into the riding in the coast, Pyrenees and pretty much the entire Iberian peninsula. If you have ever traveled anywhere to ride bikes or know anybody who has, you have probably heard stories about Basque MTB and the experience. Borja Valdez, our guide and leader for the day is an outdoorsman and an athlete through and through. He rocks up in technical denim shorts and gives us a history lesson that covers every square inch we step on. You can tell he loves meeting people from all over the world. We find common friends and talk about how 'above average' all the trails are here.
I settle into a comfy but supportive 30% sag on my medium Occam. Everything feels neutral right away, like I've been here before. My anxiety melts and I feel ready again. I pedal around before climbing, testing gears and levers. The bike is fresh, so the shifting is not crisp yet. I turn all the knobs. Ready.
We drop in on the long ridgeline which was evidently a frontier in many turbulent years around the region. We ride through old watch towers, built with rocks oh so big and smooth. The wind and water rounded off all the sharp edges.
The trail speeds are high. Let off the brakes and you are flying towards France at 70km/h on a rutted ridgeline. Speeds so fast, there would be dire consequences if you dare take in the scenery. The smile is so big, my face hurts. I am also covered in cow shit. But no biggie.

The trail speeds are high. Let off the brakes and you are flying towards France at 70km/h on a rutted ridgeline. Speeds so fast, there would be dire consequences if you dare take in the scenery. The smile is so big, my face hurts. I am also covered in cow shit. But no biggie.
After a quick climb and a coffee break in a refugio that seems like it was built a million years ago, we take another uplift in the hills of Irun. Old coal mines and railroad tunnels make up this hill and there are gigantic vultures flying overhead. There are hunting towers built on tall towers that have an eerie feel. You don't want to be around here in the hunting season, my guts tell me.
We ride steeper, rockier terrain here. The Occam is nimble and precise. The ground has dried enough for our confidence to grow. We come across a very technical, but ridable landslide section. Borja tells me he will walk it, but I should give it a try. I roll into it blind, trackstand up top for a split second to decide my line and ping pong through the gnar unscathed. Thanks Occam - and years of BC riding.
Sagardotegi
If by any means you can make it to the Basque region in February or March, I highly suggest you sacrifice whatever ski trip you have planned to do it. There is an annual event that takes place in the surrounding villages of San Sebastian that is worth every pow day you will miss. The region is cold in the winter. Cold winters are good for growing apples. Apples are better for making cider than eating.
Imagine a 10km radius valley with 15 cider houses. Imagine these cider houses full of 13-ton barrels of cider. Oktoberfest style benches seat families and friends alike 15-20 deep. You are lucky if you get a reservation for a couple of hours one night in February. When you come in you are immediately served cider in extremely thin glass cups, along with some chorizo and baguette. Then you get up and walk towards the barrel-tender who controls a tap with very small opening.
The cider shoots across the room in a thin stream where you need to line up your thin cup over the tile floors and fill up 2 fingers deep. The angle of your cup is crucial. There is no added carbonation to the cider here - it is all natural and needs to make the right amount of foam that carbonates on impact. You get the hang of it by 4th or 5th cup. The stream does not stop until all your party has filled up their cups with now-bubbly cider from all that spray. You need to move quick, salute your friends and take a sip from the freshest bubbly cider and let the others do the same. "Txotx" yells a barrel-tender, and you go sample another barrel made from the apples of another local family.
When you get back to your table, the waiter brings your traditional Cod omelette first. It is buttery and electrifying. When that's over, your main course of Xuleta steak. I'm no steak expert. I've enjoyed my fair share of well-prepared steaks in North America. Nothing like this one. I imagine Argentina would be the only other place where you can get a steak this good. Two of these bad boys fed six of us.
I don't think you get to learn about experiences like this on your first try. You need years to master the stamina to jump from ciderhouse to ciderhouse throughout the night or the weekend. They all taste a little different. Acidic, tangy and fresh. Dry as bone, too. Easy to over drink for sure. As many do. Rightfully so.
We get back in the car... I'm reborn. How can I stay here? Would Orbea hire me? I go to sleep high on life. I can't believe the weekend of bikes and trails and food and culture I've had. I'm going to have a hard time writing about this. Better get some sleep. I have a long transcontinental flight in the morning. Jordan said he would drive me to the airport, I think. Does he remember?
Oh well, I wouldn't mind staying a little longer anyways.