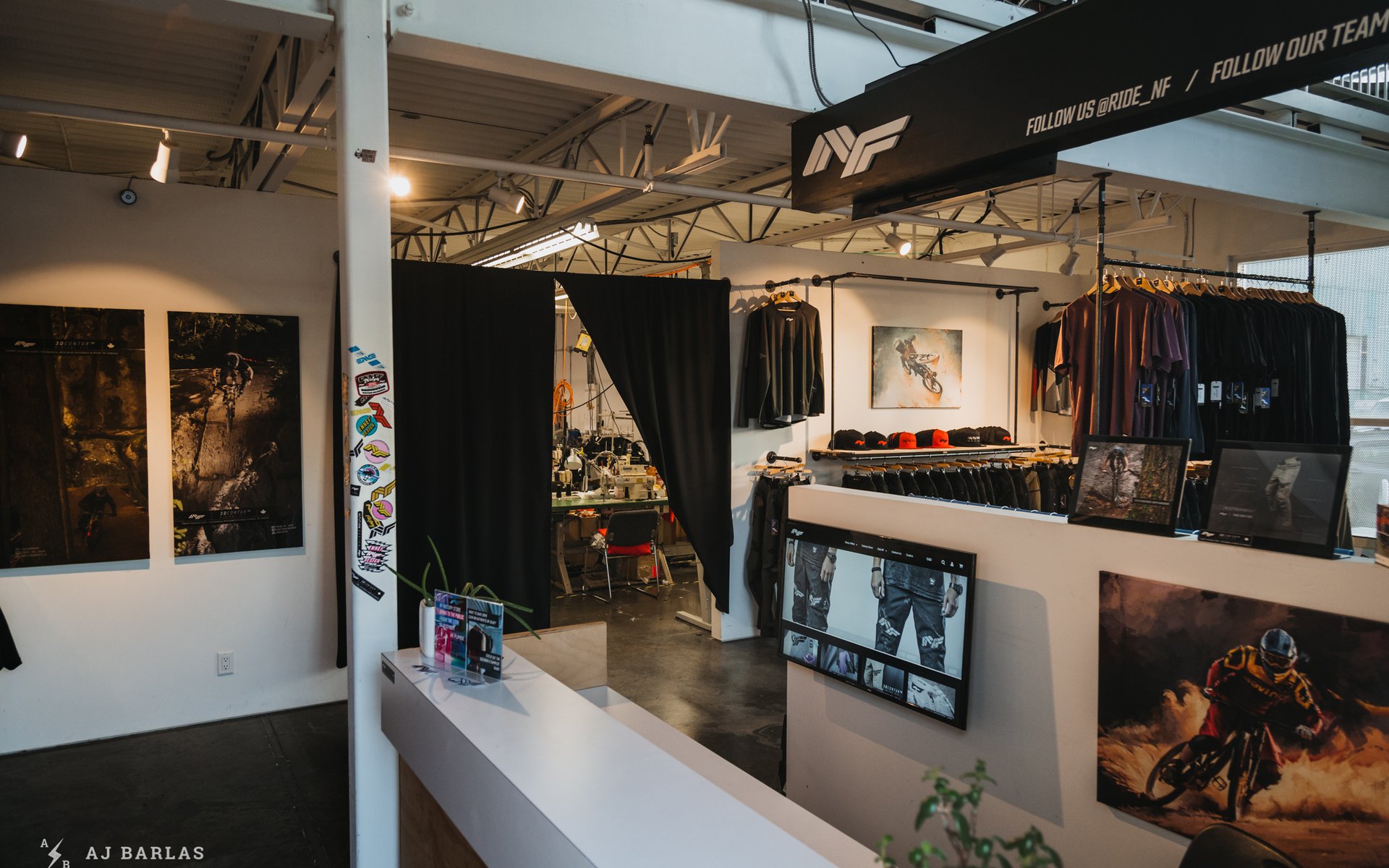 Vancouver MTB Apparel
Behind the Brand: NF
How often have you thought to yourself; "this sucks, it could be heaps better if done another way?" For Travis Bothner and his wife Ying, a unique series of events led to them making the changes they wanted to see. The two are the power couple behind Vancouver-based rising MTB apparel star, NF. And while Travis has spearheaded numerous startups over the last 20 years, he has a different relationship with this one.
Together, Travis and Ying have worked in the apparel industry for more than 30 years. Their experience covers a wide range and between them, they possess many of the components necessary to build an apparel brand. In 2018 they did just that.
Their new apparel brand wasn't before first being thrown a series of curveballs. Between 2012 and 2017, their manufacturing company was developing up to one million units per year for other clothing brands. At the time, they had the manufacturing completed in China, Ying's homeland. Her understanding of the language, practices, people and their combined knowledge of product development, materials and design, gave them an upper hand on many of their competitors. Business was booming.
By 2016 the landscape changed and many large North American brands were moving their manufacturing to other parts of Asia; Vietnam, Cambodia and Thailand, to name a few. Before the change, Travis and Ying had established a prototyping facility in their Vancouver factory. Their goals were to attract more big brands with quick turnarounds on concepts and ideas. Unfortunately, the timing wasn't ideal and while the prototyping opportunities were great, many potential clients were no longer interested in working with the Chinese factories Travis and Ying had relationships with. To keep the lights on, the two flipped their prototyping facility into a fully self-sufficient production factory, forgoing Chinese manufacturing in most situations.
It paid off, as they discovered the "Made in Canada" label was sought after. Now, using their experience with Asian textile markets and the small, talented team in their Vancouver factory, they began seeing success again. Believe it or not, textiles is a competitive market in Vancouver and the "really old school" local competition owns their buildings and in most cases, paid for their machines decades ago. The old school crew have an advantage over the Bothner's, who still lease machines and their building. Something else needed to be done and that brought forth the birth of Needs Factory.

Ying and I started contract off-shore manufacturing in China in 2006 and moved into this factory, tapering off the Made in China part of the business in 2016 – Travis Bothner, NF Founder
Needs Factory, NF & ENNEF
Travis has for years been a fanatical rider and despite his busy schedule with work and family, he rides most days. He thrives on the sport and displays a youthful exuberance when discussing it. While chatting about bikes I was left standing in front of a frothing teenager in a grown man's body. The stoke is real.
But he wasn't pumped on the garments he was wearing while practicing his obsession. When NF was conceived in 2018, Travis had been working in the textile industry for 18 years. Like anyone with considerable time in a given field, his knowledge and expectations were both high. Trav's career experience left him acutely aware of what's possible with MTB apparel and even more so, the issues with products at the time.

I've been in the garment industry "rag trade" my whole life but started with my first brand about 20 years ago. – Travis Bothner, NF Founder
Riding pants, in particular, were a sore spot for Travis. Repeatedly needing to stop and adjust what he was wearing because the snap-buckle, or some other form of fastener, had loosened off became tiresome. He was also aware that adding all the bits and pieces – stuff like zips, velcro waist tabs, and gripper elastic – cost more despite none of them functioning well. Developing a pant that functioned as intended with simplified construction motivated Travis to start the brand but he knew NF needed to keep it simple to start. That meant kicking off with jerseys.
Developing their early jerseys was easy; design a logo, cut and then sew them utilizing the skills of his staff. But behind the scenes, Travis was developing his ultimate riding pants. His goal was to simplify things by removing the parts he was struggling with, the stuff he didn't feel was necessary. It's something he focused on from the early conceptual stages of the brand and the direction he wanted to take it was clear; only what's needed, nothing that isn't. Needs Factory was born. As it turns out, the philosophy has worked wonders and Travis points out the simple elastic waistband of their pants as a feature riders have been drawn to, a sentiment I echo after riding in a pair numerous times.
Unfortunately, a brand in the US with a similar name making trendy vintage clothing felt there was a conflict. The original Needs Factory label won't be seen on products anymore but the meaning behind it remains. After receiving news of the conflict, Travis and Ying changed the brand name to NF. They'd already used a logo with the lettering so it made sense to continue this direction. In some instances they also use ENNEF, taking part of the legal business name; ENNEF Design Corp.
While simplicity in their garment designs is key, the small team and manufacturing facility where the products are made also influences this. Their talented team of seamstresses do an incredible job that Travis and Ying value greatly but their facility doesn't have the same capabilities as the massive factories found in Asia. These limitations saw NF double down on the simplicity of their products and it allowed them to better manage the output and control quality, which for NF is equally important.
Shore Influenced
NF is proudly Canadian and even more proud to be Vancouver made. The conditions of Coastal B.C. can wreak havoc on mountain bike products and NF sees this as a competitive advantage. Between their team of athletes and Trav's riding, they're able to develop products they feel will last anywhere. The Berzerker pant is the latest example and was designed for the shittest of shit conditions; picture 1-degree temperatures with a sloppy layer of snow and you're on the right track. Alternatively, their popular Destroyer pant – the one that's caught the attention of many with its fit and elastic waist – can be worn on pedally rides during the damp winter months. Travis also wears it in the bike parks during the hotter summer months.
Needless to say, the influence of the North Shore has inspired NF to develop hard-wearing and capable products. Rugged like the Shore but technically advanced for comfort, without unnecessary bells and whistles.
Small Team, Big Skills
NF consists of eight staff, all based in Vancouver, B.C. They use a contractor with 40 years experience to cut the garment patterns, a skill set not easy to come by, and another contractor to work on their patterns, which they develop themselves. The pattern maker uses technology that allows her to develop a 3D avatar to build the fit around, simplifying the process. Adjustments can be made virtually, based on the avatar, before the final cutting.
Five of eight NF staff are the all-important seamstresses. With NF in its infancy, staff continue manufacturing products for brands like Ecologist (formerly Sitka, a 100% Canadian made clothing label). Going 100% NF is the dream but the team creating the garments still spends approximately 50% of their time making products for other brands.
The Future
Travis grapples with size and future direction during our discussion. One option is offshore manufacturing, enabling higher volume at a competitive price. Travis expects this would result in 75% of products being manufactured in Asia. If NF does go this direction, Travis still believes they would continue manufacturing marquee and experimental, or limited products in Vancouver; items like their hemp jersey and pant, or QuickStrike jerseys. But they're also happy to provide 100% Canadian-made apparel, even if it means supply lags behind demand. Being designed and developed at the footsteps of mountain biking's version of Hollywood carries much appeal.
NF's future is to be determined, but Travis looks forward to manufacturing only NF products. He says doing that will increase their creative ability, satiating his innovative desires and firmly establishing NF apparel in the world of mountain bikes.
To learn more about the product range and the brand, or to purchase gear, head to the NF website.