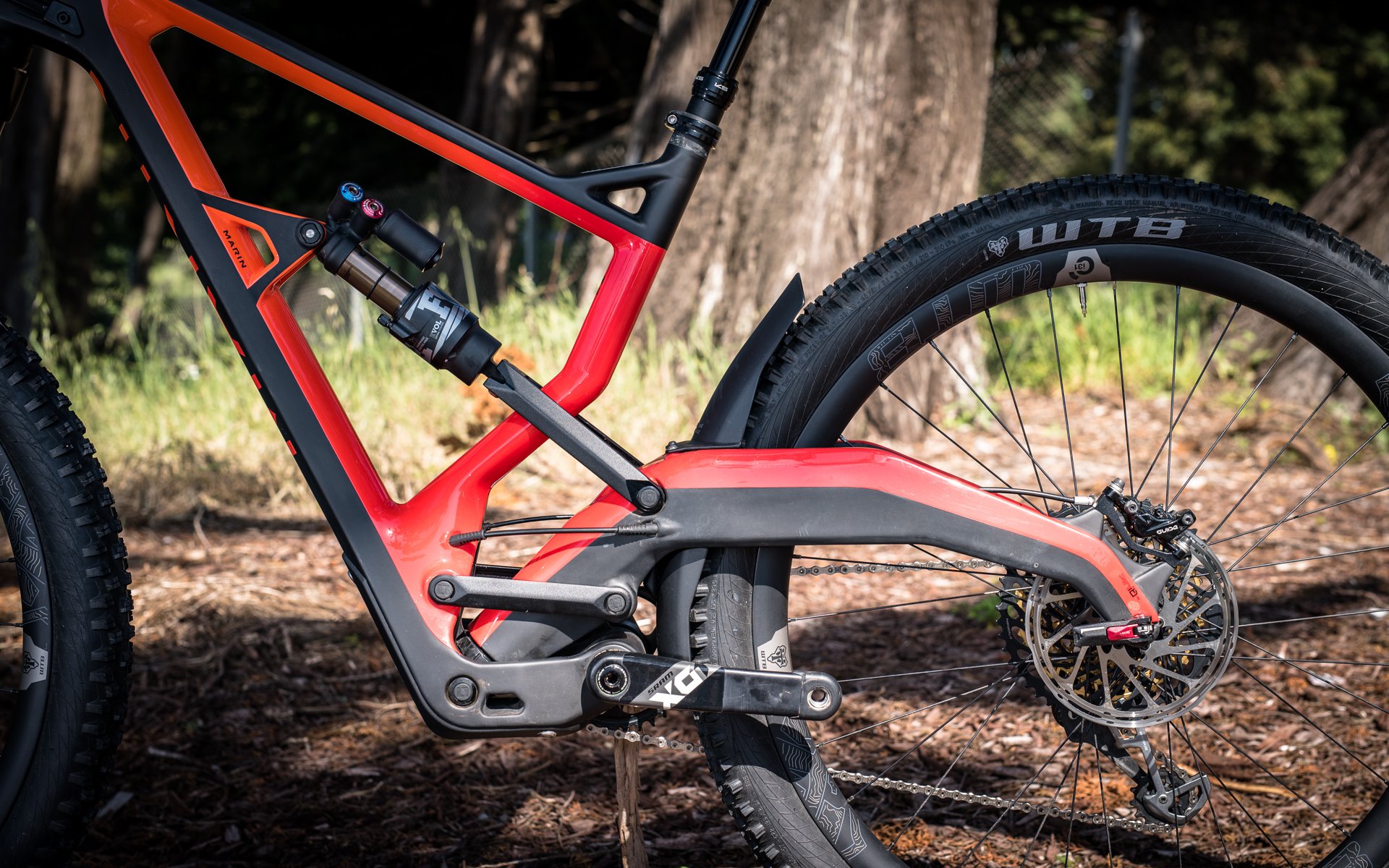 An Ode to Unique Design
Beauty's In The Eye Of The Bike Owner

A part of me misses the primordial days of janky suspension experimentalism. - Perry Schebel
Experimentalism
Are there any really bad bikes being made? I certainly can't think of any. We are long removed from the wild west of pen-and-napkin suspension design. But this consistency comes with homogeneity and I sincerely miss the days when bikes could be surprising beyond the new year's colourway. When did 'custom' become matching your fork decals to those on your ENVE wheels? Why does there seem to be so much less variation in bikes on my local trails than in the past?
Marin's Wolf Ridge, shown in the header image above, elicits reactions that range from excitement about fresh ideas to nausea induced by the unique appearance of their 6" carbon bike. 


Back in 1999... Most bikes on the market were flimsy, rickety and were seemingly engineered by prepubescent children in art class. - Wayne Parsons
It isn't a new story. The 'unique profiles of bikes like EWR's OWB, Schwinn's 4-Banger, Norco's VPS, Balfa's BB7, Knolly's V-Tach*, and any of the USA-Made hydroformed frames from Foes, Ventana, Guerrilla Gravity or Lenz etc. always split opinions from coolest bike ever to I just puked in my mouth.

Bikes that offer everything to someone are usually more interesting** than those that shoot for something for everyone. As much as I attempt to rationalize bike buying decisions on weight, geometry, suspension performance, value and etc. I pine for something different. Unique. I can't look at a stock bike without thinking of drastic ways I'd make it my own. 
The Bleeding Edge
In the days of aluminum, and to a much lesser extent steel*** full suspension dominance, I knew a number of seekers who scoured the globe to find idiosyncratic bikes that radiated esoteric deep-nerd. 
I'm not claiming that such bikes no longer exist. In fact when I see semi-production machines like the Mojo-Nicolai Geometron collaboration, Pole's Evolink or BTR's Belter I'd argue that they are more easily available than in the past. Hell it's just money, right?
The difference between these bikes and the glorified past is I've never seen one in person. And it's not like there aren't plenty of crazy 10k carbon wonder steeds galloping around the local trails. 
I often hear riders talk about longer reaches, steeper seat tube angles, slacker head tube angles and various other geometry tweaks. But they end up spending the same amount of coin on a carbon superbike as a similarly spec'd full custom aluminum bike would ring in at.
Maybe it's the allure of the magical, once mythical, fully capable sub-30 pound freeride bike? Maybe it's the big-player marketing that has relegated any material that isn't carbon to bargain status? Maybe its simply that bikes are so expensive that all but the most eccentric are banking on a sure thing rather than taking a risk on unproven geometry.
Materials vs. Customization
Despite the proliferation of mass-produced frames, there are ways of creating something distinct and special. Options are available for custom and semi-custom frames if you do some research but it's going to cost a premium. That premium is going to be paid for a steel or aluminum frame and that shiny metal is going to come in around the price of a carbon frame, with a weight penalty I can measure in pounds. 
The economics at play for large concerns in the bike business are sobering. Recouping the production costs of carbon frames can be a long process so mass appeal is essential. Taking risks with steel (see the Caminade below) or aluminum, without the need for expensive molds, is vastly more palatable. 
Large companies with high-powered engineering departments could be doing cool limited run aluminum projects, in between sizes, DH slack trail bikes, single speeds and, long wheelbase experiments. Instead their aluminum models are positioned as lower end mirrors of their higher-end carbon bikes,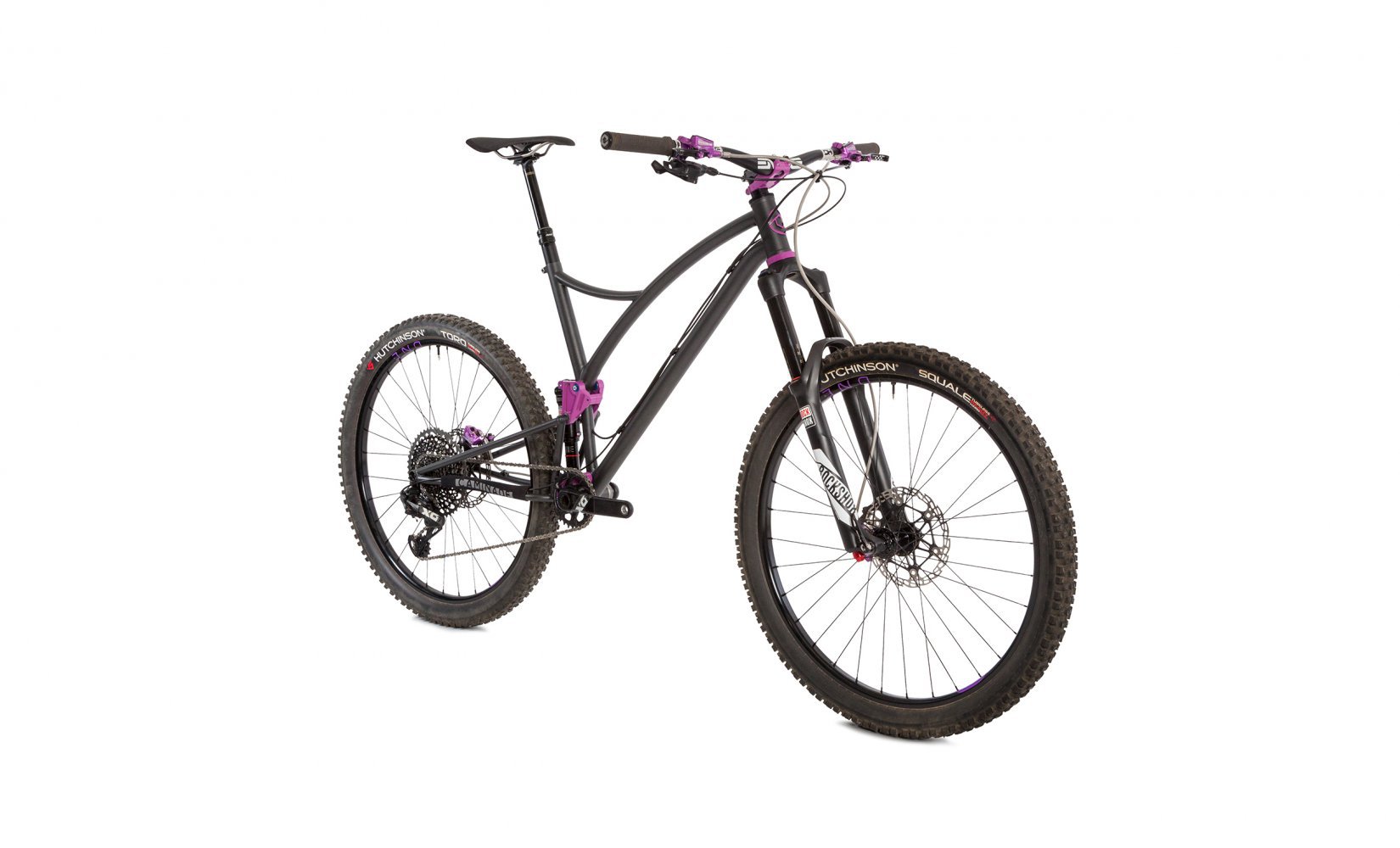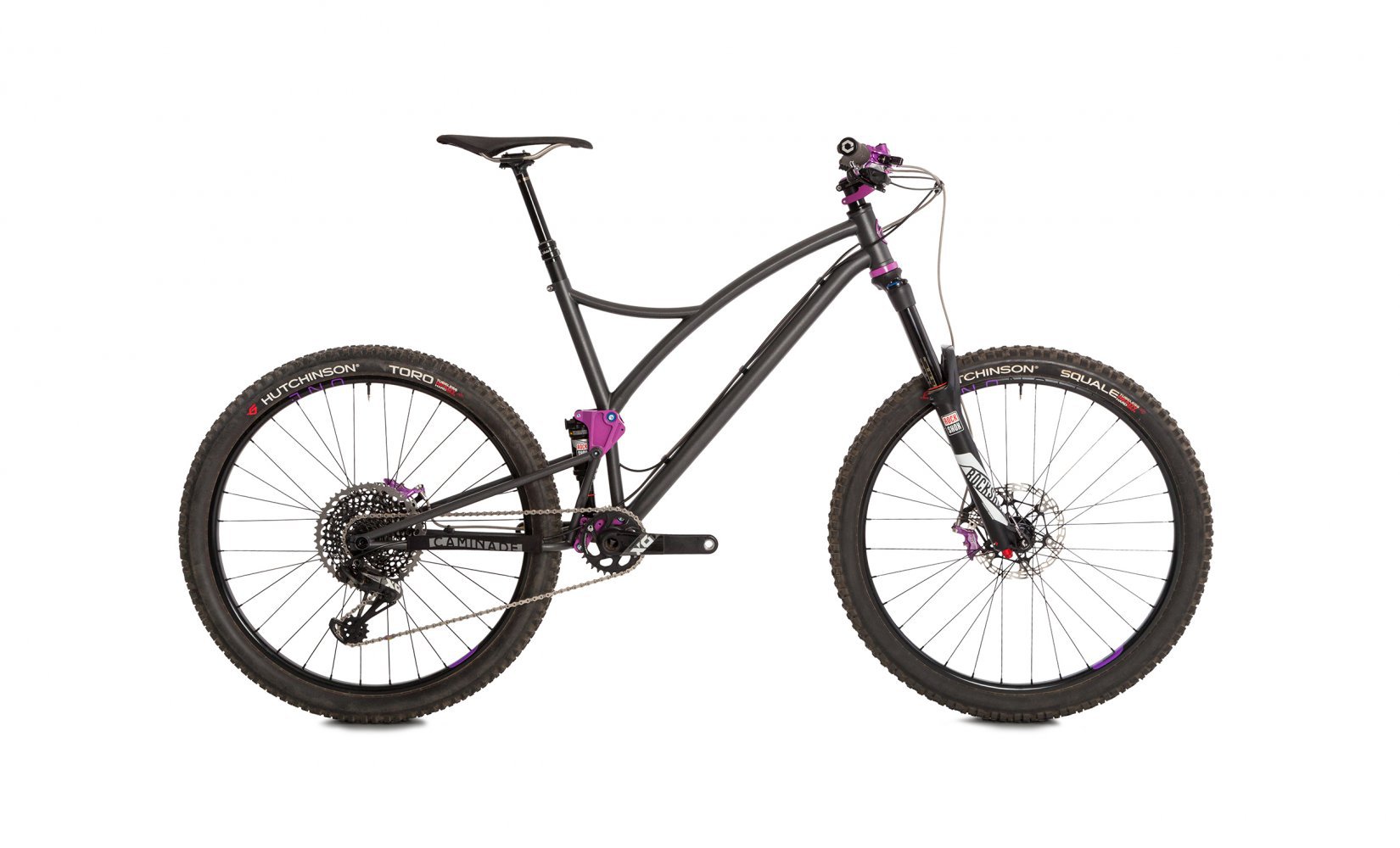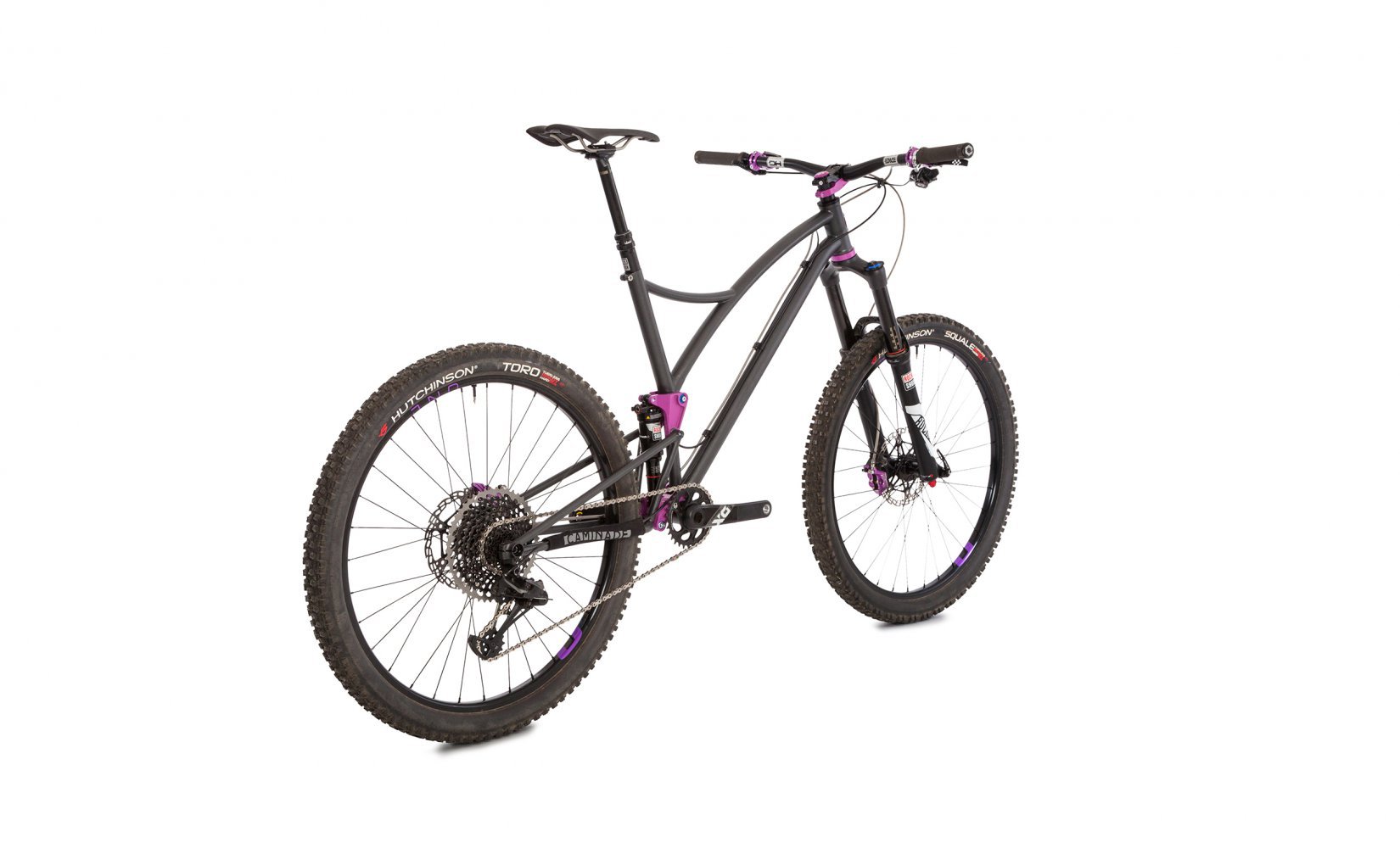 Thankfully there are opportunities to customize off the shelf bikes for local riding conditions. Angle-adjusting headsets, offset shock hardware, coil shocks to maximize descending performance on small bikes, air shocks with remote lock-outs to maximize climbing performance on big bikes, over-forking, under-forking, mix-matching wheel sizes, over-shocking or under-shocking bikes by swapping close sizes of metric and standard shocks... the possibilities to change, improve, or F-Up rigs are legion. 
Exceptions To The Rule?
There's one in every crowd. Zerode's carbon Enduro bike, the Taniwha, certainly won't be mistaken for anything else on the market. Zerode isn't taking any risks when it comes to geometry with a 65° HTA and 445mm reach on a size large frame. I mention it because they are certainly not playing it safe making a 12-speed internally geared 160mm travel machine.  
The organic looking bicycle touts a lower unsprung weight by removing a massive 1x cassette from the wheel and a stronger rear wheel without going Boost, again because room isn't required for 11 or 12 cogs. At the same time the gear range equivalent of their Pinion gear box is roughly the equivalent of a 10-60t cassette. 
The trade off over a traditional drivetrain including a chain guide is claimed at around 800 grams. Zerode puts that up against instant shifting, shifting without pedaling, reduced unsprung weight and improved chain life thanks to the always perfect chainline. 
Given they've been shipping since the middle of December and they're carbon I'm really surprised I haven't bumped into one on the trails yet.  
Reader's Rides Revisited

In 2000 I found myself riding [a BB7] of my own. The rearward axle path, due to the high single pivot placement, meant that the bike just wanted to go faster over small bumps. Plus, with the good pedaling nature of the idler pulley, you could put down power through the rough. Not a lot of bikes in this era could do that so well. - Wayne Parsons
Whether Perry polishing his Brooklyn TMX, Wayne waxing on about his Balfa BB7, Ken trying to build the lightest DH capable Demo-7 or any number of interesting bikes I used to see on the trail the impetus for this piece is certainly a hunger for variation. There's the obviousness of custom paint and exotic components and then another deeper level like folks flipping the links on their Giant Faith's to drop the BBs and slack out the angles making them more aggressive than most DH bikes of the era. 
Don't take it the wrong way. I love that you love your bike. But if I saw three other ones like it on Saturday and the only difference is a fresh carbon handlebar and a couple hundred dollars in almost colour matched anodizing it just doesn't interest me much.
I'd love to see a regular return of the NSMB 'Reader's Rides' column and at the same time I fear that it would just be a steady stream of consensus-cool belly button bikes. 
Doesn't anyone ride interesting sh*t anymore?
*Looking at you Engineerds
**I didn't say "better".
***RIP Balfa, BMW, Appalache, Xprezo and etc.