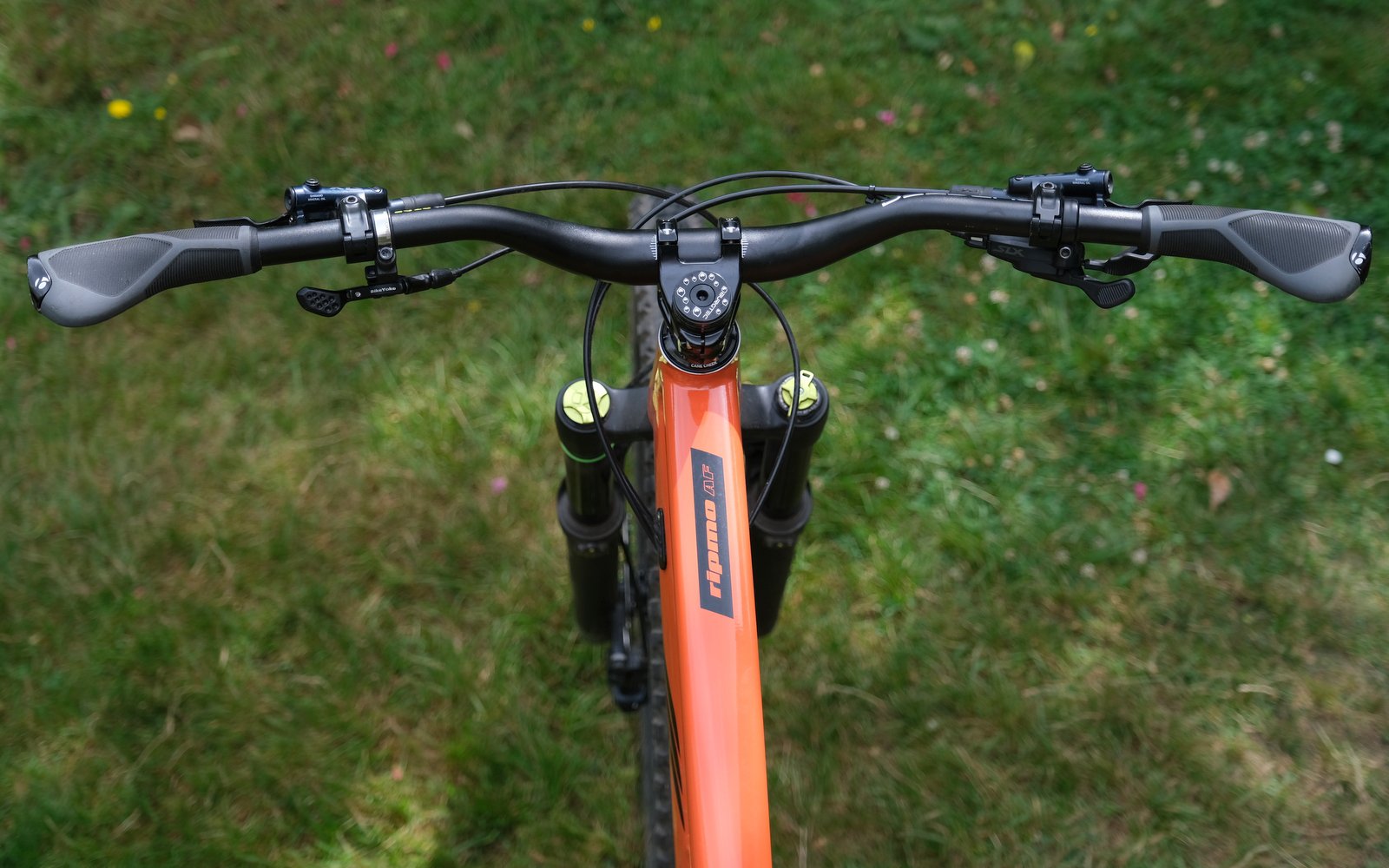 Editorial with Uncle Dave
The Beauty of Stupid Looking Grips
If you had to put a number on it, what percentage of the things that you do surrounding your bicycle are driven by fashion? 25%? 50%?
Oh, not me, Dave, not me! I would never succumb to the will of others to drive what I do with my bicycle. I'm a form over function guy! You say, as you head out for your ride in baggy shorts, a glorified t-shirt and a helmet with a visor that doesn't come close to blocking your eyes from wind, sun, dirt or logic.
Spare 5 minutes and walk over to your bicycle right now and then come back and tell me that nothing on that bicycle is driven by fashion over function. Look back on our bikes from 10 years ago and wonder what the hell you were thinking and convince yourself it will be different 10 years from now. We're in so deep we don't even know what the truth is any more.
I get it. It's not exactly "fashion" when we're talking about bicycles. What I mean is that we do stuff for reasons that go against our self interest. I'm talking about how we all seem to end up riding the same stuff as the guys that are winning EWS races. We do an awful lot of things because that's what the guys that are faster, stronger and better than us do.
It took some asshole on the Internet to pull a very thin strip of wool from my eyes. I try not to get too wound up about the comments, but sometimes somebody writes something and I can't let it go. Sometimes it will be on some obscure forum someplace. Sometimes it will be an e-mail from a coworker. Sometimes it will be at the bottom of something that I wrote. I mean…I tend not to care too much if somebody questions something that I wrote, but I can get wound up about crimes against logic and truth. So when that guy came at me last week suggesting that one needed to commit to several years of hard physical training before spending money on basic items related to how their bicycle fit, it was a bit too much. He has since edited his comment, so don't dig too deep into that one.
Anyhow, I promptly unfurled my heels and dug them in. Not only am I now convinced that high rise bars are the only solution, in some ill conceived version of spite, I decided to take things even further. I mean, my wrists still hurt like the bejeebus sometimes when I ride and it seemed like I should take my own advice and worry a bit (lot?) less about how aesthetically pleasing my bicycle is.
Don't get me wrong, the Burgtec bar was a great step in the right direction to get my hands a bit higher, and the extra degree of sweep felt like a step in the right direction. But there was obviously more that I could do. So I spent a healthy amount of time walking around my house, holding on to various handlebars (there are a remarkable number of handlebars stashed around my house), moving my hands in and out and looking at the way that my wrists were impacted. As I did that, I realized that it was going to take a ridiculous amount of sweep to put my wrists at an angle that I was happy with, which suggested that I might need to look at this in a different way.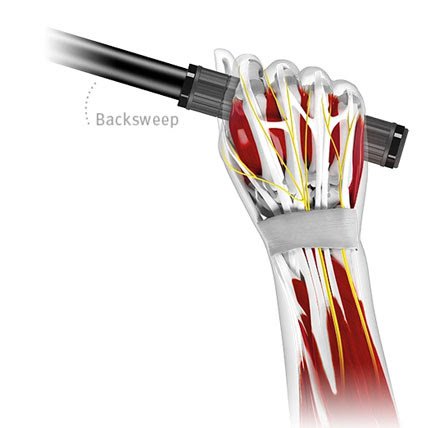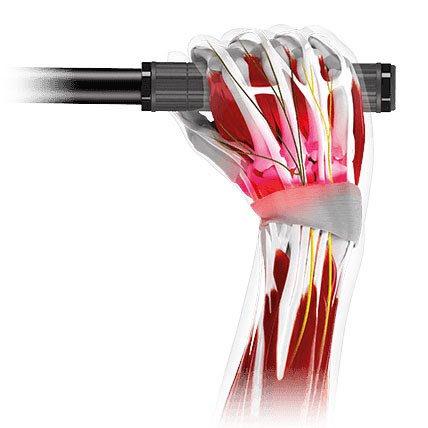 Turning to the experts at Crossfit.com, I realized that I was pretty hung up on adduction (imagine waving your hand, but only outwards), and perhaps I needed to put some thought into extension (you extend your wrist when you're doing a pushup, for example). I also started to realize that as I worked on extension, it seemed to have an impact on adduction. It seemed like my wrist could deal with a bit of extension, or a bit of adduction, but it didn't really like to deal with both at the same time (I really hope those Crossfit.com jackasses haven't done me wrong with this terminology). It seemed like if I could do more about the extension, I could worry a whole lot less about adduction.
I've been looking at these Ergon grips for a month or two now (I've obviously been thinking about this for some time). This seemed like an intriguing concept, and a great way to get more support for my hands and wrists, but the somewhat steep price tag and lack of availability caused a few problems with that idea. Then I remembered that I had a completely horrible looking set of grips that came to me on a commuter a few years back, and they would be a really great way to test out this hypothesis.
Gawd, just look at those grips! I've included a closer look, so that you can see just how awful these things look. Imagine putting those grips on the same bike that you just stressed out for several days on what colour cranks to purchase. Imagine Sam Hill showing up to the next EWS with those things perched on the end of his bars (I mean…he does run those handguards, so maybe?). How could you deface a perfectly reasonable bicycle with a pair of grips that look like they've sprouted a terminally infectious fungus? I was almost unable to go through with it, but things felt promising as I tentatively rode around my block, so I decided to see it through. It's just one ride, I said. Nobody can see the grips when you're riding. It's just another reason to not stop and converse with anybody on the trailside.
Things were fine on the climb up. A bit weird, as it's strange to have a bunch more material under your hand. I didn't seem to make all that much of a difference, but looking back, it did. I tend to spend a large chunk of my time climbing with my hands, or at the very least my thumbs, looped over the top of my bars. Looking back on this tendency, I realize it was as much about straightening my wrists out as anything. I definitely found less need to do so.
I decided to drop in to a very dry and dusty Ladies Only to test things out. Lesson #1 on bulbous grips is that your grip now has a giant lever attached to it and you need to lock that shit down. So after a quick stop, a re-adjustment, and a soiled pants check, we were off.
Simply put, I rode the fucking tires off (you know, for me). Overall, I felt like I had more arm strength, which led to more confidence and more speed. I felt like I was steering with more precision. I felt like rough and jarring multi-hit sections were less of an issue, and I realized that I had subconsciously been approaching certain sections a bit tentatively. The worse things got, the more of a difference I felt. Some of this took place on sections that I previously thought that I was going fast on! Honestly, it was transformative. Forget tire inserts. Forget 38mm stanchions. Forget high rise bars. I raised my wrists by a few cm and gave my hands a bit of support and it transformed the way that I ride my bicycle.
Ride two was a 55km loop on the Sunshine Coast and it was more of the same. Climbing felt great. Downhill, I felt in total control and had no hesitation charging it down unknown trails, even scrambling to make a ferry after 8 hours in the saddle. I finished the day with no hand or wrist pain and zero blisters. It was marvelous.
I'm not suggesting that the same thing will happen to you. However, if you suffer from wrist pain, hand pain, or are sometimes referred to as "pencil neck", it might be worth a shot. I feel like a lot of people out there are searching for answers on sweep and width and height, and I think this is just one more variable that could be thrown into that equation. For me, the stupid looking grips stay on. I hope to find something a bit more appropriate in the near future. I mean, Jesus Christ, look at those things? I'm not going anywhere near a raincloud with those things. You could probably cut that bulbous monstrosity in half and get most of the same impact. Throw some texture on there and some decent clamps and call it a day. So, this is a bit of a callout, really. Send me your stupid looking grips! I promise to not call them stupid looking in future articles. I'm looking at you Specialized! And Bontrager (gawd…Bontrager has a lot of options)! And you Ergon! SQLab goes nuts with these things! Stick those things in the mail and I'm going to spread the gospel. Hopefully I can normalize these things and feel a bit better 6 months from now when I show up at the trailhead.
Sorry,
Uncle Dave
---
Uncle Dave's Music Club
One thing that I feel we have lost in the transition to digital music formats is the pre '95 discographies of the local band. Now, it's way easier for anybody with a microphone to record something that doesn't sound terrible, but it used to be a huge deal for a small local band to put out a few hundred copies of a 4 song cassette. There is no way the majority of these cassettes have made the transition to digital.
Every once in a while I do a quick search to see if I can find a copy of some of my childhood favourites. Sineater is usually the first on that list. And I found it! I mean, doing a Google search every 3-5 years isn't exactly a tonne of effort, but it still feels like a sense of accomplishment. This is two of the songs from the tape that I remember, so I still have to track down the other two. I think this is the best band to ever come out of Kamloops. Perhaps that isn't the highest bar to clear, but it is something.
Bonus – This was the show in early 90's Kamloops. There's probably a group somewhere out there on the Internet that is still talking about this. Sineater opening for the Smalls and Green Day. Yikes! That's a time machine level show, right there.