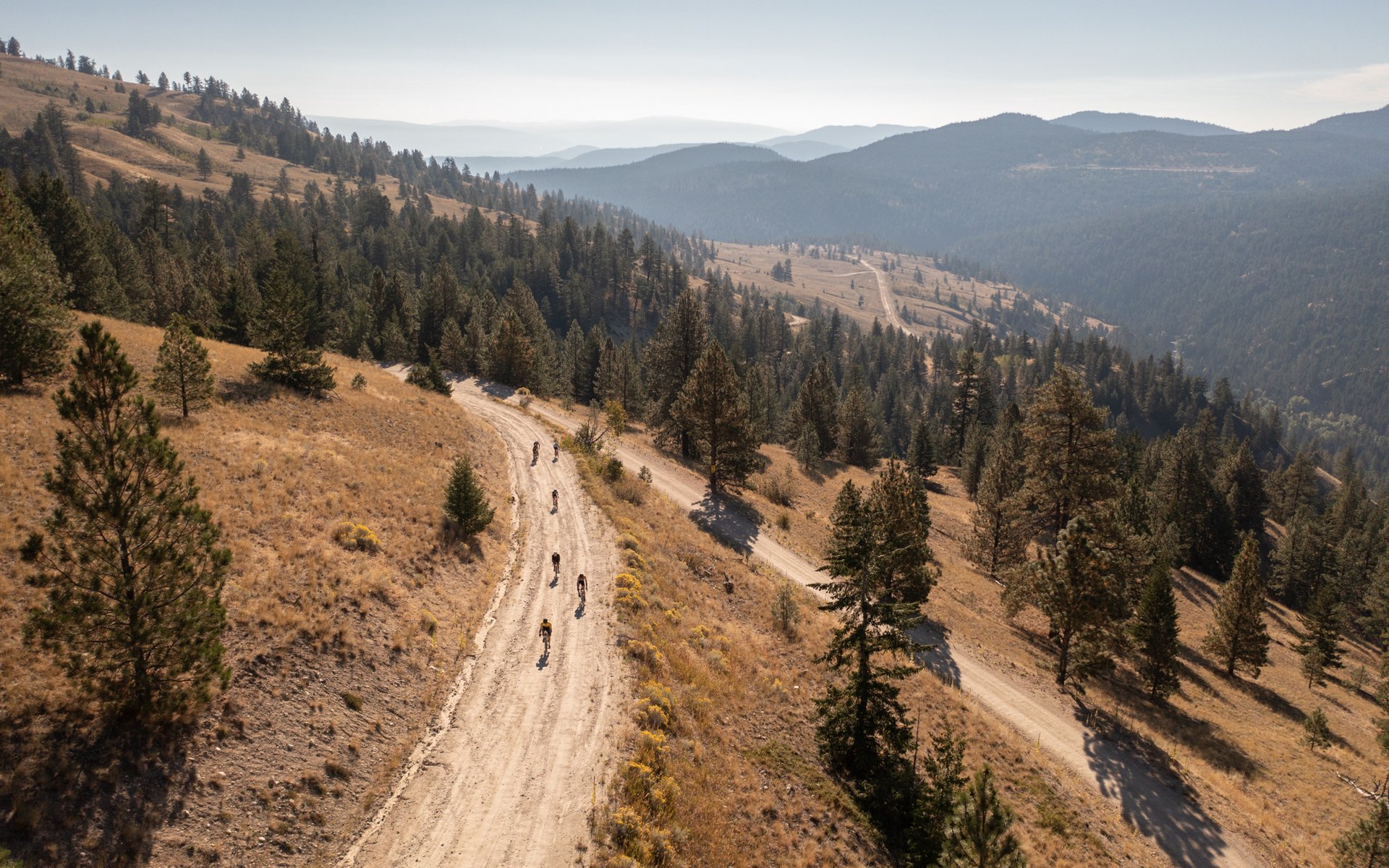 RACE REPORT #2
BCBR Gravel Explorer XLT Part 2
We left off at the midpoint of the BCBR Gravel Explorer XLT cruising through the aid station, and done with climbing for the day. The course on day three was a loop, however it incorporated a significant section as an out and back. So I knew what I was in for on the descent, and it was going to be an absolutely terrifying riot of absolutely wide open, full throttle descending. Roughly 8%, loose over hard, smooth, and completely spun out in the highest gear you brought. (If you're new to the series here, you can go back and start with my "preparation" here.)
Fortunately, you can (somewhat) experience this for yourself as one of BCBR's main forces, Olympic athlete and all around mustachioed good guy Andreas Hestler tucked in behind me on an unrestricted Rocky Mountain Powerplay with a GoPro. Apologies in advance for the rather copious four letter words, Dre has promised me he'll rinse his mouth with soap.
That evening, Dre would tell me, "That speed was unsettling," which I found a bit amusing given his Maxxis Minions, multlple layers of clothing, and my 42c Pathfinder Pro semi-slicks and spandex. It was absolutely unsettling, and a whole lot of fun. Just don't think about what happens if you crash at 65 in your birthday suit on gravel. The nurses don't seem to have much sympathy when they come after you with the wire brushes.
Day 4: Adventure awaits
Day four promised a bit of respite - a relatively short course, with only about 1,300 meters of vertical relief and half the distance of most days. The course was a fresh one added by BCBR's new Course Director Jesse - local and organizer ofBasecamp Gravel. We wound our way up and around semi-abandoned resource roads, nice views, lovely streams, and the kind of terrain on which gravel bikes excel. Normally days like this would be spent looking at maps full of intersections, traversing deadfall, and finding dead ends.
With an event like BCBR, there's none of that. Just follow the course markers, be careful in the eroded rough sections, cross ditches and cattle guards, and just enjoy the scenery. Part of the beauty of the Gravel Explorer is just this - the ability to explore and adventure through new terrain at whatever pace you like, but with well-planned routes, medical and mechanical support, aid stations, and new friends. It really doesn't have to be a race if you don't want one. That said, looking at the standings, I was starting to wonder if I could actually finish on the box?
Day 5: KVR and Whiskey
I had two thoughts for strategy on the final day - save energy by sticking with the lead group as long as possible, and hopefully not have to do the final 30 kilometers down the KVR solo.
Fortunately, Rob, Andrew, and the other fitness freaks took it easy, and we enjoyed a fast-but-not-completely-furious pace for the entire distance to the first climb. Everyone chatted away with the boys up front breaking the way. Once we hit the climb, they put the power down as only real athletes can, and I settled in for a thousand meters or so of up. Approaching the top, I knew I wanted to bridge the gap up to the rider in front of me for the way home along the KVR; Neil, the leader of the 60+ category, was in and out of sight for the past hour up ahead. As I watched the meters tick by on my Hammerhead, I knew we were almost there. But long before I saw it, I could hear the aid station. I hadn't stopped since day two, but I knew today the crew had a special treat. I slowed, grabbed the outstretched handup, slammed an ounce or two of whiskey… and realized there was still a hundred or so meters of climbing. Breathing fire, I hammered to the top in pursuit; only by taking entirely too many risks on the descent back to the KVR was I successful in catching him. There were two of us now; trading places at the front, we turned the wick up through a gorgeous resource road descent winding tightly down through the forest with a creek. We soon caught and picked up another rider, and eventually a fourth as things opened back towards the lowlands.
If you've never worked in a high-functioning paceline, the speed is remarkable. We were pushing 40 kilometers an hour, taking short stints at the front as the route undulated and wound generally downhill to the finish line. Chatting away, I distinctly remember Neil saying, "This is a lovely way to finish, guys." I wholehartedly agreed. Several minutes later, with a few kilometers left, someone decided the fun was over and put the hammer down. We splintered. I pushed hard, but didn't have the strength left to keep up with anyone. We'd all finish within a minute of each other.
And that was it, done! We rolled back to the Summerland rodeo grounds, collected our ceremonial hug from Papa Kearns, our new belt buckles, and had a beer. Despite knowing at this point I was on the podium, I packed up and headed home quickly; I made it back in time to do bath time and bedtime with my almost-two-year-old instead of podium glory.
So the question is, did I enjoy it? Would you enjoy it? Should you spend your hard earned dollars on the 2023 (or beyond) BCBR Gravel Explorer? If you decide yes, do know that we'll cover what equipment I took, and what I'd recommend in a follow up to this article.
I absolutely enjoyed it. I mean, c'mon. A week of riding bikes in the sun, all planned out for you in advance? Even if you don't understand gravel bikes, as long as you don't mind pedaling you'd be hard pressed to hate it. And while certainly the tent city aspect of pre-COVID events run by this team is immensely appealing in some ways, there's some upsides to eating when & where you want to, staying in a hotel if that's your jam, or dirtbagging it in your $120k Sprinter van.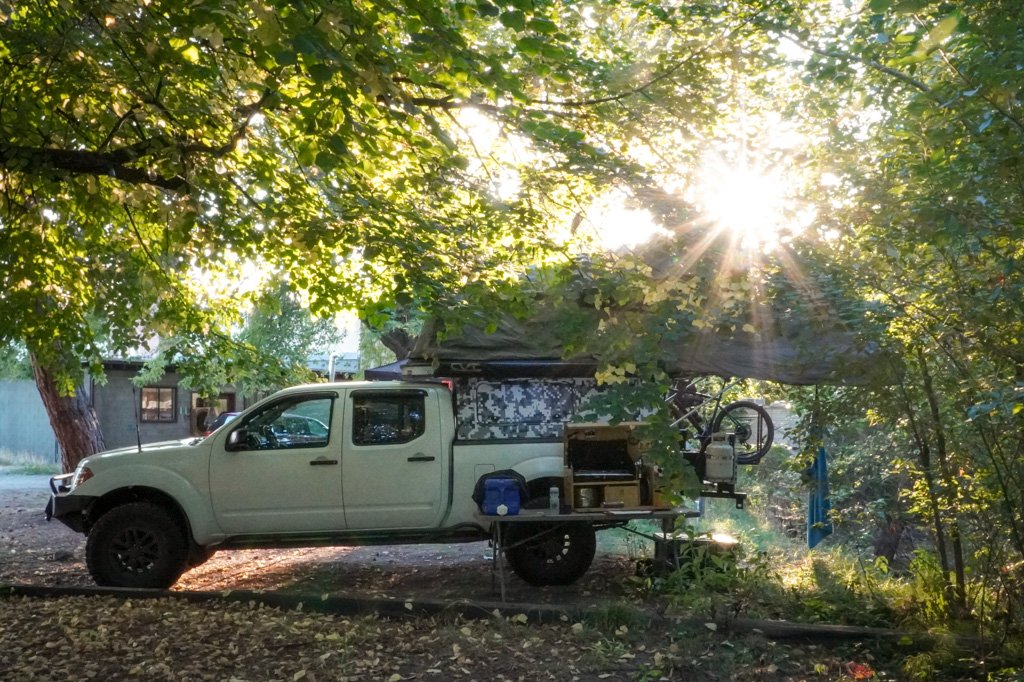 As long as you don't hate pedaling, you'd probably find something to enjoy about it. Hell, if you've made it this far through my saga, you'll probably enjoy it. The vision of the BCBR Gravel Explorer is "Everywhere a gravel bike can go", and they've succeeded. Almost no matter how you ride back home, there'll be sections you feel at home. There'll also be sections that push your limits; whether its through technicality, short hike-a-bikes, Mach speed cruising, or lovely rail trail, its all in there. And its all in there in an environment that you can take as seriously as you like - go for a five day cruise with friends, or go hammer. You can eschew aid stations, dig for extra watts on the climb, and hang it out a little farther on the descents, or you can go for an adventure ride at whatever pace you desire (so long as you make the time cutoffs).
If you need a goal, something to inspire you to get out that extra evening a week and get some pedal strokes in, or need that hard date in the calendar months in advance to ensure you get your time, this (or the mountain bike equivalent) is a solid option. It'll be hard - there's no way around the event being physically demanding - but that doesn't meant its all type 2 or type 3 fun. I'd highly recommend trying to drag a friend along with you, but you'll also make some along the way. Maybe I'll see you there - memories of it being hard are getting fainter by the day.
And as always if you've got questions on this, or any of the other pieces in this series, fire away in the comments.