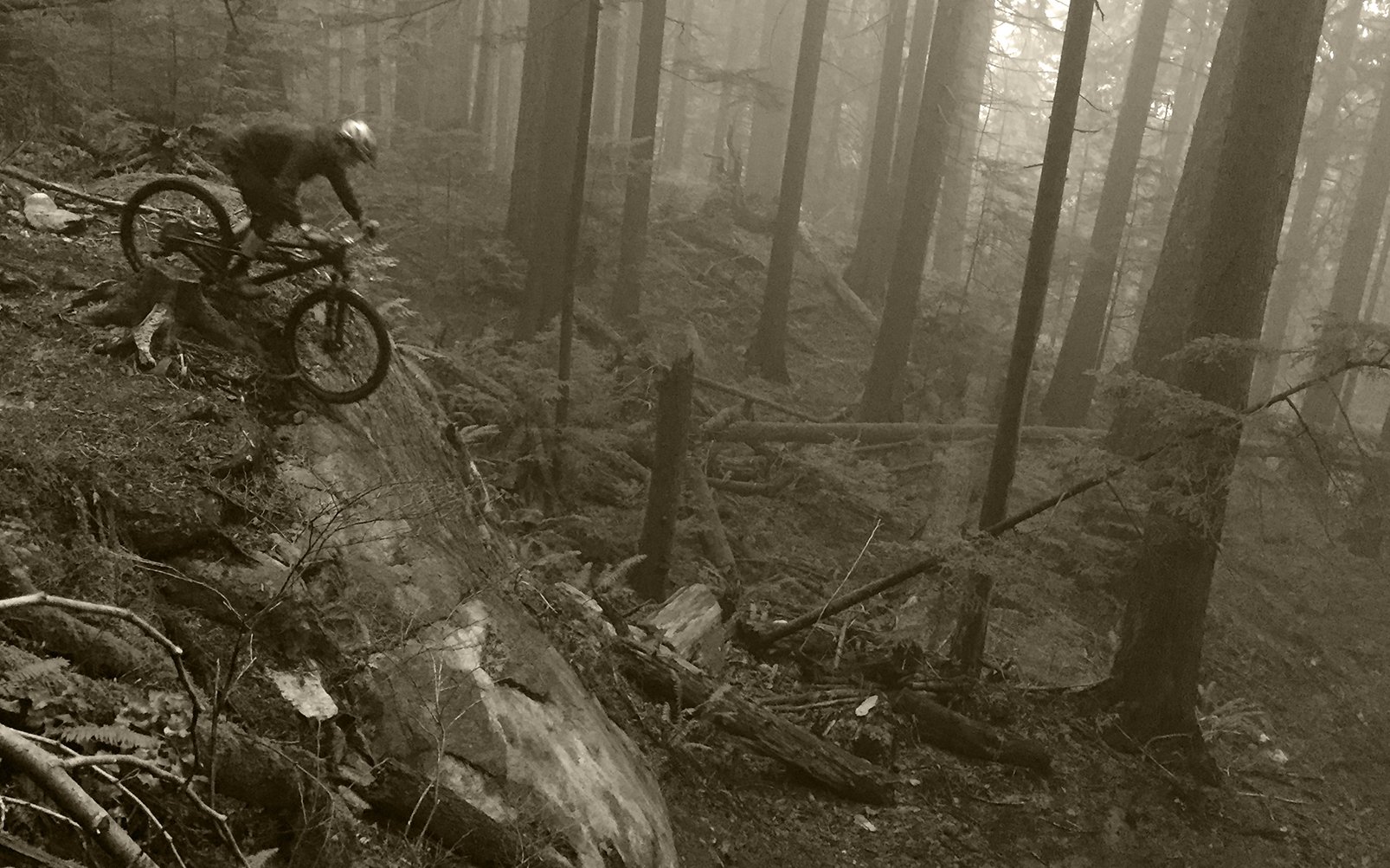 Trail News
BC Warns: Illegal Building Could Bring Jail time, 10K Fine
If the media doesn't grab on, it didn't actually happen.  
The Province of B.C. issued an ominous press release on May 24th of this year. The line that caused many seasoned builders to put down their beers was this one; "Failure to comply with legislation related to trail construction could result in a penalty of up to $10,000, a remediation order to return the area to its original condition, and/or a jail term of up to six months." Tina Kraal, the woman who was vandalizing trails in an effort to intimidate riders* didn't spend a single night behind bars, but those doing something productive in the woods, without permits, could go down for half a year? Whatever your opinion on illegal trails, this seems excessive. The trails themselves aren't a crime but building them could land you in the slammer. 
*This point was not proven in court, but I personally saw enough evidence to believe this was the goal.
While this landed like a newsflash to many, an identical press release that went out in 2016 failed to generate concern. North Shore rider turned CBC journalist, Ash Kelly picked up the story this year however and that lead to traction in other mainstream outlets, which never seems to bode well for mountain bikers. The takeaway is that this doesn't seem to represent a dramatic change, despite being in reaction to a perceived increase in unsanctioned building. 
My conversation with John Hawkings, Director of Forest Sites and Trails for the Province of B.C., confirmed this: "the rules around authorized trail building have been in place since the introduction of the Forest and Range Practices Act and before that the Forest practices code. So we're really talking about the mid 90s."
*Originally published Jun 12, 2018
Unauthorized trail construction can result in:*
soil erosion or soil compaction

negative effects on water quality or water flow

slope stability concerns

negative impacts for other resource users

safety and liability concerns, due to improperly built or maintained trails and structures

the spread of invasive plants

disruption of wildlife habitat or sensitive plant ecosystems
*From the FLNRO Press Release
It might appear to some that 'illegal trails' are always a bad idea. Certainly we can't have outlaw builders creating networks of haphazard and unplanned lines throughout the wilderness with no regard for the concerns the Ministry has outlined? Particularly when there is a process to approve trails. And yet, if you have ridden in Squamish (as one example) these concerns may seem detached from reality. This is particularly true for riders in areas where the number of logging permits issued vastly outnumbers trail permits. The average timber cutblock in B.C. is over 20 hectares (49 acres) while the maximum size in the coastal region is 40 hectares. It's hard to imagine even the longest most poorly aligned and constructed trail approaching the sort of impact a few hundred yards of logging road, to say nothing of the harvesting process.
*Having spent years working for the Ministry of Forests and recreating in the forests of B.C. I can tell you firsthand that road building, machine and hand harvesting and timber removal, even when performed in accordance with regulations, is a highly destructive process. It is approved and monitored by government, but it rarely seems much effort is made to mitigate the damage caused by timber harvesting. 
Others will point out that illegal and unsanctioned were once seen as distinct from each other. By the ministry definition, virtually all the mature trails on the North Shore were illegally built, including Ladies Only, Pipeline, Ned's, Seventh Secret, TNT and many others. Without unsanctioned building there would have been no mountain bike trails on the North Shore at all. The same goes for Squamish, Pemberton and Whistler. Virtually all the mature trails pre-date any formal permitting process that anyone was aware of. This resource was built on the backs of volunteers who the Ministry of FLNRO is now calling criminals. 
Why Build Illegal Trails?
Unsanctioned building is so common on the North Shore that our local advocacy organization, the NSMBA* acknowledges this in their literature. From NSMBA 101: "The NSMBA recognizes that many builders work independently from the NSMBA, and often unsanctioned trails are built out of frustration with the system or from a perceived need for more advanced or varied trail experiences."
*Despite our similar names, and NSMB.com's history of involvement with trail building, we have no official affiliation with the NSMBA
Before the Forest Practices Code was introduced in 2002, there was no permitting process to allow a member of the general public to build trails on Crown Land. Any trail built before that date was unsanctioned and today the building would be considered illegal by the ministry. And any builder who began before that date, which is most of the builders around the North Shore, grew accostomed to building without any oversight. Things have changed of course and land managers have become educated and motivated to take advantage of the free labour that passionate builders provide, and yet many builders prefer to work unfettered by permits or restrictions. To find out why I spoke to a few builders who agreed to contribute to this article anonymously.
One of the builders, who works with his son  (let's call him Loic) said it so eloquently I'm going to give you his entire answer:
"Since I was little, I would wander the woods looking for magical things.  When I would find an awesome swimming hole, cave, or anything else, I would take my friends. Over time trails would form, and the "awesome" was shared.
I do not feel there is a great evil in building trails. I live in a coastal rainforest, and a coastal rainforest is incredibly resilient. Leave an old road, or trail for a period of time, and the forest will simply take it over.
The BC forest is also treated as a crop. Every 30 to 40 years it is cut down for lumber. I am not against logging, but recognize it is part of the fabric of BC. I do have issues with FNLRO making it seem that trails are a bad thing. Why, is it bad to wander in nature?  What negative impact does a path truly have on a forest?
Personally, I feel FNLRO has a bias against mountain biking.  I feel this way, because "routes" to fishing holes, climbing areas, alpine areas, are all deemed acceptable.  Yet, once you mention MTBs, FNLRO deems it unacceptable. I have never understood why, mtb trails are unacceptable, when they are built to a standard way higher than other trails.  
I also make sure that all my trails start as "routes" under the section 57 description* which does not need permission (i.e. no soil removal, no trees cut, no bridges).
*This wording does not appear to be included in the current document  -Ed.
I tried once to apply for a section 57.  I waited two years, and then was told that since I was not a company, or trail building association, that my trail was denied. After that, I realized that getting endorsement was a political friend thing, and not based on merit, or past building experience.
As far as my son, I think it teaches him to give back to the community and the value of having a symbiotic relationship with a sport you live.  One life lesson, I keep trying to instill in him is to give freely to the things you love, and don't expect payment."
Another, who we'll call Greg, was more succinct:
"Too much of a process to get gnarly trails built and they would never get approved even though they can be sustainable. Land Managers and Trail organizations all want golden trails with low grade steepness."
The third, who will go by the name Aaron, also kept his thoughts brief:
I see lines I want and "legal" bodies do not make them so I do. Also, those organizations cannot make the trails I like because they are not sustainable. A soft loamy trail is only good if a small number of riders roll it. Once it gets discovered by the masses it gets blown out; at that point I believe in closing it down and letting the forest reclaim it.

Are Illegal Trails Necessary?
The builders have personal reasons for opting out (although some builders work within the system at times and outside it at others) but there are other concerns pointed to by some users. Climbing up Mt. Fromme, Whistler's Westside or Fifty Shades of Green in Squamish, you are as likely to hear an unfamiliar accent as a native one. Some of these riders would have been among the 5.7 million overnight visitors B.C. hosted in 2017, but in my experience they are just as likely to be transplants; keen mountain bikers who chose to move to the Sea to Sky region because of the outdoor recreation opportunities. That adds up to increased trail traffic from locals and from visitors. Riders and trail advocates have accused the Province of spending millions promoting B.C.'s outdoor resources without permitting enough new trails or adequately funding this resource. Many think more trails are needed to meet this demand. 
John Hawkings pushed back when I asked if money was going into promotion* at the expense of trail development: "We spend hundreds of thousands of dollars a year on construction of trails in the Province. You know, recently I believe the rural dividends fund has provided about 9.6 million dollars over the last few years to trail projects. That's all trails, not just bike trails." Mr. Hawkings conceded that more funding is needed but, pointed to Leave of Absence in Squamish and Lord of the Squirrels in Whistler, noting that trails were being approved at the rate of 2 to 3 per year in the corridor.
*Destination B.C., the gov't agency that promotes B.C. as a tourist destination, had a 50 million CAD budget in 2016 and that will likely increase by almost 1 million CAD per year over the next six years. This is larger than the combined budgets of B.C. Parks and B.C. Rec. Sites and Trails.
Here on the North Shore, official building in recent years has addressed the lack of trails for novice and intermediate riders. Not long ago, virtually every trail on the Shore would have earned a black diamond rating in most other places. These new and re-imagined trails have allowed kids, beginners and visitors to experience the North Shore without necessarily experiencing Lions Gate Hospital. This effort, while overdue, has left a gaping maw for the large contingent of veterans with expert level skills. Cooper Quinn, the President of the NSMBA is aware of this; "Now that we've improved options at the low end, we need to work on the other end of the spectrum - black and double black diamond trails. These riders are often finding the experience they're looking for on unsanctioned trails which may not have the carrying capacity for additional riders - especially as they are often very sensitive to precipitation."
There Will Be no Forgiveness
John Hawkings made it clear that even expertly built trails that meet a need without contravening any of the concerns the Ministry has laid out could be on the chopping block. Based on the information I have been given, there will be no grace period, no effort to integrate any of these trails; they will not be approved, regardless of merit, the hours of labour or the popularity of the line. That doesn't mean resources are going to be dedicated to rooting out and decommissioning un-permitted trails,* but sanctioning is unlikely at best. This doesn't seem like the best way to honour the labour of those who built the world class resource that has contributed to making B.C. the most desirable tourist destination for many of the world's mountain bikers . 
*I have been told that in both Squamish and elsewhere in B.C. tools have been seized and fines have been levied against trail builders
The Big Stick
Despite the heavy-handed press release, Hawkings admitted that no builders have been jailed and that fines assessed are generally not more than $200. So why did the ministry decide to take a Trumpian approach using threats and intimidation? Mr. Hawkings told me that while the message was sent by the Ministry of FLNRO, other players had a stake in the conversation; "There's also the compliance and enforcement branch. There was Parks, a number of agencies involved and in recognizing that, we needed to remind people that there actually is a legal requirement for authorization."
The timing of the press release was no coincidence. An increase in unauthorized building has been noted in some unspecified location in the Sea to Sky region. It's likely Squamish was the hotspot since much of the land on the North Shore is administered by entities other than the Province and much of Whistler is under Municipal control as well. 
Cooper Quinn reminded me that it's not just the long arm of the government who has a stake in how and where trails are built. "It's important to consider that many of the trails across North America have been there a lot longer than mountain bikes. It's not uncommon for trails to be 'built' along traditional Indigenous routes, and almost assuredly on a traditional territory. Here on the North Shore, it's the Tsleil-Waututh, Musqueam, and Squamish Nations. Respecting that, and following the processes in place for consultation, should be important to everyone."
While I have some doubt that traditional peoples would disapprove of the way most trail builders, rogue or permitted, care for the land, it is important to realize that our trails can impact other users and stakeholders. Tunnel vision and selfishness is not the way forward for mountain bikers, but we're also unlikely to jettison our rogue ways any time soon. While more builders are coming into the fold, and some land managers are becoming more willing to approve trails that deliver more diverse experiences, it's unlikely we'll see the end of rogue building and riding in our lifetimes. And while I acknowledge the need for order and regulation, I have to admit that some of my best trail experiences have come on trails that were built under the radar. The Monster in Kaslo B.C., (built by Sam Brown - may he rest in peace) Ladies Only, Grannies and the now mostly unrideable GMG, The Flying Circus, and Bitches Brew on Mt. Fromme and Reaper, Coiler and virtually every trail on Cypress in West Vancouver; none of these were built with permits and none would have been sanctioned because mountain biking wasn't recognized as a legitimate activity when the builders toiled for hundreds of hours to create these masterpieces.
I'm not advocating for illegal building or riding. In many areas the access mountain bikers are granted hangs by a thread and jeopardizing that is not worth the payoff. At the same time threats of jail time and the promise of uncompromising unilateral decommissioning of even well-built trails seems like a terrible strategy to encourage collaboration and compliance.
What Trail Building Means...
As I mentioned earlier, for the trail builder we'll call Loic, trail building has been a family affair; "I have been building mtb trails in BC for 10 years. When my son was born, I promised myself I would build a trail a year. For each year of his life. My son has built every trail with me to date. And it has been a blast. I have great memories of him hanging out in a muddy buddy with small tools working on pieces of trails." 'Loic' only cuts down dangerous snags and drainage is always considered. He builds trails to the highest standard and he did make an effort to go legit, only to be rebuffed by authorities. 
He feels that local trail associations should be given some autonomy rather than being policed by bureaucrats, and Cooper Quinn has similar thoughts. "Most trail builders didn't get into it for paperwork and meetings with government - this is where your local trail association excels, actually. They exist to help you, the builder, build and maintain trails, deal with risk management and liability, and generally get you into the woods working on your trails as much as possible." But that only works if these associations have some say in who gets the permits. 
Blame the OGs
I'm going to hand off the closing words to Cooper Quinn.
"For the (often under-resourced) land managers, it's worth considering your permitting and sanctioning process. Some have it pretty dialed, some less so. What the NSMBA has seen is that the best way to reduce unsanctioned/rogue building and riding is to work with the community to provide more, varied, better sanctioned trails. Give people great sanctioned trails, and you'll start changing attitudes to, "why bother with all this other illegal stuff?" The reverse is also true; decommissioning trails often leads to additional rogue building in the same area, with unfortunate additional impacts on the environment."
"People have figured out that mountain biking is fun, and the OGs are to 'blame' - you made it that way! That doesn't have to mean it's not still rad - I'd argue it's better than ever. But it's time to stop thinking we're out on the fringes, and think about the whole community; how to educate riders and builders, foster the culture we all love, and build some kickass trails that'll last forever to ride."

Thanks Cooper. 
Tonight I'm charging my glass and raising it high to all the stubborn, quirky, big hearted, crusty, and calloused rogue builders; you are a bunch of beauties and without you this magnificent sport would not exist in its current form.