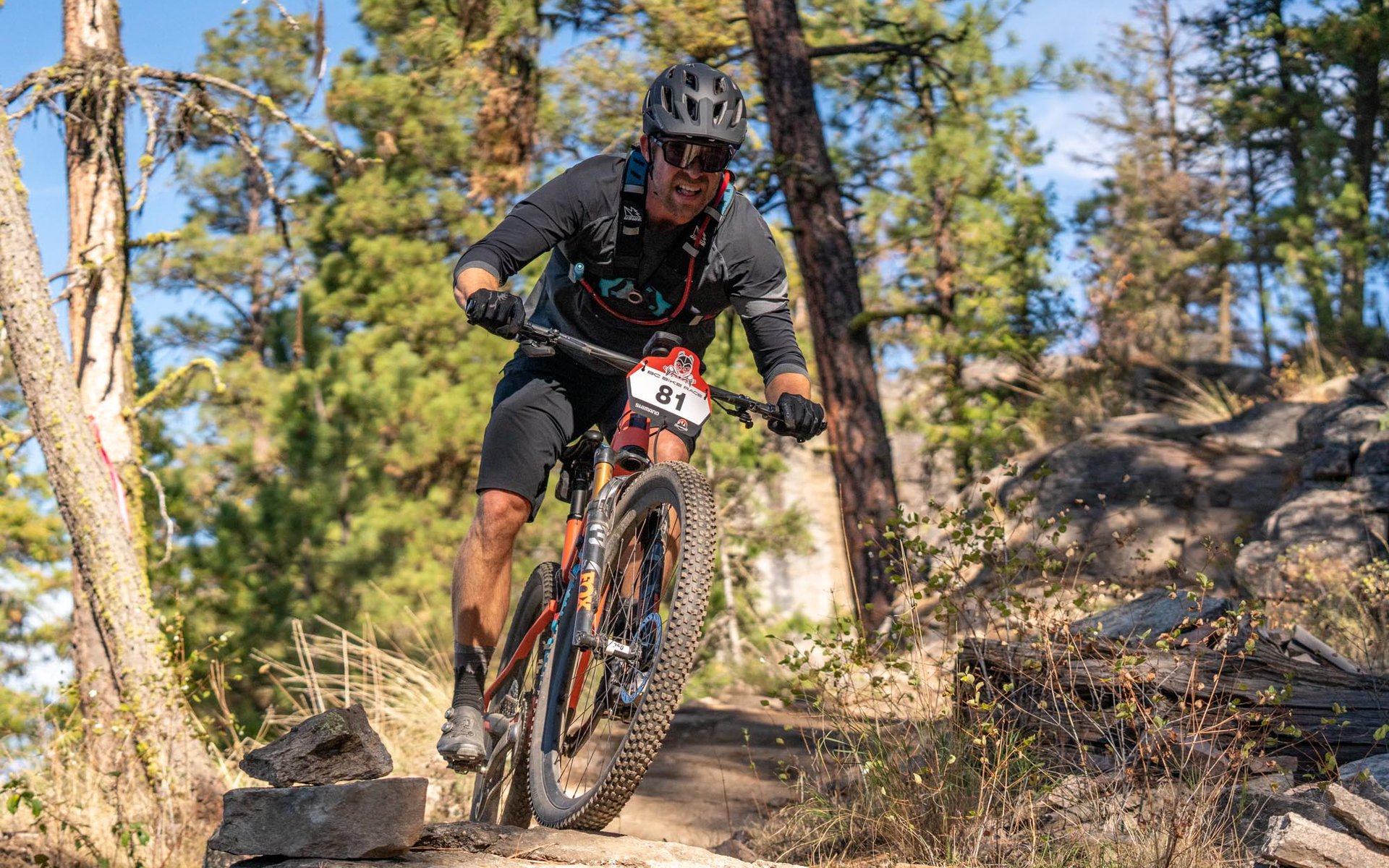 Let's Race
The BC Bike Race Experience - Part 2
"It's about time we got you out here to do this". So went my first encounter of the week with BC Bike Race co-founder and longtime buddy, Andreas Hestler. Dre had been badgering me for years to get my act together and do BCBR. This was finally the year.
Part 1 of this series dealt more with what was on my mind on the way into the race. Fears, doubts, confidence, it was a full gamut of emotions that I was feeling in the days leading up to the race. Some of that was to be expected - any time we do something new, trepidation about the unknown seems to be a constant companion. It's something you can get used to, but I don't seem to get all that comfortable with that feeling until I give myself a good internal talking to. The one positive I've drawn from it over the years is that that nervousness and anticipation about doing something new is also excitement and a precursor to doing something that will probably make me stronger or wiser, or at least a little more experienced. So I wasn't losing sleep or shitting bricks about the start line on day 1 at BC Bike Race, but I also wasn't quite as calm on the inside as I was at least trying to convey.
Whether through a false sense of self-confidence or an accurate feeling that all the saddle time I've logged in the last 20 years should be good for something, the overriding sense was that as day 1 approached, I couldn't wait to get underway.
Day 1 - Three Blind Mice Appetizer
As I previously mentioned, I had pre-ridden the first stage, which started at Marina Way Park on the shore of Lake Okanagan with a neutralized 6 km roll-out that primarily used the Kettle Valley Railroad to access the Three Blind Mice trail network. Other than a really punchy set of switchbacks from the lakefront up to the KVR, it was a mellow warm up on a wide gravel path - perfect for spreading out each starting group of about 25 riders, and letting us warm up our legs and settle into a rhythm. What you did with that rhythm as you entered the trails was up to you, but it generally felt like a manageable way to approach the day's 988m of climbing and 24 or so kilometers of racing that lay in wait.
Riders were asked to self-seed themselves on each day, and were released in groups of 25 to keep close congregation to a minimum. I decided I'd rather err on the side of too far back and risk a bit of frustration later, but the 6 km roll out really helped spread out all the riders so that by the time you hit the start line's timing mat, you could decide for yourself if you started more or less alone or with a group of riders.
Pre-riding stage 1 was a very good idea, because it let me feel comfortable with the length and cadence of the climb and get a sense of what to wear and how much food and water to carry. I still carried too much on day 1 (most days, really) but not by as much as day 1. It also opened up a few lines on the descents and gave me a chance to figure out whether I should switch to an insanely fast but vulnerable Maxxis Ardent on the rear (I decided not to risk it) as well as giving me a preview of the fact that flat tires - and maybe badly torn tires - were going to catch some people out. Sure enough I passed at least 5 people with flats on the main descent.
The stage itself was a fun ride. The climb traversed grasslands and forests and had some technical sections with rock steps and switchbacks but was generally straightforward, although the two smaller climbs that came before the main descent were like small jabs late in a boxing match - they looked innocuous but did a lot of damage to tired bodies. When I got to the aid station I had barely finished one of my two water bottles (I was also carrying at least a liter of water in a small USWE bag on my back) so I didn't bother to refill, but I did take a shot of Red Bull, some sliced pickles and Clif shot blocks as well as a quick body break. What I learned was that despite the sunny weather, the lower temps (10-12º C) meant that even a sweaty guy like me didn't need 4 bottles' worth of liquid plus more on my back as long as I started well-hydrated.
The descent was varied just like the climb with some fast sections on dirt and mixed rock, and others that were very wide open and rocky and more technical than I would have expected - except my pre-ride had let me know what to expect. There were some blind drops and really tricky corners that caught some riders out at speed. At the front of the race, Geoff Kabush tore a tire and nursed it all the way home, losing 15 minutes to the leaders - a deficit he wouldn't be able to claw back. In the slower, fatter part of the race, some riders also struggled to navigate the tricky rocks, but as far as I know there were no bad injuries. For my part, the technical demands of the Three Blind Mice were trivial compared to Shore riding - even on a XC race bike - but I did have to deal with a sore back and wrists that actually caused me to pull over at one point for a quick rest. Yes, it was either that rough or I'm that soft. I did discover, however, that I hadn't bottomed out my fork all day, despite a couple of 2- and 3-foot drops to hard landings and some aggressive rocky sections where I normally would expect to use all of the travel of just about any fork, let alone a 120mm Fox 34.
Other than that, as I rolled back along the same 6 km section of KVR that had started the day, I was happy to have avoided any leg cramps or other issues, and elated to have stage 1 under my belt after just over 3 hours of racing. I felt like I had a little juice left, but the idea had been to ease my way into the race until I had a better idea of how it was going to go, and I had successfully avoided trying to stay with some faster riders and blowing myself up - anyone who has raced before can understand that temptation can come from nowhere.
Night 1
In the days leading up to stage 1, I'd been cutting down on beer and wine, drinking a lot more water than usual, and trying to eat well. More or less, I succeeded. After stage 1 was over, I did go and grab a beer at the Rocky Beer Garden, but only one, and to be honest I didn't really feel like a second - such was the mentality I was wrestling with: "one day and one stage down, but five days and six stages left to go - don't mess it up now." I got back to the house, drank several pints of water as well as a pint of GU recovery, ate some chips but not too many, went for a walk to keep my legs from stiffening up, and then put my legs up for an hour or two, and started on dinner which was a pasta dish I like to make with tomatoes, carrot, onion, garlic, chorizo, basil, and oyster mushrooms. Leftovers are amazing so I made a huge batch and it turned into the lunch I would eat when I got home over the next few days.
I don't want to get bogged down into nutrition too much because that's really personal, and I'm certainly no expert, but here's what I ate and drank each day, in case it helps someone else with future meal planning or sorting this out:
Breakfast (at least two hours before the start of each stage): 1 cup of oatmeal with walnuts or almonds and fresh berries, 1 Tbsp of peanut butter and some Nutella or maple syrup. One or two coffees, and usually a bottle of water before the start of the race. I don't have issues with digestion but still always aimed for at least two hours between breakfast and start time. Other people need more. Don't underestimate the importance of figuring this out if you don't know it about yourself already.
During each race stage: 2-3 500ml bottles of liquid (usually half of that was water, and half a Gu or nuun tablet for electrolytes). I would carry a pouch of gel or Trail Butter which is one of my favourite ride foods, and an Rx bar or a Stroopwaffel (aka a Dutch waffle). I rarely ate any of those while racing - they were more for moral support in case I felt a bonk coming on - but I would stop at the the aid station on most days to grab more water/nuun as well as stuff some snacks into my face (a few slices of apple, some trail mix, a shot of Red Bull or coffee, a few Clif Shot Blocks, and some slices of pickle).
After each stage/lunch: one recovery beer and some salt (small bag of chips or some roasted nuts) on the way home plus a pastry or granola bar, and then a late lunch of soup with a few pieces of bread and cheese or a moderately sized bowl of pasta. Two to three BIG glasses of water and one more with electrolyte/recovery drink, and then a mug of decaf tea. I would have a big bottle of water with me everywhere I went. I drank 4 or 5 liters of water each day between the end of the stage and bedtime.
Dinner: one glass of wine and whatever meal was on the menu (steak, pasta, etc - always with a salad, but didn't say no to potatoes). I found my appetite to be fairly non-stop but not crazy, maybe because I was avoiding sugar and not drinking too much alcohol.
Sleep: I kept to a fairly normal schedule for me, but would lie down earlier than normal to rest my legs. Down by 9, sleeping by 10, up by 6 or 7 depending on race start time.
Day 2 - Stage 2 Cartwright Mtn & Stage 3 Conkle Mtn
Fresh with confidence - and slightly sore legs - from stage 1, I went into Day 2 feeling pretty good but wondering how a two-stage day with a total of 1164m of climbing was going to feel. The Summerland Rodeo Grounds was a cool place to stage a race, and the trails were smooth and fast. Should I have put faster tires on? Yes. Especially because my ever-so-brief rest the day before had caused me to roll into some prickly pear, and had I done a tire/wheel change I would have probably noticed the issue or avoided it altogether. I shook the spiky bastards off my socks and legs (and then hands) and thought nothing of it, but a thorn worked its way into one of my sidewalls, and I didn't know I had a slow leak in the front tire until we started the descent on stage 2. I nearly rode off course entirely when I blew a corner and lost 15 minutes trying to sort out the slow leak/flat. That part sucked, especially watching about 20 people ride by that I had passed over the last big climb, but it brings me to another key lesson and component of racing: bike checks.
I had been good about checking my bike in the days before the race started. Brake pads, tires, sidewalls, chain, cassette, cables, AXS batteries, etc. I had even (I thought) topped up tubeless fluid in both wheels. But maybe I neglected the front, because the puncture I suffered was minor and the Orange Seal I was using would normally have taken care of it easily. Thanks to the good folks at Shimano neutral support (they've been doing this at BCBR for several years) who took a look at my tires while I was recovering between stages and discovered my front tire was 'dry'. That was a surprise. It was also the only mechanical/gear issue I had all week, so I feel like I did a decent job of taking care of my bike even though the lack of sealant was a big mistake/oversight.
Generally I would set my bike up each evening, in order to spare the stress in the morning. Night routine:
clean the bike (if it needed it), wipe down fork and shock seals, check chain and moving drivetrain parts for build up
check tire pressure (which I also did each day about 20 mins before race start)
lube the chain*
charge the Garmin and AXS batteries
check brake pads for wear and alignment
check wheels for alignment, inspect tires and sidewalls (forgot to do this on night 1!)
remove sticker for stage profile from top tube, affix tomorrow's stage profile sticker
make sure seat bag had supplies I needed (Tubolito backup tube, epi pen, spare AXS battery, bacon strips/tire repair kit)
make sure spare tube and levers were well-mounted (top tube/down tube junction)
*WPL dry lube worked great all week in Penticton's dry/dusty climate, but their wet lube is better for winter or wetter areas),
There was also a short morning routine. Here's how that looked:
check tire pressure again (I would also do this when I arrived at each stage to make sure I adjusted for altitude and temperature)
check chain for even lube coverage
double-check AXS battery and put Garmin back on the handlebar mount
fill water bottles: one with water, one with Gu electrolyte mix
affix race number to that day's jersey
set out race food for the day in a pile along with $20, driver's license and visa and a small windbreaker - it would go into bib short pockets before I left the house so I wouldn't have to worry about it later
assemble the rest of the stuff I needed into one bag (helmet, shoes, glasses, gloves, sweat band, post-race clothing, tools)
Having a routine for all of this saved me a lot of stress and needless running around. Once I did it successfully once or twice it just happened naturally, but the importance of doing it the same way each time became evident very quickly. This would be doubly important if we were getting muddy or rained on, but since the weather was so good, it was made easier.
Day 3 (stage 4) - Apex Mountain
Between day 1 and 2, I had figured out quite a few things. One, that I didn't need to ride with a pack in order to carry enough water - riding with two full bottles on the bike and refilling at the aid station was plenty, and all the tools and other stuff I needed was easily split between a seat bag, strapped on tube and levers, OneUp EDC Lite in the steerer, windbreaker and snacks in the stash pockets of my bibs (I'm going to run through all the gear I used in a future article). The USWE Epic 3 I used on day one was great - it stayed in place and out of the way and held its cargo without much effort - but there's a difference between a long casual ride and a race, and in the latter, you want nothing extra on board, no matter what your aspirations may be.
The thing about Day 3, though, was that we were racing up at Apex Mountain ski resort, and there was a possibility of snow. This was the day everyone had been watching from a week earlier when the weather reports were rolling in. The Apex stage had a high point of 2200 meters (the highest BCBR has ever gone) and at that altitude in early October - Okanagan weather or not - it's not a stretch for a little precip to turn into the devil's dandruff in a hurry. I happened to park beside Geoff Kabush in the lot and even he was unsure about what to wear to the start line. Other than his skin tight short-sleeved jersey, he was considering a vest or a light jacket. As we sat there talking about it, 30 minutes or so before the start, in 4º C weather, I couldn't decide either. I was wearing a merino tank underneath a long-sleeved jersey (again, I'll detail this later, but it was the Rapha Trail Windblock jersey, and it's every bit as good as I hoped). I took a light jacket along as a safety layer, but I didn't end up needing it. I was never that warm, but I also didn't get cold, even at the top of the big climb. Because I was never that sweaty, I can conclude it worked out well.
Riding up at that altitude was harder, but based on the complaints I heard, it seems like it was a bit easier for me than for some others. This was also the first day that I felt my legs come to life a bit, so I tagged along with some fitter riders, and for what seemed like a similar amount of effort to the first few days (ie. I suffered but didn't red line to the point of disaster), I finished further up in the pack. The 'carry on' effect of being in a pack of pacey riders and not wanting to slow down unnecessarily to let others by or lose ground to the rider in front made me faster - this was what I was hoping to experience in a stage race, and on day 3, I was able to get there. The top of the climb was brutal - steep, a bit windy and cold, and I had a sore back and tired legs - but a shot of whisky did a lot for my morale, and I felt strong at the finish and recovered nicely that day.
And another thing - the trails at Apex seriously rule. There was a lot of really good dirt, fun tech sections, great turns and a nice combination of speed, flow, and tech. Consider all of that with your XC lenses on, but I'd take advantage of an opportunity to ride up there again in a heartbeat. Apparently MTB races have been happening at Apex since the mid 80s, so it has a very strong MTB heritage, it had just never landed on my radar before as a place to ride. There were wild horses on the beautiful drive up, and it's one of those classic small and awesome BC ski resorts. Go there and ride if you get the chance, it was legit.
Day 4 (stage 5) - The Northern Mice, Naramata Bench
This was an interesting stage because, even more so than a few of the other days, it was a simple profile on paper: one big, long climb followed by one big, long descent. This was called a 'North Shore style' stage and that was apt - the mountains on the Shore are pretty big and the average ride is just that - a big up and a big down (or two big ups and two big downs). After a variety of stage profiles on the preceding days, I was curious to see how this one would feel. We returned to the familiar trails of the Three Blind Mice network above Naramata, and by the time the ride was over, I knew two things: that this was indeed a stage profile that my body seemed to like, and that I left too much in the tank. For the first time all week, I didn't stop at the aid station (a net gain of btwn 5 and 10 minutes over previous days) but also for the first time, I crossed the finish line and still felt fresh. Yep, I had another good hour of riding in me at that pace. I wasn't annoyed with myself, but I could have done better, gone faster, for a similar amount of effort, and we were now past halfway done the week. File this one under a lesson learned for next time: rolling XC races are harder on me than one that looks like a pyramid on the stage profile.
Day 5 (stage 6) - Campbell Mountain, Penticton
The second last day. Penultimate, as British commentators like to say. I like penultimate, but I hate it when they say 'it's still all to play for'. Of course it's all to play for - we haven't declared a champion yet, and you lot never say 'it's only partially to play for'. We North Americans definitely have dumb expressions too, but that one really bothers me lately. Also 'done and dusted'. Just fucking stop saying it altogether.
These are things you think about when you're grouchy and suffering on a long climb, and on this day we had two of those. The last one in particular was a serious pain in the ascot. I had remembered something I thought about only partway through the neutral roll-out on day 2, which was that even though we weren't racing, it still made sense to jump into a group and draft on the way to the start line. And on stage 2, the start line had been moved (due to a route change thanks to grazing cattle!) so we rolled another few kms on pavement and rolling gravel road. Again, don't do those miles solo - get in with a group and tuck yourself in behind someone big and let them punch a hole in the wind for you. Generally this is more of a roadie thing than a mountain bike thing, but we were doing 25-30 km/h on the lead up to the singletrack, and if you weren't working with a group, you were already losing time. Again, I wasn't racing like my salary depended on my finish position, but this part of it was fun for me because it reminded me of being a roadie geek in Europe. On day 2 I found a good group and everything was going great until we rode off course. On day 5 I did a little extra work on the neutral paved climb so I could draft with a group as we neared the start line, but I also wanted to suck some imagined energy from them on the first climb, and that worked pretty well. Had I been climbing alone, I would have been slower for sure. I also ended up in a good group on the first descent of day 5 for the first time and enjoyed the party train on the way down. On other days we were already quite spread out by the time we got to the descent, other than my unfortunate flat on day 2. These are some of the experiences racing gives you that aren't quite the same during your day to day rides. Yes, riding with your buddies can give you plenty of opportunities to hound dog, pass and be passed, but when you're racing with virtual strangers, it's a different energy. Not better or worse, just different, and definitely fun.
Day 6 (stage 7) - Three Blind Mice
The last day was also the longest: 46km with 1,319m of climbing. At this point, finishing felt like a foregone conclusion (barring catastrophic crash or mechanical failure) but this wasn't quite a victory lap. The stage profile looked someone like the long climb and long descent of day 4, but with a few punches to the gut on the way up. After a few days of not stopping at the aid station (a sure sign I was getting stronger) I felt a bit sapped on the last day, and needed that rest. My legs weren't recovering in between efforts, and I just felt like I was 10-20% slower than on the last few days where I had felt progressively better. I didn't beat myself up over it - instead I stopped at the aid station, knowing it was close to the end of the (uphill) suffering for the week. It was enjoyable. Once again, the volunteers had created a great vibe, with a barrel fire, music, costumes and dancing, and - most importantly - whiskey (with an 'e' this time because it was Canadian rye). As in the past, the aid station truly lifted my spirits (and helped my legs and lungs recover) and the last part of the climb felt easy compared to the kms leading to the break.
On the final descent, I still had a sore back and wrists, but I enjoyed every minute of it, knowing I was on my way to making it through a truly big week on the bike in an unfamiliar setting. Despite not training as much as I could or should have, I felt pretty damn good, and enjoyed knowing that I had successfully managed my body and bike through the challenge. As good as it felt to finish, it was still a 6km pedal back to the finish, where we all passed underneath the BCBR arch for a final time to collect our finishers' belt buckles. As happy as I was to see my wife and four-legged training partner at the finish, it would have been a better moment if it had been a true finish line setting - that's perhaps something the BCBR crew will figure out for next time. But it didn't dampen my enthusiasm one bit, and that final beer tasted as good as any post-ride beer I can remember.