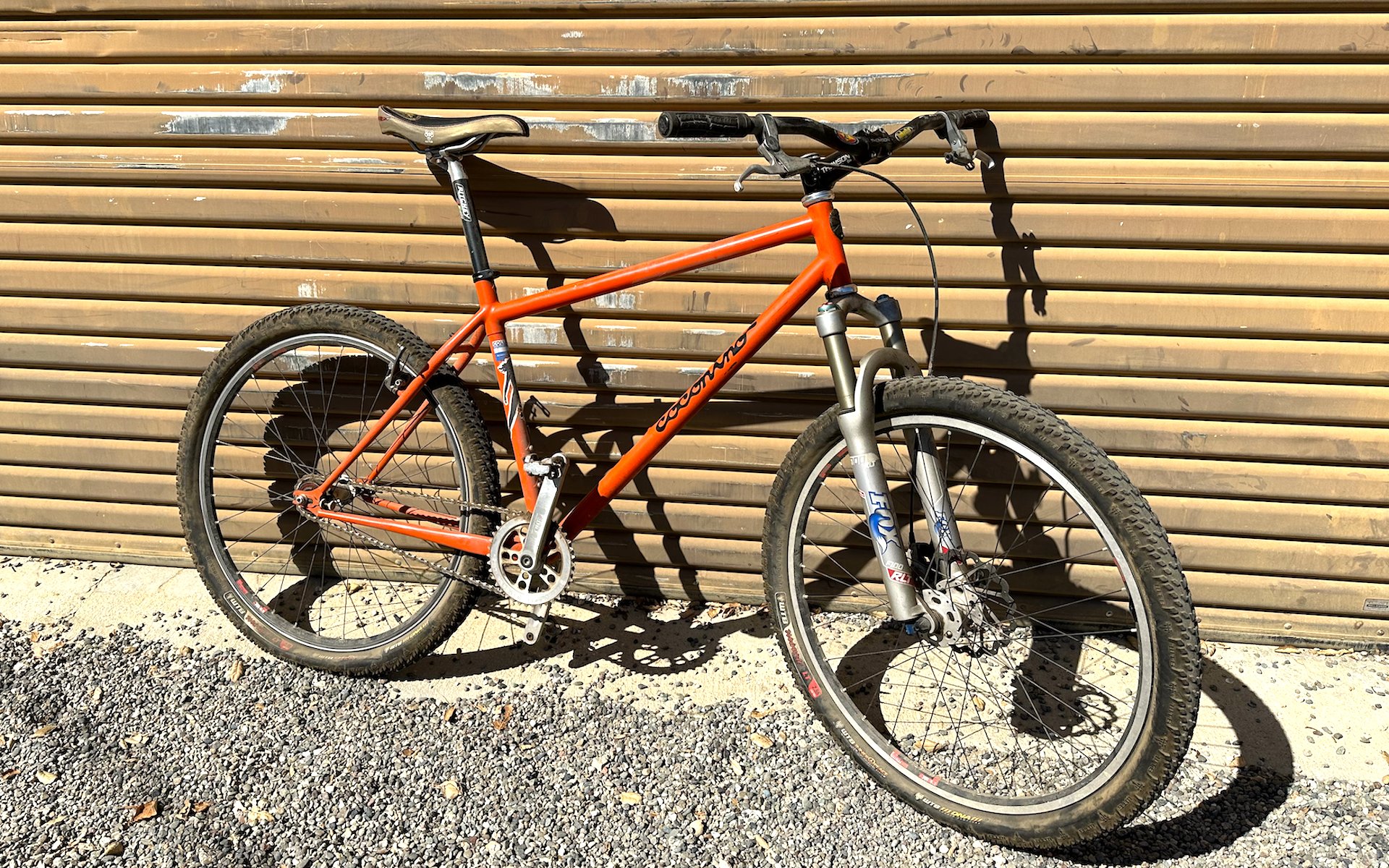 Beggars Would Ride
Bargain Bin Reveries
"Dude, you gotta part that thing out! People pay good money for original White Industries stuff!"
Steve was trying to convince me to strip down that old Coconino in the opening picture, as we prep for an upcoming swap meet. His idea has some merit. One, the frame is an early example of Steve Garro's craftsmanship and it holds far more significant value for me than it does for some random tire kicker at a swap meet. Two, those old White Industries hubs and cranks do have some pulling power of their own and are likely to generate some interest, but not many people are hunting for that kind of stuff attached to 26" wheels these days. Three, the old bike hasn't been ridden in well over a decade, and I kinda need that 27.2 seatpost for another bike that I'm trying to flip at the swap.
Attempting to come to any decision at all about the Coconino is a tortuous process. Garro is a friend, and this frame holds so many memories of a time when we were both younger and rowdier than we are now. There is totemic power in this, in spite of the layer of dust. But still, it's a steel singlespeed from the early 2000s. Mighta been around the 12th frame that Garro built. 26" wheels, geometry from the wayback machine. One gear. Not much call for any of that around here these days. I am comfortable acknowledging that my one speeding phase is behind me. It was the best of times, it was the worst of times… Comfortable as I may be with that admission, I am not so comfortable completely excising all the evidence, all the memories, of that past.
So maybe Steve is right (Steve of the swap meet, that is, not Steve of the Garro. Steve of the Garro would probably tell me to suck it up and either put some proper miles on that bike or give it to someone more worthy). The cranks and hubs and freewheel could go in the "we gonna haggle some" bin, along with this collection of chainrings, Chris King singlespeed cogs, and that cherry old Soulcraft Convert chain tensioner. Keep the frame, though. Trying to sell it will only breed heartache.
And here we run smack dab into the reality of swap meet prep. So, those old Chris King cogs (mostly unused, one of them even made from al-yew-mini-yum) are OG singlespeed cool. They come from a time before Wolf Tooth, before even Surly had planted their flag on the one-gear firmament. They retailed for about $65 apiece, and are every bit as beautifully machined as any of the close to $80 cogs that Wolf Tooth is making today. I fully expect that someone, possibly wearing a pith helmet or some outfit comprised of three different camo garments and a fanny pack bulging with dollar bills, is going to try and haggle me into the ground, offering maybe $2 per cog, and will circle relentlessly like a vulture waiting for a prairie dog to die, in the hopes that I cave in completely. Same goes for that Convert tensioner. Sean sells them for $99 apiece on the Soulcraft website. They are machined right there in Petaluma, California. Fanny-pack-full-of-ones, who knows full well the value of these items judging by the ratty old Swobo tee shirt lurking beneath his triple camo look, has a hard ceiling of $5 for that tensioner. Maybe $20, if I combine the cogs, the tensioner, and that sweet little Paragon Machine Works "Beer Is Good" bottle opener.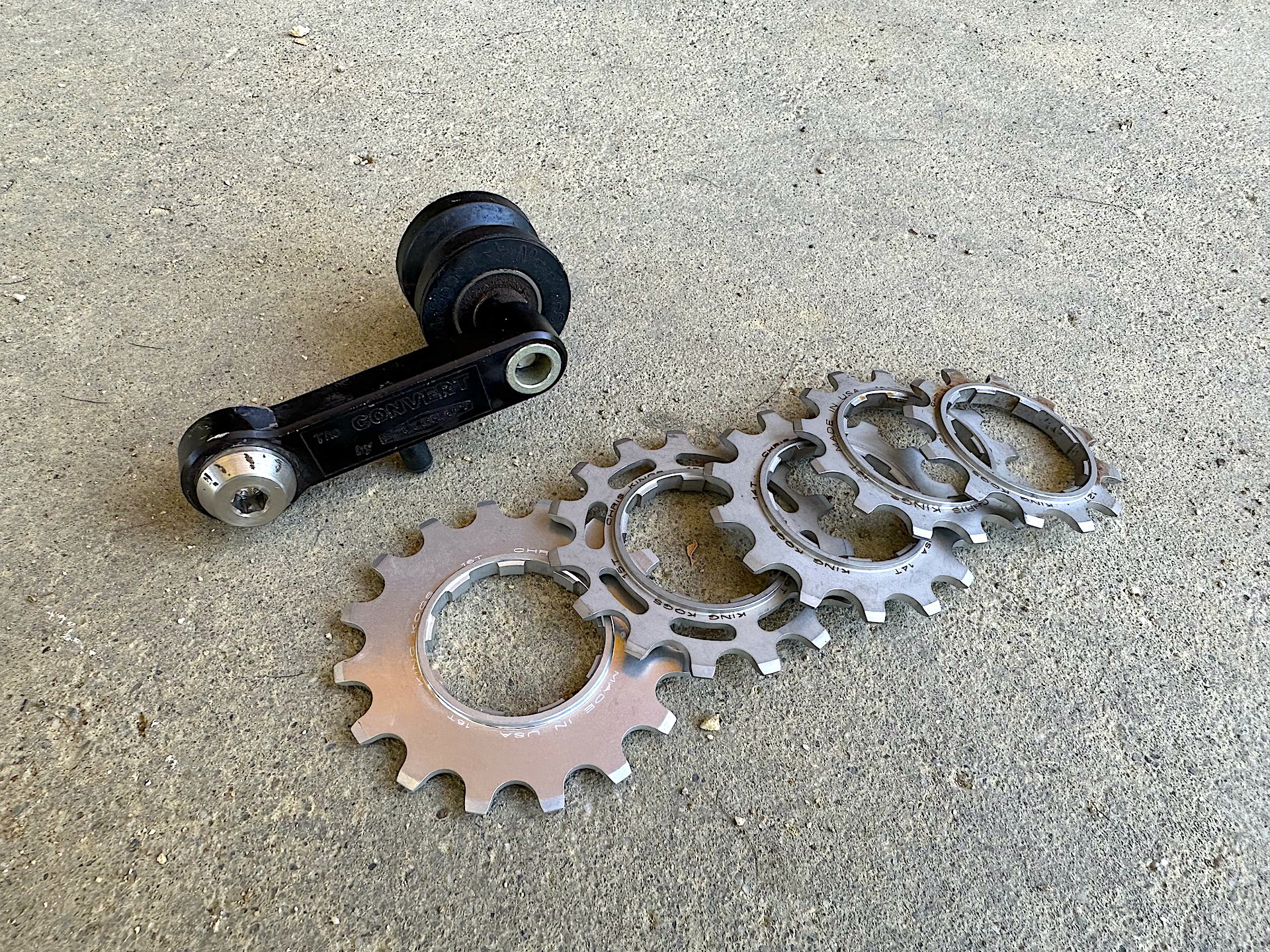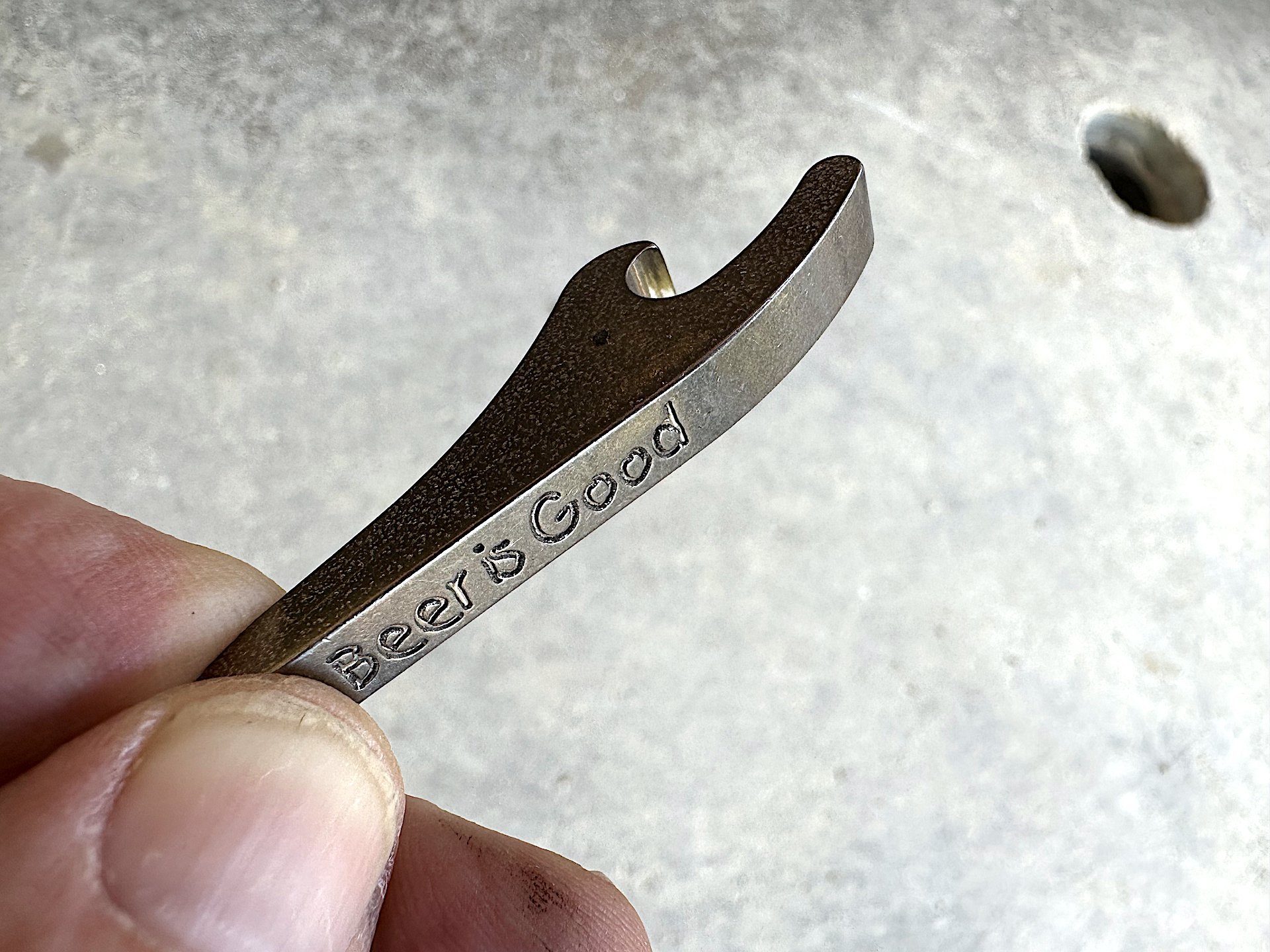 I'm moving house. I don't ride one speeds anymore. I drink mostly canned beer these days. I do not need any of these wonderful objects. I never really needed any of them in the first place, but here they are. I should feel no attachment to them at all. But I do. Every single item in these bins represents some past aspect of my life as a cyclist. There are friendships and rivalries contained in these dusty old parts. There are memories in every half-worn out piece of metal. This all means something to me. Attaching a dollar value to memories is just going to end up making me bitter, and by the end of several hours on a moving blanket under a baking sun drinking canned beer, there's a part of me that might be inclined to take insult to mister Fanny-pack-full-of-ones' continued lowballing. That part of me might conclude that there is no dollar value to a Chris King singlespeed cog that would equal the visceral satisfaction of using it as an ersatz throwing star instead (best choose a steel one, since the al-yew-mini-yum unit is less likely to puncture skin). Caveat emptor. Damn right, bub.
Nevertheless, we remain optimistic. Reduce, reuse, recycle. Engage in the haggle; try to appreciate it as a nuanced artform, and not a daylong procession of personal insults. Assign bins; here be treasures. List prices, then slash through those prices and write something lower. Expect to sell for half that again, if lucky. Practice non-attachment. These are just objects, they have served their purpose, time to find new owners. Money is just like water; sometimes a river, other times nothing more than a brief shower. Set out the buckets, funnels, cups, whatever it takes. Bring a hat. Bring a cooler. Continue sorting into piles, and remember.
Ahhhh, Time ATAC pedals. There was a decade where those were the only pedals I rode. What about these lightly used hand-bent NomadFab titanium rise bars, complete with resin SRAM 9.0 brake levers? Straight up Unobtanium. Can't put a price on that. But there they go into the $10 bin. Probably won't get a nibble. What about a few more of those damn first generation Joplin seatposts? Dear lord, I coulda sworn I tried to get rid of them all at the last swap. Not even the gravel riders were interested. Maybe the $5 bin for them this time. NOS SID rear shocks and Acros 1 1/8" headsets, where the hell did they come from? Jar upon jar of brake mounting hardware; cantilever bolts, rotor bolts, brake adaptors. I swear they breed. Whenever you need one, they are nowhere to be found and a bike shop will absolutely hurt you if you need to purchase them. Time for some tiny Ziploc bags, prepare to reverse haggle. So many brake rotors. They went pretty good last time, but the deep toolchest excavation unearthed more, along with a cache of front derailleurs. Bet the rotors do okay again, and that the front derailleurs won't even fetch a passing glance.
Wheel bags, backpacks, old team jerseys; a profound pile of stuff that I was certain I had purged down to the bare essentials just a year ago. All of it imbued with some sentimentality, some talisman of memory attached. All of it, all of those memories, now being reduced into either the mass of physical burden or the cold analytic of dollar valuation. Remember, move on. Remember, move on. Out with the old. Bring out your dead!
Until finally, my cold shoulder to sentimentality collapses. A Mafac patch kit tin, unearthed alongside that little titanium bottle opener. I know exactly when I got this patch kit, as a gift, when working at my first ever bike shop job. Velo City, San Francisco. 1989? Holland Jones, may he rest in peace, had a massive stash of NOS Mafac stuff that I suspect he had managed to wrest from Oscar Juner at some point when Oscar was shutting down and selling American Cyclery just up the block. Holland's stash of Mafac cantilever brakes found their way onto an entire generation of Bay Area cyclocross bikes.
This patch kit, probably from that same transitional, transactional piece of a whole cycling community tapestry, was part of my initiation into the rites of bike mechanic life. It's empty now, of course. But crack it open, and it still smells ever so faintly of butyl patches and skunky weed, of full moon derbying, of hot laps through laundromats, of freshly opened Anchor Steam beers, of rallying through Golden Gate Park on fixed gear beaters and of lurid skid contests down the top block of Stanyan Street.