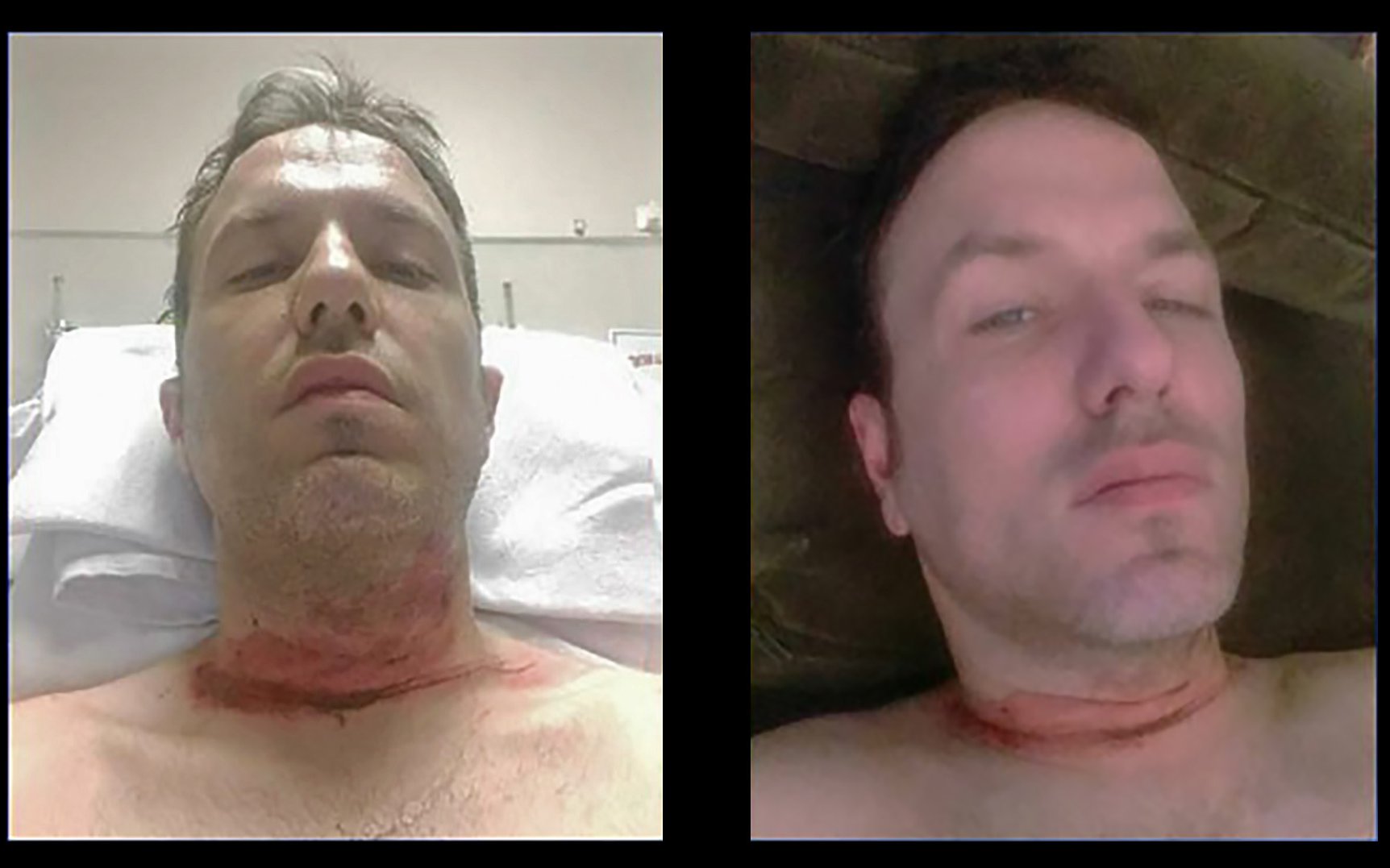 Trail Sabotage News
Barbed Wire or Fraud: The Bragg Creek Incident
From the very beginning Stelianos  Psaroudakis' story didn't add up. He was apparently riding a downhill trail when he hit barbed wire strung at neck height across the trail. I asked Stelios (the name he goes by) how fast he thought he was going and he estimated 40-50 km/h (although he he was quick to add that he didn't have a 'speedometer' on his bike). He said he and his dog were thrown from his bike, which is certainly consistent with being clotheslined at high speed, but the injury to his neck is more difficult to explain. The images make it difficult to determine if the wound required stitches but Stelios told me the doctors at Foothills Hospital in Calgary determined no sutures were required. It seems obvious that hitting barbed wire with your neck at even 5 km/h would produce a wound requiring more than just a little Polysporin, but perhaps this was some kind of anomaly?
I managed to get in touch with a physician at Foothills who related that Stelios' injuries were 'minor' but that he was indeed admitted to hospital. I was unable to confirm any other information. In our conversation Stelios told me his liver had been severed, a serious situation indeed! I suggested that perhaps it had been lacerated and he agreed that sounded correct. As a result Mr. Psaroudakis says he will be unable to work for three months. Or perhaps a month. He referred to both of those intervals in our conversation. 
The first head scratcher in the initial news reports was the reported value of the bike. The 10-year-old Specialized Stumpjumper photo he gave to media outlets seems to have come from the pinkbike buy and sell, where the owner was asking $1700. Stelios seems puzzled about there the $8000 number came from but he told me this;

I never give a value of $8,000 for any bike the bike new in 2008 was $5,700 USD I'm trying to raise $8,000 to help pay for food for me my daughter my wife because I'm the main supplier of the house and won't be able to work for a while for rent another mountain bike and deer cams to donate to people that are responsible for these trails to help make them safer for other writers in the future and catch people that are vandalizing and sitting up traps
I asked him where he purchased the bike and how long ago but he didn't respond to those queries. I was also interested in speaking to the friend Stelios was riding with at the time of the barbed wire incident. I asked him his friend's name directly and he was evasive from the beginning. The first time I asked he changed the subject. The second time he told me he was "trying to get his number." The third time he told me a story about his phone getting broken in the crash and being repaired. I asked again and he finally told me this story;

His name is Mack I don't know his last name I met him a few weeks ago at a gas station I I saw his bike on a white pickup and ask him where he rides in Twin for me next time he goes out that like to go with him he called me that day I jumped on the opportunity right away had him come over to my place and through my bike in his pickup and followed him with my car
Despite all the photos of Stelianos' neck (I have seen at least 10), neither rider thought to take a photo of the barbed wire. As far as we know there is no physical evidence from the scene; no photos and no barbed wire has been recovered. Local riders have also been quick to point out that this is the busiest trail in the area and that this section of trail likely sees over a hundred riders on a slow day, and yet there have been no reports of other riders spotting barbed wire or seeing Stelios and his new friend Mack hiking out.
The previous Gofundme campaigns this gentleman initiated raised the suspicion of many riders; one was to get his dog out of the pound, one for those affected by the Fort McMurray fires. And now this one to cover expenses for his wife and daughter and purchase 20 wildlife cameras for the Bragg Creek trails. And perhaps buy Stelios a new bike. The tally is currently $851. (update - the gofundme campaign now says "Campaign is complete and no longer active" which sounds to me like he decided to take the money and run).

I left a message with RCMP Constable Amy Lahoda who had this case land on her desk but she was off duty. She returned my call later and while she wasn't able to tell me much she did confirm that no physical evidence had been recovered because the scene of the incident hadn't yet been identified. Contstable Lahoda was also able to confirm that the complaint had been called in by Mr. Psaroudakis on Wednesday July 5th, the date of the incident. I asked Constable Lahoda what the penalty was for filing a false report and she told me that, if proven, an individual could be charged with public mischief. While it doesn't sound like much it is a criminal offence and can be considered indictable meaning a jail term of not more than five years. It can also be considered a summary offence which stipulates a less severe penalty.
My conversation with Stelios took some unexpected turns. Without prompting he began to tell me about his Audi TT and he drew a parallel between haters underestimating the car's capabilities (close to 800 hp!) and doubting his barbed wire tale. I tried to ask him a little about his mountain biking experience and that led to him showing me a photo of his vintage bmx. He also sent me several shots of his Audi's motor and of his injuries, all seemingly shot with a cell phone despite his being in for repairs. 

Stelios seemed quite proud of the fact that he had invested $50,000 is his TT and I pointed out that perhaps he might think about selling the car rather than asking for money on Gofundme. He assured me he had tried as you can read in the excerpt of our conversation below. 

But what about his injuries? An astute Redditor in the /r/calgary Subreddit pointed out that Mr. Psaroudakis' neck trauma bears a remarkable resemblance to the wounds sustained by the teen in the news report below. It's pretty clear that the wire that caused Taylor Yach's injury was not barbed, unless there was some kind of miraculous intervention here as well.
After all of the twists and turns this tale has taken in just one week, that leaves us with Stelios $851 richer (and counting) while the RCMP continue the investigation. Constable Lahoda assured me that, in light of the media interest, a full investigation into the allegations would be undertaken. 
If it's determined that our Audi-driving, bmx-owning, decapitation-surviving 800 horsepower Albertan friend isn't being entirely up front about this incident where does that leave us? There is absolutely no evidence that Stelios is part of the mountain bike community, and yet his actions could affect all of us. If he's lying that could undermine legitimate reports about trail sabotage in the future. Sadly we know the action reported by Stelios happens, here on the North Shore, in Oregon, and virtually everywhere mountain bikers ride trails. 
Kudos to the riders who saw possible holes in this story. Without those who raised the alarm about the inconsistencies of Mr. Psaroudakis' report this likely would have just faded away, as the Gofundme continues to accrue cash.