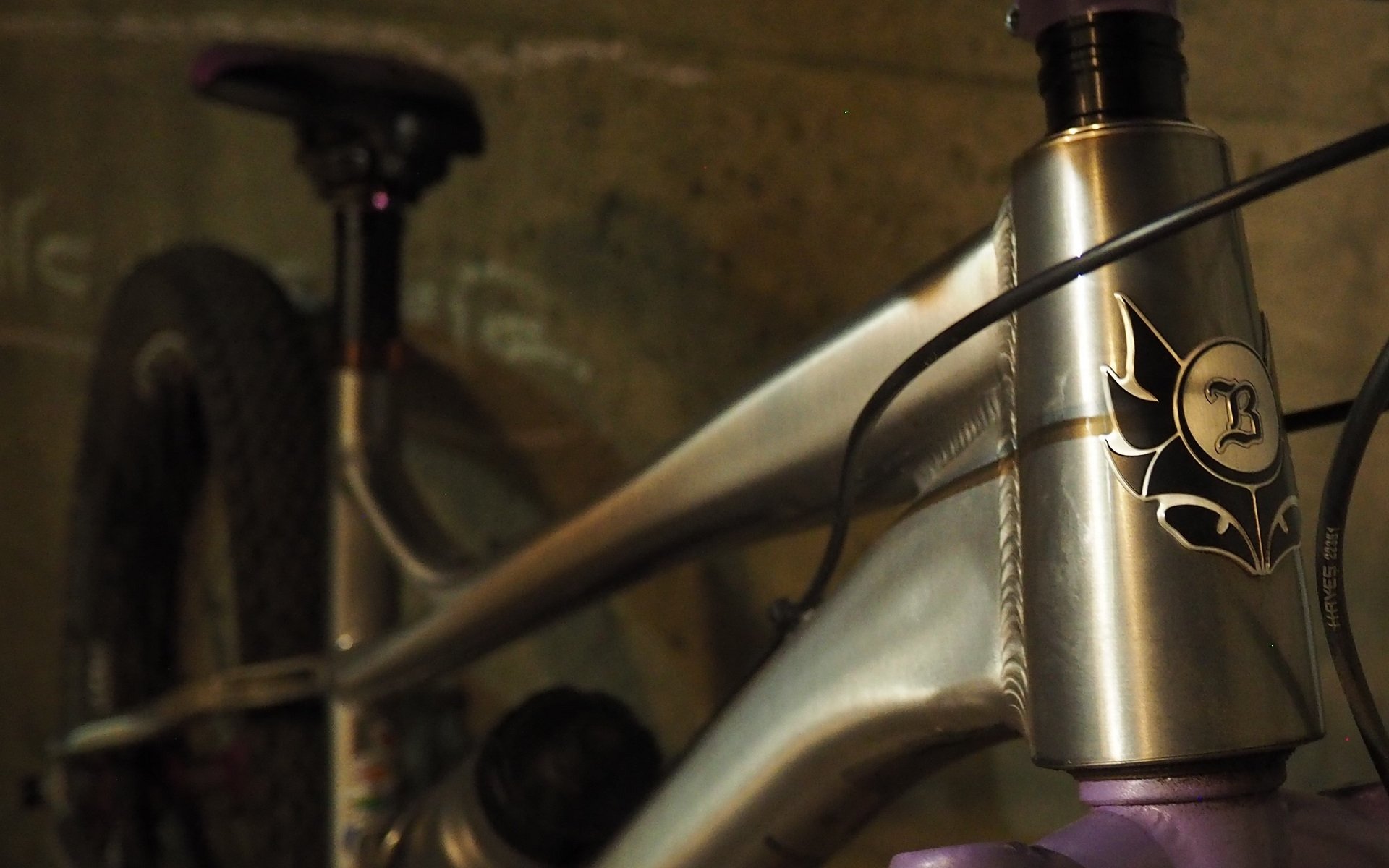 FIRST IMPRESSIONS
Banshee's Enigma Aluminum Hardtail Frame
F.R.O
The Banshee Enigma is about as boutique as a production aluminum frame gets these days, both in terms of design and dineros. It sports exciting geometry and it has some of the cleanest external cable-routing around. It also carries some bold claims about frame compliance that would be more commonly associated with any other frame material - steel, carbon fiber, wood laminates, etc.
For my first look, the Banshee is wearing the rigid fork and 29+ front tire off of my personal bike, as well as the Dominion brakes, Resolve dropper post, and Sagma saddle. This is a frame-only review and I also have plans to dress the sleek satin sled up with a short travel suspension fork in the near future.
The Enigma looks fantastic in a satin-raw finish and the lines of this size large frame are oh so smooth and sweet. But, for me, the initial appeal goes a few pedal strokes further. From the seat tube forward, this rig is almost a geometry twin of my Waltworks V2 assuming the same axle-to-crown. Siblings from a different alloy if you will.
This means that in addition to my Waltworks rigid fork and custom WZRD bar transferring straight across, I can also plug in the recently serviced 120mm Manitou Magic Toothpick I have on hand. The dual 29" hoops from my Walt don't transfer across, so these Project 321 G2 hubs are getting an overdue service and pressed back into action. I also used this wheelset previously to mullet the Banshee Titan I reviewed and on the Santa Cruz Chameleon MX.
Enigma.
My goal with the Enigma is to both test the frame and test some of my long-held ideas about hardtail geometry. While the geometry of the front triangle is very similar to my Walt, the rear-end dimensions have clearly been stolen off some kid's dirt jumper.
I've taken to calling the bike, in its current rigid-forked guise, a 'Freeride BMX' and it truly and fully embodies the mullet concept. The familiarly slack headtube angle and 29" front wheel are all business and keen to dive into anything. The rear center is a massive 45mm shorter than what I'm used to on my rigid single-speed and makes the bike almost frighteningly playful at times as I learn to ride it.
In addition to looking expensive, the machined forgings at the drop-outs, bottom bracket, and seat stay-seat tube junction are said to be engineered to add compliance and vibration damping. No one is claiming it's a full-suspension bike or even a soft-tail, but it does move down the trail with an impressive smoothness, and I've certainly ridden much harsher frames in aluminum, carbon, and steel.
Keep in mind I'm running a 29x3" front tire so there is a boost in traction, and some additional compliance. The rear tire is 27x2.6". I'm also running CushCore inserts front and rear - with a Plus in the front and a Pro in the rear - for that rubber-in-rubber traction boost. These are factors to take into account when discussing compliance.
I'm going to try and have something more to say about this in the future when I'm wrapping my review. In the meantime, it was part of the inspiration for my piece Aluminum Is Actual, and it's certainly a unique appeal factor to the Banshee. Aside from any ride-quality claims, the forgings at the dropouts, bottom bracket-chainstay junction, and seat stay-seat tube junction, all look great. Other than imperfect comparative anecdotes, I have no way of measuring what amount of compliance or vibration damping they deliver.
There's something there. Yes, even though the all-mighty 12mm rear thru-axle arguably killed much of the frame-related comfort compliance in hardtail and road frames. Depending on rider weight, Keith at Banshee says it's less than 10mm. It'll be very interesting to hit things faster, once I install a suspension fork and see if that sensation translates over from the rigid setup.
Here are Banshee's words on the subject:
"The Enigma utilizes Banshee's engineered vertical compliance and vibration damping achieved through clever FEA-optimized forgings. The Enigma is beyond your average hardtail. It offers a truly unique and joyous ride quality that will put a huge smile on your face."
VS. V2
The front-end geometry of the V2 and Enigma may be twins like Joel & Benji but once the rear-center measurements are taken into account the bikes sit in a 'twins' category more like Arnold & Danny. It's a fitting comparison when judging the characteristics of two rigid bikes with a 45mm difference in chainstay length between them.
The Banshee, which I've taken to calling Vincent, after the DeVito character, is a hustler. It loves to change lines and live the fast life but in any treacherous trail-tech-gnar travails I have to stay on top of it. We're still getting to know each other, but when trails get steep, chunky, and janky, my truculent and trustworthy V2 is significantly more planted, stable, and supportive. The long-stayed V2 also delivers more climbing traction in the steepest, loosest, and most technical situations.
It's very early days, and it depends on the trails I'm riding, but there are many places where the Enigma is more fun. The smaller rear wheel accelerates much more quickly, which is enough of a fun booster on the single-speed that I'm considering mulleting the V2 when it comes back, even acknowledging straight-up that this will affect my speed chunking down janky lines. With the 418mm stays it takes no effort to get the front end up compared to my Waltworks.
And it's not that I find myself walking a bunch of lines that I ride on my V2, it's just notably slower to pick my way down steeper and more aggressive trails. I really only notice this comparatively, when I'm riding with other folks on their full-suspension Enduro bikes. I find myself reaching for the Enigma more for solo riders, and riding my Marinster Truck (El Roy) more with groups where I'd normally have taken the rigid V2.
Does that sound like a lot of difference for 45mm of chainstay length and a slightly smaller rear wheel? Bicycle geometry is a game of millimeters and all told that's a massive difference in rear-center. The rear center of my V2 already grew significantly from my V1, and that bike is also much longer out back compared to the Enigma.
I'll need a lot more hours on the Enigma to be able to comment on 'Vincent' as intimately as I can on my own rig. I have hundreds of hours of experience compensating for my Walt's long rear-center in the moments that it isn't beneficial, and maybe I can get to that point from the other direction with the Banshee. I may need to decide, at this point in my rigid-bike journey, if I want a none-meaner rigid rig I can ride down most anything or one that's more playful.
RR Mini Review
I have two rear tire setups going for the Enigma; a full-on knobby 2.6" tire, which does clear healthily even with the 418mm stays, and this 2.6" Schwalbe Rock Razor. I'm not here to sell anyone on semi-slick tires, I love them except when I don't and that's the findings of most folks I know who've tried one.
But, I want to say that it's a crime against mountain bicycles that Schwalbe does not make this tire in a 29" size. The 2.6" Rock Razor, mounted on an i30 rim here, is a much superior experience to riding the 2.3" in either size. It's not just that the extra volume is appreciated, it also transitions from the fast rolling center to hard-biting sides much more intuitively. It's a great complement to the fast and fun riding characteristics of the Engima.
Balfa MinuteMan
There was a time in my life when my only mountain bike was a single-speeded Balfa Minuteman. Size long. True Temper steel frame, in a clear-over-raw finish. With a rigid fork. Actually, it was the rigid fork off a Banshee Scratch. I had a fast-rolling tire in the back in the form of the always under-rated Maxxis Larsen TT 26x2.35. It had a decently big tire up front, a 2.7" Maxxis Mobster, that was really more of a 2.5" even on my D321 rim. I rode that bike anywhere and everywhere.
The Banshee Enigma is infinitely more capable with a 64°-ish headtube angle, much longer Reach, the massive 29+ front tire, awesome brakes, and a dropper post. At the same time, the experience of riding it is so overwhelmingly nostalgic that I can ignore every bike I've ridden in between and see this as a clear evolution.
It's an especially pertinent comparison for me, as the unique Balfa is an iconic straight-tubed steel hardtail frame, while the twenty-year-younger Enigma sports highly manipulated aluminum tubes and forgings.
"It offers a truly unique and joyous ride quality that will put a huge smile on your face." - Banshee Bikes
Stiffness, compliance, Reach, Stack, effective top tube length, estimated bottom bracket height, actual seat angle equivalence at a given saddle height. I'll talk more about the Banshee Enigma down the trail when I have the necessary hours on my flat pedals and I know the bike as well as my own.
In the meantime, I've been smiling a lot when I ride this thing. Admittedly there's occasionally some terror being ground between my teeth - hey, Scare Yourself! - but more often than not it's just a ridiculously fun mountain bicycle. Actually, it's the first rigid single-speed I've had around that has garnered more "that looks fun!" than "you must be nuts!" comments from other riders I know.
The Banshee Enigma frame, including a headset and rear axle, sells for 1100 USD | 1500 CAD. For more information check it out at Banshee Bikes.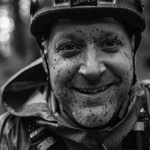 Andrew Major
Height - Steve Buscemi-ish
Wait - Patiently
Ape Index - T-Rex
Age - The same as DOS
Favourite Trail(s) every week - Pipeline (thank you Ken!) to Lower Crippler (thank you Andy!)
Favourite Song(s) this week - I'm Your Man. Nick Cave (covering Leonard Cohen)
Favourite Colour - Cosmic Lilac
Bar Width - It depends
Reach & Stack & ETT - It depends
Crank Length - 175mm except when it's 170mm
Wheel Size - Hot For Mullets