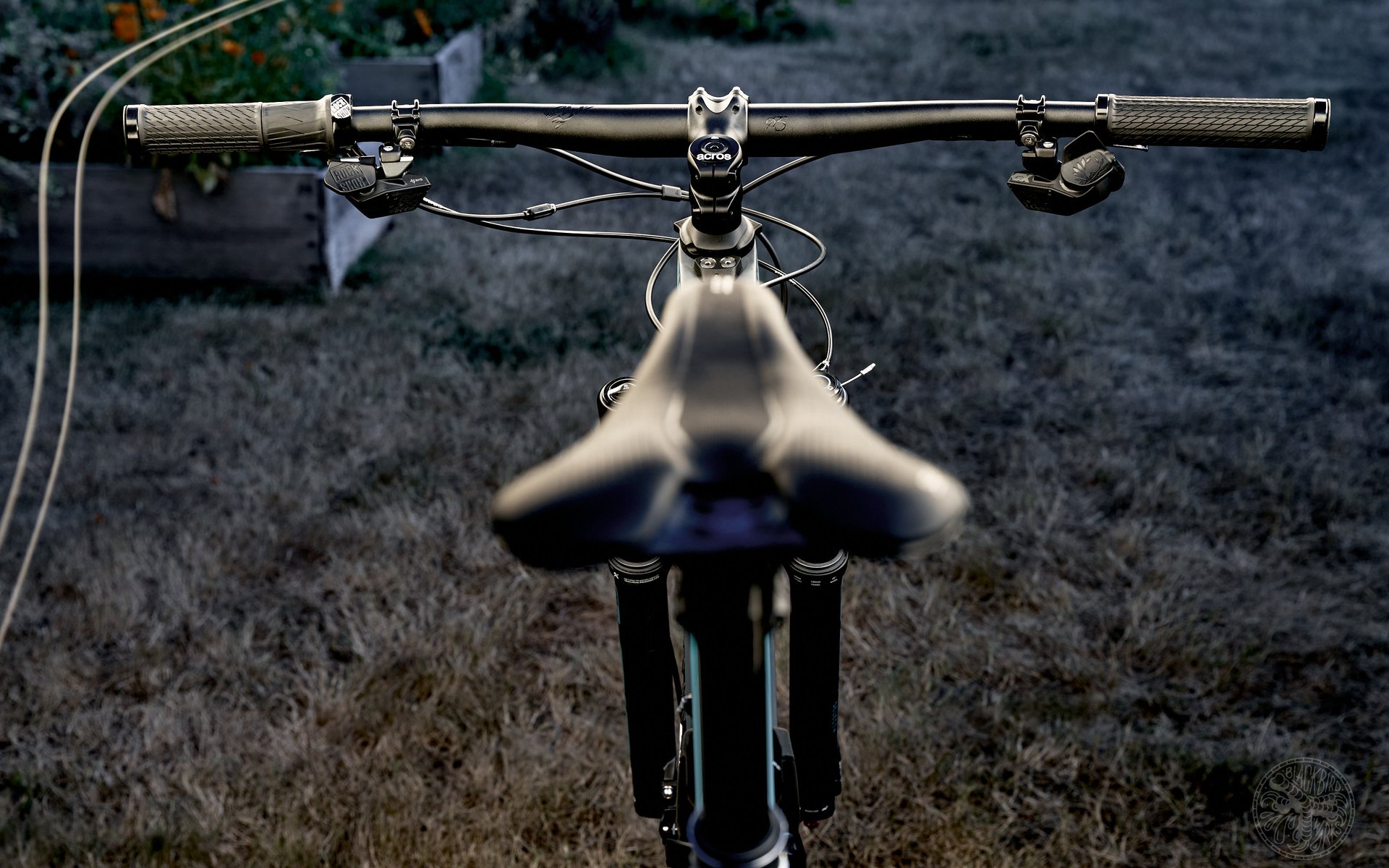 REVIEW | EDITORIAL
AXS Eagle Economics
AXS is EVERYWHERE
There is no denying that AXS wireless shifting functions incredibly well. It's also neat to play with and completely unnecessary to enjoy mountain biking. In fact, AXS wireless shifting is currently making my mountain bicycling experience less enjoyable. Significantly less enjoyable. Please don't get me wrong, I love that super-light electronic shifting action whenever I need to grab a gear. And operating the AXS dropper makes even my favourite dropper remotes seem clunky and under-leveraged. Heck, in my experience your friend who claims it blows XX1 or XTR cable actuated shifting out of the water deserves a lot less derision than they've been getting. It's smooth, it's fast, it's sweet.
It's not a matter of performance that has me down on battery-powered gear changing. It's cold-cocking the derailleur while coasting downhill that has my underpants girded up. It's the fact that no matter how smart that SRAM Overload Clutch System may be when I drop the back end of the bike off the side of the plank and proceed to ride my rear derailleur down it, there's a very good chance it's going to be dead. And that's a resurrection I don't want to fund.
Breaking stuff while riding is a fact of mountain biking and I'd say that's as true on the North Shore as anywhere. I'm wide-eyed and aware of the simple fact that my replacing-a-busted-rear-derailleur comfort zone is in the 60 USD Deore M6100 to 125 USD GX Eagle range MAX. The thought of having to reach into my pocket to replace an AXS unit, even a GX AXS unit, makes my wallet uncomfortably hot.
It comes down to simple economics. Yes, AXS is excellent. Yes, AXS is everywhere. No, there isn't a shop in town that isn't regularly working on bikes with this wireless group. And yes, quite frankly, it's lovely to use. I'm not surprised to see people taking the weight hit and choosing the wireless GX AXS over a cabled X01 drivetrain or to hear folks whine like they're facing a descent into poverty when they see the bill to replace their AXS derailleur replacement. There's nothing the folks working for bike shop wages want to hear more than how you're going to have to delay ordering that Arctic Tern Window for your Sprinter van because the mean folks at SRAM are over-charging on replacement parts for their luxury mountain bike group. But, here we are.
Now, I'm quite aware that this Canyon Lux is not mine and there's a very good chance that the derailleur will survive the test period unscathed. Heck, I could always try and spin the ultimate Just Riding Along (JRA) story. I've certainly heard more than enough examples of them in my years working in shops. I just can't begin to chew the idea of being another Bugatti owner complaining about the price of an oil change.
Transportation
Smashing a hole in my paycheck isn't the only thing that has me asking Santa for a cable-actuated drivetrain either. This summer I've met way too many riders who've gone full DHR II on their AXS Reverb battery. Imagine crushing it down your favourite descent at full speed, saddle dropped all the way to the seal head. Oh, you didn't check your tire-to-battery clearance at bottom-out? Kaboom-pow, you just left 56 USD lying on the trail.
The worst part is that in most instances that magical 24-grams of uppy-downy juice doesn't get noticed anywhere close to right away. The simple fact of pedal-and-plunge riding is that the plunges don't tend to require a whole lot of putting the seat back up. Good luck finding that slug-sized chunk of black plastic as you hike back up the trail pushing your rig. Don't worry about littering though, I wouldn't be surprised if some eagle-eyed North Shore trail builder is assembling an AXS power wall in their tool shed.
I know the rear tire on the Canyon Lux has a huge amount of clearance with the 120mm dropper post fully bottomed. And, I want to state for the record that it's not that I'm worried that one of my fellow mountain bikers is going to walk up to it, locked to my roof rack, and walk off with the easily accessible, toollessly removed, battery from my rear derailleur. It's just that I know the same mountain biker will probably be happy to buy it online from the asshole that does without a second thought to its provenance.
It all started with removing the batteries for transportation. It takes seconds and that's a solid bit of insurance for the time in my books. But, what about when I'm grabbing a coffee? It's not that I ever lock my bike out of sight for long but sometimes I have to have my bike on the rack when I run into the beer store or pick up my kid somewhere. So I'm now pulling the batteries any time I park the bike, but what about the seat post itself?
I love the idea of running an AXS Reverb dropper post in the winter on the Shore. In addition to working really well, being able to easily pull the post out and let my frame breathe after rainy rides would be awesome. It would take five seconds with a 4mm hex key. And, well, crap, now I'm taking the post off when I stop too. It's an 820 USD dropper post plus I currently have my SQLab 60X Active mounted up there which makes it a solid G-note package.
Unnecessary v. Awesome
When I think about SRAM AXS and other unnecessary but awesome Gucci bike shit, I always remember all the way back to being a teenager when my friend Ryan was preparing to put his hard-won dish pit wages towards his first car. His pops made every effort to explain that owning a car doesn't just come down to paying for the car, insurance, and gas in the tank but rather also having the necessary capital to cover routine maintenance and unexpected, but necessary, repairs. Apparently, it falls under something he called "common sense." It turns out that solid bit of life advice covers everything from in-suite laundry machines to my twice-a-day espresso habit.
I bristle when I hear folks talk about how expensive mountain biking has become because in reality there is an amazing amount of fun to be had, even on aggressive trails, for an investment that's significantly lower than a lot of sports. A hardtail with great geometry and a good build, like Rocky Mountain's 2200 USD Growler 50, Kona's 2800 USD Honzo ESD, Marin's 2700 USD El Roy, or Chromag's 3100 USD Rootdown G3, will get you down almost any trail in the world with no bearing overhauls or rear shock rebuilds ever needed. Just add a donation to your local trail association and go ride.
And that's bikes that you can bust down most anything without any excuses. A Growler 20 or similar is a heck of a lot of fun on blue trails around the same investment as that Reverb post and 60X saddle I'm so worried about losing. For the whole bike and a pair of good composite pedals.
I stand by my claim that Shimano's Deore M6100 is the drivetrain that the vast majority of mountain bikers need, but I completely understand why SRAM's AXS Eagle is the option that folks are truly lusting after. The shifting is an amazing combination of the precision of classic SRAM, the light-action promise of Shimano Rapid rise, and the reduced noise and increased chain-retention of a clutched derailleur system. And that's just the GX level stuff. I'd love to add in an XO1 cassette and watch the performance go up as the weight drops.
But here's the deal; if you're like me and have XX1 tastes on an NX budget, then buy the Deore M6100 drivetrain and learn to love it. The system is robust, the shifter is good enough, and replacement parts hopefully won't have you eating KD for a month if you happen to slip off a skinny. And, if you can afford AXS, then good on you. It's really awesome. But no moaning about the replacement costs if you use your rear derailleur as an anchor, or if a battery goes missing while you're busy with your post-ride beverage ritual.