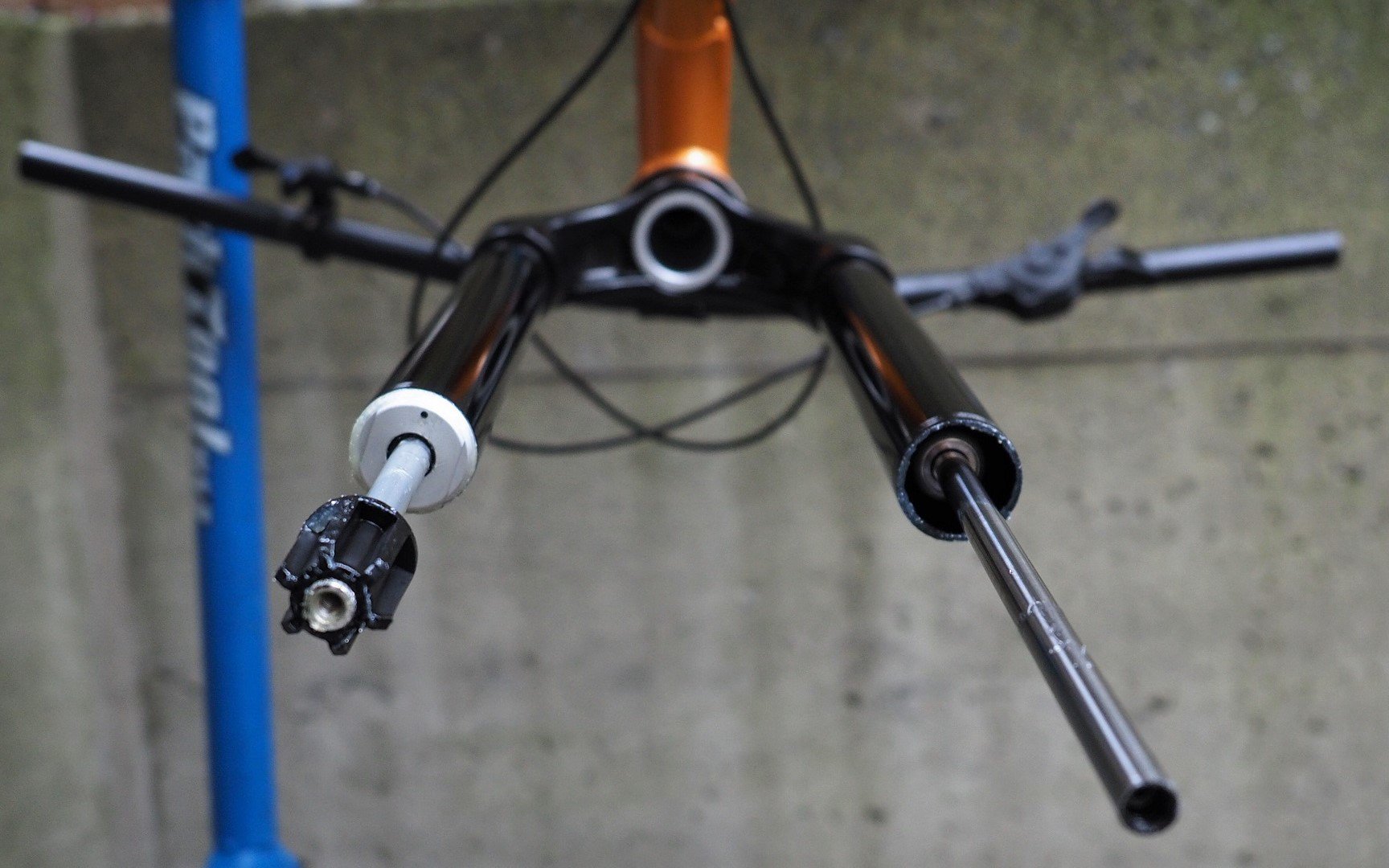 DIY MAINTENANCE TIPS
Awesomize Your Ride - A Spring Service Primer
Basic Betterment
Spring is here and whether brand new, well loved, or a used acquisition, it's time to get the bikes purring for hero-dirt season.
There are a lot of small things to be done to maximize a bike's performance, and the difference between off-the-floor and tuned is at least as appreciable on a budget machine, like the 1360 USD Rocky Mountain Growler 40 shown here, as it is with a more premium package.
This is the third piece in a series of Spring Service Stories. For suspension bearing overhauls and basic air can service please check out Wrench Now, Ride Later, and for a thorough guilt trip on the current state of your bicycle have a look at Buyer Beware.
Contact points are key. Whether it's dialing in a new bike or refreshing an existing ride nothing will make or break the experience like a saddle, grips, and pedals. I've yet to find a lock-on grip I like as much as doing the old glue-and-wire on a pair of push-on grips so that's what I always recommend.
It takes a bit of time but even factoring in the other supplies, push-on grips bring more comfort and grip per width at a lower price. My current favourites are the Renthal Push-On Super Tacky, Sensus Swayze, and Eclat's Pulsar but there are lots of great options out there.
I'm not going to tell anyone what saddle works best for them, but I'll maintain that one of two widths of WTB's Koda saddle are going to work great for the vast majority of riders with or without a diaper in their shorts. Unlike some of the premium saddles I've had great experiences with, the Koda comes in at price levels where it's a no-brainer to spec it on budget-focused bikes.
There are still some real ass-hatchets coming stock on bikes but the shop you're buying from wants you to have a great experience so you'll come back. Work with your dealer to make sure you're pedaling on something that doesn't light your bits on fire.
Keep the drivetrain well lubed but don't overdo it - one drop per roller and apply when needed. I've had great results locally, year round in all conditions, with Boeshield T-9 and Dumonde Tech regular chain lube but there are lots of good products around and many areas seem to have a go to preference, so ask around.
I'd never recommend putting Tri-Flow on a chain but it's great for cables and housing especially when it comes to the galvanized steel cables and crap housing that comes on budget bikes and with pretty much every dropper post.
TIRES
Budget-friendly, real, mountain bikes are called on to service any number of purposes. In the past they always came with hard rubber knobby tires that were slow and loud on the road and sh*t on trails with any moisture but now many companies are using something faster rolling out of the box.
Case in point would be the Growler's WTB Ranger 2.8 tires. They roll along without too much noise or drag and they're great for gravel or tamer hard pack trails. Once more aggressive mountain biking starts happening it's time to substitute the front tire for something that will grip under cornering and braking loads. For winter on the North Shore I prefer a more aggressive tire front and rear.
Plus tires make sense on budget mountain bikes. They take up some of the pounding a hardtail will deliver out back. They absorb enough of the small bump noise that a basic suspension fork can't handle such that, with proper air pressure, they can make up quite a bit of the performance difference compared to a high-end fork.
The issue with good knobby plus tires with proper sidewall support is they are expensive. Best bang for buck I can find is the WTB Vigilante 2.8* which has awesome support while remaining supple in the Tough Casing variety. I'm currently running a High Grip up front and a Fast Rolling model in the rear and it's been a great experience in wet, dry, and snow.
*WTB currently only makes this tire in a 27+ variety but my fingers are crossed for a 29+ edition.
Freebies
The first thing I do with any Shimano-equipped test bike is check the clutch tension. Even the lowly, and actually awesome, Deore 10spd clutch derailleur has adjustable tension that is only a 2mm hex key away. Lube the shifter housing with Tri-Flow, back off the clutch tension a bit and suddenly the shifting goes from mega-stiff to downright pleasant.

Between narrow-wide rings and the lighter clutch action, there are zero dropped chains and things stay quiet. Over time I'll add a bit of tension as the derailleur wears. In a similar vein, if your Shimano clutch derailleur is feeling a bit bagged out it may just need the tension increased a touch.
The factory lube job on any fork is a complicated matter. If the average consumer of a $1500 bike sees excess lube being purged from the seals, that's a trip back to the shop thinking their fork's leaking. I pull the lowers and pack the fork seals with Slickoleum. For the first 1-2 rides I'll be wiping away some excess lube but the fork is instantly much smoother.
Basic RockShox forks are equally easy when it comes to popping the lowers and lubing the seals, just be aware that there is a touch of bath oil in each side of the lowers so it's important to keep the lowers horizontal while removing them to avoid a mess.
A properly lubed fork with less stiction can be run firmer, for better support from the air system, while simultaneously acting much smoother through the rough.
When it comes to setup these basic forks usually prefer to be run with a bit more sag (~25%) and with the rebound fast compared to forks with more sophisticated damper systems. This Suntour has a wide range of rebound adjustment and I run it as fast as I can comfortably keep control of the front end.
One of the best pieces of maintenance for a non-inverted fork is to buy a $1.50 hook at Canadian Tire or otherwise hang or store the bike vertically so the fork's dropouts are a bit higher than horizontal. This will keep lubricating fluids at the seals and bushings, keep the fork feeling fresher longer, and cut down on service and potential wear.
Tubeless Wheels
With a fresh set of tires with proper sidewalls I get back a supple ride quality and add a large degree of flat prevention by removing the tubes.
Most rims are tubeless compatible, and most mountain bikes are coming with specifically tubeless compatible rims even if they ship with tubes. That's the case with the Rocky Mountain Growler, which just needs tape, valves, and sealant to do the conversion.
There's really only one vital secret to a quick tubeless seat: remove the valve core when inflating for the first time, pop the beads on, and then reinstall it.
I generally use either Stan's Tubeless Tape or Gorilla Tape to seal the rims. With Gorilla Tape, I skip the pre-sized 1" rolls as I find on wider rims it can bond to the tire and make for an ugly removal. I buy the wide roll and tear it to the perfect edge-to-edge size for a specific rim.

With Stan's Tape that's never an issue as long as the rims are clean and dry before applying. If you haven't bought Stan's Rim Tape for a while, it is now available in wider options including a 39mm model that works great with the Race Face ARC i40 and Velocity Dually i39 rims I'm running on my own bikes.
Upgrades
Saddle, grips, pedals all dialed? Next it's time to look at the brakes. As various NSMB writers have noted, if the bike has Shimano brakes check for a stamp on the rotors that says 'Resin Only' and if it's there, upgrade both rotors tout suite. After that, have a think about the brake pads.
One of the biggest differences between most companies' budget disc brakes and high-end units is the stock pad compounds. Budget brakes usually come with pads that are especially hard for a long life or are less abrasive so the rotors don't wear as fast, and for commuting and light trail action, that's fine.
As an example, the stock pads on the Magura MT Sport brakes I'm testing are fine on the road but when things get steep there's simply not enough friction up front (the rear clamps down just fine). Upgrading the front brake to their Race pads made for a huge difference in control and the pads I pulled will eventually do duty out back.
The next obvious upgrade on any budget bike is a dropper post. My advice is to buy the post with the most drop that fits, but opinions vary on that subject. I don't mind the 125mm dropper on the Growler most ofthe time, but I'd add a QR to the frame and manually adjust for steeper trails.

After that it's a Works Components -2° Angleset. As I noted with the tires, a budget hardtail is being called on to perform a huge range of tasks. The nature of being a chameleon, for local riding even the static 67° head tube angle on the 27+ Growler starts to feel a touch steep when the bike is really pushed and most bikes in its class are a degree or two steeper. That's a mere 80 USD that can have an obvious effect on the range of terrain a budget bike can comfortably tackle.
---
Any brilliance to lend to spring maintenance and budget upgrades? Please shine a light on it below!