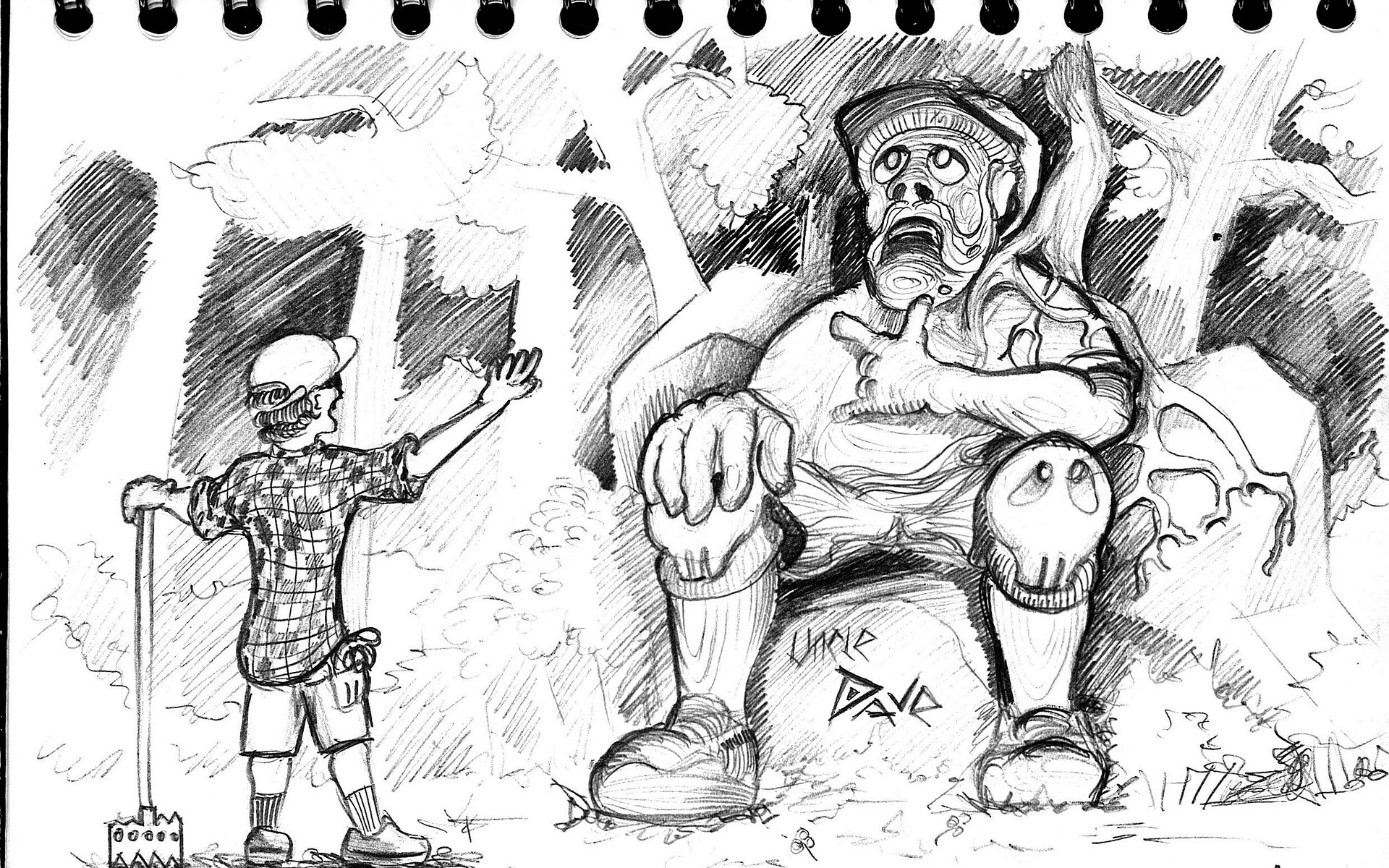 Uncle Dave
Ask Uncle Dave: Why are people too lazy to work on trails?
Uncle Dave:

What do we have to do to get more people involved in trail work? Theres so many freeloaders out there. Would more brand sponsorship or prizes or bbq's be enough? Sponsored trails (heaven forbid)? Or do trail builders like myself just have to put up with people being lazy, generally ungrateful and indolent. The excuse of being busy doesn't fly with me - if you have time to ride, you have time to work on the dang trail. I know there's a bit better connection out in Vancouver area with that, but getting east of there we really struggle with not having support in the same way.
A Grumpy Trail Builder
---
Dear Gramps:
After reading this, you might not think so, but I do agree with you. We should all be helping to maintain the trails we ride. There's a lot of work that needs to be done to keep things chugging along, and we should all do our part. I also admire those of you that take so much time to build something for the benefit of others. Anybody who dedicates themselves to building and maintaining our trails deserves gratitude.
But…I mean, there's a lot of shit that we should be doing. We should recycle more. We should spend more time brushing our teeth and flossing. We should all give blood and donate our organs. We should volunteer our time reading to old people, washing puppies and working at the food bank. If we want to get into a game of should, there's a lot of things that people can/could/should/would do in order to benefit society. Trail building, while noble, falls somewhere on that spectrum. So, in reality, the decision isn't necessarily ride your bike vs. work on the trails… It's a whole pile of other shit vs. work on the trails. You're free to not accept the excuse that people are "too busy", but reality often gets in the way of our expectations of others. And without knowing their specifics, I don't think it is totally fair to write off everybody who isn't putting in enough effort on the trails. They may be contributing elsewhere. Or they might just be lazy pricks. Who knows? It's not something that we can judge in a vacuum. We all have things that we should be doing more of, and if we spend our lives getting angry at those that are "not doing enough" we are going to end up living a painful and gloomy existence.
But let's give you the benefit of the doubt. Let's agree that most people should be doing more to maintain the trails.* If we want everybody to maintain the trails, what would that look like? What is holding us back from accomplishing this? Is it possible that the whole way we go about building and maintaining trails is broken? Yes, this is the way it has always been done and it has evolved this way out of necessity, but it's a new era and perhaps we should look at a new way of doing things. One poor bastard breaking his neck out in the woods to carve a new line, coupled with begging people to show up for one Saturday every year, does not sound like a recipe for success. And even successful trail days can often feel like an exercise in futility. You have one or two guys who seem to know what they want to have happen, and a whole pile of people running around, possibly helping things move in the proper direction, but not necessarily, because who the hell can keep track of that much activity?
But let's look at a few reasons why people might not show up for a trail day.
1 – They don't know about it.
2 – They aren't able to commit this much time.
3 – They don't like large groups of people.
4 – They're lazy pricks who hate the trails.
So there they are. Excuses. Maybe they aren't good enough. But what if, in all actuality, these excuses are totally and completely valid? What if you're just some poor Luddite rider who never looks on the Internet? What if you'd love to build trail for a Saturday but your god damn kids have yet another soccer game? What if you're an agoraphobic guy who writes things on the Internet? What if you're just a supremely lazy prick?

Myself, I could see myself participating in far more trail maintenance if it occurred in a manner that didn't require a huge commitment – either in time or…well…in commitment. And if it didn't involve an equally clueless cluster of alpha males telling everybody what they are doing wrong. If I could just roll up one afternoon, or mid-ride, and spend a half hour or an hour or whatever working on the trail, that would be far more likely to happen on a consistent basis. I'd imagine that it might be the same for others.
So, with that in mind, I think the answer might be delegation. To me, some of these trail builders sound like a crazed, perfectionist manager who insists on doing all of the work themselves (not you, of course). They don't trust the people around them to accomplish things or aren't into putting energy into organizing work for others, so they just do it all themselves (once again…not you). And then they're confused why everybody doesn't recognize their sacrifice and shower them with the praise and subservience to their desires (of course, not you). So, what would happen if these builders focussed their efforts on enabling others, rather than in doing things themselves (or found somebody to do this organization on their behalf)?
Here's what I imagine. You're riding a trail and you get partway down and you discover that a hundred meter portion (or so) is closed. Where it's roped off, there's a nice little sign pounded into the ground explaining what is going on, and a checklist outlining all of the tasks that need to be accomplished. People are then free to work as much or as little on a task as they see fit, and once it is done, it's crossed off the list.**  "Pile Rocks Here" on steroids. Would something like that work? Would you have enough faith in humanity that things would be accomplished? Would you be able to give up control and accept that it won't end up perfect? Or would it just be a shitstorm of incompetence, stolen tools and crappy trails?***
I am sorry that your experience in all of this isn't better. The builders and maintainers are an important part of our sport. But if our only solution to keeping our trails alive is larger BBQ's and better prizes, we're all kind of fucked.
Sorry,
Uncle Dave
*Let's also take a moment to point out that there are, in fact, other ways that people can support the trails without showing up for trail days. You can make sure to keep your membership with your local advocacy group up to date (which…shit…I just took this moment to do, because I'm a lazy bastard…sorry NSMBA).
**If we want to get super fancy, we can take things online. Map things out in more detail. Assign and schedule work. Document the process. Shit, you could probably generate enough work to require another army of volunteer labour, just to keep your web presence in order.
***And this is just one terrible idea for changing the way we do trail maintenance. Hopefully others have some of their own.
---
Uncle Dave's Music Club
When I was a kid...okay...when I was in my 20's, I used to amuse myself by writing strange nonsense to various people out there in the world. I harassed bicycle and snowboard magazine editors with made up questions from an insane person. I complained to large corporations about imaginary problems. I wasn't really looking for anything, it just seemed like a good way to head off some boredom.
For those Vancouverites who listen to the CBC, they will be familiar with On The Coast, the wonderful afternoon program hosted by Stephen Quinn. They often have weekly music themes where they ask people to write in with suggestions. This week it was Yacht Rock. So I sent them this. I don't think they used it.
Dearest On the Coast:
I fear that by playing Ween yesterday afternoon, I may have missed my opportunity to have some contemporary Yacht Rock played. But it would be a shame if we left the band Yacht out of a discussion of Yacht Rock, for, while it may not be what you first think when you think of Yacht Rock, they do in fact, by definition, play Yacht rock, as I've discussed at length in a post titled "Is Yacht Rock, Yacht Rock?" on my blog, located at www.yahtrockisyachtrockblahblog.com (amazingly, www.yachtrockisyachtrockblog.com was already taken). And while many of your valued listeners may have been turned off by the fake Yacht sex tape scandal of 2016, hopefully they will see past that sordid episode and give Yacht another chance.
Case in point is "Shangri-La" (from the album Shangri-La). Smooth. Mellow. Ripped from the 70's. Critical of religion. Suitable for any yachting adventure. Just like any great Yacht Rock song. Please give it a listen.

Dave

So. Here I am recommending it to you. I really do love this song.