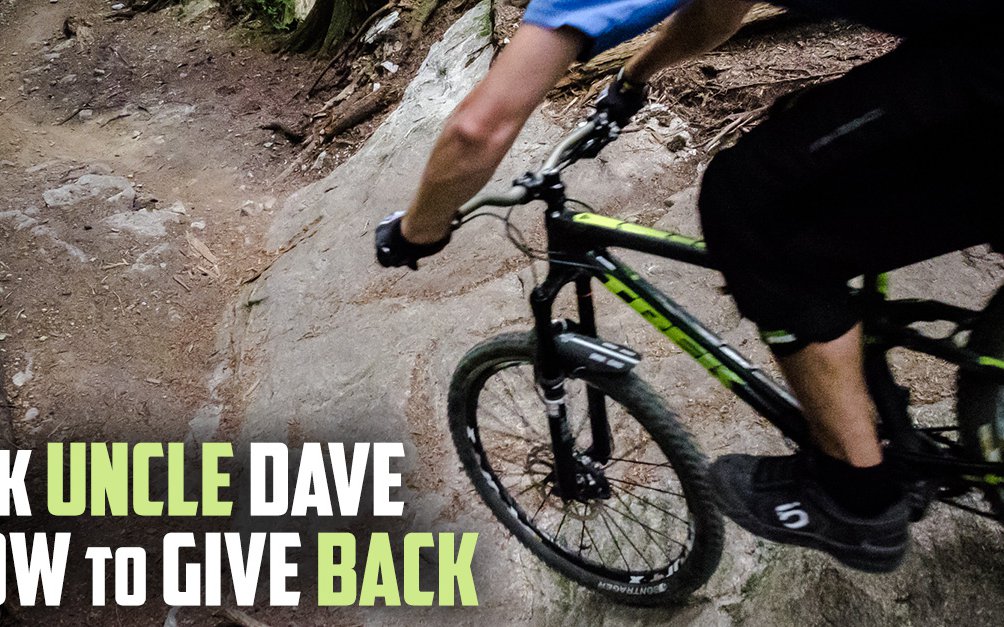 Ask Uncle Dave – How to Give Back
Dear Uncle Dave,
I was first introduced into mountain biking when I was 17, it got me through a tough point in my life. I was lonely, and didn't truly have any direction in life, but when I started mountain biking I found an outlet. I met hundreds of people that I shared a passion with.
Mountain Biking got me my first job at a bike shop where I got to meet hundreds of people interested in the sport, I helped build a bit of trail, or get people to come out on their first group ride. Cycling has become a central part of my life, and I couldn't imagine my life without it.
But all this leaves me thinking about how much the sport has done for me, and how I have barely done anything to help it other sell a few bikes and get a couple guys to join the shop group ride. I'm left thinking what I can do to truly help this sport. What does mountain biking deserve, what does it need right now?
Sincerely,
Feeling Generous
Dear Feels:
I want to thank you for bringing some Christmas spirit to this normally dreary series of weekly rants. It's much appreciated. I don't think even I can screw the positive message up with this one. I hope you get a nice prize. We probably should have given you the nice jacket that was up for grabs last week, but some guy who yells at people for listening to music got it instead. Sorry.
The beauty of your question (other than nicely providing most of the answers to itself) is that it really gets to the heart of what is great about our sport. It doesn't really require much in order to "give back". Our most pressing concerns are just to make sure that our trails don't get closed down. After that, it gets a bit nebulous, but you can still have some impact.
1 – Don't be a dick.
This feels a bit like something your Mom might say as you head out to your first day of school, but it's true – The best thing you can do for our sport is not be a dick when you're out on the trails. Maybe it's pulling over to let a hiker through?  Maybe it's not scoffing at the out-of-towner walking down an "easy trail" on their pinner XC bike?  Maybe it's lending a pump to the enduro-bro who can't fit tools into his fanny pack?  Maybe we can all promise to set aside one dickish instinct every ride?  The sport would be much better if we did.
2 – Don't ride like a dick.
This is closely related to point #1, but I feel deserves a special mention. I know your favourite pro just posted a sick edit of himself roosting down some trail, but if we all start riding like that, we're not going to have any trails left due to all the damage we will cause and people we will piss off. Save your sick skids for the bike park, where you're paying for the privilege of wrecking shit.
3 – Help out with trail maintenance.
This should be fairly self-explanatory.
4 – Give your old gear a new life.
I'm the kind of person that doesn't really like getting 20 bucks for the thing that I paid a few hundred for, way back when. But selling old gear is a great way to grow the sport, and I need to start thinking about it in this way. That 26" hardtail taking up space might be just the ticket to get somebody into the sport at a low cost. And if you don't need the money or hassle of selling things, consider donating it to someone who will do something with it. Ride On and Our Community Bikes are two great examples of places where I drop my shit off once my parts bins have gotten too unruly to manage.
5 – Donate some money.
There are all sorts of great bicycle related charities out there. Here are two summary pages with links. Although not really "mountain bike related", Wheels 4 Life and World Bicycle Relief seem like good ones. Or, if you're interested in more of a personal benefit to your donation, buy a membership to your local trail advocacy organization.
6 – Drive a bit less
It's not really giving back to the sport, but we can all have an impact if we just got off our asses and rode our bikes a bit more. Maybe it's riding to work one more day per week, or riding to the trailhead instead of driving. All those drivers that you pass on your bike are going to smile in appreciation of your unselfish desire to reduce traffic and alleviate air quality issues. It's a win for everybody.
7 – Volunteer
Other than trail days, there's probably a few other ways you can volunteer your time. Volunteer at a race. Coach some kids. Help out at a group ride. I have no personal experience with any of these things, but I would imagine that they're probably possible.
8 – Buy from a local shop
I'm not saying you should pay double for that rear derailleur, but give the little guy a shot the next time you need a tire, a tube or some chain lube. Says the guy with a pair of brake pads in his Amazon shopping cart.
Sorry,
Uncle Dave
---
Uncle Dave's Music Club
I always find it interesting once they've cycled through a full-length advertisement for a month or two, and then they cut it down to save time, and it no longer makes any sort of sense because they've destroyed the context. And I wonder how long before this just turns into me rambling about music for a few thousand words and people show up thinking "I thought this was supposed to be about bikes?"
There are things I've been wanting to talk about for a while now, but they keep getting pushed off. I'm really tempted just to hit you with a potpourri of hits right now. "Hits." But I think I will hold off. Maybe next week when I really don't have anything else to talk about?
This week we're going to talk about Car Seat Headrest, because I forgot about them/him for a while and their/his appearance on Jimmy Fallon reminded me of their existence.
Sure, as an album, Teens of Denial is a finely crafted artifact, if you're in to that sort of thing. "Drunk Drivers" is definitely worth a listen.
But I'm more partial to Teens of Style, which was basically just a re-recording of young Mr. Will Toledo's years of recorded bedroom angst. There's just something a bit more…present? I could listen to "Something Soon" again and again. And then again again. I don't know why he's singing into a light fixture, but it doesn't matter.
I have Will Toledo pegged as the next Bradford Cox/Deerhunter/Atlas Sound sort of dude, who is just going to overwhelm us with his output and talent over the next few years.
---
This may not be what Dave had in mind for an awesome prize Feels, but it's perfect for someone who wants to give back. We make a donation to the Stevie Smith Legacy Fund for both of these items. And the Steve Smith Mudder fender is pretty much essential for many of us in winter. The sticker pack isn't required for everyone (it is for us) but it's a stellar way to keep Stevie's memory alive. Send us an email (with your address and phone number) to claim your prize.

---
Come witness the last few failed weeks of Dave's plan to take a photo every day through 2016 over @davetolnai on Instagram. He gave up sometime in July. While you are at it give a follow to @nsmbteam. And if you have a question for our resident curmudgeon, fire it to askuncledave@nsmb.com and there may be prizes in your future.
---
Any advice for feely boy?