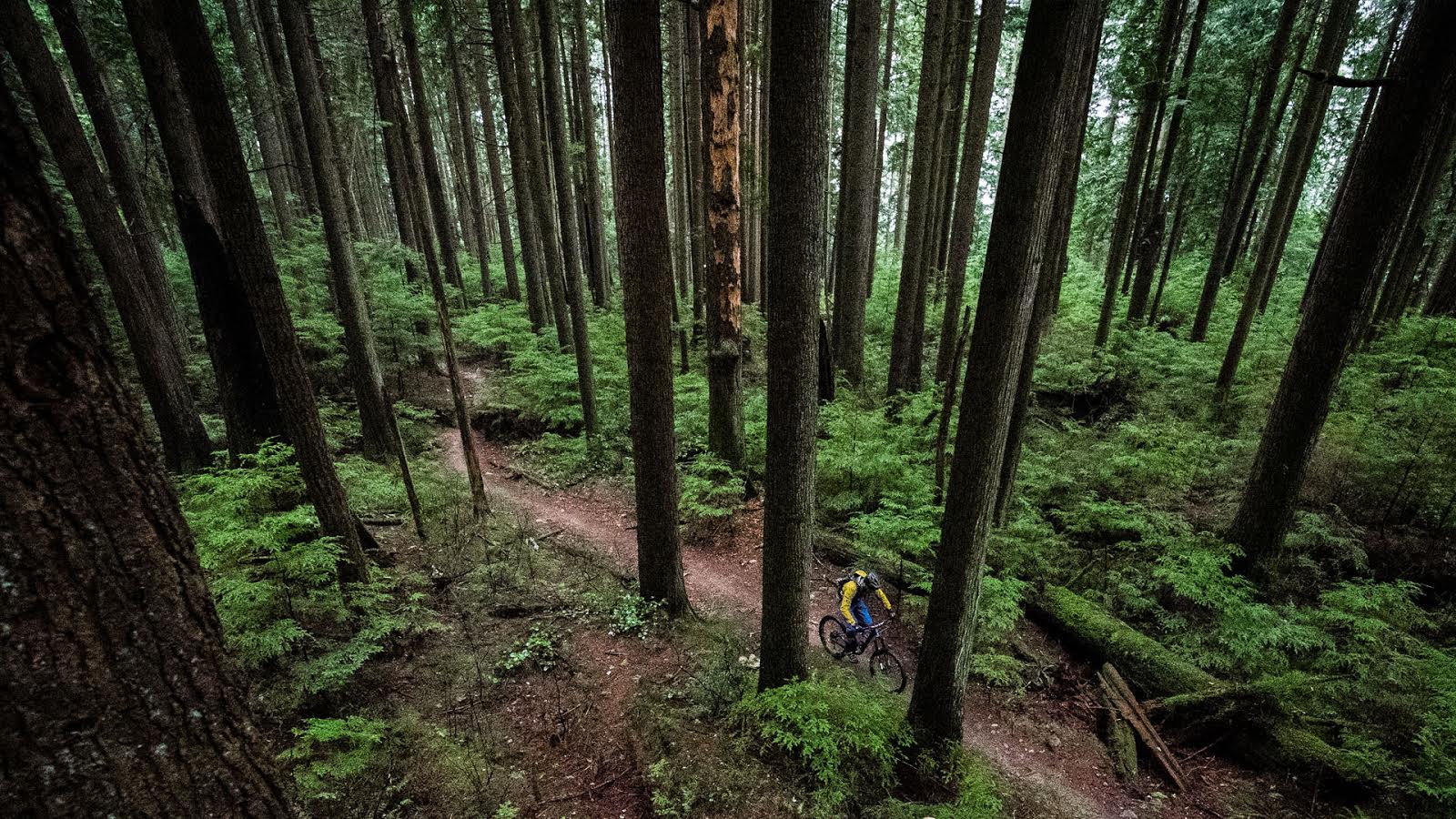 Why Aren't Mountain Bikers Ambiturners?
The best surfers and other board-sportspersons are all capable of riding switch to a degree close to their natural stance. Some baseballers are capable of switch hitting, and any semi-competent skier can turn both ways. What do these all have in common? They can perform their task equally well with either foot forward.
So how come bicyclists all seem to favour one foot in front over the other? I've put some serious thought and experimentation into this, and I've determined that I corner better with the inside foot forward than the outside. It's tough to have real scientifically valid study on this, but I've noted that with my left foot forward (my preferred stance), I corner way more confidently going left than right. With my right foot forward, I've gotten to the point where I'm almost as strong cornering right as I am with my left foot forward, which I take to confirm my theory, given that I should be stronger in my strong stance, so the relatively equal confidence must be due to the superiority of cornering with the inside foot forward making up for the unnatural stance. Turning left in a "switch" stance with my right foot forward is a fucken disaster waiting to happen, which I feel further strengthens my theory.
I figure this has something to do with being able to put more weight on the front wheel by having the strong foot further forward. More weight on the front wheel = more traction. More traction = better tracking of line. So long as the front wheel tracks proper, the rear wheel will follow. If it doesn't them you have more serious problems to worry about (A preposition isn't something you can end a sentence with!).
Anyway, even if I'm wrong about which foot forward is better and it is actually better to corner with rear foot on the inside, the point is the same – they aren't 100% equal; even if I am not perceptive enough to tease them out, there are advantages and disadvantages to each.
I also find that in particularly tight sections I'm able to get more pedal strokes in between leaning for corners, given that I can now pedal in multiples of .5 full rotations, rather than having to pedal in full rotations if I'm coming out of a corner with the strong foot forward and want to enter the next corner the same way.
Which brings me to my point: I've taken my experiment to the next step and started watching bike vids with an eye to seeing if the top pros are doing the same thing. Gwin in his chainless run didn't. Minaar's record setting run last weekend (email originally sent on July 7, but some daemon denied delivery) didn't, nor has anyone that I've noticed yet.
You can see how far behind we are on answering these e-mails – Ed.
Am I on to some secret here? Or have the top pros all looked into and figured that they can never get their weak side up to the same level as their strong and so it's not worth it?
Why the hell aren't more people doing this?
Yours truly,
Switching it Up
---
Dear Switch:
I love it. Your question is over 500 words, which means I hardly have to put in any sort of effort this week.
I've always thought the point was to have your outside foot down when cornering…Such as viewed on this photo of Sam Hill I stole off the Internet.
Maybe he's pedalling?
Here's Fairclough…
Pretty clear…
Peat…
This has to be right.
Minnaar…
Ratboy…
–
Bruni seems to be more of a 45 degree man…
Frenchmen do it on an angle.
That seems pretty scientific to me. Pros corner with their outside foot down and don't seem to worry about which foot is forward. Except when they're cornering with one of their feet forward. Here's Sam Hill again, left foot forward no matter which way he's turning.
If Sam does it you should too.
Still doing it.
But then again, maybe they just caught him pedalling, mid corner? It's Sam Hill though, right? So probably not.
I know what you're talking about though, and I think you might be on to something. When not cornering, I'm definitely a left foot forward kind of guy. When I have to take a half stroke to pedal through something it feels pretty weird to hit a section with my right foot forward. If I were you, I'd treat it like it is masturbation. Whatever feels right is probably the correct way to be doing things. Being able to switch it up is only going to help you in the long run.
Before we finish, I think we need to talk a little bit about terminology, and dive in to the world of appropriating 'switch' and 'fakie' and making a hash out of it. I feel like a bit of a Dad here, but I'm going to reference a Yahoo answers post for information on skateboarding:
Switch = Riding with the board pointed in the normal direction, except with your opposite foot forward. A regular footed skateboarder riding goofy, for example. Wouldn't it be awesome if claiming something as 'switch' on a snowboard or skis was unbolting your bindings and turning them around to face the other way?  Every terrain park would have to come complete with a full workshop at the top.
Fakie = Riding with your normal stance, but backwards. It would almost be worse to hear all the little park rats on skis running around talking about "fakie" this and that though, wouldn't it?
So congratulations. You just invented switch-foot bicycling and even got the terminology correctly sorted out. You're a visionary.
Sorry,
Uncle Dave
---
Based on the response last week, Uncle Dave has come to the conclusion that you people are far more interested in Instagram (@davetolnai) than Twitter (@ReallyUncleDave). I think some of his new Instagram followers have already quit though. He wasn't joking when he said it was mostly photos of his dog.
---
Switch – congrats! You win a OneUp Components Chainguide. If you'd like to win a prize send a question to Uncle Dave!
At only 35g the OneUp chainguide weighs less than a sip of water, and can save you money in less than a season because OneUp claims their guide will double the life of your chainring!
---
Do you turn both ways?