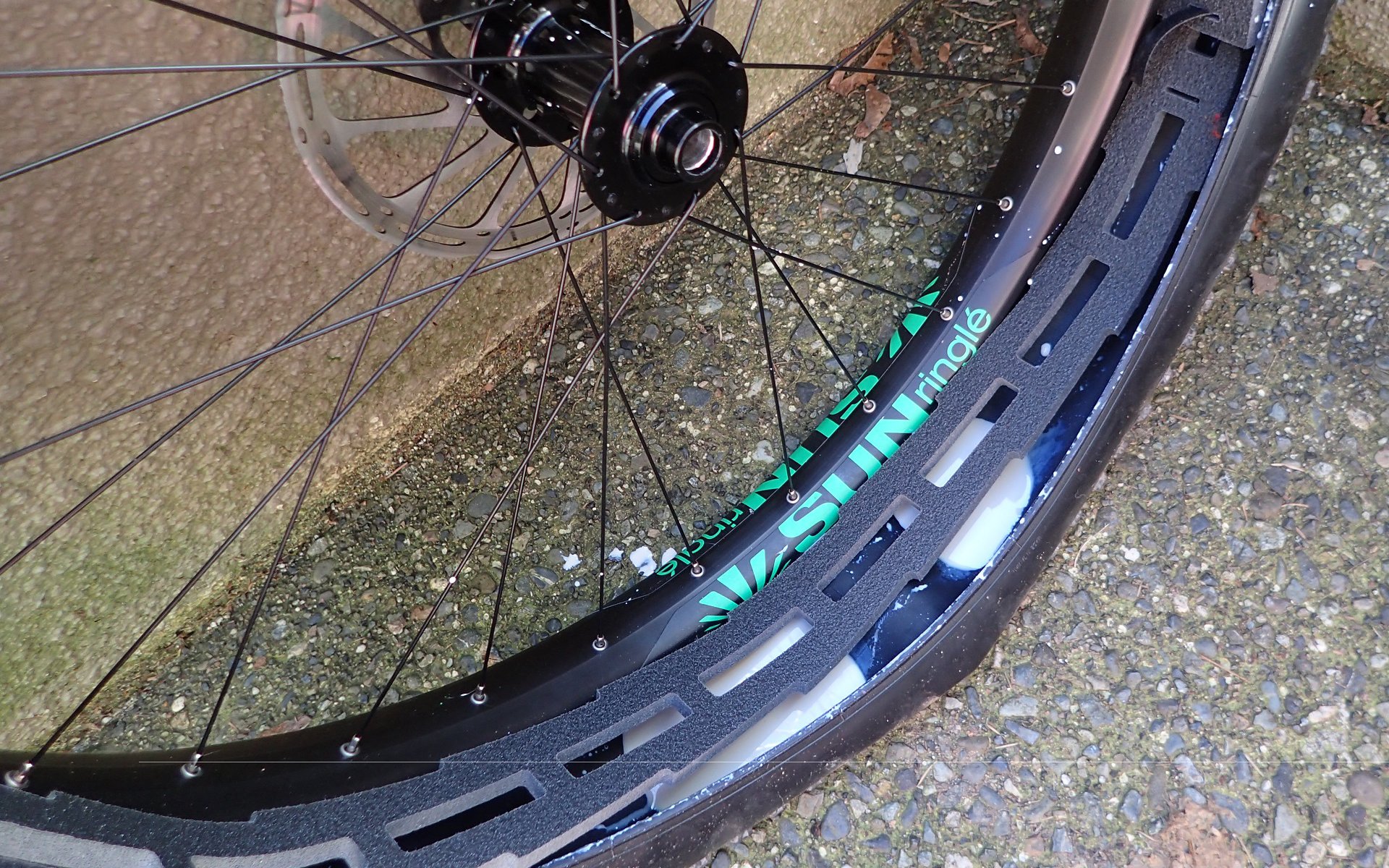 Editorial
Are Tire Inserts a Solution or a Band-Aid?
Tire inserts have taken segments of the mountain bike world by storm. Only a few years ago puncture and rim protection solutions were few. In most cases, the approach was to run a heavier casing tire and/or bump up air pressure and sealant volume. ProCore was available at that point but, despite a lot of hype, it didn't take off.
Then Aaron Gwin showed up backing Flat Tire Defender, a tubular shaped foam insert. Prior to the official release, some keen eyes got a glimpse of it when he flatted during his Val Di Sole World Champs run. Gwin had run the Flat Tire Defender system for the entire 2016 World Cup season, and ended up winning the overall.
But before FTD was released, Huck Norris arrived with a simple insert. And while it was the first of the latest wave to the party, it offered fewer features. FTD claimed to improve ride quality while Huck Norris only provided what was written on the packaging; pinch-flat and rim damage prevention. Then came CushCore with bolder claims than FTD. CushCore is marketed as a tire suspension system and for many, it has lived up to the claim.
Now more than two years since these inserts first saw the light of day, they've led to the latest craze of mountain bike business ventures. Many inserts are now available and more continue to show up, aiming to improve on what's available or offer something new.
Riders Against Pinch-Flats
We've all experienced it. You drop into your favourite section of trail, get a bit too creative and hear the awful hiss of air escaping your tire. It's one of the worst sounds ever and it's something riders have dealt with for decades. Tires have improved enormously in that time but so have bikes. It's not uncommon to see trail bikes shoed with DH treads. The heavyweight tires help prevent flats but they're no perfect solution.
Every tire insert on the market claims to help prevent pinch-flats. For an extra ~70–250g/tire you can roll with extra assurance you'll get to the bottom with air in your tires. As with DH tires, these aren't perfect but in many cases, they are helping. And yet I have seen an EWS racer flat and cause significant rim damage with two of a particular insert doubled up in a single rear tire. Obviously some impacts are too much for any solution and there's no protection from a slice through the tire with the options I've mentioned above.*
*Tannus is an exception
Some riders prefer the ride quality of a thicker tire casing, which provides a more damped, stable ride and in choppy, rough terrain can hold a line better. A thinner casing has a tendency to skip about, deflecting off obstacles in the trail. For some, it's about more than flat prevention so is it worth their extra hard earned cash to get a similar feel? The addition of an insert can improve these qualities to riders already using heavy duty tire setups.
Is something missing from current tires? Downhill racers struggling with flats are likely to say yes and while an insert won't guarantee a flat-free run, it improves the odds. Enduro racers are in a more awkward place. They could run DH casings but there aren't any guarantees, so an insert may be required for added security. Running a lighter tire casing at the elite level is likely ill-advised but perhaps an added insert can bridge the gap. And EWS riders have to pedal that weight up to the start line in many cases making extra grams a concern.
For trail riders seeking only flat and rim protection, is an insert better than putting a burlier tire on? A tire insert could be evidence that they're running the wrong tire, air pressure, or suspension setup for their riding.
Carbon Wheels
Despite their expensive price tag, carbon rims have become increasingly popular. I reckon I see more carbon than alloy rims during any given trail ride at home, which is pretty wild. Their cost hasn't made them unbreakable though and a little extra weight from an insert, is good insurance to many.
But if protecting the expensive carbon rim is the main reason a rider opts to run an insert, maybe carbon is the wrong material for the rim to begin with. Alloy wheels have been around forever and while a ding large enough to ruin a tire seal sucks, the cost of a replacement is palatable and a rim with some give is less likely to flat.
With the advent of carbon rims, we've seen wheels that stay in shape longer, despite taking the same size hits. Carbon wheels remain stiffer than alloy when an obstacle is encountered especially at the bead, and the characteristics of the material don't allow it to ding. While this is challenging to prove, more riders on carbon wheels could mean more pinch flats. Where alloy would give, carbon keeps its shape and the tire is subjected to higher forces. Maybe this was the opening insert manufacturers needed.
Currently Enve is the only rim brand with a solution. The Dynamic Impact Design is the lightest, simplest system for pinch flat and rim damage prevention. A bonus is that it simplifies tire installation while inserts can create a world of frustration. And yet, if you're looking for the tire suspension traits of some inserts, this isn't it.
The Timing is Right
Tales exist of products that didn't take off in every industry, and it's not uncommon for these to gain traction later on, sometimes with some refinements. The tire mousse insert concept isn't new—it's been around since at least 1984. If alloy wheels were an issue, wouldn't we have seen this before now? I'm not saying that an insert can't benefit a rider on an alloy wheel, but the timing of carbon wheels and the supporting elements have lined up perfectly.
The combination of mountain bikes growing increasingly popular, technology rapidly improving, and riders seeking more from their equipment could explain the tire insert craze. Add in the carbon wheel trend without major advances in tire construction and we have the ideal climate for tire inserts.
But we can't forget that some insert manufacturers offer more than pinch-flat resistance and rim protection. Aside from Huck Norris and similar solutions, most of the inserts available offer a level of improved ride manners. The insert can dull vibrations from trail feedback, increasing comfort. Several also provide a more secure seal, preventing burping and allowing riders to really load up into corners and compressions. There's also the opportunity to run lower tire pressures thanks to the supportive nature and secure bead afforded from inserts.
To benefit from inserts you need to accept a weight penalty and extra cost associated with adding another wear part to your bike. For some, it's a no-brainer while for others, it's harder to stomach. CushCore is aware of this and despite owner, Adam Krefting being apprehensive about producing a lighter solution, they've done so. The price is the same, and while a Maxxis DH tire can be bought for 80–95 USD, a similar tire in a lighter construction* plus inserts will cost around 146 USD. You need to really want that added security and support to spend more and you're still running a thinner layer between you and those sharp trail objects.
*Maxxis DHF DH and EXO tires
Are tire manufacturers going to update their products to incorporate the features offered by tire inserts? Do they need to? What about more wheel manufacturers following Enve and offering a protective strip? Do we want tires and rims to improve so there's no need for inserts? Or should more riders pony up and run a DH tire instead? I just keep coming up with more questions… One thing is certain though; no-one ever complains about having plenty of options to fine tune their bike.
Depending on who you are and what you're after, tire inserts are either a solution or a band-aid. In a racing situation they're almost certainly a necessity but it's not black and white and is likely still going to come down to personal preference. For me, the jury is still out but I plan to test more over the course of the summer, and I'll be comparing them with burlier tires.
If you use tire inserts; what type do you use, what tires are they in, and what rim material do they surround? I'm curious to know more about why and how riders are using them, or why they aren't.
---