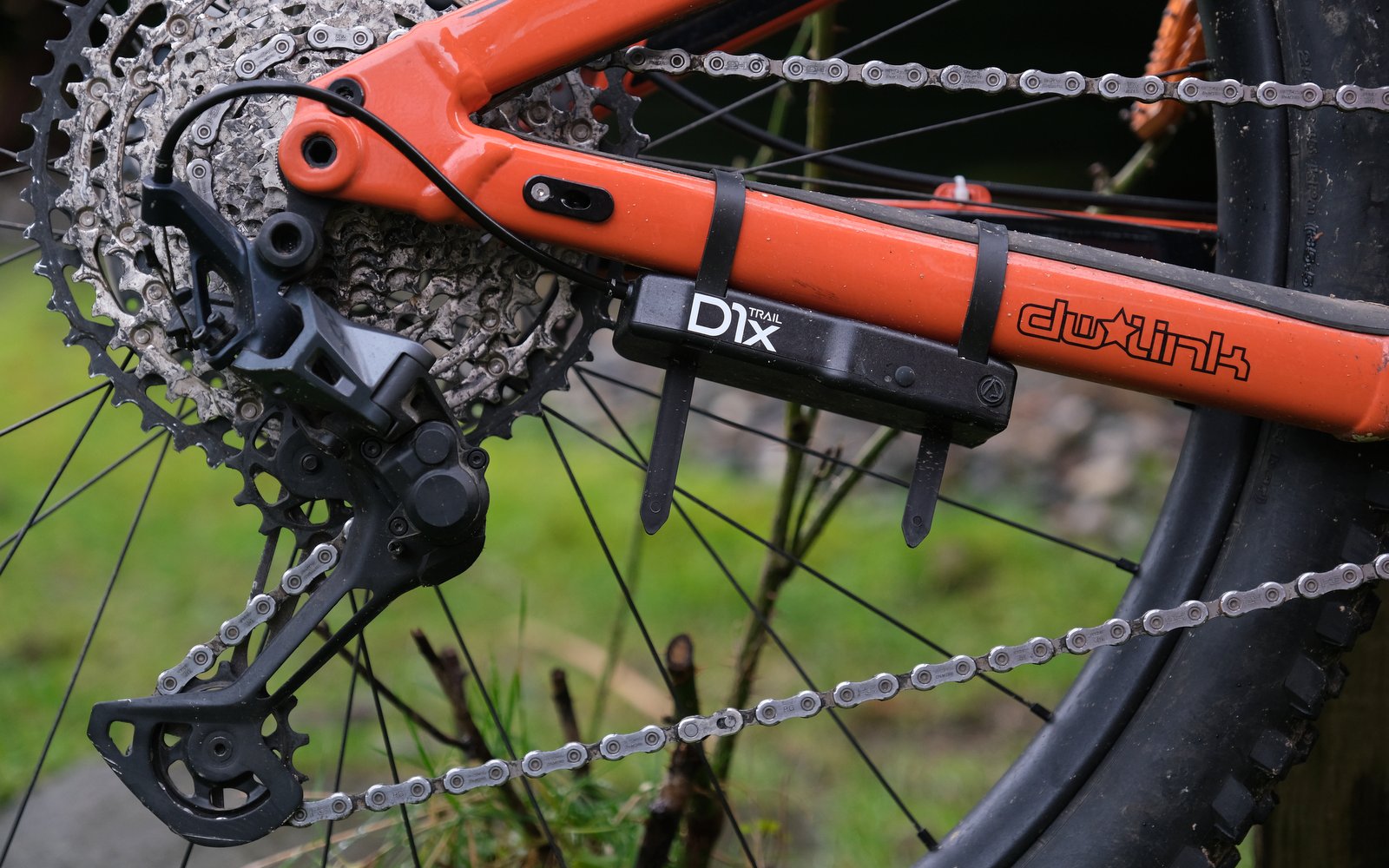 Review
Archer D1x Electronic Shifting System
Dave Tolnai's Solves Problems
It was probably 2 years ago when the first e-mail asking if I was interested in testing the Archer wireless shifting system entered into my inbox. The whole thing seemed bonkers to me. AXS is ridiculous enough, but why on earth would one want to take a perfectly fine shifter/derailleur and slap some 3rd party electronics onto it? This felt like the worst of both worlds and it seemed a bit puzzling as to why anybody would take this on.
Maybe 6 months later a few reviews started trickling out. I felt a bit sorry for the poor bastards that they tricked into testing this thing and clicked through to watch the blood fly. And…they liked it? A few weeks later, another one. And they…liked it? What was going on?
This is probably not the first time that I've written off a technology before trying it, and it probably won't be the last. An early adopter of this particular technology, I am not. There have been a number of people who have already tested this thing out and proven it works. And each one of those reviews made me feel a bit bad, like I had missed out on something. So when I got another e-mail asking me if I was interested in testing this out, I was all in! Well, 8 months later, when I finally got my shit together.
You probably already know the drill on this thing, so why bother? And part of me agrees with that. You can go lots of places on the Internet and find out the strengths and weaknesses of removing your shifter and slapping this system in its place. We already know that this system works, but I was excited to experiment with it a bit myself to see what sorts of problems I could solve on my own bikes.
Neither of the bikes that I have right now have perfect shifting, as they stand. The Canyon Spectral has some fairly convoluted routing that seems to be slowing down the shifting a fair bit. The Ibis Ripmo was faultless until I torpedoed the derailleur into some janky Sunshine Coast woodwork. I also have a commuter e-bike with horrendously complicated cable routing that always seems to figure out a way to rub on the chainring.
Indeed, the more I thought about all of the problems this thing could solve, the more excited I got. The thought of a nearly universal shifter that eliminates routing challenges and that can be used on any brand and any speed of rear derailleur is a pretty exciting thing. I just wish I had been able to see it that way two years ago.
So yes, I'm going to test this product, but I'm going to look at things a little bit differently. I had massive ideas of seeing if I could solve all of my rear derailleur problems, but once again my ambition has gotten the best of me. So, instead of that, I'm going to take one of my rear derailleur headaches and I'm going to see if I can solve it using the Archer system.
In the Box
Everything necessary to get up and running arrived in a small, non-descript cardboard box, mostly devoid of plastic. This included a nice little stand-alone charger (capable of charging most things, up to an 18650 cell), two sets of batteries (the standard batteries, plus the new "sprint shift" system, that supposedly speeds up shifting a great deal), a tiny little cable, housing and ferrules, and then the shifter and remote. I congratulate Archer on not falling into the over-packaging trap that seems to be the rule for drivetrain parts.
Installation
Installation is no harder that what you would experience with a normal set-up. In fact, it may even be easier, but there are a few quirks.
The first quirk is that Archer calls the thing that pulls the cable the "shifter", and the thing that you mount to your handlebars to change gears the "remote". This makes the instructions a bit confusing if you keep thinking the thing on your handlebars is the shifter.
Once you figure that out, installation involves:
1 – Stringing your cable through the shifter, through a short piece of housing, and into your derailleur. Re-seating the rubber flap where the cable hides is a bit of a pain in the butt, but hopefully you won't have to do this very often.
2 – Pairing the shifter to your App, initiating it, and then coding in your number of gears.
3 – Assigning the correct amount of cable pull for each shift. You start with your chain in the smallest cog, and then move through your gears, setting the amount of pull required for each cog.
4 – Pair your remote, and then mount the remote and shifter to your bike.
Once this is done, you should theoretically be ready to ride. I found there was a bit of fine tuning required at this point, but that was easy to do using the micro adjust feature on your remote – if your gear is skipping a bit, just hold down the micro adjust button for a few seconds, and then use the remote buttons to adjust up and down as necessary. Once the noises stop, hit the micro adjust button again, and keep riding.
This whole thing sounds like quite a number of steps, but it's super intuitive. I've certainly faced down cable set-ups that required more in the way of fine tuning with cable tension. It's easy to get things really, really close with your initial setup, and the ability to set each shift exactly where you want is an incredibly powerful feature.
One improvement that I would like to see from Archer is in their system for mounting the shifter to the chainstay. The shifter is held in place by two rubber straps that loop through the shifter, over your chainstay, and then back through the shifter, where they are held by two aluminum clamps. To juggle the system on your chainstay, while holding tension in the strap and tightening up the clamps can be a bit tricky. You'll figure it out, but I'd sooner see something like a hose clamp where you could create tension in the straps without having to hold and clamp. As well, the shifter unit isn't tiny, and it's mounted to a place with a lot going on (chain, derailleur, cassette, spokes). I've had no issues with anything moving around since it has been mounted, but a bit more clearance and a different strap system would be appreciated.
Rescuing a broken derailleur. Or bent hanger. Or something.
The SLX set-up that came stock on the Ibis Ripmo AF is quite probably the nicest shifting drivetrain I've ever had on a bike. Full stop. I could complain a tiny bit about shifter feel, but after that, it's nearly perfect. Perfect shift after perfect shift after perfect shift, with no need for adjustment.
Then I blew up the rear derailleur.
Worse, I blew up the rear derailleur at a point on a ride that required me to walk out for 10 km, and then coast downhill for another 10 km. This gave me a long time to curse my stupidity.
A few days later I got the nerve up to do a really deep inspection of the damage that I had done, and I was surprised to see that most was isolated to the cage and the pulleys. The pulleys were mostly gone and the inner and outer cages were pointing in opposite directions, but the parallelogram seemed pretty good, and the hangar looked to be remarkably straight. Maybe I could buy my way out of this pickle with a few strategically sourced parts from Shimano? I asked Deniz to look into this for me, and he laughed. So the bike sat for a month or two.
On another mission, I was rooting through Cam's shop when I encountered an XT derailleur with a smashed up parallelogram. The cage was a little scuffed, but fully intact, so I grabbed it and hoped that I would be able to mate the two together. After a half hour or so of tinkering, I managed to successfully appear out the other end with a frankensteined SLXT rear derailleur.
While the two pieces mate together well enough, there was something in the system that prevented this derailleur from shifting properly. Both the hangar and derailleur looked straight, but perhaps there was some un-noticeable damage somewhere in the system? No matter what I did, I could not get it to shift properly across the whole cassette. I could get 6-7 well shifting gears on either end of the spectrum, coupled with a skipping mess on the other side. This whole "set it up in the middle" theory is fine and good, but never really played out in practice on the bike. There seemed to be no easy way around this issue (i.e. free of cost), so I just stuffed the bike into the back of my storage locker.
This impossible task is what I gave to the Archer. In its current, cabled state, the bike is more-or-less unrideable. It's certainly not something I would want to spend any time on. At a minimum, it needs a new derailleur, plus maybe a new hanger (and you may as well swap out the cable and housing, while you're at it). If the Archer can rescue this system, I think we're really on to something.
And it did! The micro adjust feature allowed me to set up a custom amount of cable pull for each shift. The system doesn't really care all that much if something is a bit out of alignment, or otherwise causing issues on one end of your cassette. Since there are no set steps in the amount of cable pull, you just work around the imperfections.
Ignoring all of the electronics, the Frankenstein derailleur shifted about as well as what I had before. Perhaps not exactly up to par with the precision that was in place before I bashed everything to shit, but I certainly have no complaints. Every shift, up or down, is clean and predictable. You just press a button and bang out a shift. It's actually fairly remarkable.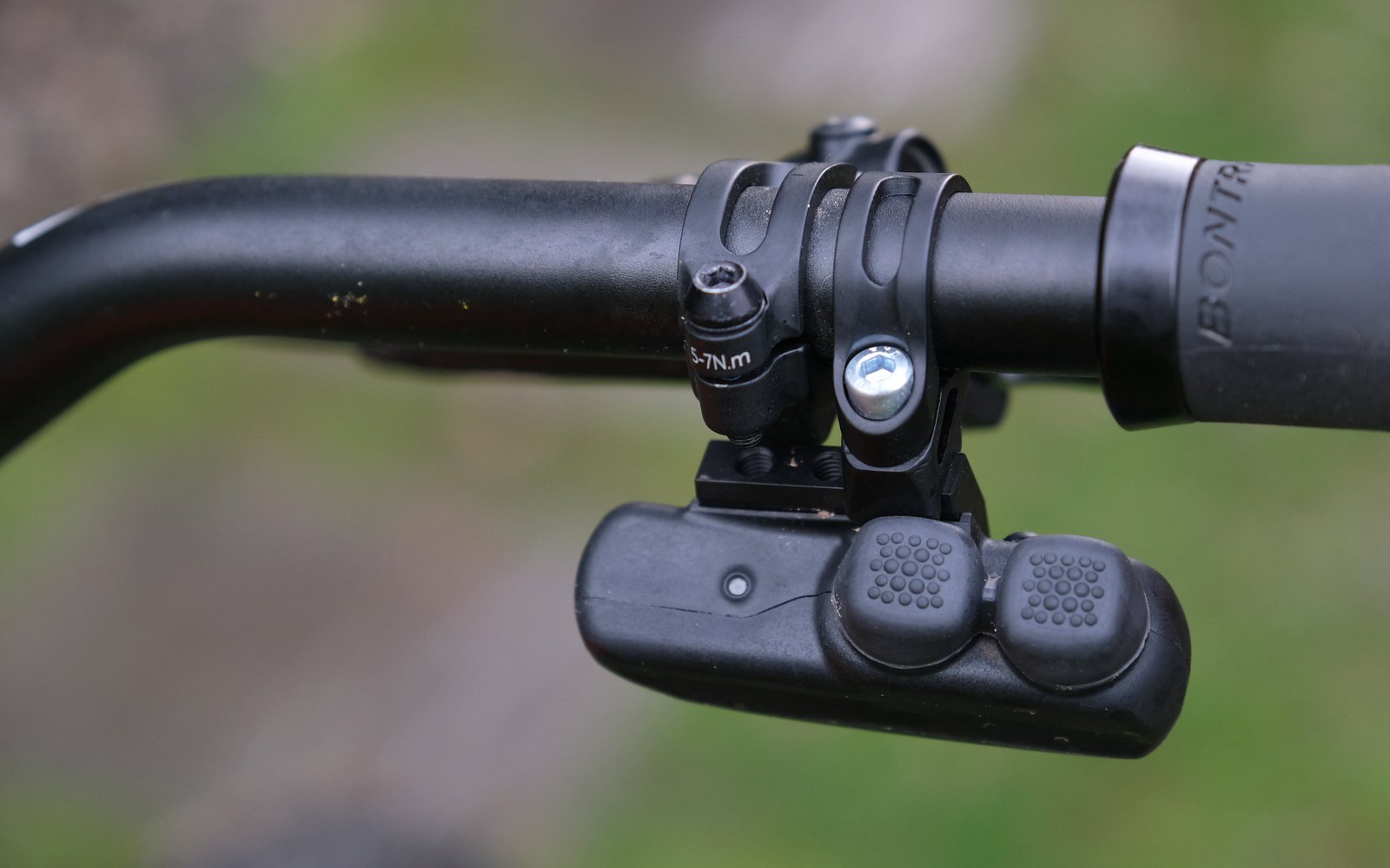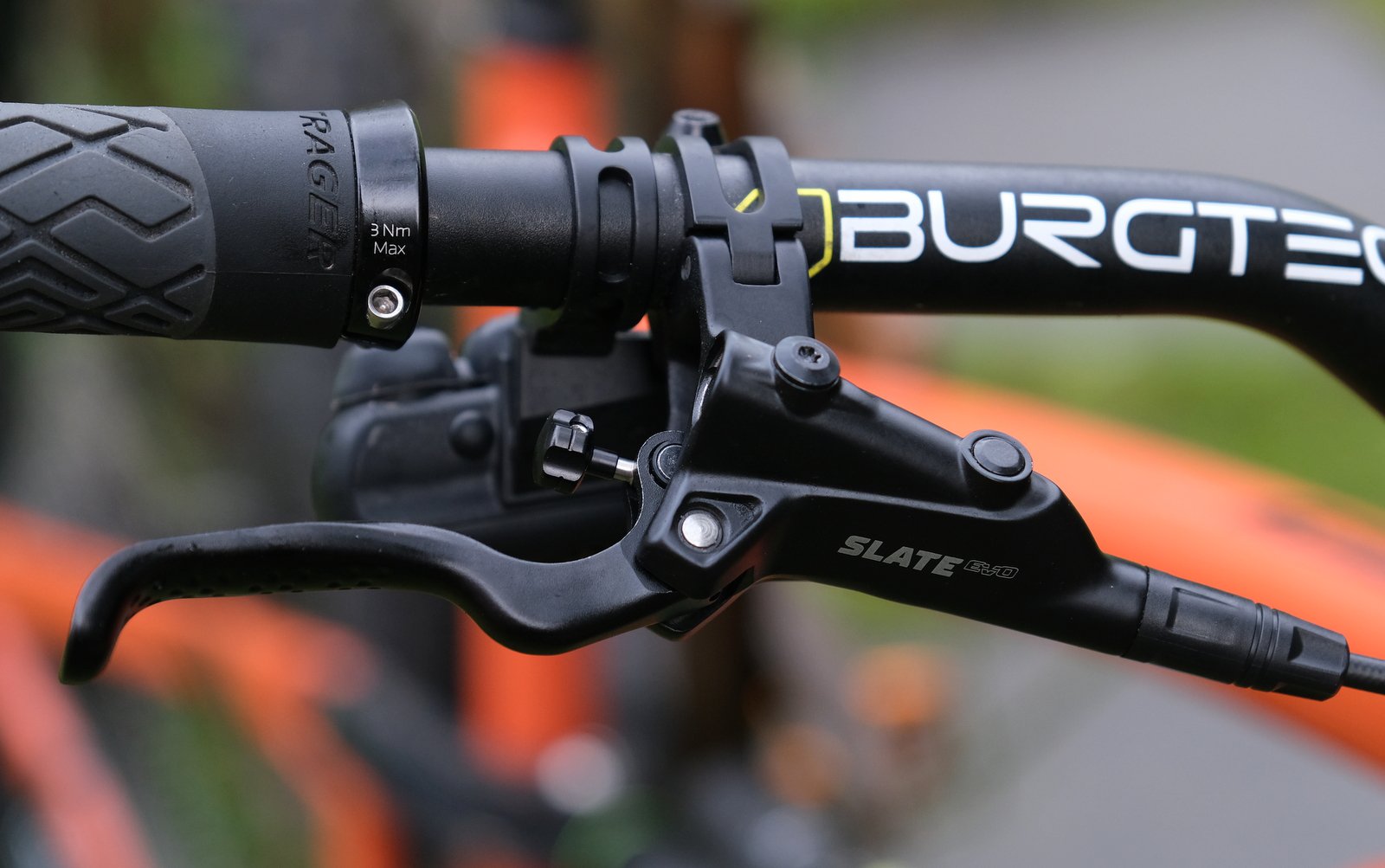 General Riding Impressions
My initial plan was to at least give the Archer a non frankensteined derailleur to deal with. It seemed unfair to judge a system with such a burden already in place. But after riding this set-up for a few months, I don't really see the point. Would it shift better with a new derailleur and hanger? Undoubtedly yes. But who needs that? The whole point is the ability to do crazy things with your drivetrain! Whether that's rescuing a torched derailleur or experimenting with strange combinations, the Archer system is probably up to the task. The actual shift up or down the cog is going to be at least as good as what you get with the base mechanical system, if not better. Micro adjusting for minor imperfections is a truly magical thing.
It's on the other end of those shifts, at the handlebar, where things get tricky. The Archer remote functions very differently than either a Shimano or SRAM shifter. When I first mounted the remote and rode around in front of my house, I was happy enough with the ergonomics. If you don't have anything to think about, it's quite easy to pick out the correct button for the correct shift. However, once off-road, this system is less intuitive. Having to pick from two small buttons placed side-by-side becomes fairly challenging once you remove you need to focus on other things. If nothing else, I now realize just how wonderful both Shimano and SRAM mechanical shifters are. I can hop back and forth between both systems with no noticeable thought as to how either of those systems work, but I can't say the same with the Archer. Yes, it is a function of muscle memory and things do become more intuitive, but even after a good dozen rides or so, it still takes a fraction more thought, and more time, to execute a shift. It turns out that having two (or even three) completely different motions to complete a shift (i.e. SRAM or Shimano) is far easier for your body to learn than a subtle difference in thumb placement.
The good news here is that Archer is working on a new style of remote (hmmmmm...I wonder when we'll see that?) that will fix this problem. I think this will be a great upgrade, as shifting ergonomics are the one weak link to the system as it sits right now.
However, as I hop back onto a fully mechanical SRAM system, I find my opinion subtly shifting once again. Yes, it is nice to have two tiny little levers right where my fingers expect them to be. But why you gotta push so hard on them to make things happen?
Dave's Conclusion
The big question for the Archer system is who is this thing for? Who is going to pay US$369 for a piece of equipment that converts their fairly simple mechanical derailleur into something more complex? If you are interested in electronic shifting, why wouldn't you just buy something from Shimano or SRAM?
I think this is a totally fair question. I think that the market right now is probably the tinkerer, the person with a specific problem that needs solving, or just somebody that never wants to get caught with their pants down with regards to shifter standards. You can offset some of the costs if you consider other things that you don't need to buy (an expensive electronic rear derailleur, a mechanical shifter, cable and housing, or an otherwise broken derailleur in my case).
I think this is more a product that shows a lot of promise for the future. How great is it that a really small company can come out with something that, in a way, puts pressure on the big two? Are Shimano or SRAM going to come out with fully universal shifters that work with any electronic rear derailleur? Probably not, but maybe they'll build more flexibility into some of their future products? Or maybe once Archer launches their new remote and shrinks their shifting unit, it will start to make sense for a larger swath of the population? Shit, maybe their next project is a tiny little pod on the bottom of your cable actuated dropper, and it's wireless droppers for all? It might not make the most sense right now for more than a minority of riders, but holy shit is it cool that it exists.
Cooper Quinn Gets the Fancy Stuff
My path to becoming Archer-curious wasn't dissimilar to Drunkle Dave's, really. At first I thought "It looks like an unknown third party has created cabled, wireless shifting, with the complexities of both systems. What's the point?" The worst of both worlds indeed, and it isn't 'cheap'.
But then as I was dangling the motor on bungee cords (and probably expensive wires) on my electric Ute to fight my way through changing brake housing, I had flashbacks and nightmares to changing the shift housing. Changing cables/housing/hoses makes me feel like I'm down in Peru at a roadside mechanic; instead of a bike in the stand and tools neatly arranged, the bike is up on blocks in the yard, there are parts hanging everywhere on bungee cords, and you're trying to crawl around underneath the bike so you can remove more skin off the back of your hand in the hopes that this time, that hose will make the corner. At least the cables are about 8 miles long, so shifting is vague at the best of times. Cam also had some fun times with his electrified Norco. Anyway, I started to come around to the concept.
I got my setup several months after Dave, and as you can see above, I have a different shif...er… sorry, remote, with flappy paddles. It's not un-reminiscent of the original (and current GX) AXS paddles, painted red. And since this isn't North Shore Electric Cargo Bikes dot com, I'll be running it on various mountain bike test mules before trying it on the eUte.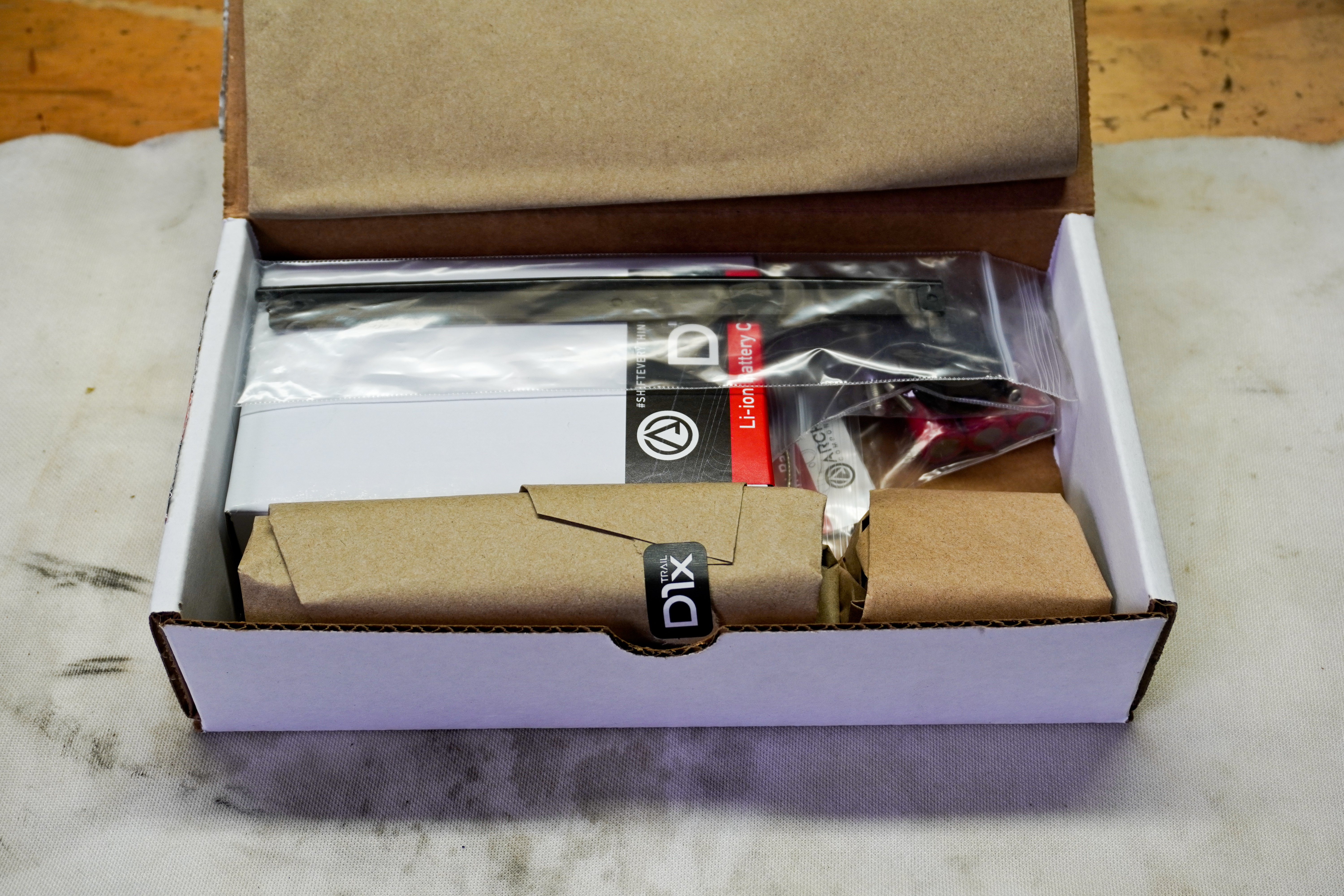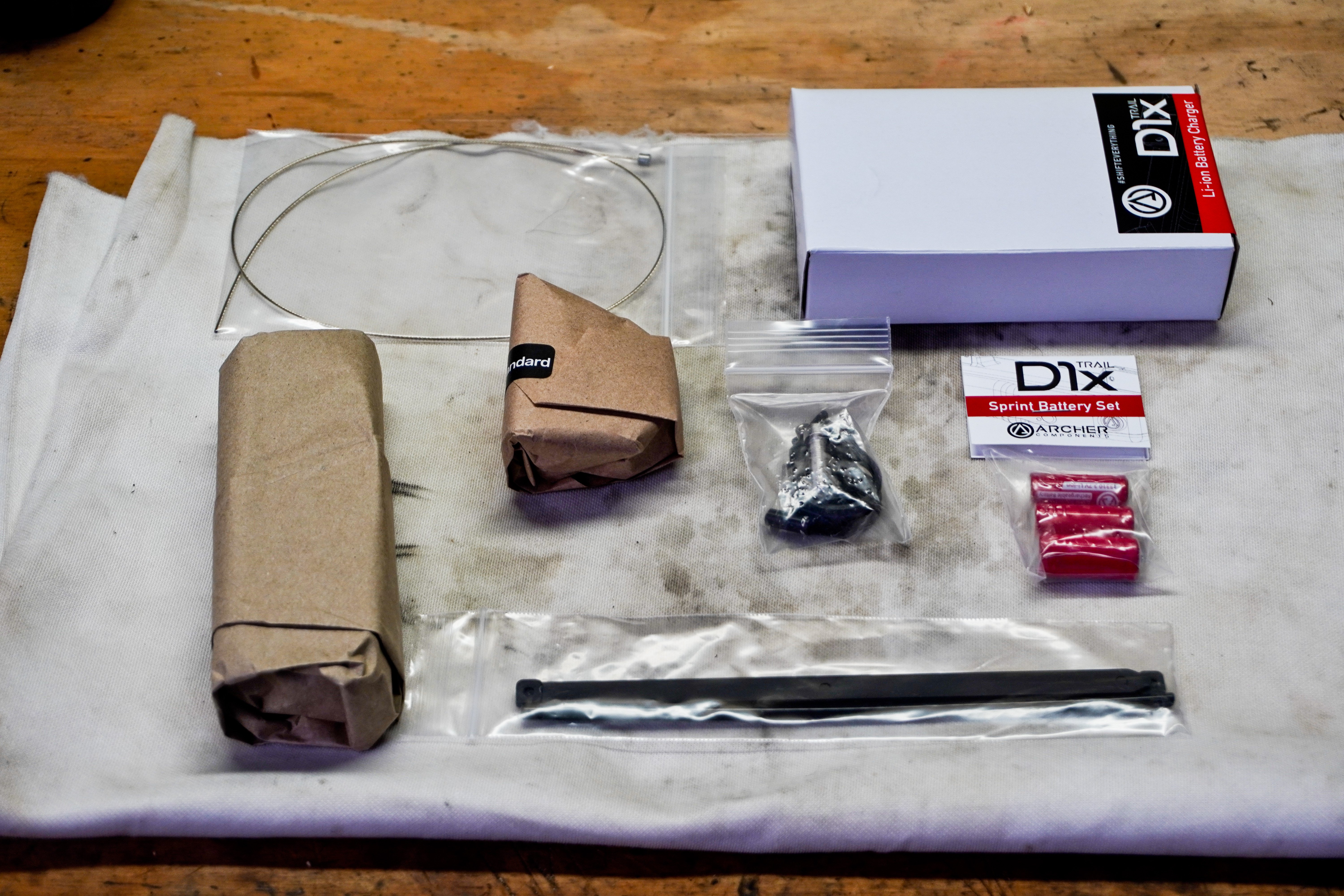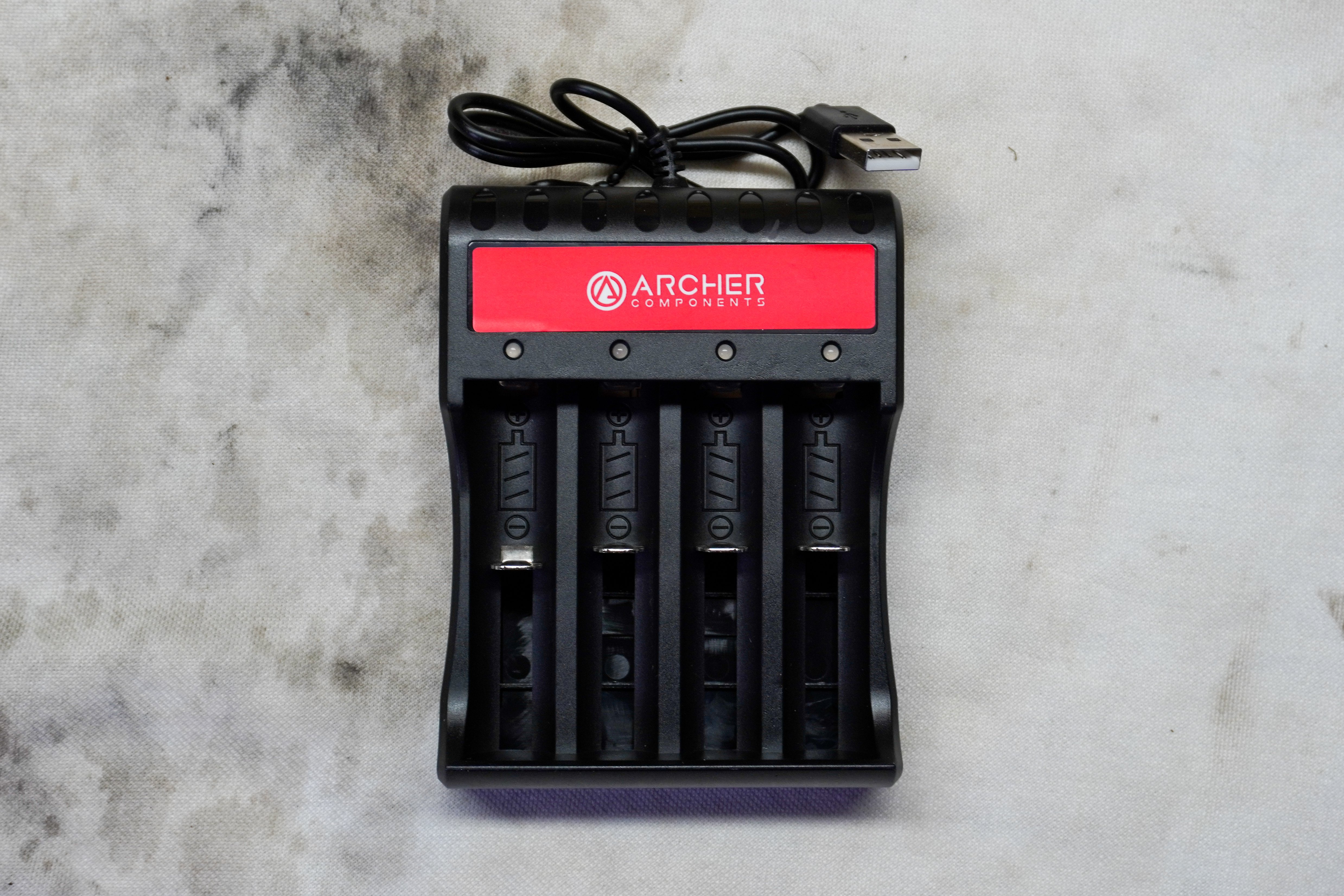 I like the packaging - its no frills, recyclable, and dense. Its in the smallest box the components could safely fit in, which saves material, shipping cost, warehousing space... it shows a company thinking for simple smart solutions. I'm less convinced it puts any pressure on the big two, but certainly it has interesting potential to solve some niche problems. Their freshly launched MFR Drop Bar Remote (think Blip Buttons) also has some interesting possibilities to solve problems for folks with accessibility or other adaptive issues - think people with unique hands, missing digits, or riding adaptive mountain bikes. Any and all of these can require unique solutions potentially solved with Archer components.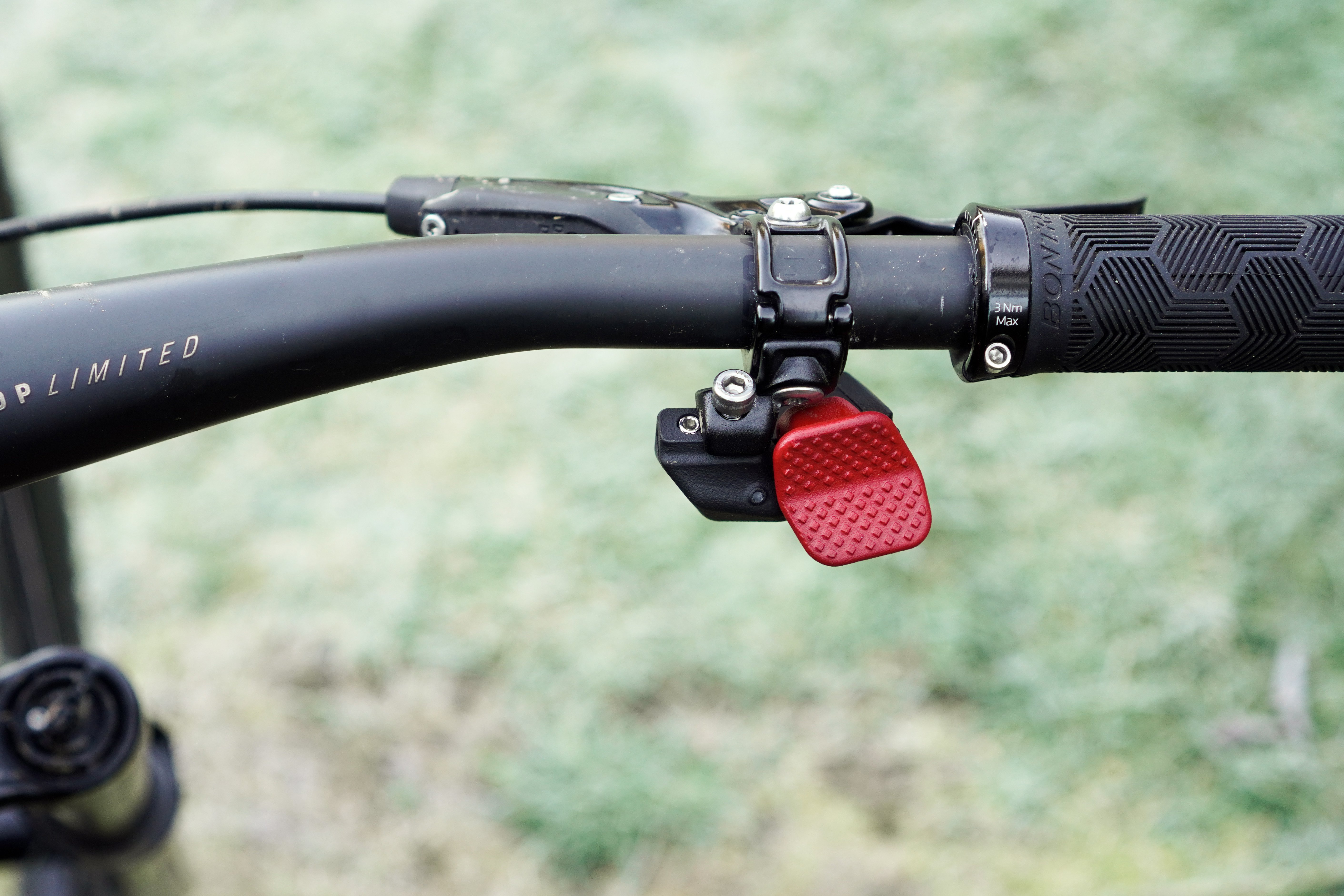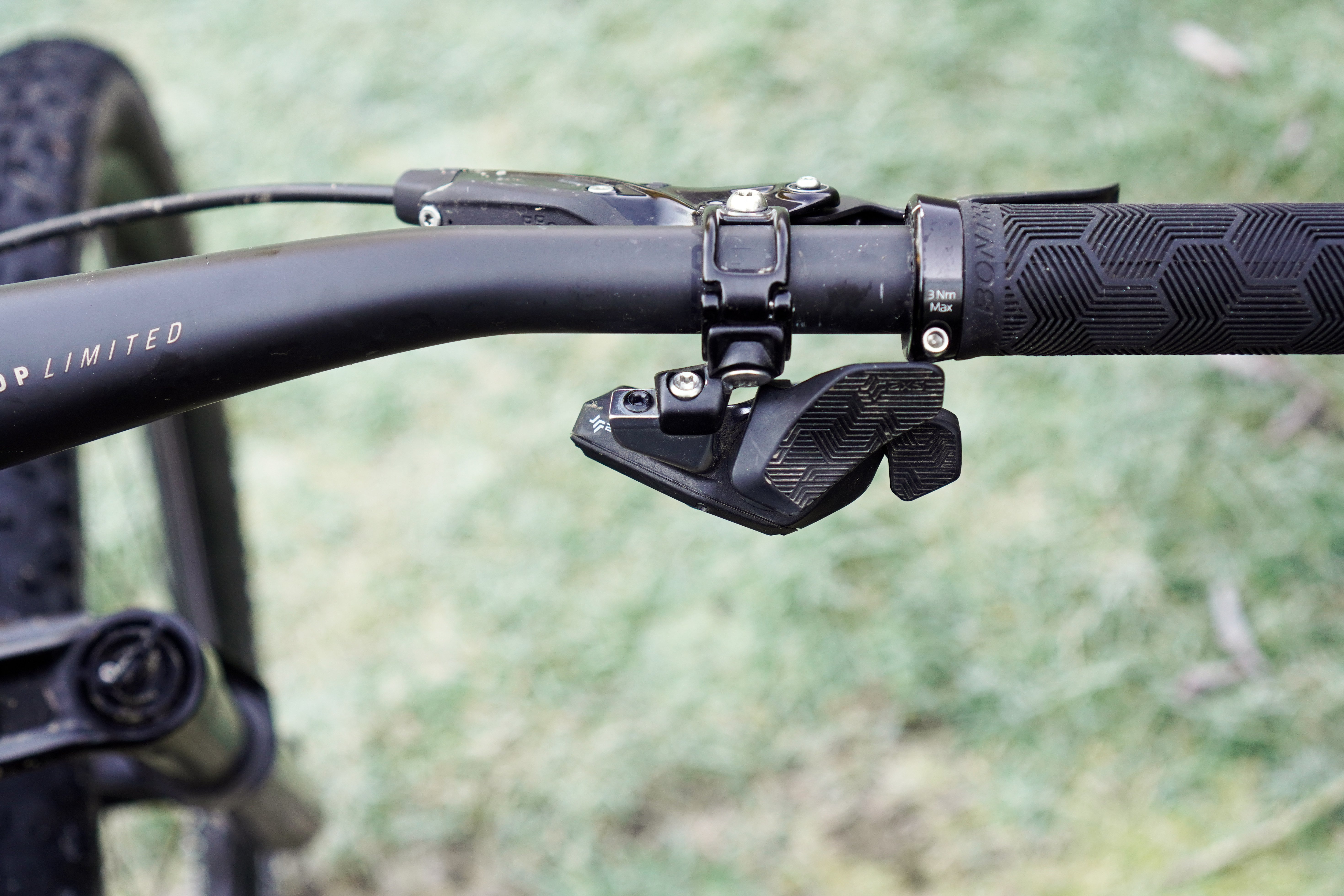 The new paddle will be available soon, with presale starting Feb 16th and new product shipping beginning of March. The system will be available in two options: paddle remote with the standard batteries $399 and with the Sprint batteries $429. If a customer has a standard D1x with the older two button remote they will be able to purchase just the paddle remote, and the Sprint Battery upgrade kit will be available for $59.99.
So far, setup was reasonably simple, the app works, the remote works, the shifter works, and… I haven't ridden it outside my yard yet. So come back in a couple months, and I'll have a more comprehensive set of thoughts. I've got quite a bit of AXS experience, so it'll be interesting to see how it stacks up. And I'm with Dave; if Archer isn't working on a dropper post version of this yet, someone who's good with electronics should really get on that.