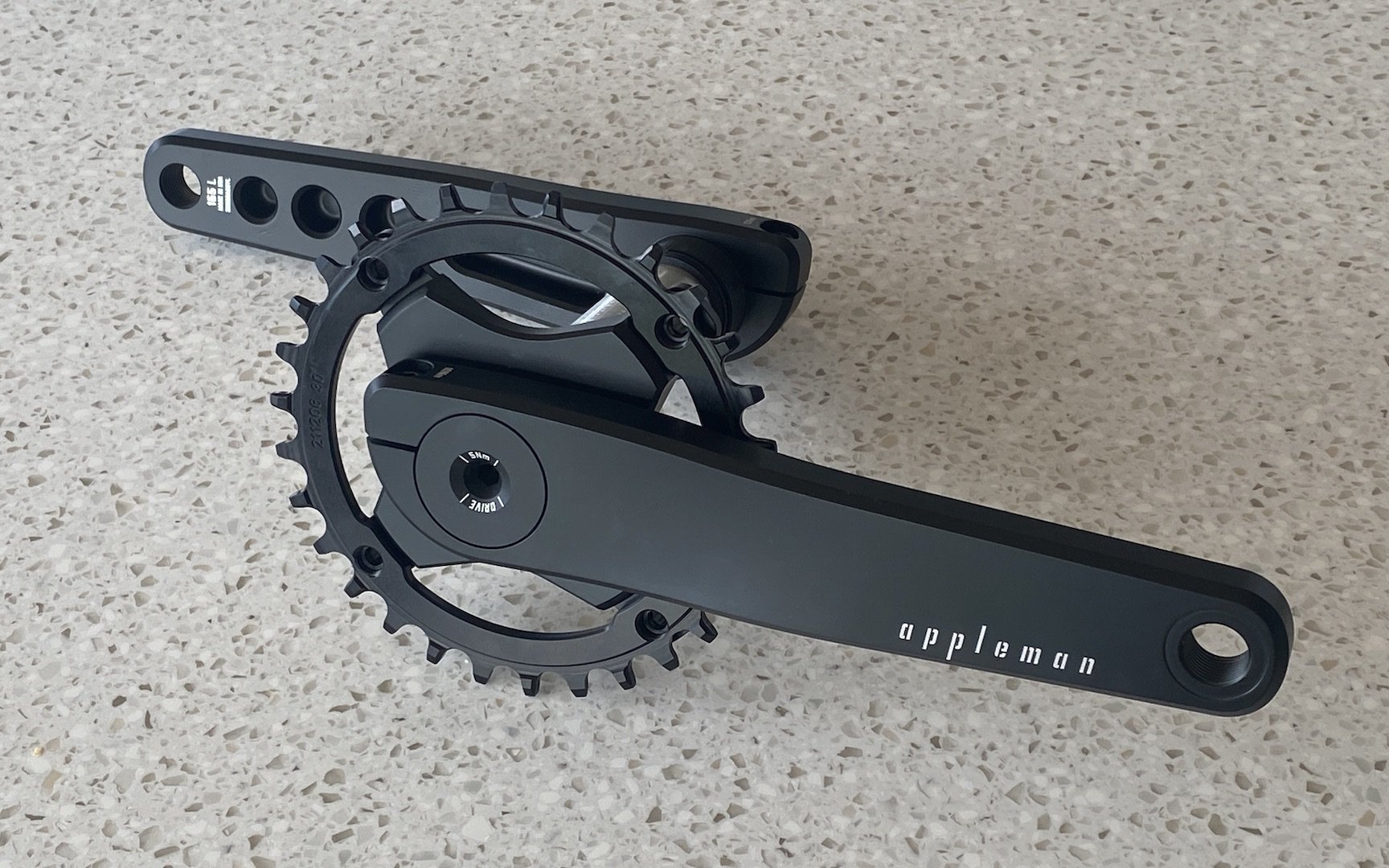 Review
Appleman 2XR Cranks - Made in Minneapolis
Who made your cranks? Do you know their name? Can you picture a face? Or maybe multiple faces? I've met the person who designed my cranks, finished them, painted them, and added the laser etching. And he's met the machinists who programmed the CNC machines that carved them into the shapes you see above. All of this happened in Minneapolis, Minnesota. Does this providence make them any better than other cranks I've used? Probably not, but the cookies grandma made always tasted better than any from a bakery. There is something satisfyingly wholesome about knowing about the people who created the parts of your bicycle. I have nothing against the people who make cranks in Taiwan or Portugal or Japan or China or anywhere else, but I don't know them, and they may not have any emotional attachment to the process, the design, or the finished product, unlike Matt Appleman. And, also unlike Matt Appleman, they probably aren't trying to teach us something new.
There are many criteria behind the choice of a test product. I might choose something because I know it's of interest to our audience, or because it looks cool, or is excellent value, or breaks new ground in terms of performance, but more than anything else, I'm drawn to story. Appleman cranks have a good story, and I got a chance to hear it from Matt Appleman himself, all the way from Minneapolis.
Matt seems like a pure soul, the sort who could never utter a falsehood or speak ill of anyone, dead or otherwise. He has the sort of genuine character that is becoming rare outside the American midwest. The sort of guy you would trust with your life, and he'd give you a warm after saving your bacon.
First, Carbon Frames...
Mr. Appleman didn't start out making cranks at all. His core business is building custom carbon frames. Matt studied composite engineering at University but with an ulterior motive; he wanted to build a frame that would fit him. Thankfully Matt didn't have a roommate because this started in his dorm long before graduation. Today it's Matt's main business and it's a long process. Matt only builds 10 to 12 frames a year.
Matt wasn't motivated by the desire to be his own crank supplier; he was moved by pain. Years ago Matt, who has raced track, road, and cyclocross, got to the point where he couldn't ride without significant discomfort:
"So I built a custom frame for myself, got into a much better position that was easier on my knees. I was still riding 172.5s as I always had. And that was okay, I could pedal but any sort of any ride over 20, 30 miles or if I went too hard, I would have pain for a few days following the ride. So the problem wasn't fixed. So I built another bike around 165s and that seemed better. I could ride a little bit further and a little bit harder, and not have as much pain."
Specs
Material: 2024 Aluminum
Crank Lengths: 135, 145, 155, 165, 175mm
Spindles: 30mm spindle, 5 different widths for road, adventure/gravel, mountain, mid-fat, and fat bikes
Spiders: Standard spiders for 4 and 5 bolt chainrings (mountain 104×4, road = 110×5, track = 144×5)
Colors: black, silver, pink, orange, yellow, turquoise, purple, olive, sand, brown
BB/Frame Standards: BSA (English threaded), ITA, PF30, BB86, BB92 BB30 T47, 386EVO, BBRight, + more (note: BB90/BB95 not compatible)
Warranty: 5 years
Exceeds ISO 4210 crank fatigue tested to both "racing" and "mountain" test setups. Tested by independent lab.
Are your Cranks too Long?
Matt starting experimenting with cranks that were shortened by another Minneapolis tinkerer. "He drills a new pedal hole and chops the ends off existing forged cranks. And I tried 155, and then I could ride however long I wanted and however hard I wanted, and it didn't hurt my knees at all. Wow! Obviously this does something at least from a pain management standpoint."
Matt got to thinking about the fact that he was riding 155s and settling there, just like he was riding 172.5s previously. There were some options for shorter cranks, and he could make do with the custom shortened ones, but there weren't options for mountain bikes, and after some discussion with his wife, the idea for the 2XR cranks took shape, and a set of prototypes were made.
"I thought, I might as well try the 145s just to see what it does. And man, was it nice. The, the main difference is my knee angle was good. The knee was healthy and pain free, but it opened up the hip angle, the distance between my thigh and torso. And that's what felt really good. So I just, you know, you're, you're, you're gut punching yourself less and I'm a skinny dude, and I noticed going back to longer cranks that you, you really feel your gut turning. And you don't notice how good you have it on short cranks until you go back to something longer."
Matt has experimented with different crank lengths riding Strava-recorded loops, and he's fastest with 145s as well. Obviously this isn't scientific, and Matt's performance could be related to how accustomed he is to that length, but it's intriguing nonetheless.
I have fairly long legs for my height and as a result I always used to run 175 mm cranks. Recently, in a quest for better pedal clearance, I've been trying 165s and in terms of efficiency I've noticed... nothing at all. Hearing that Matt was riding 145s got me thinking. He had sent me 165s but during our conversation, I became intrigued with trying 145s.
Technical mountain biking on modern, low-slung bikes, is an ideal application for short cranks. They allow you to pedal through more rocky sections without banging (and potentially damaging) a pedal or crank arm on the way through and messing up your rhythm. There is a downside for mountain bikers however. Saddle height is determined by your leg's extended position so shorter cranks mean your saddle will have to be raised to maintain the same pedalling position. That's not a big deal for the way up, but it means your dropper will be higher in its lowered position for the descent. I have come to prefer a dropper of over 200 mm and I'll be very sensitive to an extra 20 mm of saddle height between my legs. It's possible that, with shorter cranks, slightly less leg extension will work fine, since higher cadence will make sense, but that remains to be seen.
From Frames to Cranks
The transition to a more scalable product wasn't easy as Matt explains, "it's the first thing I've ever sold that I don't do a hundred percent of everything. So it's a different mentality." Matt designed the 2XR cranks with the customer in mind and an eye on user serviceability, which is why there are no proprietary tools required to install or remove the cranks. In fact it can all be done with a 5 mm hex key in less than 5 minutes.
A local machine shop, run by cyclists, takes care of shaping the billet aluminum into a pair of crank arms, a spindle, and a spider, but that still leaves lots of hand work for Matt. And I mean Matt himself; the machining is the only thing he contracts out. He also paints each crankset to the specifications of the customer, with 10 colours to choose from. Matt even encourages mixing and matching so you could have each arm a different colour, or a contrasting spider and spindle bolts. Even the black and silver cranks are painted, or clear coated in the case of silver, but Matt concedes he may eventually anodize those. Before the paint, he rounds the edges by hand and does any required de-burring and finally Matt laser etches the torque specs, serial number and his last name.
Since the cranks are all made to order, Matt has a one to two week turnaround, which doesn't sound too bad at all considering the hand-crafted custom bits you get at the end.
The older I get, the more leery I am of the status quo. Habits and rituals that remain unexamined rarely stand up to scrutiny. As a group, mountain bikers are fond of doing things the way they have always been done; the first frames were roughly based on road geometry, 26" wheels came from cruiser bikes, and narrow bars, long stems and rim brakes made no sense at all. I've often wondered why we ride the crank lengths we do but I've never found either good research or any common sense justification for the usual, "tall people ride 175s and shorter people go down in increments of 2.5 or 5 mm from there." I could go deeper on this, but I'd just be regurgitating the good work Matt has already done. He's written a clear and useful guide, complete with GIFs to illustrate the issue and a crank length calculator, that will explain why it might be time to jettison the status quo.
The next step is in the mail. Matt is mailing me some 145 mm crank arms he had around the shop and I'm going to do some experimenting. Because the cranks are so quick to swap, I'm going to put the extra set in my fanny pack and then ride sections of trail on the 165s and then install the 145s to see what I notice. Aside from increased clearance, I'm most interested in seeing what I notice once my feet are 40 mm closer together when level, which is how I corner as well as descend. I know my body has developed asymmetrically because of all the time I spend with my left foot forward and I notice a difference in the stiffness of my hips in particular.
So far, aside from the finish taking quite an early beating, from this flat pedal-rider's shoes and North Shore winter conditions, these cranks have been excellent. Now that I'm a mostly reformed weight weenie, I'd happily ride Appleman 2XR cranks for the rest of my days.
Black and silver = $485
Colours: crank arms +$50, spindle bolts +$25, spider +$25
Weight - 556 grams (mountain w/165 mm arms)