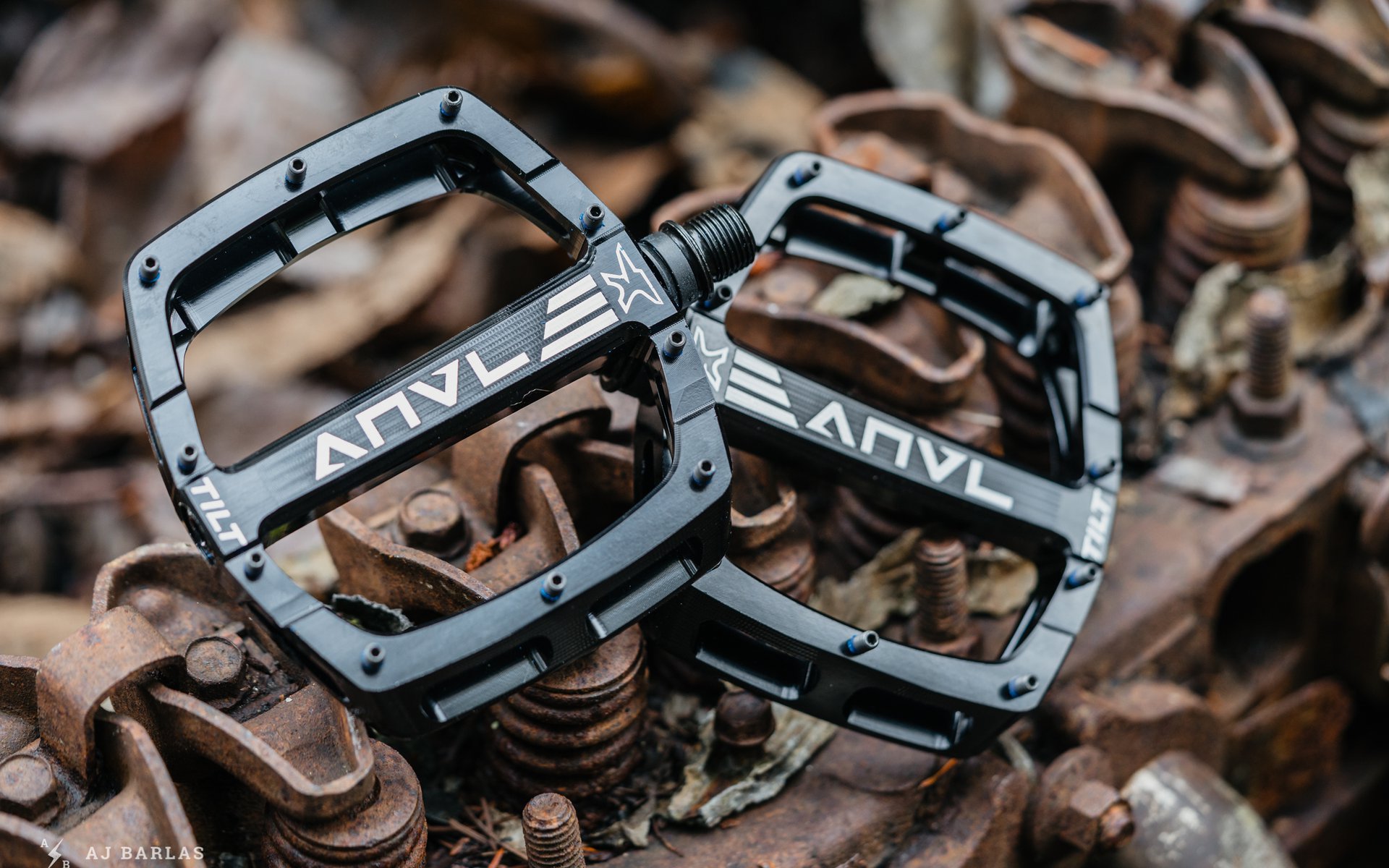 New Favourite Flat Pedal?
ANVL Tilt V3 Flat Pedal Review
ANVL is the more subdued child of the often rambunctious Transition Bikes. They have a little known but solid selection of parts available and the latest is version three of their Tilt flat pedal. They feature a substantial 105 x 105mm platform, 10 pins in each side and a seldom seen, though much welcomed, dual concave. Another welcome feature is its thickness. The days of paper-thin pedals seem to mostly be behind us, thankfully.
Highlights
105 x 105mm platform
Chromoly Axle
Fully CNC'ed from 6061 alloy
Two outboard sealed bearings and one inboard DU bushing
17mm thick w/ 2mm concave
10 pins/side. 8mm tall, top loaded hex head design
Weight: 408g
MSRP: 99.99 USD
The Details
From the initial look at the pedals, an improvement in quality is clear. The previous Tilt pedal had a different shape and appearance and the overall finish didn't hit the same visual marks as this new version. It had a unique look but when compared to others it lacked in the grip department. An odd outline and small size—measuring 100mm x 94mm—combined to make it feel smaller than the static numbers suggested.
For version three, ANVL appears to have gone back to basics and tweaked things from there. The platform shape and appearance draws inspiration from popular designs like the classic Shimano DX but these are bigger, slotting in with the current crop of large platform shin hackers. On that note, the pins are long. Some of the longest I've ridden. Just the thought of getting one of these to the shin makes my eyes water. It will be harder to do though thanks to the grip provided. These are from an earlier production run when ANVL was using 9mm pins and the current pedals are being equipped with a still plenty long, 8mm pin.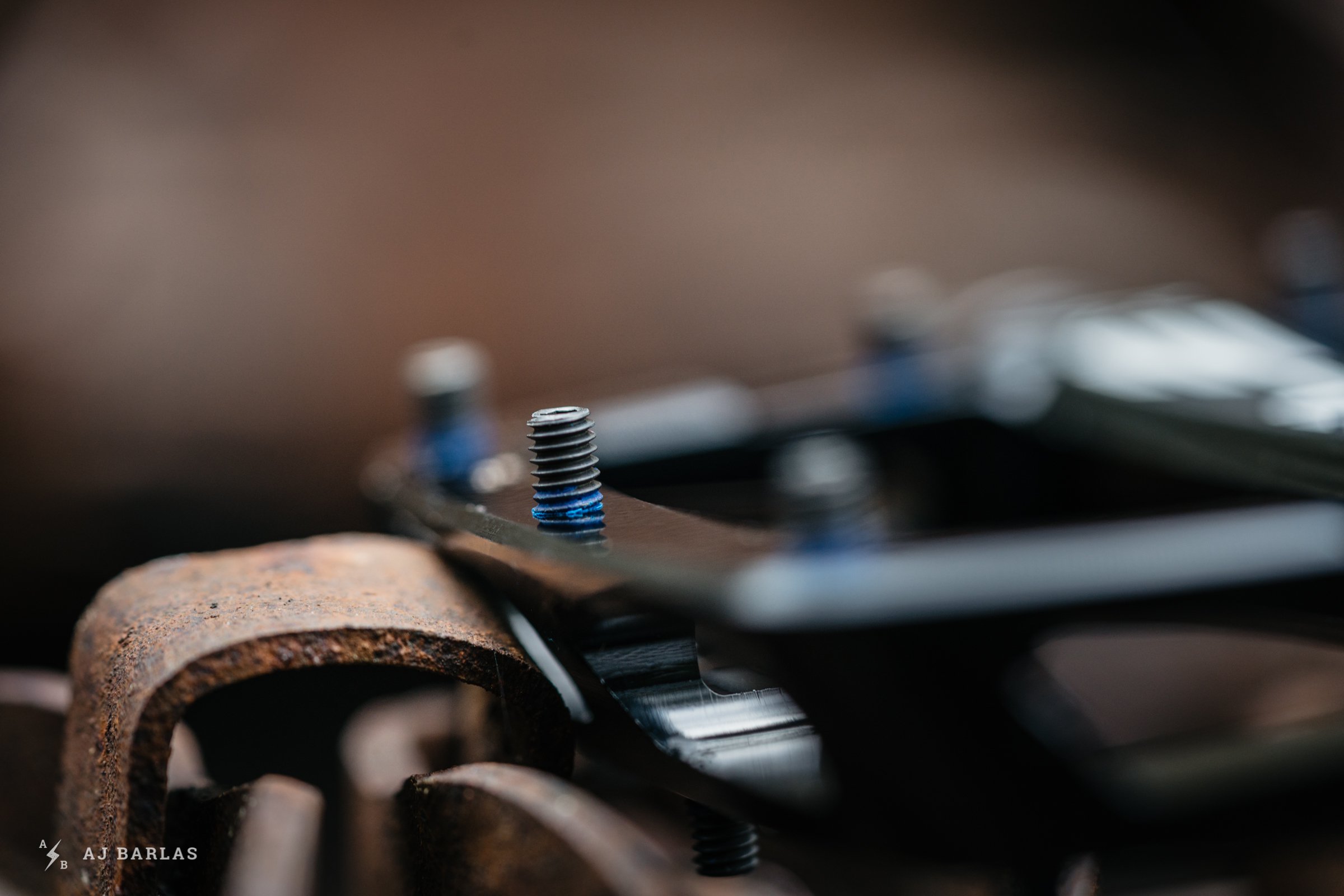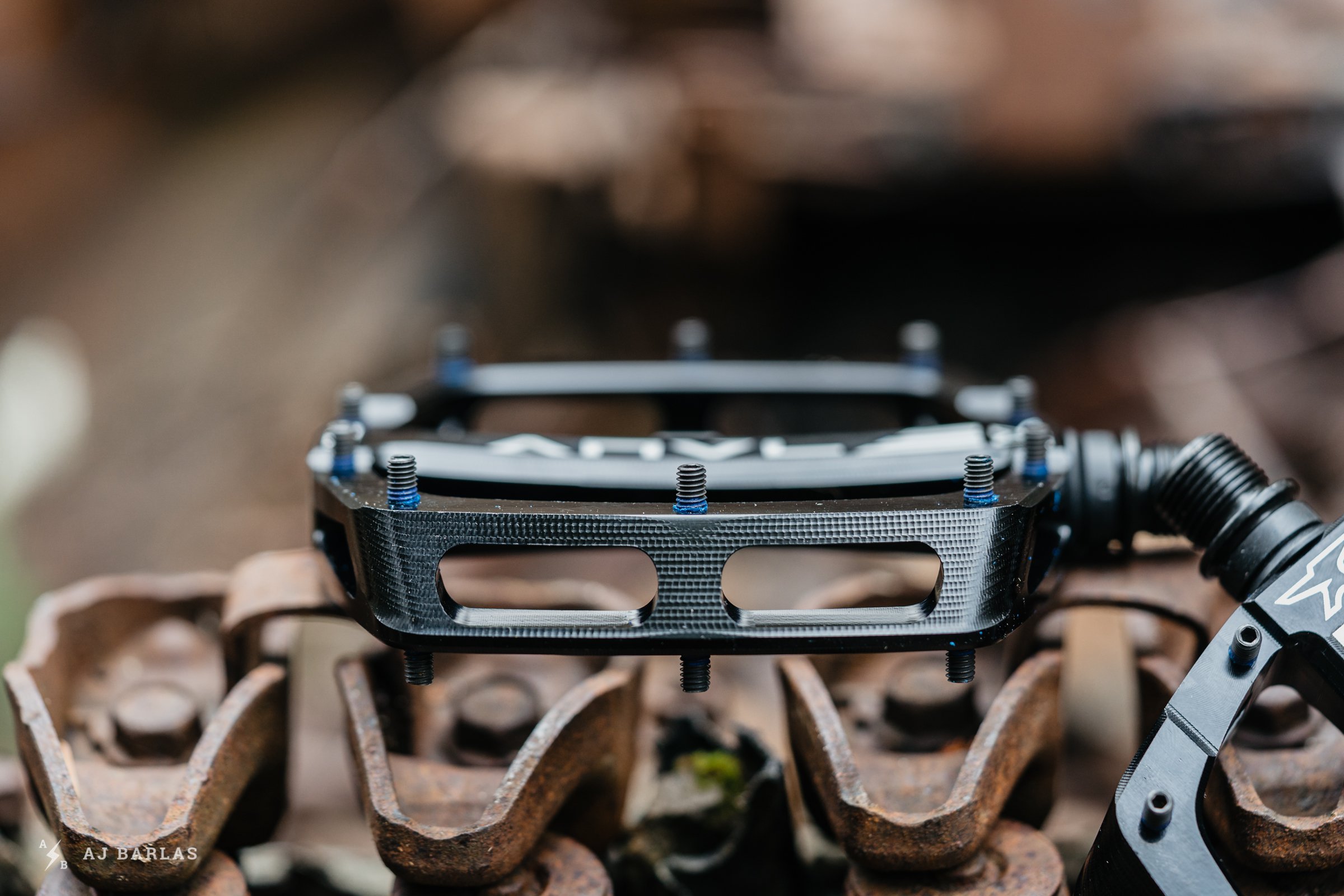 The platform features heaps of machining, leaving only what's absolutely necessary. This design allows for the pedal to shed weight but also prevents mud and muck from building on the surface. Chamfered leading edges also allow the pedals to glance off obstacles, minimizing dreaded pedal hang-ups. Each curved surface features a raw machined texture. Product designer, Darren Seeds says this is the result of the pedals being fully CNC machined which enabled them to get all the curved surfaces to begin with. Darren said that to smooth these out costs more thanks to the need of a 5-axis CNC machine and more passes. With that in mind and preferring the look, he requested the finish be left this way.

I asked for the machining process on those surfaces specifically to highlight the process of cutting metal with metal! – Darren Seeds, ANVL Bikes Product Designer

How the pins are mounted varies from brand to brand but the Tilt features a top load, hex head pin. Some will argue that it's a dated design and that removing a bent or snapped pin is difficult. In reality, it's no worse than a bottom mounted pin—I'd actually argue that it's easier. While I've had a few pedals with bent bottom mounted pins that couldn't be removed, a pair of vice grips have always been successful in removing a top load pin. The hollow head of the pins also creates more edges to stick into your shoes, granting more traction. All pedals that I believe offer the best grip have featured this style of pin.
Aside from the DMR Vault and the Boomslang, there aren't any pedals I can think of that feature a dual concave (please correct me if I'm missing one!). Even a subtle double concave like found with these provides more in pedal feel, translating to a more planted sensation. This is even more important when the pins are as large as the Tilt V3's.


Internally, the pedals spin on two outboard sealed bearings and a DU bushing on the inboard side. It's a fairly common design and while I typically shy away from DU bushings in pedals, it's proven durable in my Deity T-Macs. The same can be said about the Tilt. They rotate on a solid chromoly axle but ANVL offered a ti axle option with the old Tilt. A titanium axle substantially raises the cost and in the past, high pedal prices have received some hate, so we may not see that option this time around.
Taking the pedals apart to service is very easy. With an 8mm hex key in the crank side of the pedal, spinning a 6mm hex in the outboard end unwinds the cap. Beneath is a nut that, once removed, allows everything to slide apart. Doing this once a quarter and having a look at everything is probably a good idea—though I'm as guilty as anyone for running my pedals until an obvious problem arises.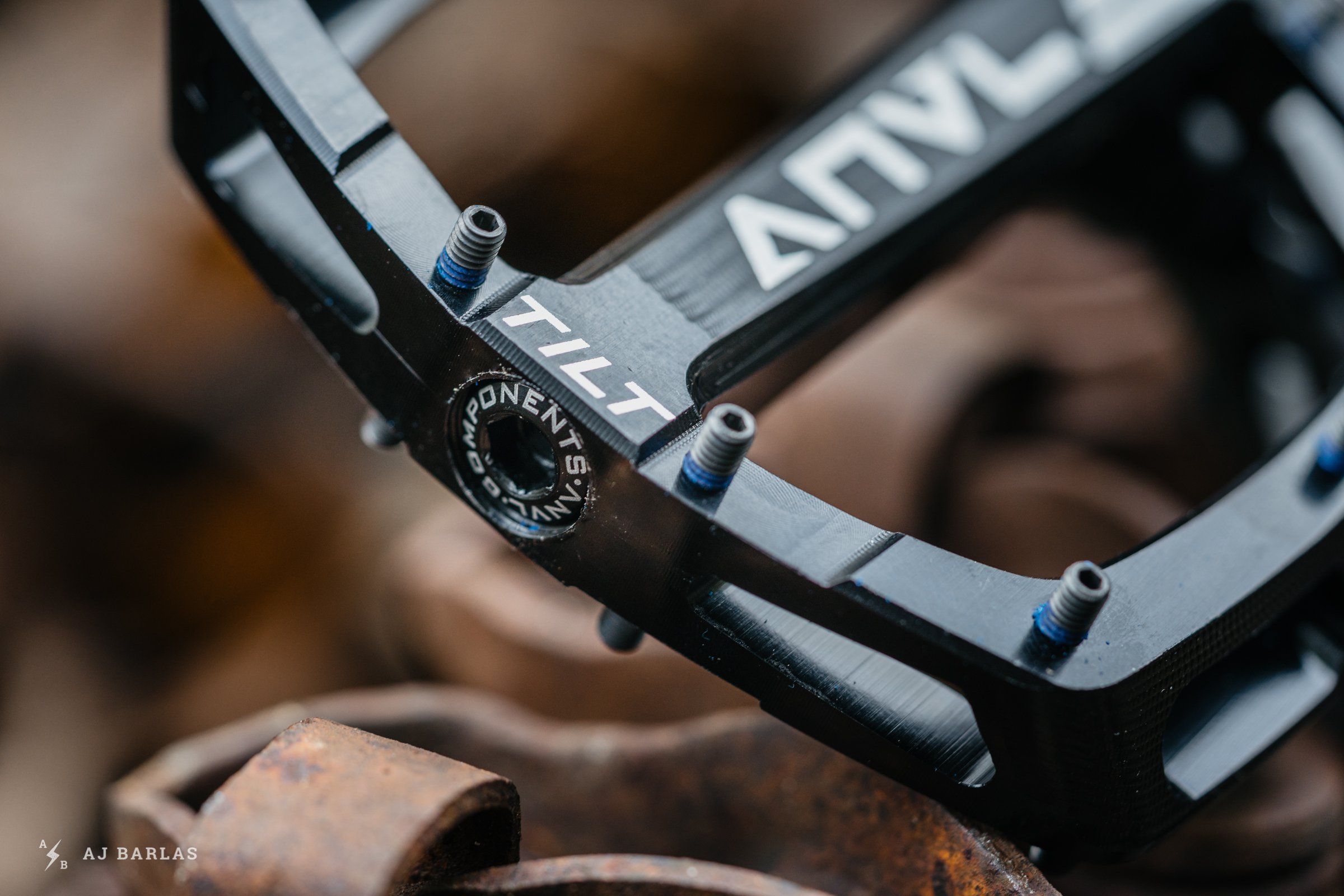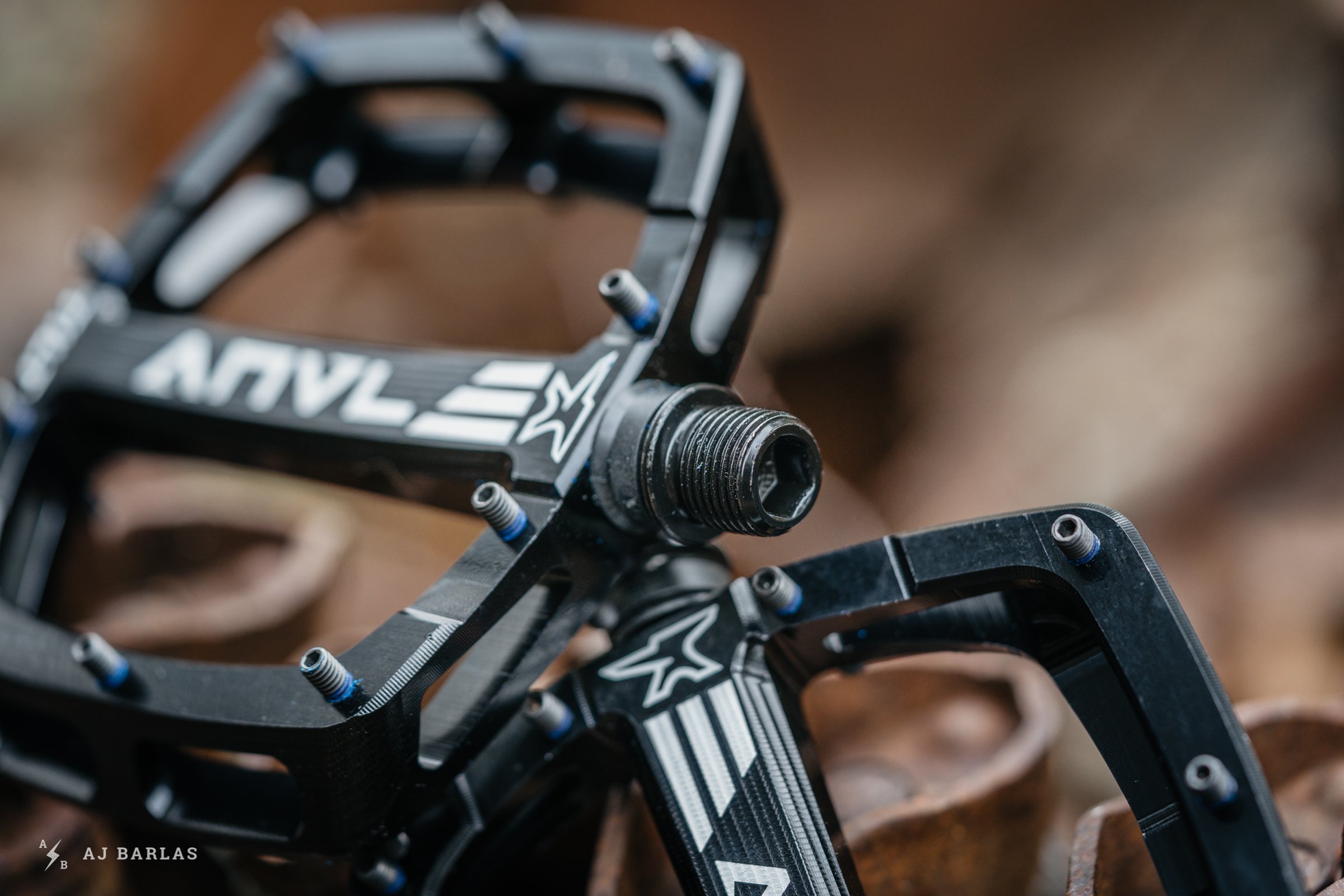 Stomping and Smashing
I typically remove the axle pins from the inside of the pedal—I did this with my Horizon's and tried it with the T-Mac because I prefer the pedal to allow my foot to nestle into the bike. Pedals with a bearing bulge usually don't work as well without these pins—the T-Mac's are one example of this. I haven't felt a need to do this with the Tilt and I reckon it's down to the double concave. The shape comfortably cups the sole of your shoe while the pins apply a load of traction.

It's not all kittens and rainbows however. While the double concave offers an excellent, planted feel, they still don't provide the positive connection of the Nukeproof Horizon—and nothing has. It's a little puzzling why but I have a theory. The Horizon platform features relatively sharp points at the edges and more surface area. These combined with the square shape, which makes it one of the bigger pedals diagonally, create an excellent feel. This isn't a negative against other great pedals, which I believe this new ANVL Tilt comfortably rests among, but a point of difference. While the Tilt pedals don't provide the same positive feel as the Horizon, they make up for it with firm, unwavering traction.
In mucky conditions, the pedals have shown zero issues with buildup. The heavily machined platform provides heaps of space for mud and crap to be removed. That said, the pedals have proven strong too and I've been surprised by how well they've stood up to some hefty connections with the ground. After smoking one particular rock I expected to see at least a couple of the tall pins snapped off but they remained intact. So far they've proven very durable and aside from the usual scuffs and scratches, show little wear.
Verdict
I'm really picky about my connection to the bike, especially through my feet. I'm not sure if it's from relying heavily on sensations through them after growing up surfing or something else entirely. But I am aware that the slightest thing can put me off. It's why I spent almost 15 years riding Easton Fatboy pedals. In the last few years I finally relegated them though, replacing them first with the Deity T-Mac, which felt like a bigger version of the Fatboy, and later the Horizon.
Now I'm happily adding the Tilt V3 to the mix. The sheer width of the T-Mac can be problematic in rooty, rocky terrain, leaving less room to wiggle. But the Tilt is pretty perfect in size. They're not as positive feeling as the Horizon but they provide more traction, rarely letting my foot slide out of position. They're a great, well thought out pedal that does the job well without any quirky attributes. Set screws from a hardware store can also be used for replacements or to customize pin height and feel.
At 99.99 USD these are an excellent, competitively priced option for discerning flat pedal riders.
More on the ANVL Tilt V3 on the Transition website.