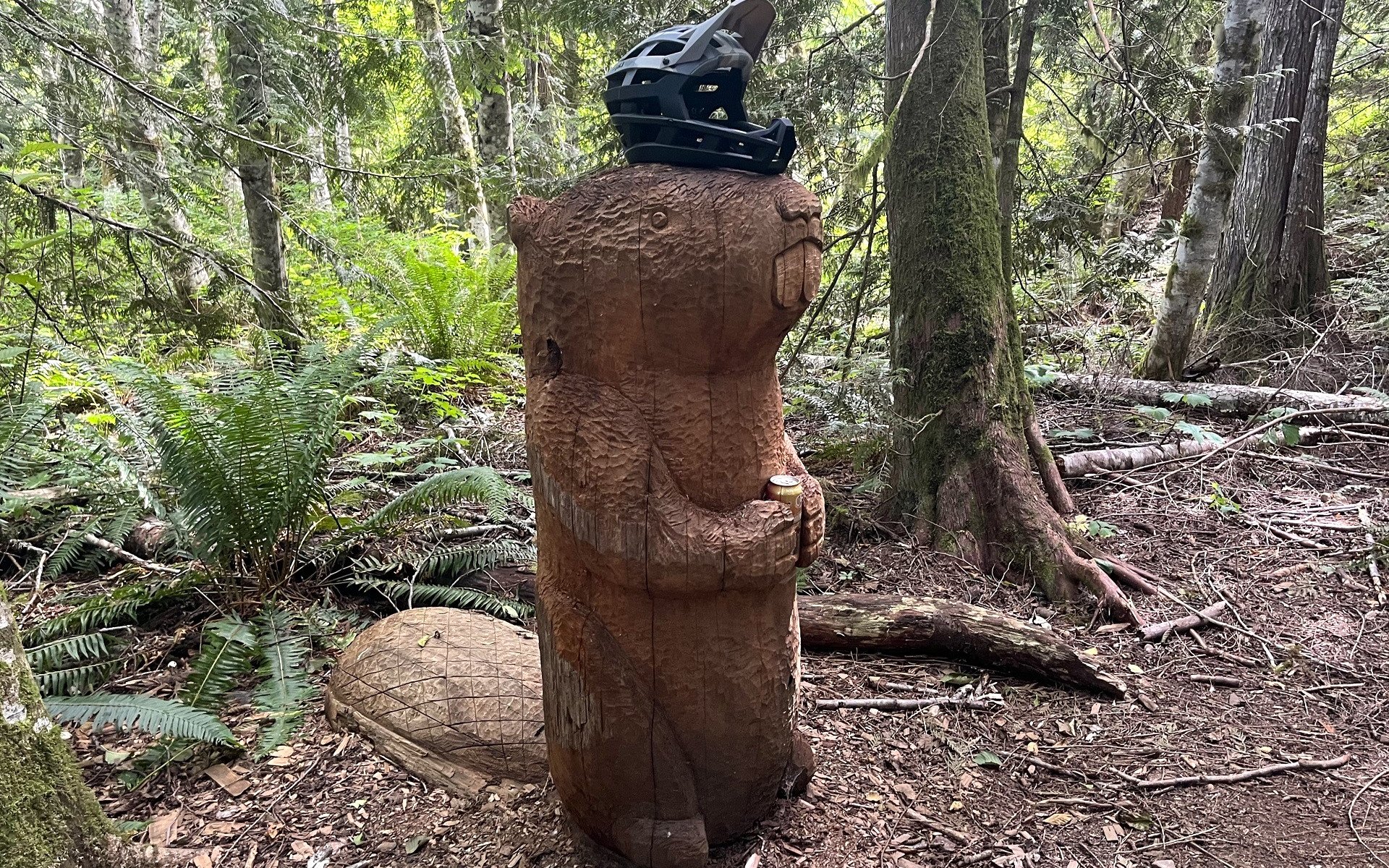 REVIEW | EDITORIAL
Andrew's 'Nothing New' Best Of 2022
Re-Sessioning
To finish off this lap around the sun, the crew at NSMB is doing a fresh take on our end-of-year content rather than ye olde formulaic Best Of Insert-Year series. Like rolling a steep ladder bridge with an obvious tire groove worn into it, I both take comfort in the classics and appreciate that many features have a best-before date. Still, as the resident plus-tire loving, rigid-fork riding, one-speeder I feel like I deserve a bit of license for my current take on retro content.
I'm also hungry for a bit of closure. 2022 has been a bit of a f*ck-off year for me and riding. I'm happy to be writing about it in the past tense. In the first month, I ruptured my right Achilles. This kept me off my bike for months, with a return to light trail riding around the start of July. In the last month, I was hit from behind by a car while pedaling home from work. I was very lucky to walk away with nothing but aches and bruises I'm not certain how much longer that will keep me from being able to comfortably ride off-road. Stack that with growing anxiety about the economy in general, the state of the bike industry more specifically, and an unshakable malaise and fatigue that comes from not riding enough, and I just want to write something focused on positive things.
I've done quite a bit of upcycling this year. My old weatherproof vest died, so my 7Mesh Guardian became my new weatherproof vest. My first Waltworks, V1, received a custom rack by Em at WZRD Bikes and all the necessary braze-ons to run that and a full fender set, plus chainstay cable guides and a fresh hanger so I can run a rear derailleur - with a 6-speed 11-25t stack. As I type this, I just finished airing up some 40c Schwalbe G-One tires on a pair of Velocity USA Quill rims that I laced to some hubs that have been built 3x each. Now I can compete with Cooper 'Shore-Country' Quinn to see who can create the best '80s mountain bike content for NSMB.
My most exciting fact from 2022 is that I received even more correspondence about rigid bikes this year than when I included it in my Best Of 2021. I can't say if more folks are simply bored with the current state of full-suspension mountain bikes, where the year-to-year improvements no longer match the marketing hype, or are looking to counter the battery-powered crush of BroPed adoption, or are thinking of ways to have a great time on a bike in the forest for less money. I really don't care. I love riding rigid bikes, and talking about rigid bikes, and it's been delightful communicating with so many others who are in the same boat. I'm looking forward to more of the same in 2023.
The BikeYoke Philosophy
There was a lot of talk about mountain biking versus the environment in 2022. Carbon, aluminum, steel. On-shoring production, and product cycles. With warehouses teaming with bikes that dealers are picking up for huge discounts I expect the prices for used bicycles are going to collapse and with a keen eye, yours or a more experienced friend's, that means better rides for less money for the patient and discerning second-hand buyer.
On that note, I want to give a little chapeau to the folks at BikeYoke who I think are doing as much as any aftermarket outfit to keep older bikes on the trail. Now, I love their Sagma saddle, and I enjoy working on and riding their dropper posts but replaceable saddle rails and fully rebuildable posts aren't my focus here, but rather a couple of BikeYoke products that I'll personally never use, the namesake BikeYokes and the ModeFixxer.
They make excellent dropper posts, saddles, and even have a grip line now, but I think it's fair to say that BikeYoke's true specialty as a company is taking toys - bicycles adults ride in the forest - and uncoupling them from the proprietary nonsense, and assured obsolescence imbued in them by their manufacturers.
First up the Yokes. This extensive, but easily sorted, line of replacement linkage updates Specialized full suspension models from 2010 through 2019. These yokes make it possible to run a standard-sized, double-eyelet shock instead of their direct-mount yoke system. The addition of a DU bushing held vertically allows the shock to rotate relative to the linkage to manage side loading, making it easier on your suspension components. They range in cost with the older generation Yokes running 106 EUR (155 CAD) and newer Yokes, like the eMTB models, available for 140 EUR (205 CAD).
Yes, it's also necessary to buy a shock; however, in many cases comparing the cost to upgrade an excellent bike like a 2017 Stumpjumper is going to represent a significant value over a new bike. This is especially true for a rider - first owner or second hand - with one of the highest-end S-Works models. With suspension manufacturers wrapping up support for shocks that direct-mount to Specialized yokes, the BikeYoke is potentially keeping some very nice mountain bicycles out of premature graves.
In the same vein, BikeYoke makes the ModeFixxer which replaces the proprietary Shapeshifter unit on Canyon Strive frames with a manually adjustable fixed setup. The Strive owner can save weight, ditch the extra remote, and achieve trail-zen by ridding themselves of the failure-prone, creak-prone, system. Perhaps the best part is that the most expensive Pro model ModeFixxer, at 90 EUR (130 CAD) costs you somewhere around the same amount as having Fox Racing Shox do the annual service on the Shapeshifter.
Cumberland
Through hard work and willpower, about a billion volunteer hours, and substantial support from local communities, the United Riders Of Cumberland (UROC) have created a mountain bike destination at the same time that local businesses have brought excellent food - the beer, the pizza, the tacos, the cronuts, oh my! - and an awesome après vibe. It's been one of my favourite places to visit for ages and that's triply so now that I have a grom who loves to mountain bike.
Cumberland has something for everyone but what it delivers better than anywhere I've ridden is a large selection of Blue-level trails of various styles. From slower technical riding to fast and flowy downhill pump tracks and a climbing trail that has a kid-friendly grade all the way up my kid feels like a super-star compared to cutting her teeth here on the North Shore. And the difference in kilometers covered per hour is epic.
I'm planning only one expensive bicycle-related purchase this year and it's a third-annual family trip. There are many accommodation options with camping, the Riding Fool Hostel, and the excellent Cumberland Guest House all within an easy pedal of the trails. Both outfits have poured time and treasure into the local trails so paying their fee supports a local business and the trails you'll be riding.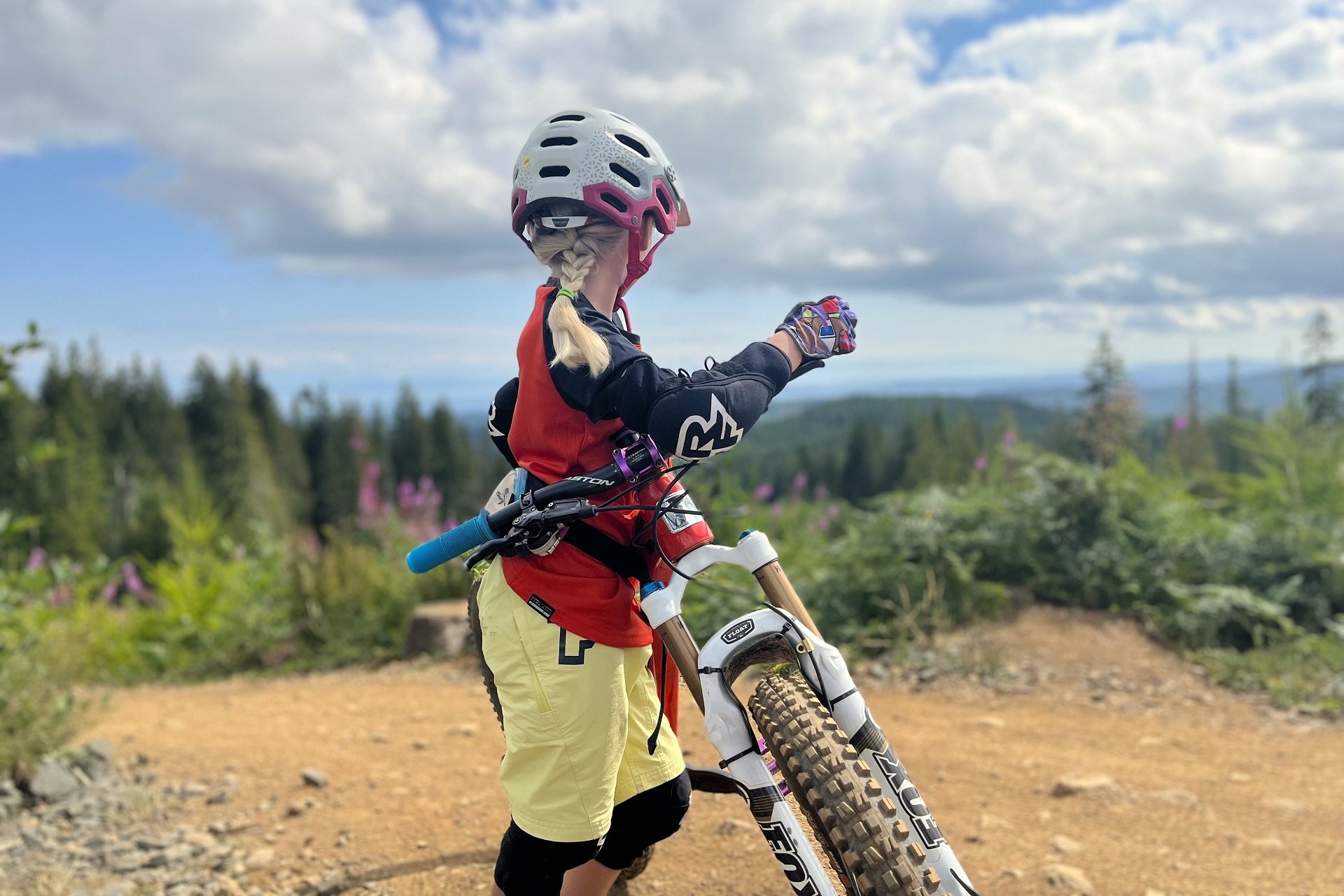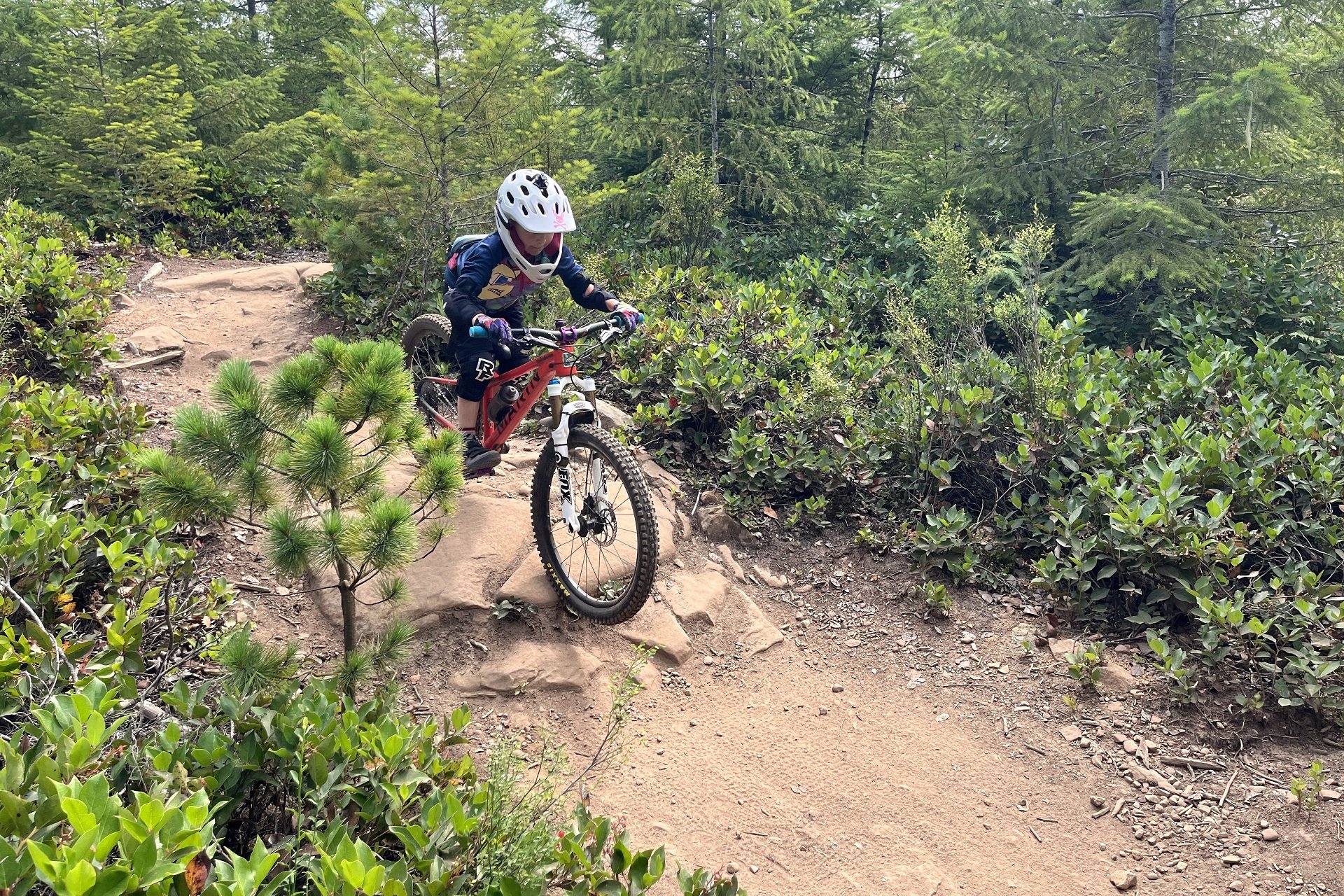 OneUp EDC Lite
OneUp's EDC Lite tool is well protected from rain and sweat, and the plastic carrier is under low enough tension as a headset preloader, that the one-time purchase could last you forever. It also means always having a tool, and that can quickly make a one-time 55 CAD purchase priceless. Swapping it from one bike to another is an easy job and contrary to what seems to be a common thought, it's not necessary to install a new star-nut in your old setup, just spend a couple of bucks for an M6x85mm socket head bolt. For the record, that's the same size as the one that comes with the EDC Lite tool, but you'll need it to set the star nut depth on your new fork, and the one after that. Take said bolt, run it through the stock headset cap that came with your rig, tighten it down, and your old bike is ready for sale and you're not out of pocket for a fresh tool.
Carrying tools is important to the self-sufficient culture of mountain biking and as someone who sports a Wolf Tooth 6-Bit and a Leatherman most places I go, I believe it's also important for life in general. There are cheaper hex-key blocks, and there are multi-tools with significantly more functionality, but for most folks the EDC Lite is going deliver everything they need on the trail. Even if, for example in the case of my kid, a rider isn't certain how to fix something, asking for help when you're prepared with your own tool shows a degree of personal responsibility.
For more details, I put together a review in 2020 or you can hit OneUp's website. They're also sold at every bike shop everywhere.
Showers Pass Little Crossover Jacket
The product I've previously reviewed which I recommend most often is a jacket, and it's not even mine. It's a 2.5-layer weatherproof-breathable jacket with plenty of reflective piping that sells for 73 USD / 97 CAD. The jacket in question is the Little Crossover by Showers Pass and I've written a bunch more about it previously on NSMB. It's the best kid's jacket I've come across and the value per dollar is impressively high. They're currently only available in XS and XL, and they're on sale, but my fingers are crossed that there are more on the way because my grom is about to outgrow hers.
After being worn to school every rainy day for over a year and a half, many a crash mountain biking, and more washes than I can count, it's still in good enough shape to hand down to the Clairebarian's cousins and that's impressive as well.
Min-Max Your Mountain Bike
My favourite feature of the year, which contained anything but new bikes, is Min-Max Your Mountain Bike. The momentum of submissions has quieted significantly from when the series first launched, but we do have a couple of interesting rigs coming up. If you have a bike you'd like to submit that's 2 to 10 years old or more, please feel encouraged to hit me up.
I won't revisit all the neat rigs we've seen though I have included some photos to showcase the best aspect of the series which is seeing all the different places that NSMB readers ride their bikes whether it's Italy, Australia, or the center of the universe. The oldest rig we've showcased is Claire's well-maintained 2009 Kona Stinky 6 and the newest (I think) is a pending hit on a previous-generation aluminum Guerilla Gravity Smash. Whether it has been a mint V3 Nomad or a DW-Turner with extra holes drilled in it, all these older bikes are beautiful in their own earned way. In some cases the head tube angles are steep, even with a Works or Wolf Tooth angleset installed. And, yes, some of those Reach numbers are short-short-short.
There's still something glorious about any mountain bike that's survived new-bike-lust either to carry on upgraded with its original purchaser or thriving in the arms of its second or third owner. That's true if it's nearing a decade of hard use, or a more recent rig that's seen strategic upgrading.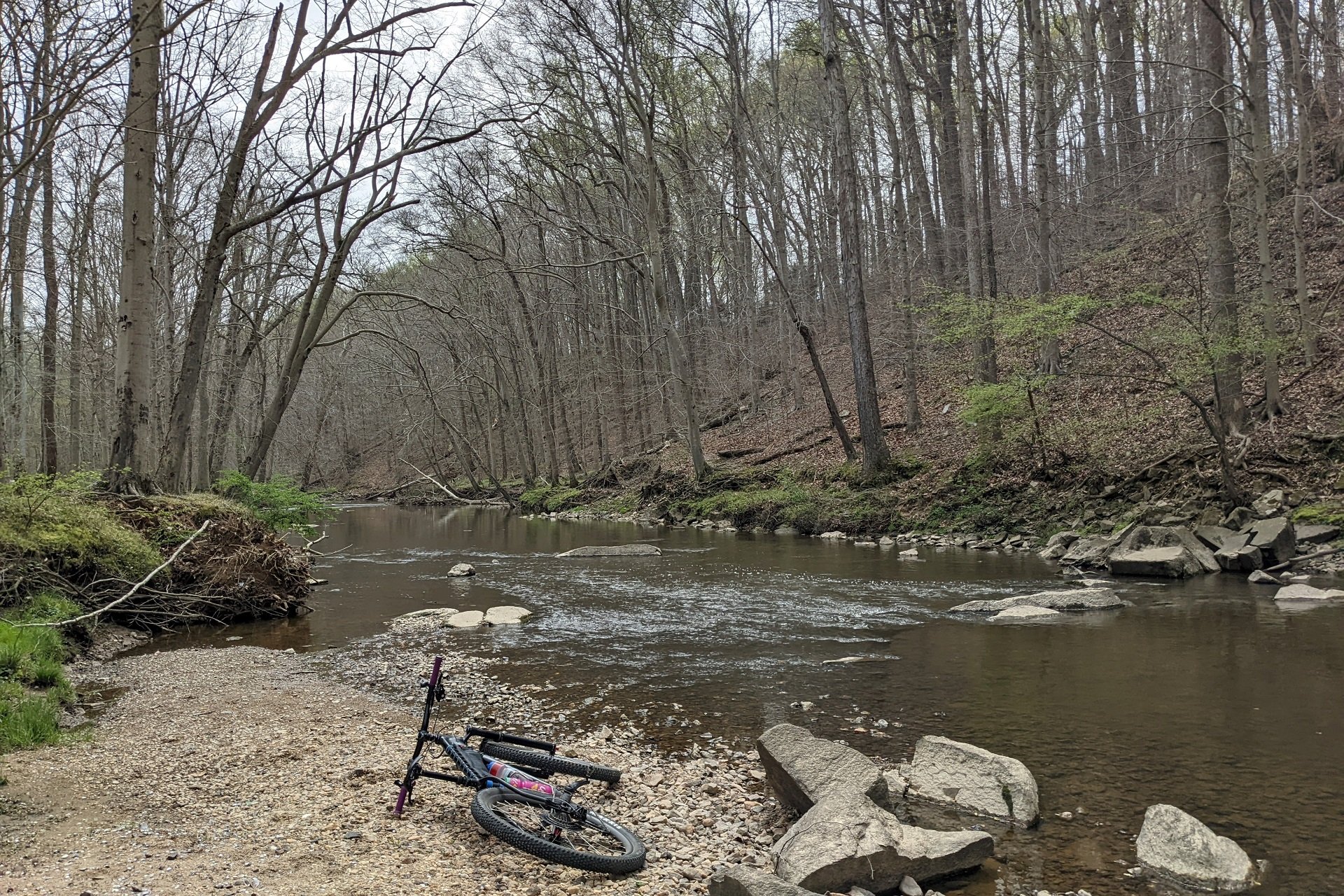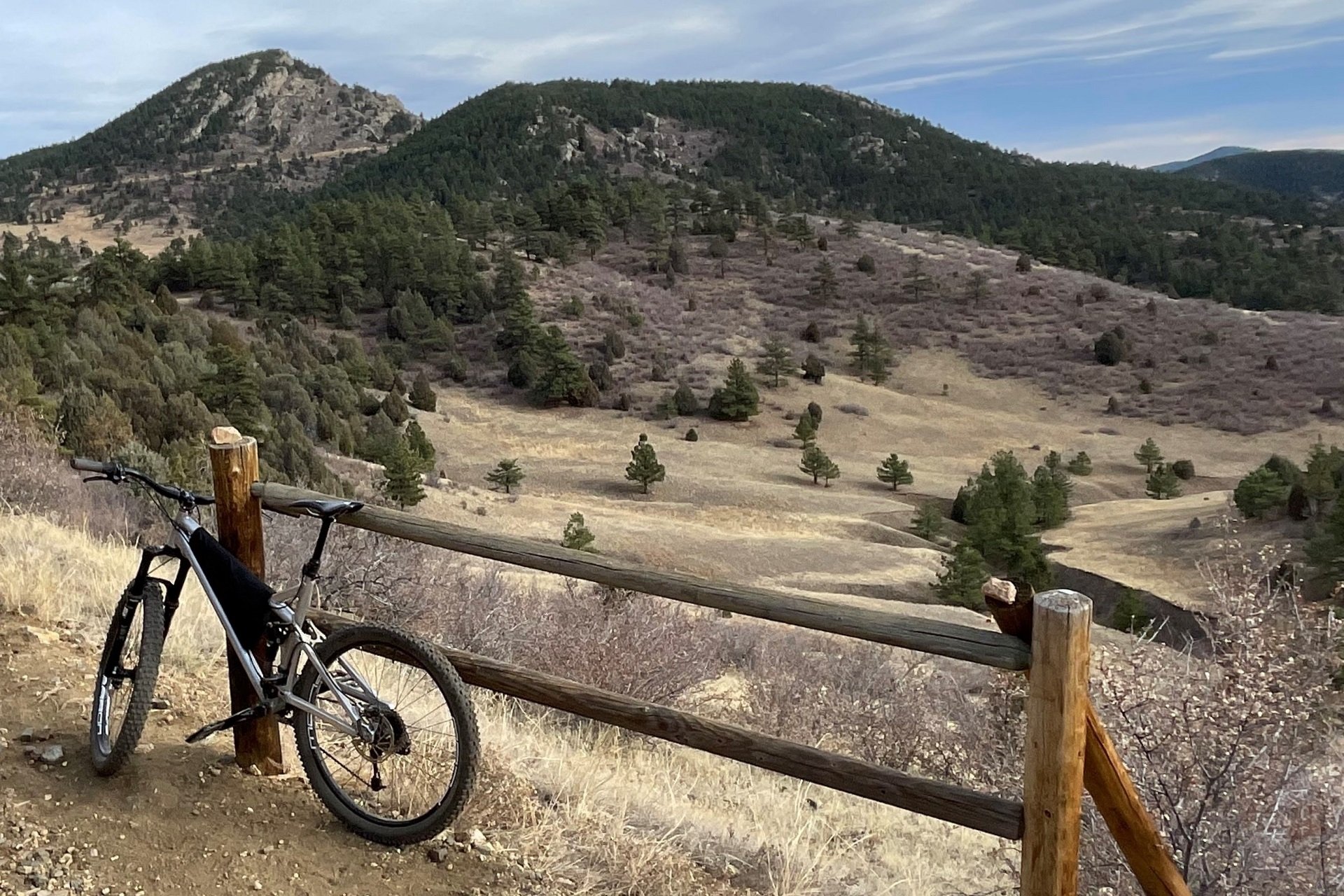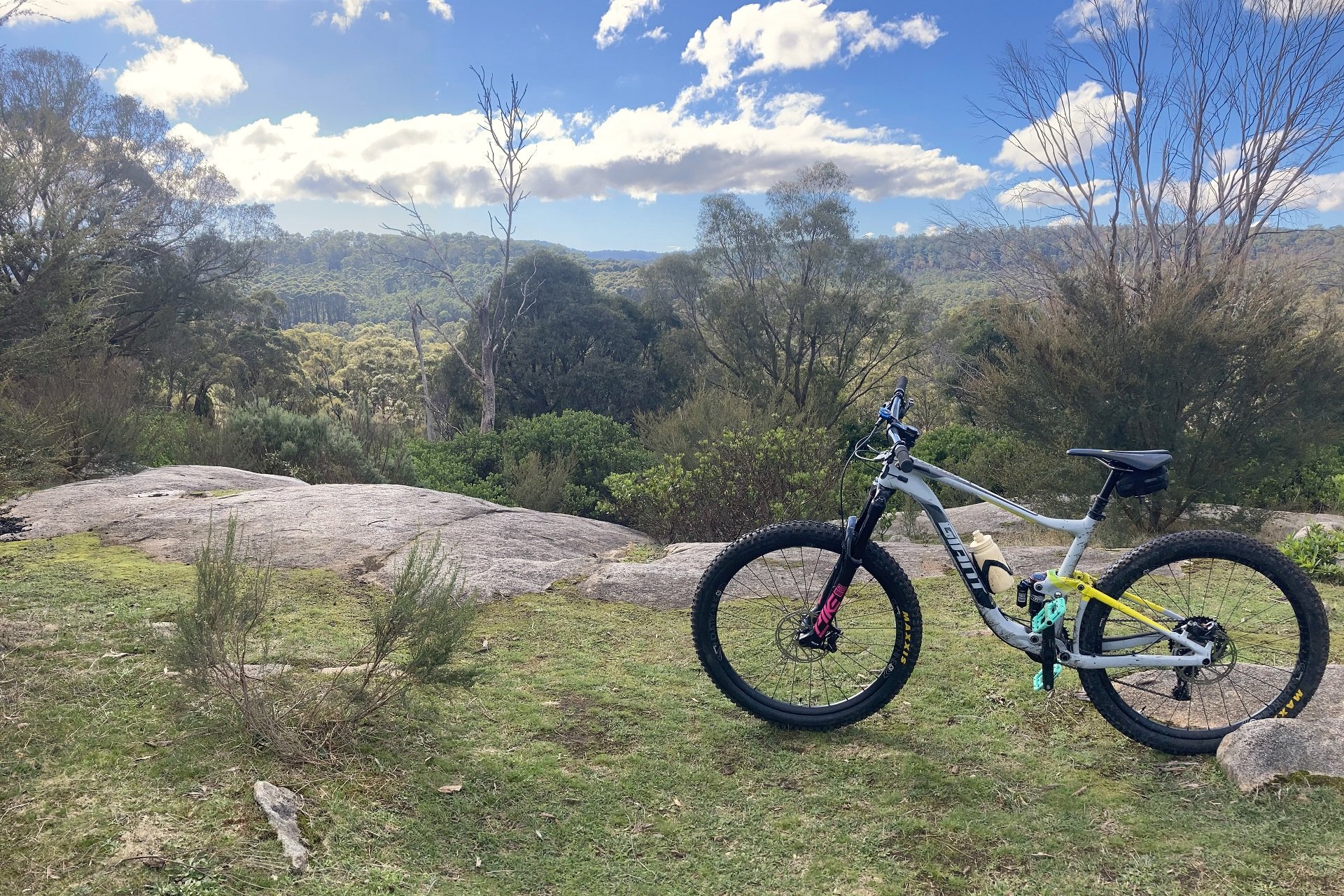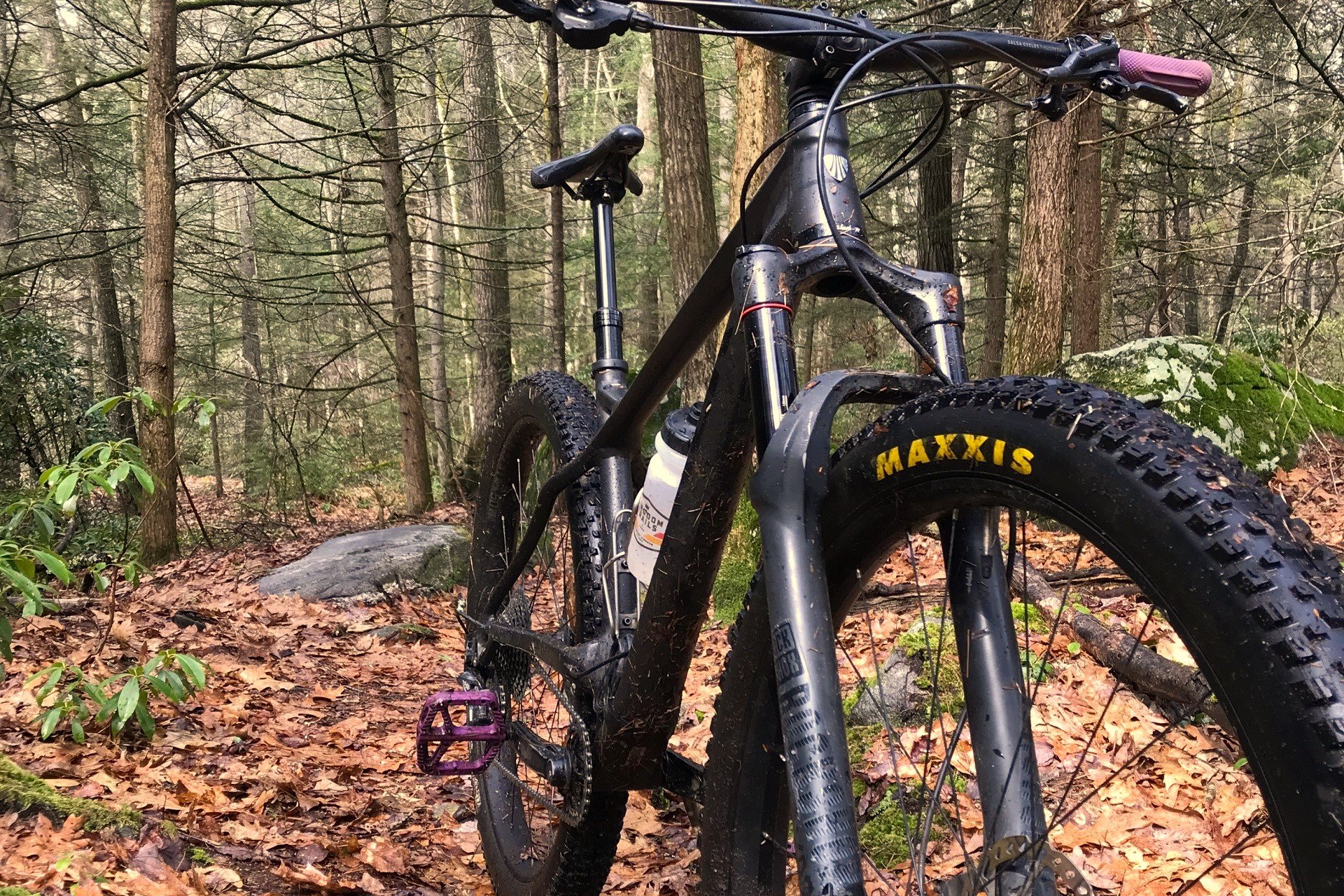 I know some of these rigs aren't truly min-maxed in the sense of maximizing something - performance, fun, uniqueness - for the minimum cost but as a general theme I think maintaining older rigs is min-maxing folks' ability to get out and love mountain biking. As the pace of evolution slows greatly with purely-people-powered rigs, it will become more common to see well-loved, decade-plus bikes being ridden hard in the woods. If you have an older bike that you're keeping and you'd be interested in sharing the story and some photos then please check out Min-Max Your Mountain Bike and fire me an e-mail.
In the mean time, Happy New Year!