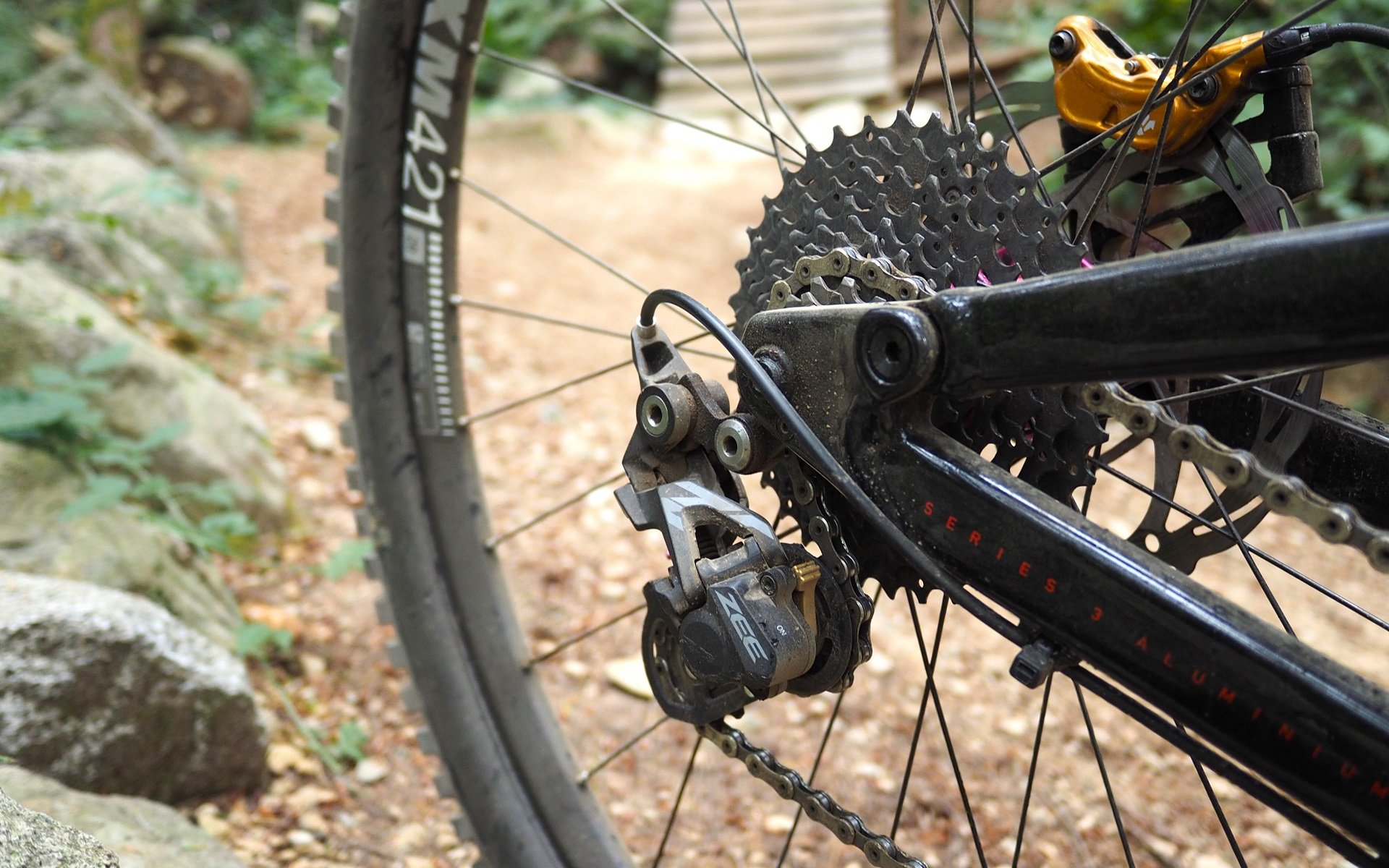 EDITORIAL
Andrew's Five Little Christmas Product Wishes
Little Wishes
Times are a bit tight in the bike industry this year, not to mention a lot of our households, so I thought I'd focus on some little products that would make me smile for a relatively small outlay of cash. The kicker is that some of these things don't currently exist, and others soon might not. But, they should and they'd all be well received by existing and future customers. The relatively small investment in making them would pay off in good will and I'm certain also financially. In the meantime, there's nothing less expensive to buy than stuff that doesn't currently exist or that I already own.
Kona Long Drops
Honzo, Unit, Explosif, Raijin, Shonky, A, Cowan, Five-O, BASS, Big Unit, Dr. Fine, Wo, Wozo, Humuhumunukunuku Apua'a, Private Jake, and so help me if I missed even one model of Kona between 2010 and today that uses their excellent sliding dropout system, then please let me know in the comments below. There have been thousands of bikes over more than a decade and the big news that way too many hardtail manufacturers are missing is, it's not all about single-speeding.
Take the Honzo ESD as an example. If you're one of those folks that love a super short rear end you can run it with 417mm chain stays, and your friend who prefers a longer rear center for some janky hardtail chunking can push them back to 433mm. You can run your fresh Unit X at 430mm and I'll push mine out to 446mm and press in a -2° Angleset. The Lego-factor is high! It's especially impressive when you consider that a Honzo ESD or Honzo ST frame-only is 700 CAD and a Unit frame & fork setup is 800 CAD.
What I'd like as a nice gift from Kona this year, is a set of long dropouts. A left and a right. For their standard 40 CAD per side, and 80 CAD per set, including fresh mounting hardware. I know, personally, at least a dozen riders who'd buy a pair if only to try them on their ESD, Honzo ST, Unit, or Explosif. I'm open to debate but I'd suggest making them 16mm longer than the current setup - so that short is the new long.
For example, instead of the ESD running from 417mm to 433mm, it would be adjustable from 433mm to 449mm. Folks with larger-sized frames would be able to find a better weight balance front and rear, and nerds who think they might like a longer setup could try it with their existing Kona for peanuts compared to buying a new frame. That's value-added for a pile of existing Kona owners not to mention that Kona won't be giving them away. Even if they sold them for 100 CAD a pair I'm certain they'd sell out a few hundred units just to folks working in shops.
Purple Wax Grips
For once I'm going to mention Chromag without using it as an opportunity to harass them to make a -16° backsweep FU50 bar. Oops. Anyway, I really like their Wax model push-on grips and I'd like a pair in purple. Or maybe hot pink. Maybe both. Wherever they're getting them made has those colour options so it's just a matter of adding a SKU, or two. They're doing a nice looking purple in their fancy fresh Format single-clamp grips but, meh. Anyway, it's not that I don't enjoy blue, rawhide, or any of the other colours that Wax grips are currently available in, but I'd be gifting myself some purple Wax grips if the option existed.
Wolf Tooth T-25/4mm Hex Bit
Carrying on with my theme of not beating a dead bottom bracket, not only am I going to leave Chromag alone about making a FU50-16°, I'm not going to pester Wolf Tooth about finally making a smaller version of their CAMO BashSpider to cover a 28t oval / 30t round ring with improved ground clearance and appearance for those of us pedaling smaller chainrings. See, I know when to give things a rest. Instead, this year, I'm going to ask the friendly Minnesotans to make bits for their various tool systems that are a combination of a T-25 Torx and a 4mm hex head.
Currently the 4mm hex head shares the same shaft as a 2mm hex and the T-25 is mated to a T-10. This is not a big deal with an EnCase or 8-Bit Pack Plier setup, but it drives me up the wall when I'm using their Axle Handle multi-tool. The tool itself is a stepped head 5mm/6mm hex with just enough leverage for tightening or loosening axles or my stem and from there holds two other bits. The 2.5mm/3mm hex would be a given along with said T-25/4mm bit but instead, I'm juggling to choose two out of three. I usually leave the 2.5mm/3mm at home and dig out one of the more endowed tools when micro-adjustments are needed. I use the Axle Handle much more frequently than I go into my pack for other tools. I also wish that the 5mm hex was spring-loaded and could retract into the 6mm but I'm not greedy - I'd just like my little 4mm/T-25 bit.
I'd go as far as to say that if Wolf Tooth did add that T-25/4mm combo then they could ship the Axle Handle tool with two fewer bit options. Hard to imagine any purchasers are riding around with the screwdriver bits installed.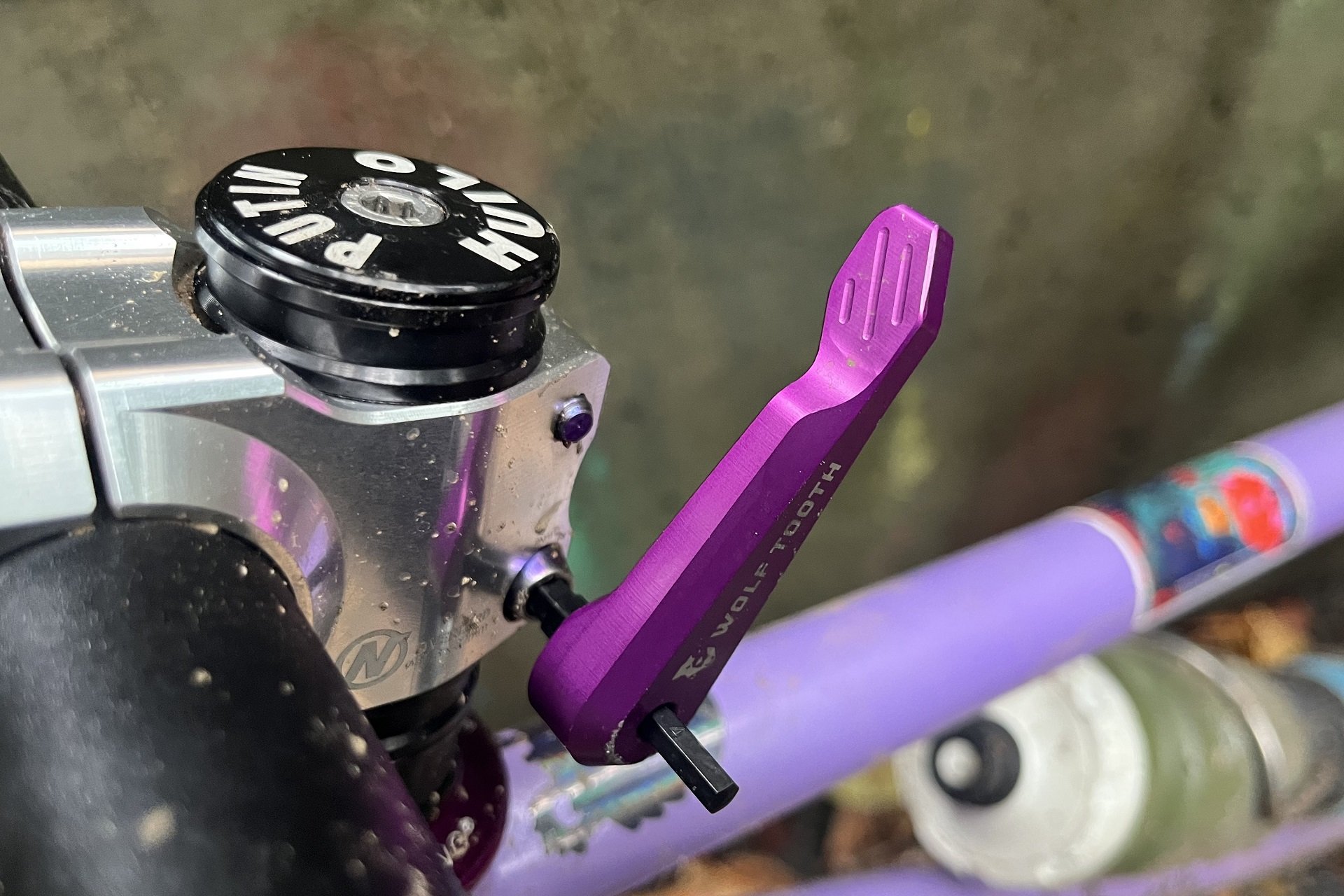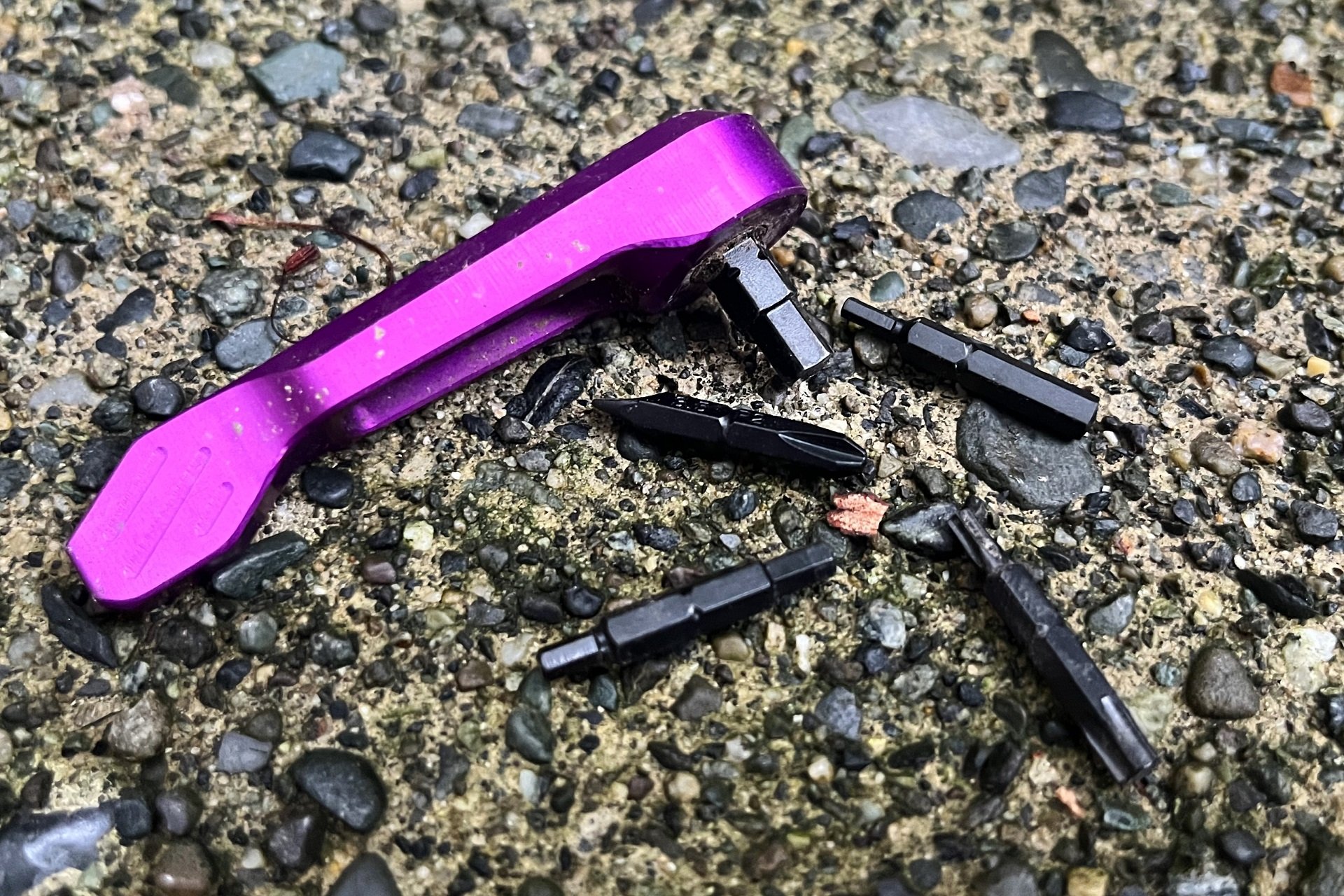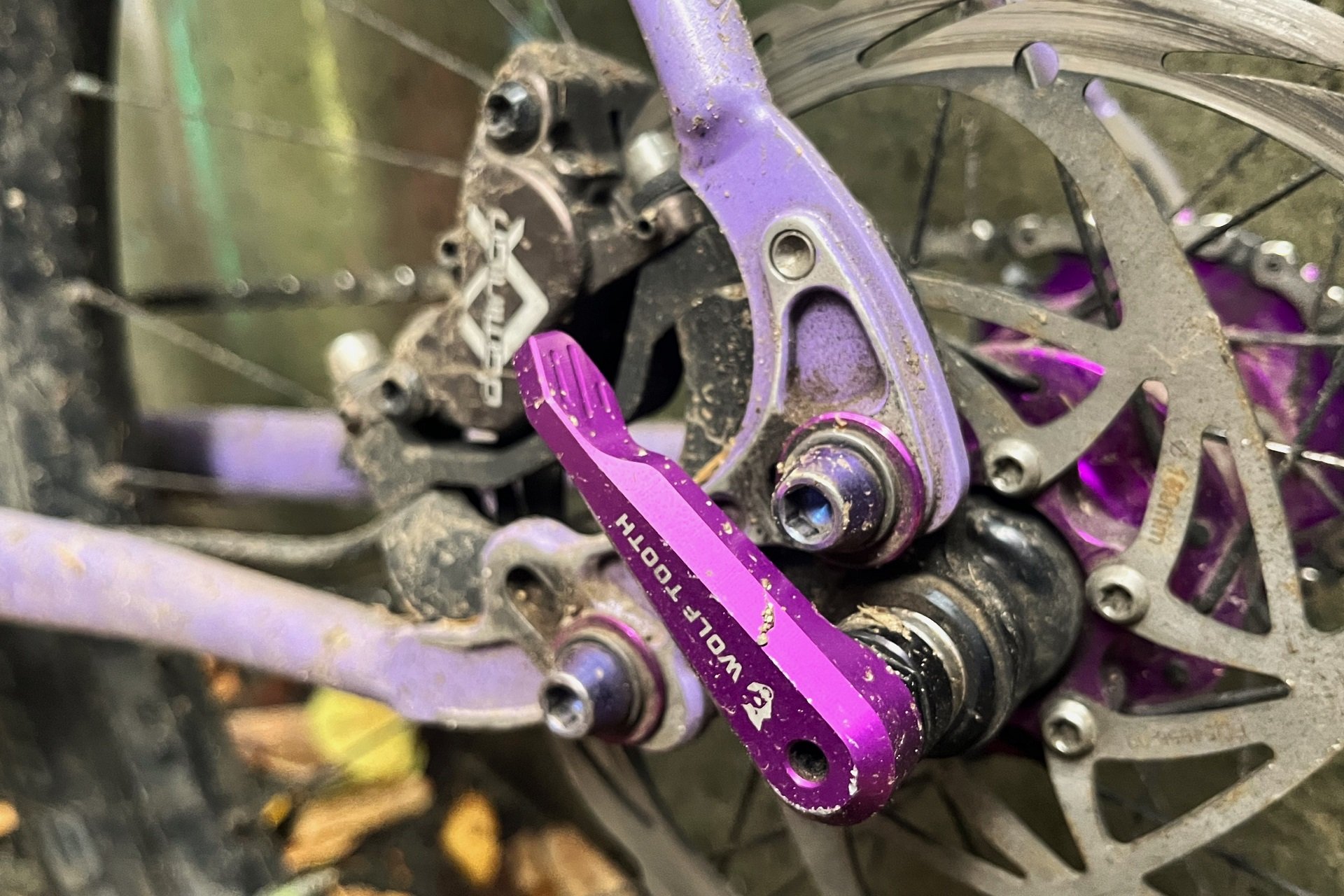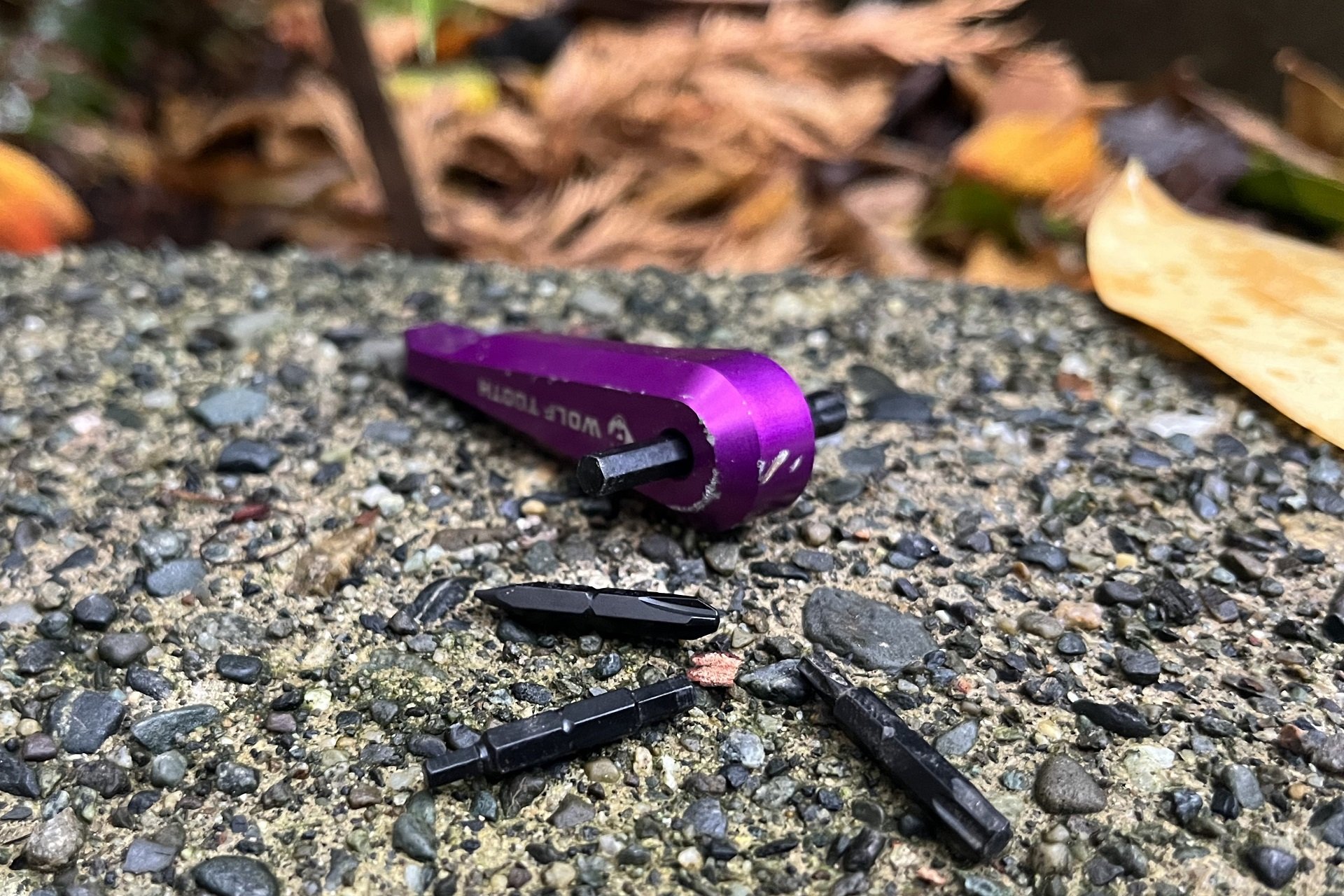 Zee M640 Forever
There's no better value for a rear derailleur than a 10/11-speed Shimano Zee M640 clutched setup. The clutches come lubricated, the cage durability is exponentially better than any level of Shimano's 12-speed components, you can reliably find a fresh one today for around 100 CAD and that hard-beaten gear-shifting beauty will still be changing gears a few sets of pulley wheels down the trail.
Pair the 11-36t version with a 26t chainring from NSB, a Shimano XT 10-speed cassette, a SRAM 1071 chain, and a Zee or Saint shifter, depending on your budget - all products that are available right now - and you're riding around on my dream drivetrain. Well, okay, I'd probably choose to run a thumb shifter, but I'm weird.
There are currently a lot of rumours circulating about where Shimano's headed on the drivetrain front. Stuff like no more updates to cable actuation options for XT and higher level products once their semi-wireless systems hit the market. I've also heard that clutched 1x shifting will finally be coming to lower-priced drivetrains than Deore which will spell some proper competition for MicroShift and hopefully put SRAM SX in the grave. Go, go Alivio 10-speed.
Shimano can and will do as they please but I'd love to see them continue manufacturing and return to marketing Zee 10-speed as the ultimate balance of performance, survivability, and price. People look at me like I have two heads when I suggest the above drivetrain for their rig, but I love it and would be more than happy just refreshing that combo from this point onward. The best chance of that happening is for folks to keep buying the setup. So hey, this holiday season here's a chance to do us both a favour.
Production Weatherproof Vests
This one isn't a little thing money-wise, but in terms of producing weatherproof vests, it's a jacket without arms. There are a plethora of companies making waterproof-breathable jackets that also make windproof vests and it makes me wiggle wondering why they're not putting the two together. I'm on my second chop job, having had the sleeves removed from my 7Mesh Guardian after my GoreTex vest-née -jacket crapped out but it suffers from the same issues as its predecessor. Namely that I used the crap out of it as a jacket and it's only been converted over when it was nearing its end of life anyway.
I have a hang-up about buying a new jacket and then chopping the sleeves off from day dot. It's just that it's bloody expensive to get one that suits my sweatiness. I also feel like a vest that's meant to be a vest would be cut a bit differently than my jacket sans sleeves. All the same, for my next project, I'm going to try it as a half-sleeve for a bit first but ultimately I imagine I'll end up with weatherproof vest #3. For now, my Guardian vest has some life left but soon enough I'm going to have to start storing my jacket far enough away from my scissors to allow for a semi-sober second thought before I start in with the snip-snip. After all, the sleeves on my current Skypilot are just a little bit too long.
If you forced me to guess which one of these little wishes is most likely to come true, it's probably the weatherproof vests. If someone, say 7Mesh, decides to make one and it's an item that interests you, then jump on it right away because I doubt it will survive in the catalogue long term. For whatever reason, the majority of folks I talk to about the idea of a waterproof breathable outer layer without sleeves look at me like I'm the village idiot. But if you're a sweaty person that runs hot, living in our little neck of the rainforest I can almost (almost) promise you that it will be your go-to piece for all but the wettest of weather.
Beyond that, I really hope I can buy a new Zee rear derailleur when mine finally quits. I'd love for Shimano to take some inspiration from their past shifting setups because 12-speed (any groupset) and MicroSpline don't do justice to the best of their previous products. Every time I shift the old 9-Speed XTR M972 rear derailleur and M970 shifter on my commuter bike, I'm reminded of this fact in spite of the latest XTR's eye-watering price tag.
With that, there are just the questions left. What's your dream product that's absence is keeping a few dollars in your pocket? What beloved product, drivetrain or otherwise, are you concerned is headed for extinction?