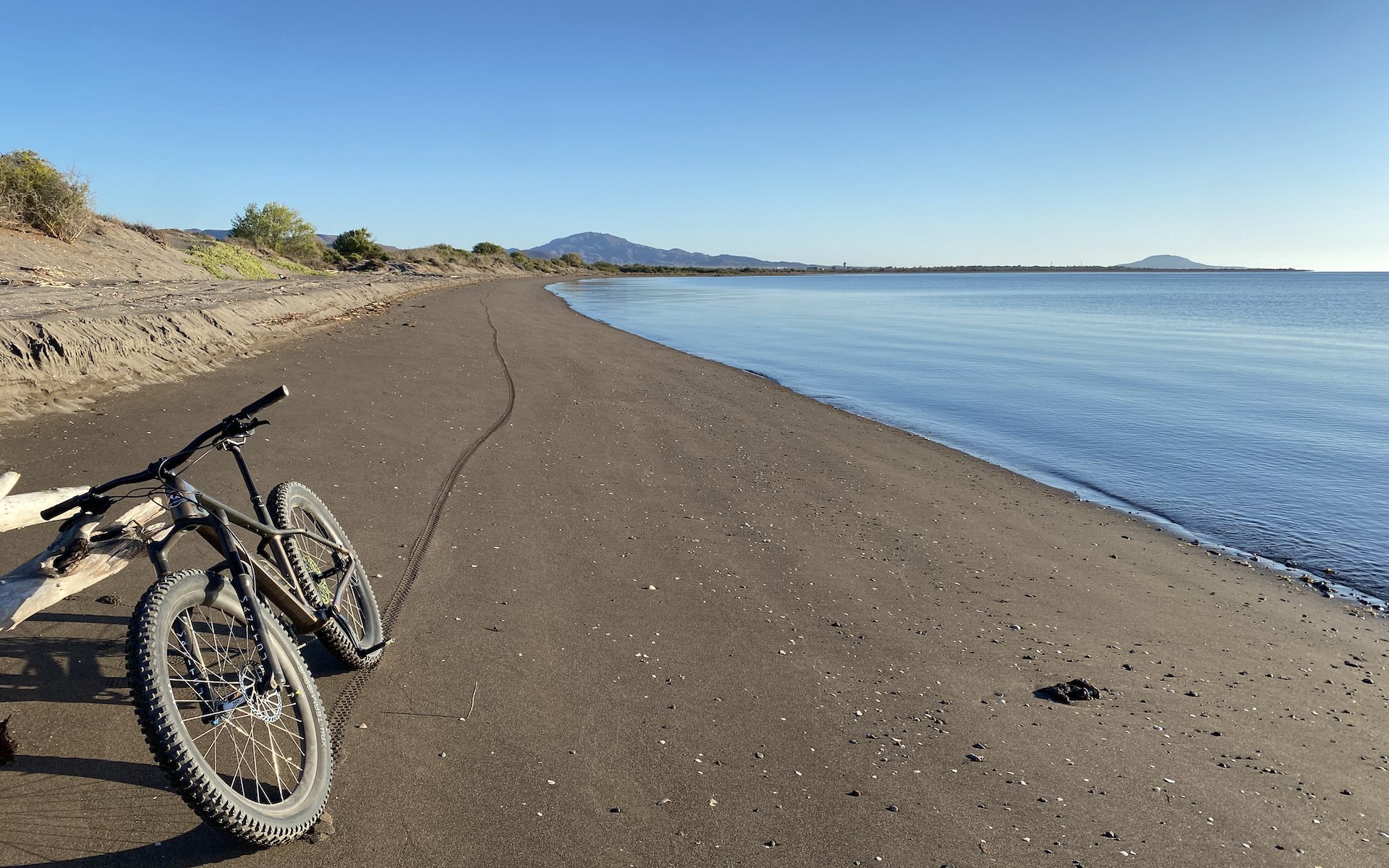 Bike Review
An Ongoing Fatastrophe
August in Loreto is a shitty time and place to test bikes. Let's get that out in the open and try to let it breathe. Daytime temperatures meandering close to 100 degrees, the nocturnal "cooling" seeing lows of maybe 87, with humidity steadily hovering around 70% for the entire month. Stepping outside is like being wrapped in hot wet towels beneath a baking sun. The air is so thick with humidity that it has an almost soupy quality; inhalation feels sluggish with liquid, precious air molecules being replaced with the miasmic stew of this almost visible atmosphere. The jagged teeth of the nearby Sierra De La Giganta range are blurry and indistinct in the shimmering haze, and the salty bathtub warm water of the Gulf of California offers the only respite from the oppressive blanket of heat smothering the landscape.
If it was just a few days of this, the weather might be an enjoyable phenomenon. But it goes all month, then stretches into September, until even the most well-adapted souls are wandering around in a stunned torpor, shrinking into cool dark spaces where air conditioners hum and the concrete walls sweat with condensation.
Remember that Fezzari Kings Peak I was wrestling with to bring down to Baja? Yeah, that one. Well, it turned into a Rocky Mountain Blizzard along the way. How? Why?
Well, there are a couple factors. One was logistical. At the same time that I requested the Fezzari to review, I was also bugging Andreas Hestler at Rocky Mountain for a Blizzard. He hemmed and hawed a bit about timing, and so I went ahead with the Fezzari. Then, a couple weeks into the Fezzari test cycle, the doorbell rang and there, completely unannounced, was a lonely looking Blizzard C50 shivering in the cold. It would have been an act of cruelty to turn the poor thing away.
The other was handling based. Stock, the Fezzari with its rigid fork and great big Cake Eater tires exhibited what I can only describe as an exaggerated "high-trail" steering behavior; it was incredibly stable, but also took a ton of effort to drop into turns and when it did there was almost a tiller effect where the bike would fight to stay straight. Switching to the lightweight 29x3 wheelset helped alleviate this for the most part. I also thought that throwing a Manitou Mastodon fork on there would have some effect; either further exaggerate or somewhat mitigate this behavior. Turns out that the fork didn't have much effect on this sensation. With the big fat heavy wheels, it was there. With the light wheels, it wasn't. Regardless of fork.
At the same time I had this Blizzard to compare behaviors. With IDENTICAL stock wheels to the Fezzari, the Blizzard displayed no discernible tiller/high trail traits. By contrast, it felt almost neutral in its steering feel.
I cannot explain why with any conviction. Side by side, on paper, the two bikes are similar in many ways, and where there are differences, I wouldn't have expected them to cause profoundly different behaviors. The Blizzard is a degree slacker in the head and seat angles than the Kings Peak; 66/74 vs 67/75. They both use rigid forks with a 51mm offset, so similar enough trail. The large Blizzard has 5mm more reach than the large Kings Peak - 475mm vs 470mm. Blizzard chainstays are 455mm, Kings Peak are 450. Both bikes have 65mm bb drop with the stock wheels. The Rocky is about 19mm longer between the axles, however, as a result of all those numbers colliding; sporting a prodigious 1227mm wheelbase. If anything, one would look at the geometries side by side and assume that the Rocky would be the more likely candidate to for battleship straightlining. But when ridden back to back, it is the more neutral and responsive of the two.
So anyway, I decided that even though the only time I really noticed this difference was when running the honking big fat heavy wheels at super low pressure and with the stock forks, and even though I wasn't going to be running those wheels and forks most of the time, I liked the way the Blizzard handled just that little bit more.
There's also the convenient snob factor to consider. At $3799USD, the C50 Blizzard retails for almost twice what the Fezzari was being pushed out the door on sale for. It has the same exact stock rims and tires as the Kings Peak, but once on the other side of that commonality, the rest of the Blizzard spec was a whole lot nicer: DT350 hubs, Shimano XT derr and shifter, SLX cassette, Shimano MT-4120 4 piston brakes, RaceFace Aeffect cranks (175mm, too. Suck on that, you short crank fashionistas!), and a pile of nice Rocky house brand bar/stem/seatpost/saddle bits capped off with Ergon grips. Does that make it worth twice as much? Unlikely. But it sure does shift nicer, and the brakes work (and even though I mighta previously implied that fatbikes don't really need brakes, they're still kinda nice to have). I like riding nice stuff.
Decision made, Mexican hostage exchange enacted, fancy parts swapped from one bike to the other (in this case that would be the Mastodon fork and the sweet Curiak/Derby/DT 29+ wheelset with the Garbaruk cassette) and the Rocky's life of exile in Baja began. This is kinda fitting, since Loreto is packed to the gills with Canadians. They are generally seasonal, however, and that particular northern herd gets mighty thin by August...
Which brings us back to the whole questionable validity of trying to say anything relevant about a bike's performance when "mountain biking" is generally curtailed to sunrise or sunset sessions looking for good spots to swim. Riding attire consists of a backpack with a few almost frozen beers, as little clothing as humanly possible, broad hats, flip flops. This is not the kind of clothing one chooses for getting rad.
Everything about riding changes in this climate. The trails are not very well developed around here to begin with, and this being hurricane season is when the vegetation gets suddenly watered and goes on streaky growing spurts. ALL vegetation is sharp down here, and it will make you bleed. And bleeding, when it is close to 100 degrees and so humid that you start sweating as soon as you step out the door, is comically profuse. Best to try and not bleed. Sure, I could load up the car and go hit the nicely established singletrack in La Ventana or Los Barriles, but that would require spending a few hours crossing a plateau where it's about 110 or more, in a borrowed Subaru of questionable reliability, and it'd be just as hot in La Ventana as it is here. Todos Santos, that may be a go. Might be cooler over on the Pacific coast, but still, the Subie doesn't dig the triple digit drives so much these days. And the AC doesn't work. And, well, damn, the sea feels good.
So, we ride in slow motion; pushing the pedals just barely hard enough to maintain forward momentum, milking out every gravity-offered low effort inch that any downslope gifts us, hoarding momentum like Ebenezer Scrooge holding onto his cash at Christmastime, praying for a breeze, low cadence, tall gear, never accelerating for any reason other than to crest sand drifts or outsprint packs of mangy dogs. And even then - with the dogs - only when absolutely, without a doubt, gotta go for it necessary.
This doesn't provide much context for how the bike really works. It's long and stable. Really long, really stable. The front pushes a bit in tight sandy turns, but I kinda suspect that EVERYTHING pushes the front in sandy turns. It doesn't wheelie very well, but it's so damn hot that nobody wheelies down here, not even the local fast kids, not this time of year. The more I ride those big chunky Bontrager tires the more I like them. I think the Plus size Cushcore liners are maybe a bit overkill but the sweet spot for arroyo bashing with this tire/insert/terrain scenario seems to be between 10 and 13psi, so maybe they are just right. And I love that Mastodon fork, even though I haven't hit anything hard enough to use more than half its 120mm of travel, except for that one time I had to j-hop up onto the Malecon to avoid a drunk gringo who was losing control of his golf cart and I ended up stuffing the front straight into a suitcase sized concrete foundation that I suspect exists solely to sucker punch people like me.
The cassette still seems to be shifting okay. I bet I could reduce the crank q-factor by about 20mm and that would be awesome, but I don't have the parts down here to do that just yet. There sure are a lot of places to bolt stuff onto the bike, but about all I am doing is strapping a Ballena of Pacifico into my King Manythings cage for the sunset swim sessions. I saw someone bikepacking down the highway yesterday. It looked really painful, but then it also looked like it might rain a couple kilometers down the road, and so long as they didn't get struck by lightning it would probably feel like magic riding in that rain.
So far, in such limited terms, the bike is great. It makes riding sandy, rocky jank a little easier, a little less sucky. It doesn't really make riding washboard dirt roads any better, but then I am coming to realize that nothing really does. There is no amount of suspension, or tire size, or air pressure change that makes washboards suck less (unless we could hypothetically roll something like 12' diameter wheels). The only thing that makes washboard suck less is speed. Lots of it. Like, somewhere faster than 50mph. But still, the Blizzard words pretty well at the rest of this Baja stuff, as much as I can tell at this point.
This may be the lamest bike review ever. I dig the bike. It is total overkill for cruising down to the beach. But then, it is way less overkill than the Polaris Rzr1000s getting pulled into duty to noisily transport pods of sun-addled gringos from the bar to the beach to the bar and then back to the giant stucco walled fortresses they rumbled out from. And there will come a time, soon, very soon, when the temperatures back down out of the kill zone, that this bike is going to rip some trails down here. And I think it's going to be pretty damn good at it.