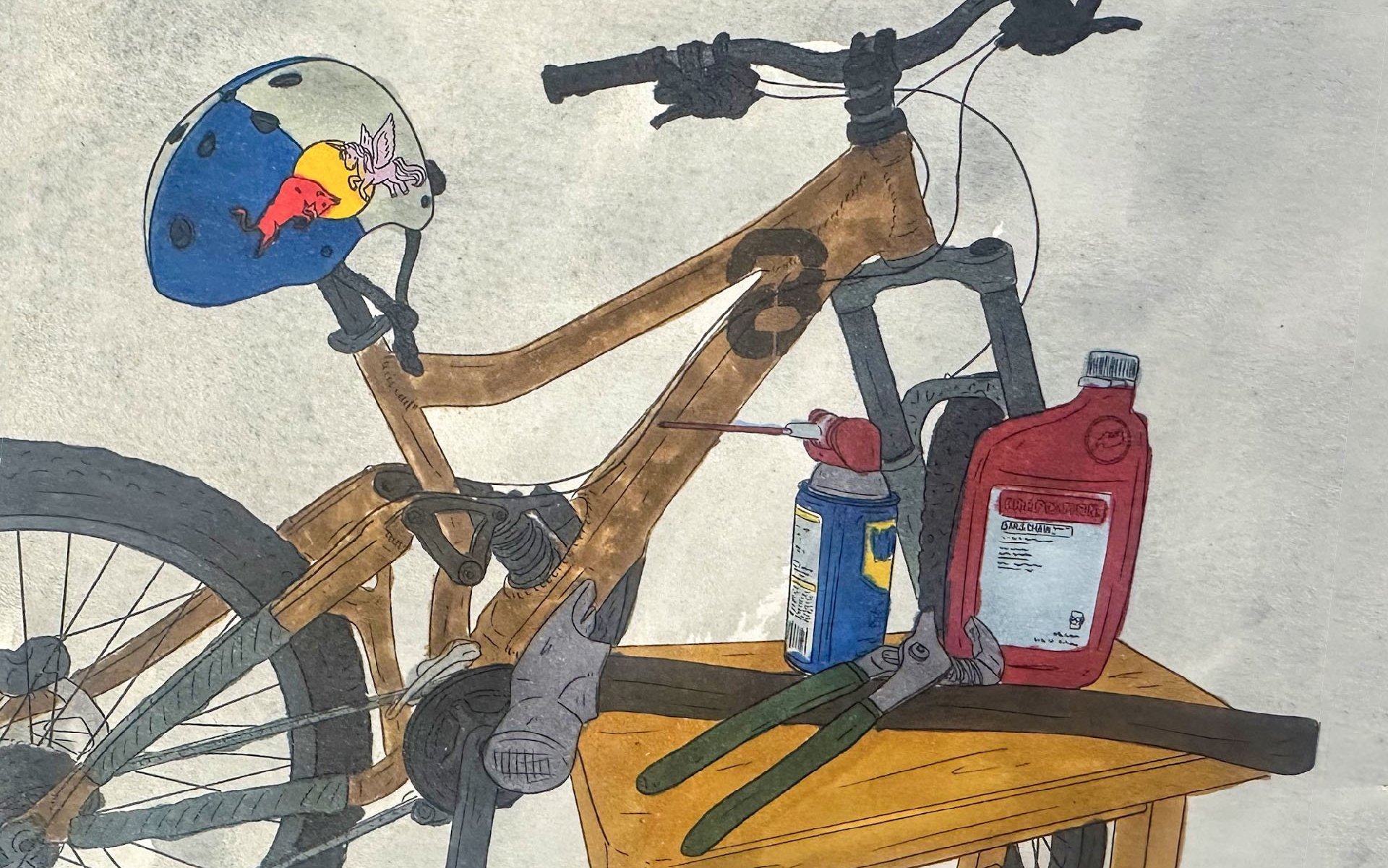 Paint Fast, Ride Slow
An Ode to Impracticality
I bought a brand new downhill bike the day before my local bike park opened for ski season. A friend immediately messaged me, saying I should have bought an e-bike instead. 
Apparently e-bikes climb really well; you can go up anything. My DH bike does not. I will be pushing it, a lot. Apparently e-bikes are great grocery getters. They allow you to eliminate cars from your day-to-day life. My DH bike will not. I will continue riding my drop bar bike to get around. Downhill bikes are basically dead. There's no point in buying one when you can just buy an enduro bike that's as capable as DH bikes from just a few years ago, but pedals to the top, and doesn't make you feel like a poser when you ride it with a half shell.
E-bikes are really cool and DH bikes are passé. I am not really cool. I'm an illustrator in a world of AI images. I think this DH bike and I will get along just fine.
I try to be pretty rational about my bike choices. I do my research, consume plenty of reviews, read between the lines of geometry and kinematics charts, and try to figure out how market trends are going to affect my resale value. But I've come to understand that, for me at least, new bike day is driven as much by the ideal self that my ego imagines, as it is by any logical thought.
Not to project, but it sure seems like that holds true for a lot of other riders. "Downcountry" bikes are in part popular because they let our legs feel as strong as we imagine them. Gravel bikes help us capture that feeling of anything-sorta-goes adventure. Enduro bikes make us feel better at both climbing and descending than we used to be. E-bikes give us the range, climbing ability, and endurance we think we should have.
But I bought a DH bike. Because the "me" I most relate to on a mountain bike, the perception of myself that gets me most excited is the 15-year-old kid who moved quickly from his first hardtail mountain bike to a 2008 Giant Glory 0. Some riders' good old days involved a lot of pedaling, big vistas, lap after lap of climbs and descents. Mine involved a skinny teen walking a 45-pound DH bike back up for another hit on sketchy jumps on Moscow Mountain.
The Glory had 200mm in the rear. 180mm up front, with the travel adjust knob all the way out (mine had a tendency to rotate in as I rode, so I wrapped it with tape to keep the Bomber 66 at full travel). Kenda Nevegal and Blue Groove tires, narrow bars, front derailleur that didn't work, rear derailleur that sorta worked. Code brakes that were most effective as a turkey call. Big old hole in the downtube that the shock stuck through. 
I bought it from a sketchy guy who claimed Shawn White gave it to him (I still worry that it was stolen). I did not own a shock pump, never swapped the spring, never tuned anything. I blew the shock in practice before the Moscow Arms Race. I got bucked by its uncontrolled rebound in the primary heckling area, rode a nose wheelie for an improbable distance, and ran into a tree.
The closest to maintenance I got was occasionally WD-40ing all the moving parts and then wiping them down with chainsaw bar and chain oil.
That bike and I went through a lot of firsts together. First double, first real drop, first real jump line, first day at a bike park, first rock roll, first bike race, first concussion, first quasi-legal trail building, first sick homemade edit.
Home painted Red Bull helmet, but with sparkly unicorns instead of bulls, Carhartt pants, flannel shirt, old basketball shoes stuck to white pedals with the paint flaking off. I never pedaled it, and didn't really shuttle much either. Instead I'd hike straight back up the DH trails, sessioning jumps and roots. 
I sold it in 2013. Lord, I miss that bike.
My peers are buying e-bikes now. They seem to like them. My last two bikes have been enduro bikes that I've tried to convince myself were basically pedalable DH bikes. And they were fine, more than fine. But man, I love looking down at a direct mount stem, shifting through a tight-range road cassette, launching into the unknown, trusting my travel more than my ability. So when I had the disposable income and the itch for New Bike Day, I bought a DH bike. It's made out of metal. It doesn't have very much paint on it. It has more travel than I know what to do with. I love it.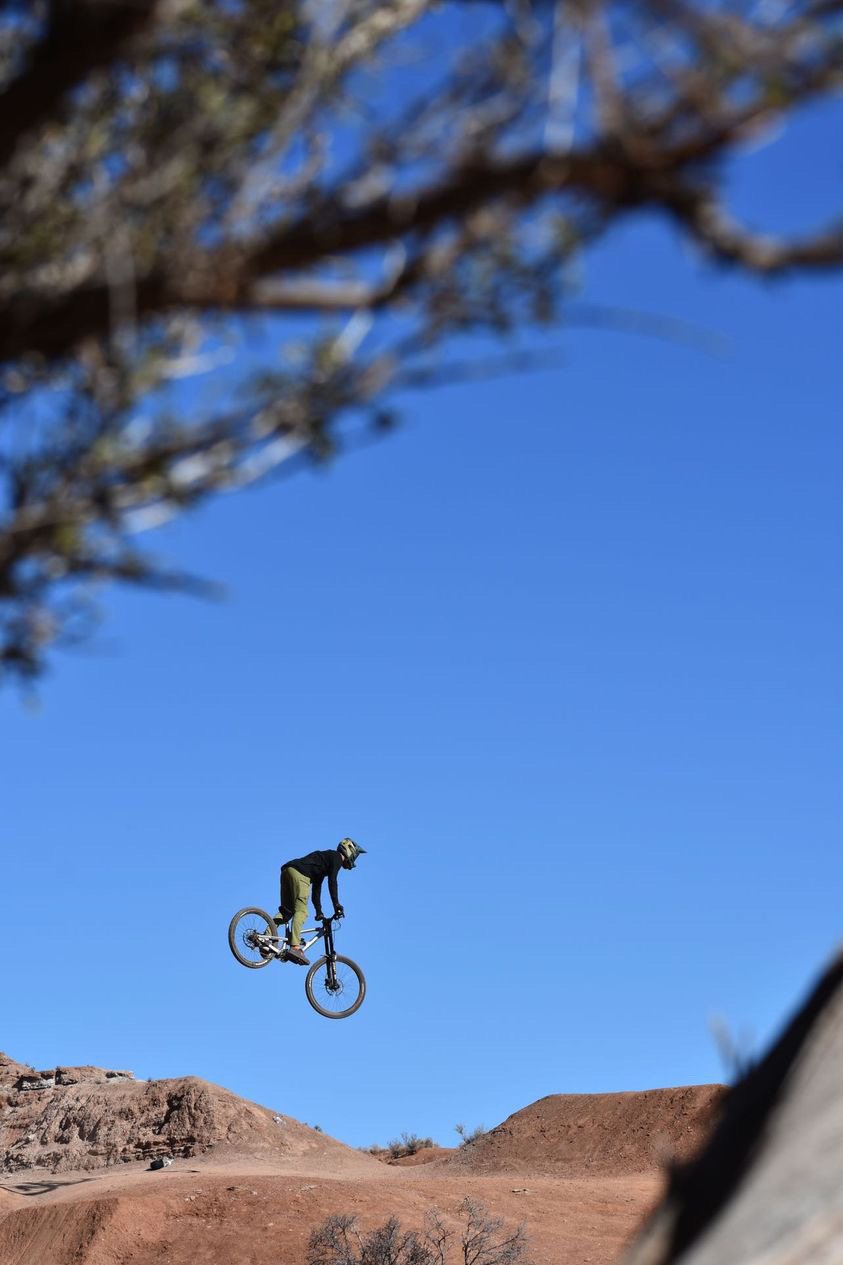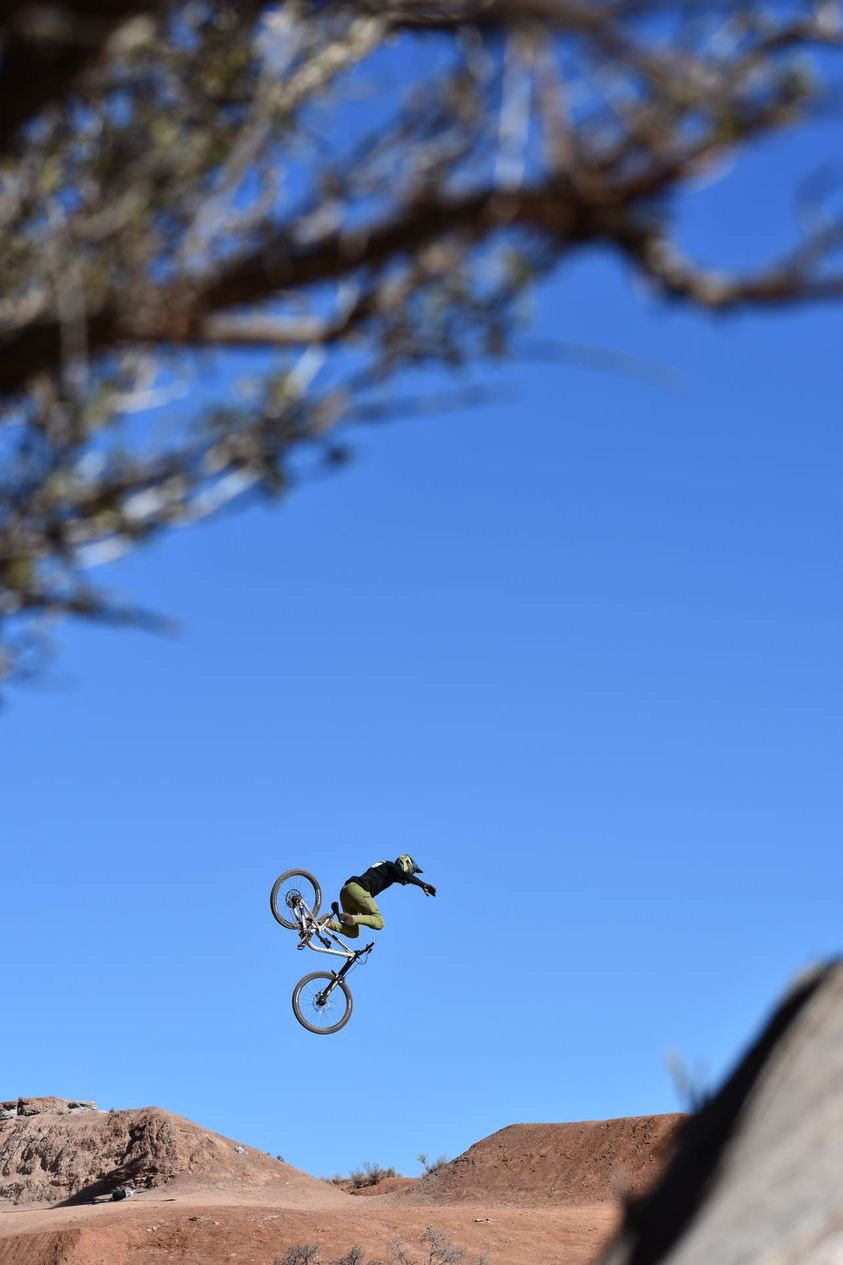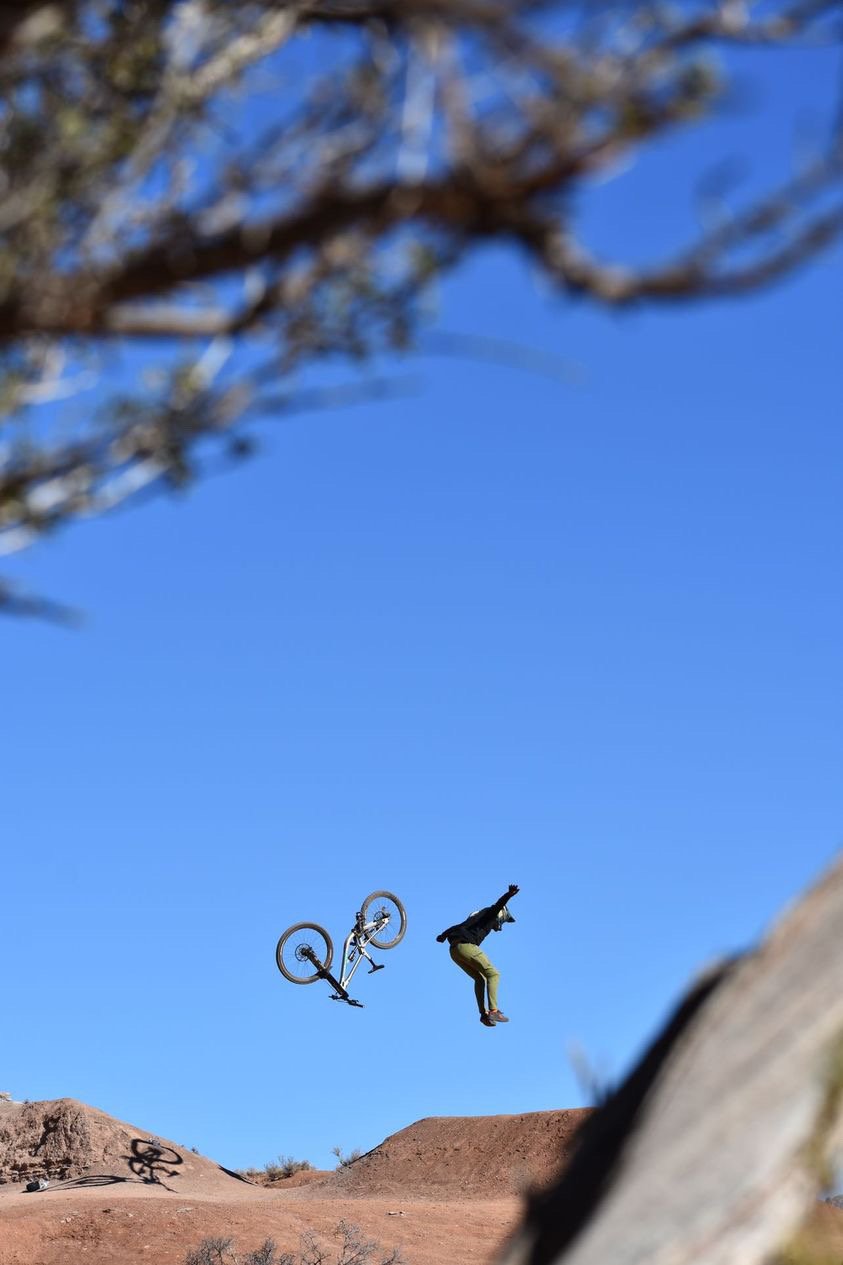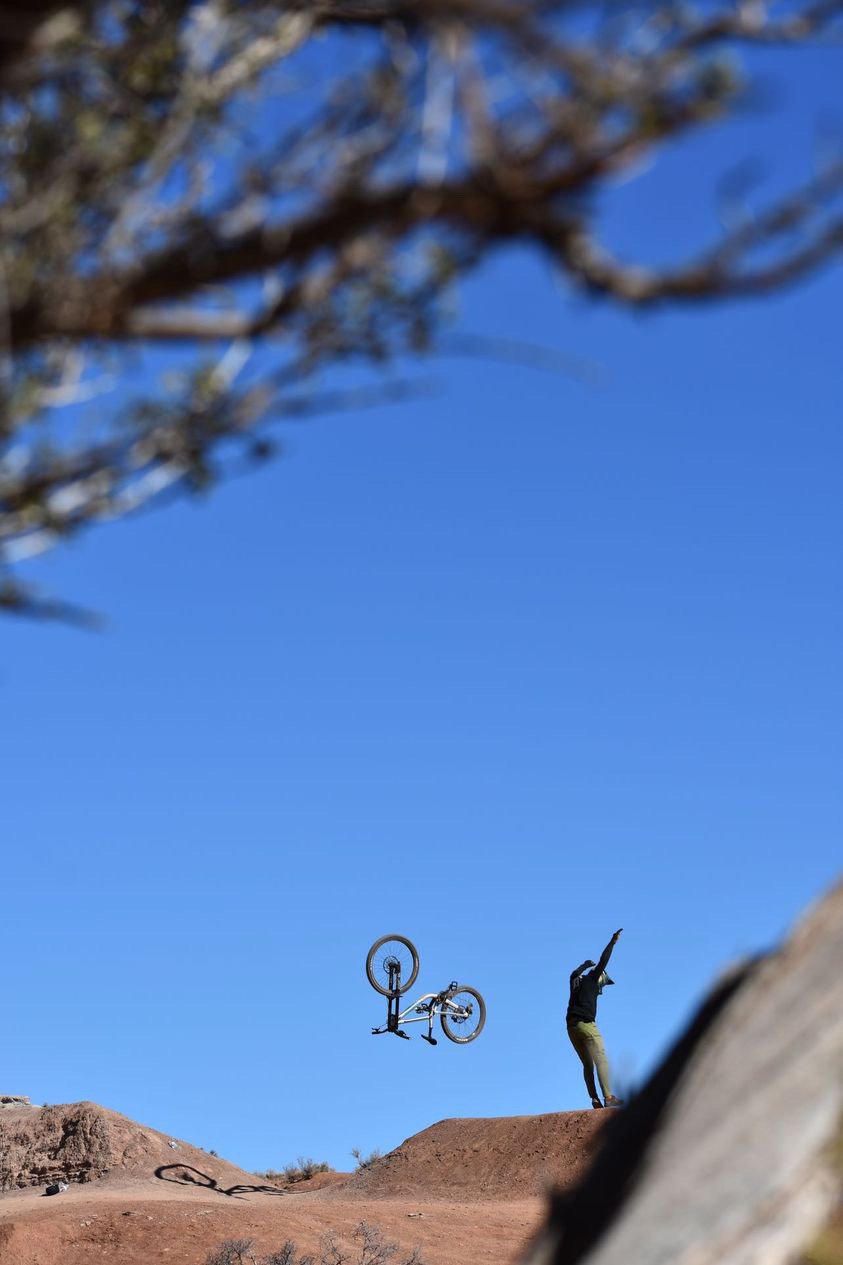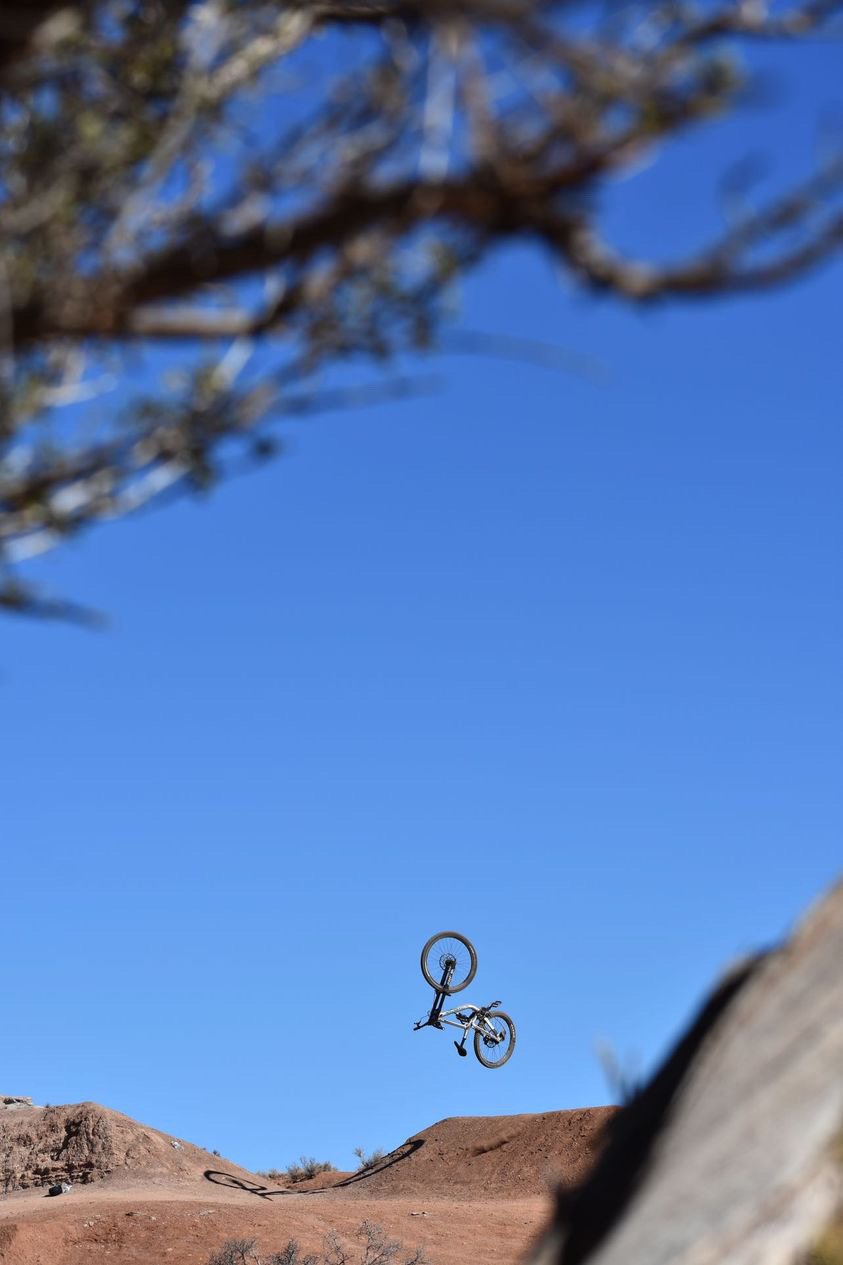 Maybe someday I'll buy an e-bike, or maybe someday I'll convince a brand to trade me one for a whole bunch of art. But for now, I want a DH bike. I want to go big and erase braking bumps and ignore service intervals and run party trains with my friends.
I guess e-bikes are the future. I don't look down on them or hate the folks who ride them. But man, I just got this DH bike, wanna come sit on it and marvel at how squishy it is, and how chunky the 40 looks from above as we wait for the snow to melt? Yeah, I'm gonna hit some sweet jumps on this thing.