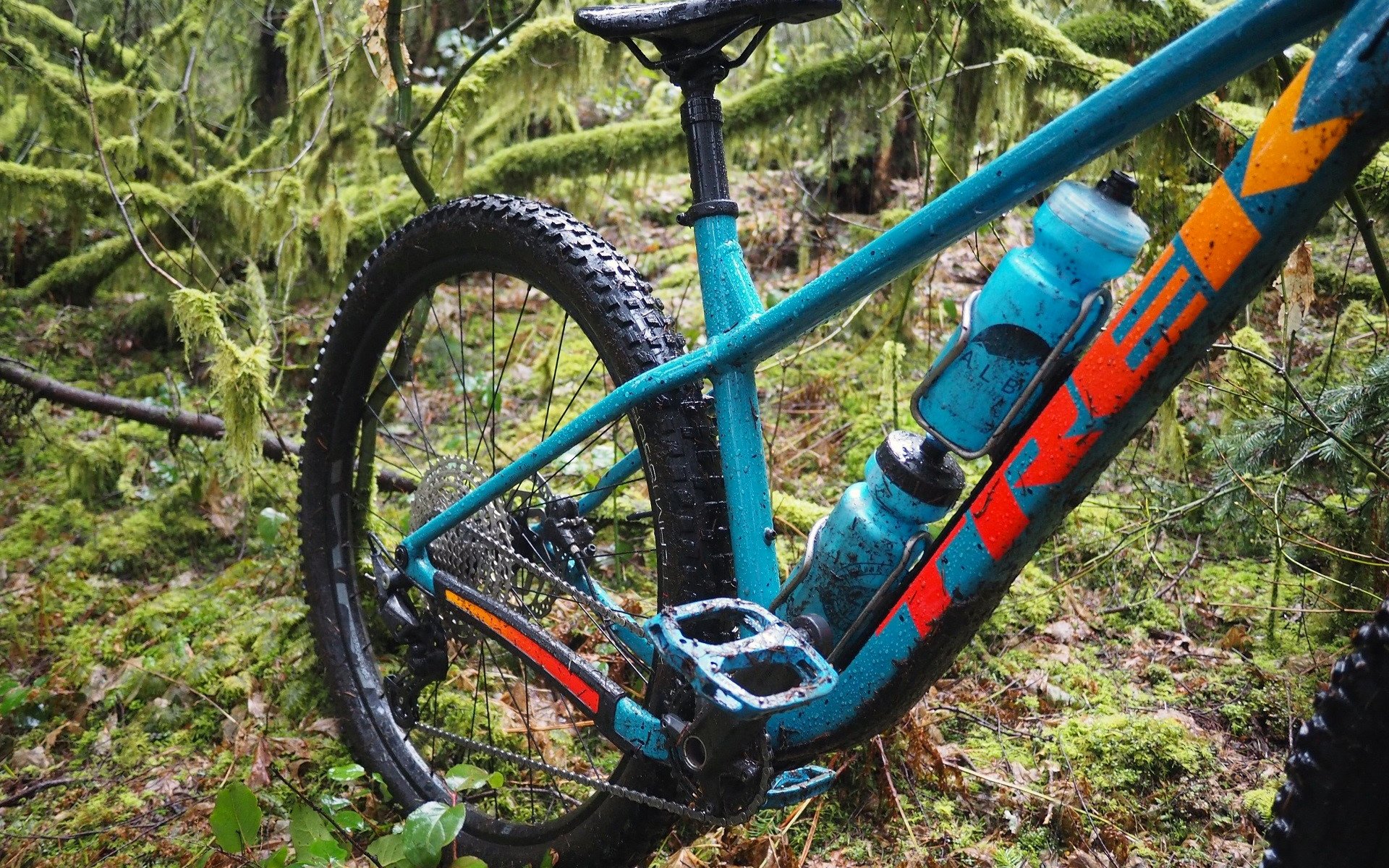 EDITORIAL
Aluminum Is Actual
The Roscoe Effect
I'm currently working on my review of Trek's top-value Roscoe 7 hardtail. There are three colourways to choose from, solid parts spec., and a frame worthy of future upgrades, in a complete package that sells for less than current top-end suspension forks. That's 1650 USD | 1880 CAD plus taxes and pedals. Assembled and set up for you.
But I'm having to step away from that piece to manage my mettle on metal. It seems that every conversation, online and in-person, I have with someone who rides hardtails, comes down to the fact that Roscoe's frame is aluminum, not steel. The consensus impression is that aluminum is the wrong material for building hardtails, and that's been bugging me.
What's the big deal? Never mind that we're talking about bikes with 27" or 29" wheels with 2.5" or 2.6" rubber and tubeless setups, with or without inserts. At some point, discussing the relative ride qualities of different hardtail frame materials gets a little suspect. But in general, it seems like many folks have carried forward hardtail frame material experiences from the '90s.
Even riders who hadn't been born yet are talking about the harshness and stiffness of aluminum frames like we're all still riding thin-walled, fat tubed, Kleins with 26x2.1" tires with 30+ psi in them. The same folks are talking about the magic ride of steel like the thru-axle bolted 417mm long 4130 chain-stayed Honzo ESD somehow dances like a classic XC whippet from Paul Brodie or Chris Dekerf.
Hardtail Opinion Self-Check
I'm not telling you what frame to buy or what material makes the most sense to you. I've ridden great and not-so-great hardtails made out of steel, carbon, titanium, and aluminum. I own multiple steel hardtail frames - my commuter, my single-speed, and my test mule. I'm asking that before shooting from the hip about this material, that folks take a hot minute for self-reflection on what they're actually comparing.
When it comes to hardtail frame material, the conversations are consistently the same as the ones I have around rigid forks. Random riders opine to me all the time that they don't miss riding rigid forks on the Shore and in every case, every f*cking case, when I follow up, their opinion is based on riding an '80s or early '90s rig with 26" hard-rubber tires, rim brakes, road-bike geometry, and a stem longer than a beer bottle. The pedals, ugh! The rigid fork doesn't even clear the top ten on things that sucked about those bikes.
A current Kona Unit-X is infinitely more capable off-road than a 1995 Muni-Mula and it has nothing to do with the frame material.
Maybe we can agree on a couple of things. That there are subtle, and maybe less subtle, details in how different hardtail frames with similar geometry ride, even with big fat tubeless tires. And there are differences between budget and more boutique frames in any material, in the way that not all carbon frames are created even close to equally, etc.
Well, then the three best riding hardtail frames I've been on in the last decade, from the perspective of how they handle trail noise, and I've ridden quite a few, are aluminum. The 2017 Santa Cruz Chameleon, the current Santa Cruz Chameleon MX, and the Banshee Enigma.
The 'Feel' Of Steel
Steel is a great material for bicycle frames, especially for the custom and small-batch frame makers who still drive much of the unique spirit of the activity. It's relatively easy to work with, and I know quite a few folks brazing together frames in their shed or garage. The fact that all these small builders 'choose' steel as the base for their art, amplifies the material's mythology.
With an acknowledgment of Frank The Welder, doing his amazing thing in Vermont, aluminum frame manufacturing starts to make more sense financially on a larger scale where the cost of engineering frame members for weight savings and ride quality is spread over more units, and the extra step of heat treating.
I don't have any reason not to buy a steel frame other than I guess the fact it's going to weigh more for the same application - I'm not much of a gram counter myself - but there are two reasons that I own and ride steel frames and neither is a superior 'feel' compared to aluminum.
1) Attainable Custom Geometry - there are a plethora of custom builders selling steel frames and any number of price points from Marino in Peru to Dekerf here in Vancouver, BC.
2) Available ESD Geometry - bike companies, even bike companies very well experienced with aluminum, are making their most aggressive hardtail geometries only available in steel based on consumer demand.
A Note On Repairability
One advantage of steel that's often touted is its repairability and it's true that there are infinitely more options to get a steel frame repaired than there are with other materials since many custom makers take on that work, as much as a service to the riding community as an income stream.
But there's nothing but accountability stopping aluminum and carbon, manufacturers from repairing products. When I see the work that Robert Mulder does with carbon fiber or trade messages with folks who've had their aluminum frames repaired by MDE Bikes in Italy, I know it's only a lack of will and customer expectations that keep a brand like Trek from offering the same.
Mental, Mettle On Metal
Buy a steel hardtail frame, ride a steel hardtail frame, and love a steel hardtail frame. It's good. If the rear end is held together by a chainstay massive yoke and a 12mm thru-axle - seat-stay bridge or otherwise - and I can stand on the pedal with all my weight and there's no visible flex, don't tell me about that magical feel.
I loved every Kona Honzo I owned. They were all stiff-as. I love my Waltworks V2. Even with 465mm-ish chainstays, it's stiff-as. My Titanium Kona Explosif was a wicked bike. Stiff-as. Trek Roscoe? It's stiff-as too. Throw on some fat tires and have a low-maintenance riot in the woods.
If you're in the market for a current do-it-all hardtail and it has to be steel, then have at it - it's your money, and you pick the flavour. But if your friends are in the market for a do-it-all hardtail and you're indoctrinating them about how only steel is real, then I'm calling bullshit. Ride a Chameleon or even the Roscoe with an open mind and I'm positive you'll be impressed.