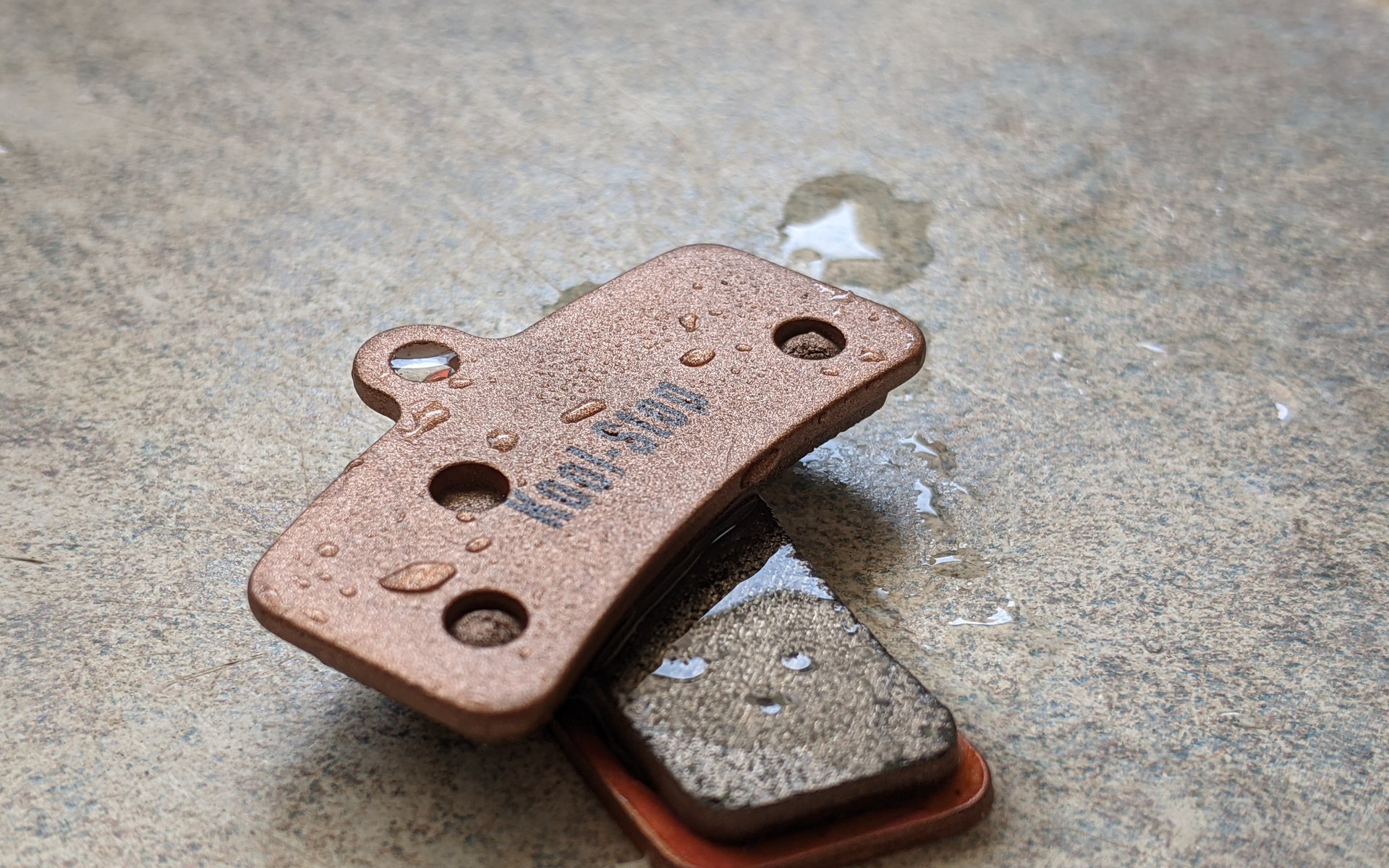 Not a Review
Alternatives for Shimano Brake Pads
Maintenance Procrastinators
It is somewhat lost on me that not all your lives evolve around bikes. I mean you have a real job? You need to make sure the city is running? Engineer? I thought engineers only designed full suspension, 6 bar , mountain bikes! I'm sure you are great at your chosen profession and it consumes a lot of your time. But can you please just be a professional bike mechanic too? Your bike really needs the attention. Cam's recent article about procrastinating bike mechanics in the time of ADHD, hit home hard.
I spend part of my week at a local, high traffic bike shop and get to see all walks of life trying to keep their bikes running well enough to have some illusion of "safe, shreddy fun." There are many more bikes on the trails these days and we need a lot more repair parts to keep them running. Add the fear of running out of inventory and you have serious "Bike parts are the new toilet paper" situation.
I didn't run the demographic metrics to determine who spends the least money or time on their bike per season, but it's is pretty obvious that some people just run their shit right into the ground. I am not OK with this approach and my opinion may come out like a verbal slap in the face to the "friendly brah" who just wants to keep running their paper-thin rotors. But I'm sorry you waited too long and there is no "getting your money's worth" out of those knife-edged Icetech rotors.
As I watched the peg containing Shimano branded 4 Piston Brake pads dwindle, I started thinking; what if? What If we ran out of Shimano brake pads in all of Vancouver? What would I do? Order online? Is that even legal? I started looking at alternative solutions from both well known and lesser known brands for their take on Shimano brake pads. Shimano is mainly on my radar as I run XT and XTR Brakes on my personal and current review bikes. Save for one bike that has Sram G2 brakes that needs new brakes not just new pads.. but thats for another article.
I reached around and ended up with four alternative solutions to the problem. Testing all aspects of a brake pad will take a little time. So I hope to revisit this article or follow up with another one in a couple of months to draw a conclusion. Right now, this can serve you as a tool to expand your search.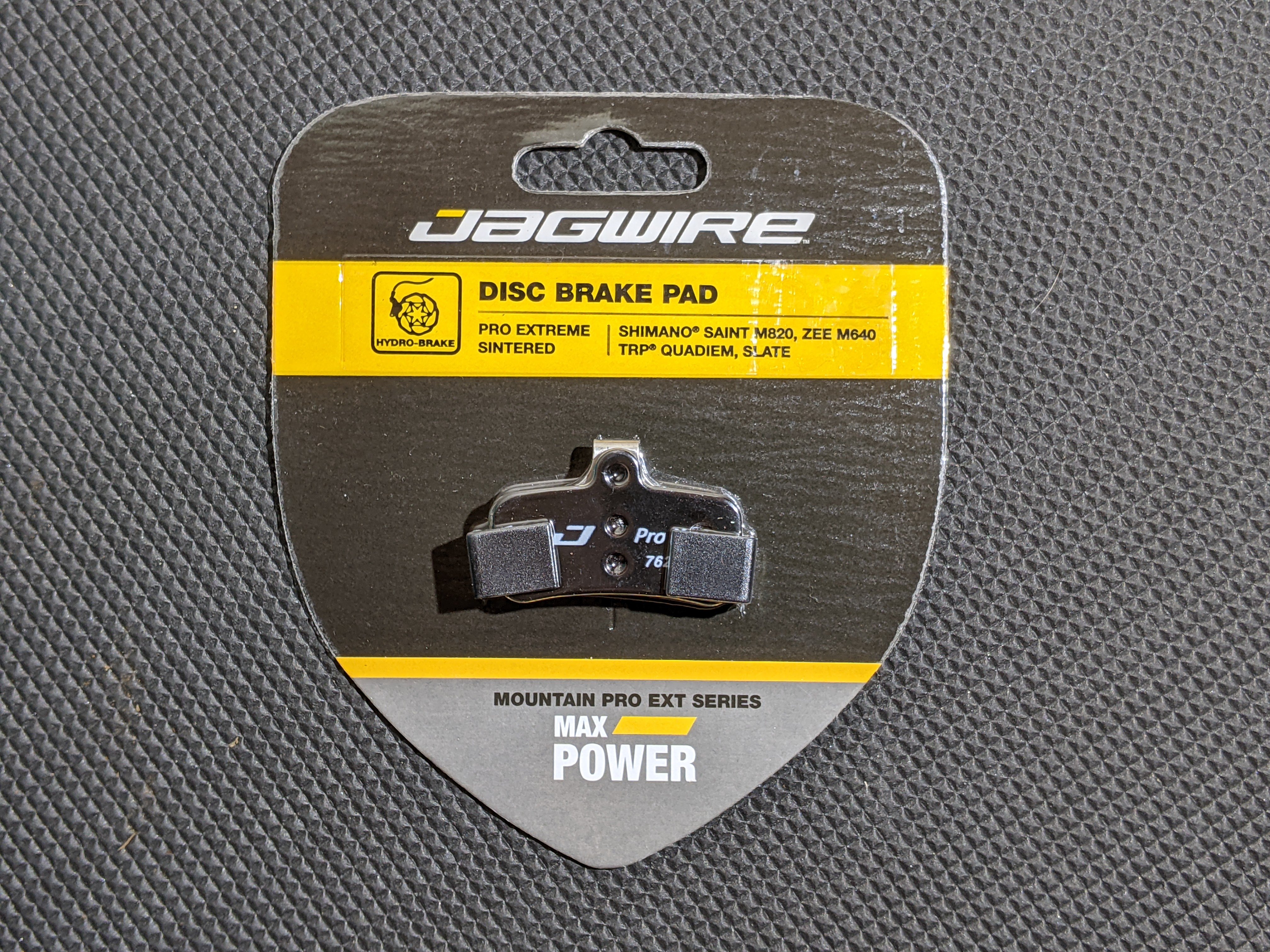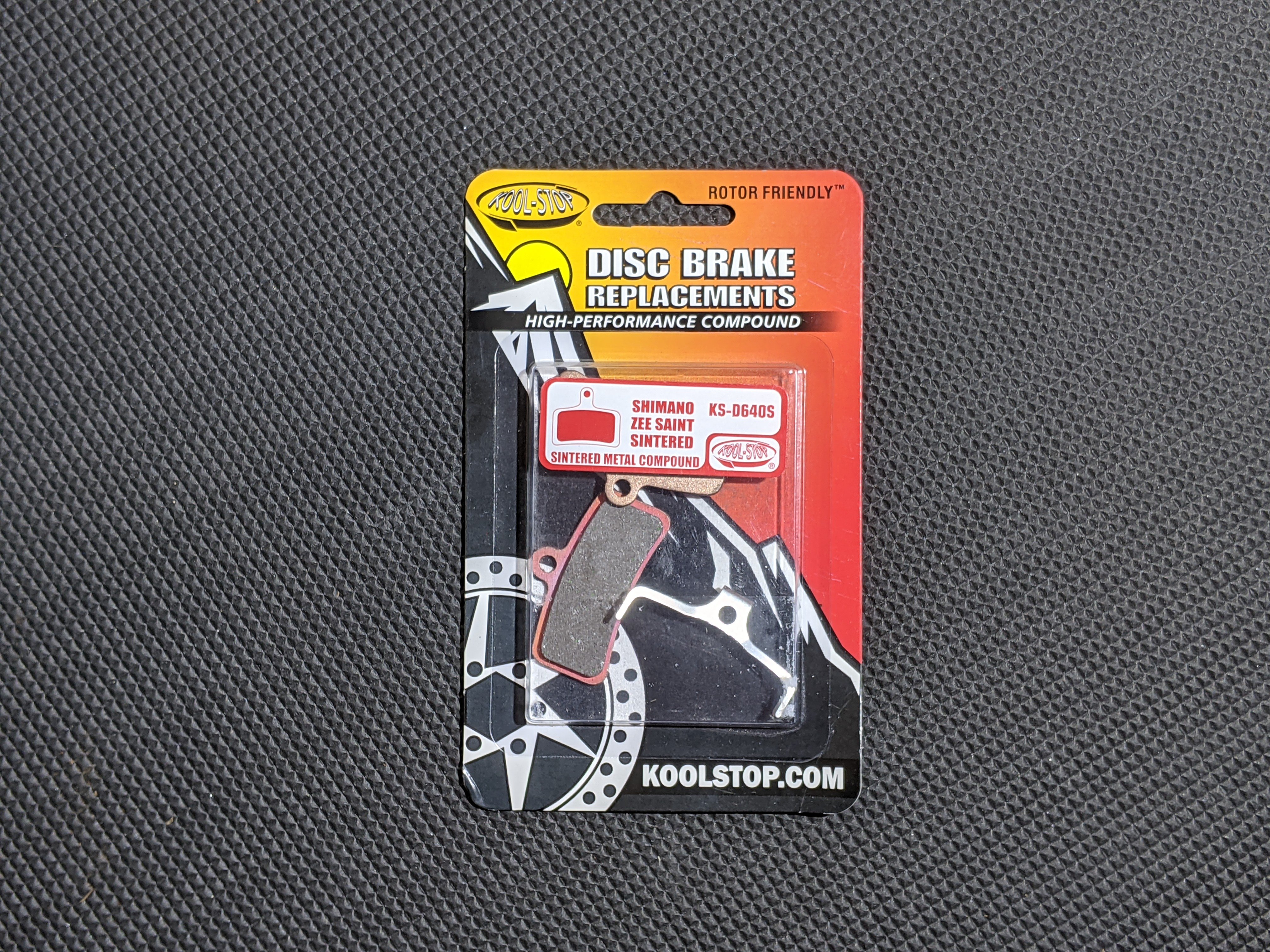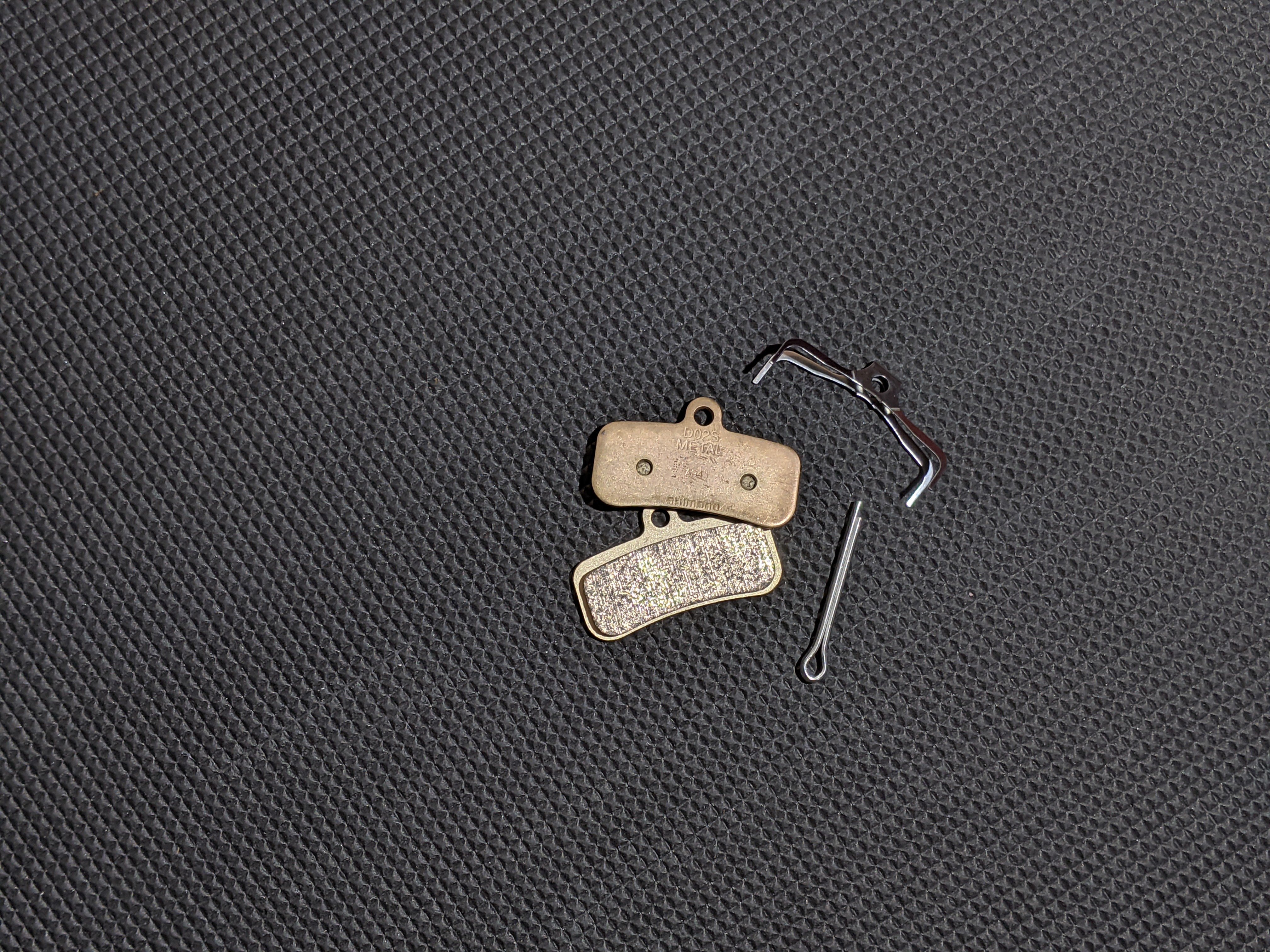 Pad Material and Thickness
Pad Spec Chart
| | | | |
| --- | --- | --- | --- |
| | Overall Thickness | Pad Thickness | Weight |
| Shimano | 3.94mm | 2.18mm | 28g |
| MTX | 3.89mm | 2.17mm | 23g |
| KoolStop | 3.79mm | 2.13mm | 27g |
| Jagwire | 3.94mm | 1.98mm | 27g |
Bedding-In Procedure
I want to give these pads a fighting chance agains one and other, test them in similar conditions and trails but that just won't be possible. I will eventually wear out 4 sets of front pads but this will take months and months (I should probably ride more). The first step was to standardize the bed-in procedure and test which pads reach a useable stopping power in that set time.
The practice of bedding in the pads is often overlooked and left until you have to drop into a hairy fall line with non functioning brakes. The issue is that the rotor surface is not perfectly flat, much like a vinyl record. The micro grooves that form the surface of the rotor only make contact with the pad on the peaks. Once enough material is transferred from the pads to the rotor, the area of contact increases drastically and so does your stopping power.
I like to initiate a bedding process with a little bit of water on the fresh pads and rub them together on a clean flat surface. This preps the pad material and rubs the potentially contaminated top layer off the compound.
After a quick rinse I repeat the procedure, but this time without rinsing afterwards, allowing a layer of loose brake dust sit on the new pads that will easily transfer to the rotor and fill in the grooves. At this point I use some rubbing alcohol on a paper towel and wipe the old dust off the rotors. If there was contamination from the previous pads, I will remove the rotor and wash it with warm water and dish detergent.
The pads are then pat dried on a clean piece of cloth and installed in the callipers. I usually don't push the individual pistons in as the risk of damaging a ceramic Shimano piston is far too high and 8 individual piston takes a fair bit of time to reset. Instead I install the pads and push the pistons out with a Unior Tools 2 for 1, pad spreader, rotor straightener tool.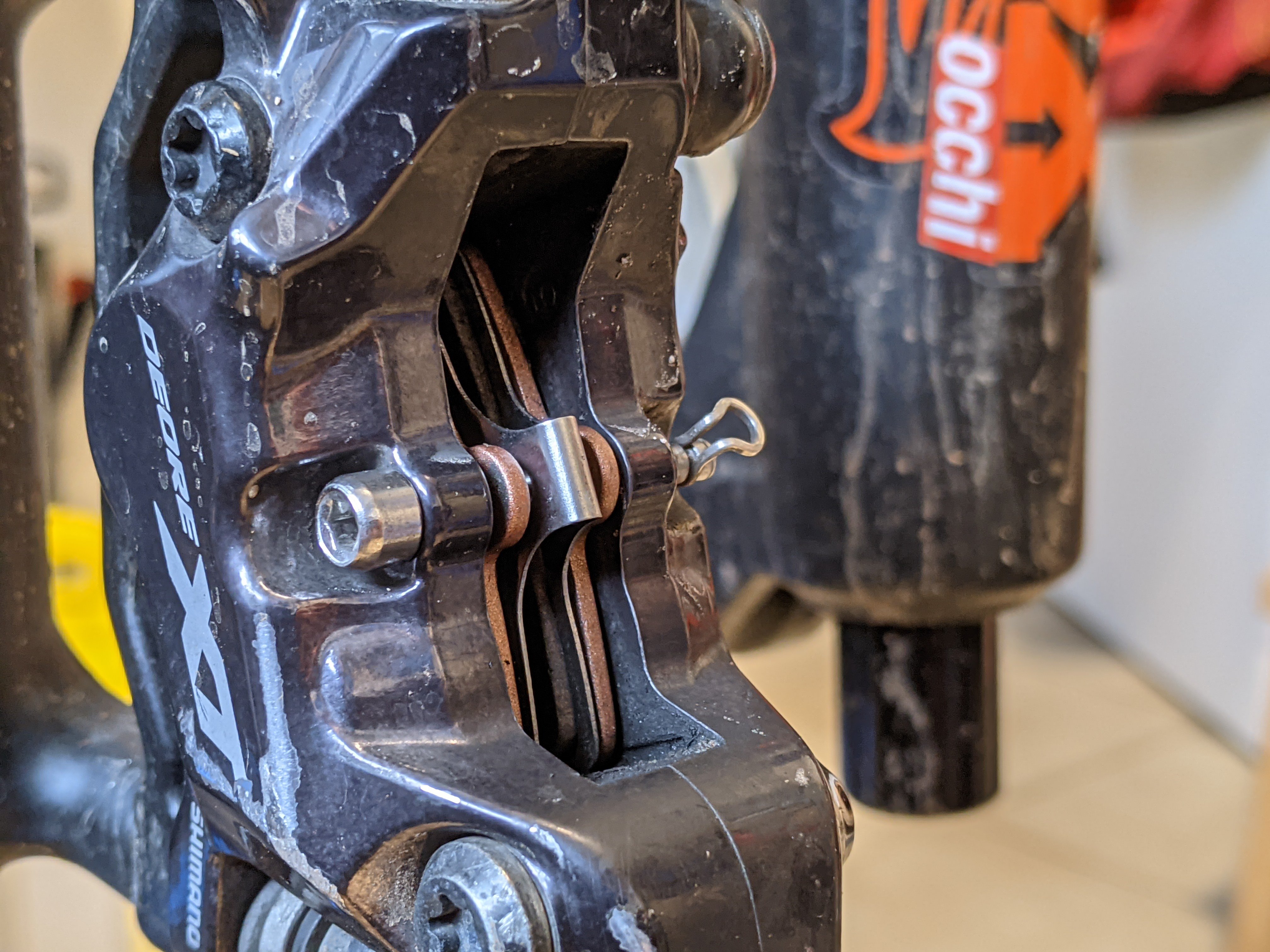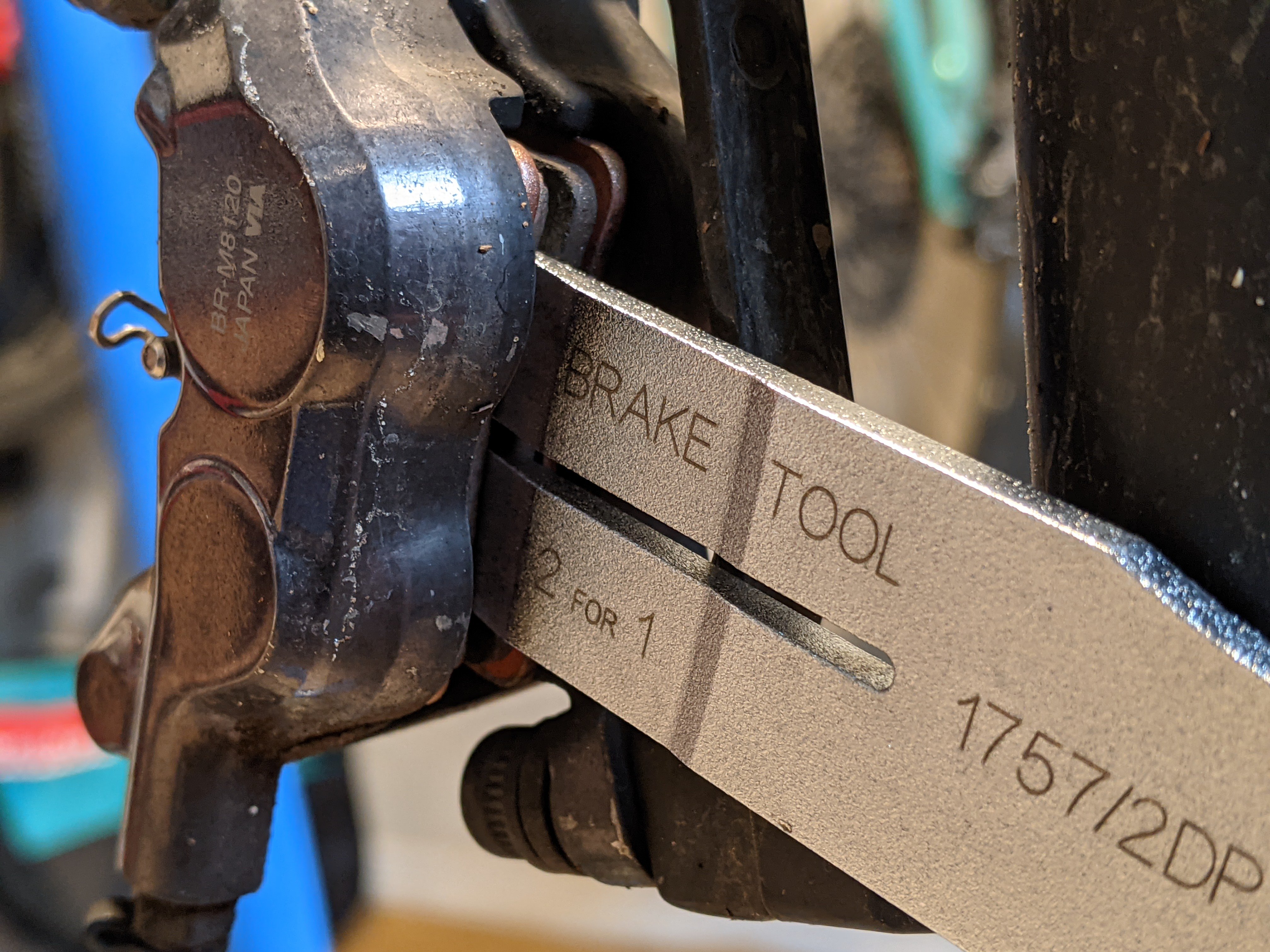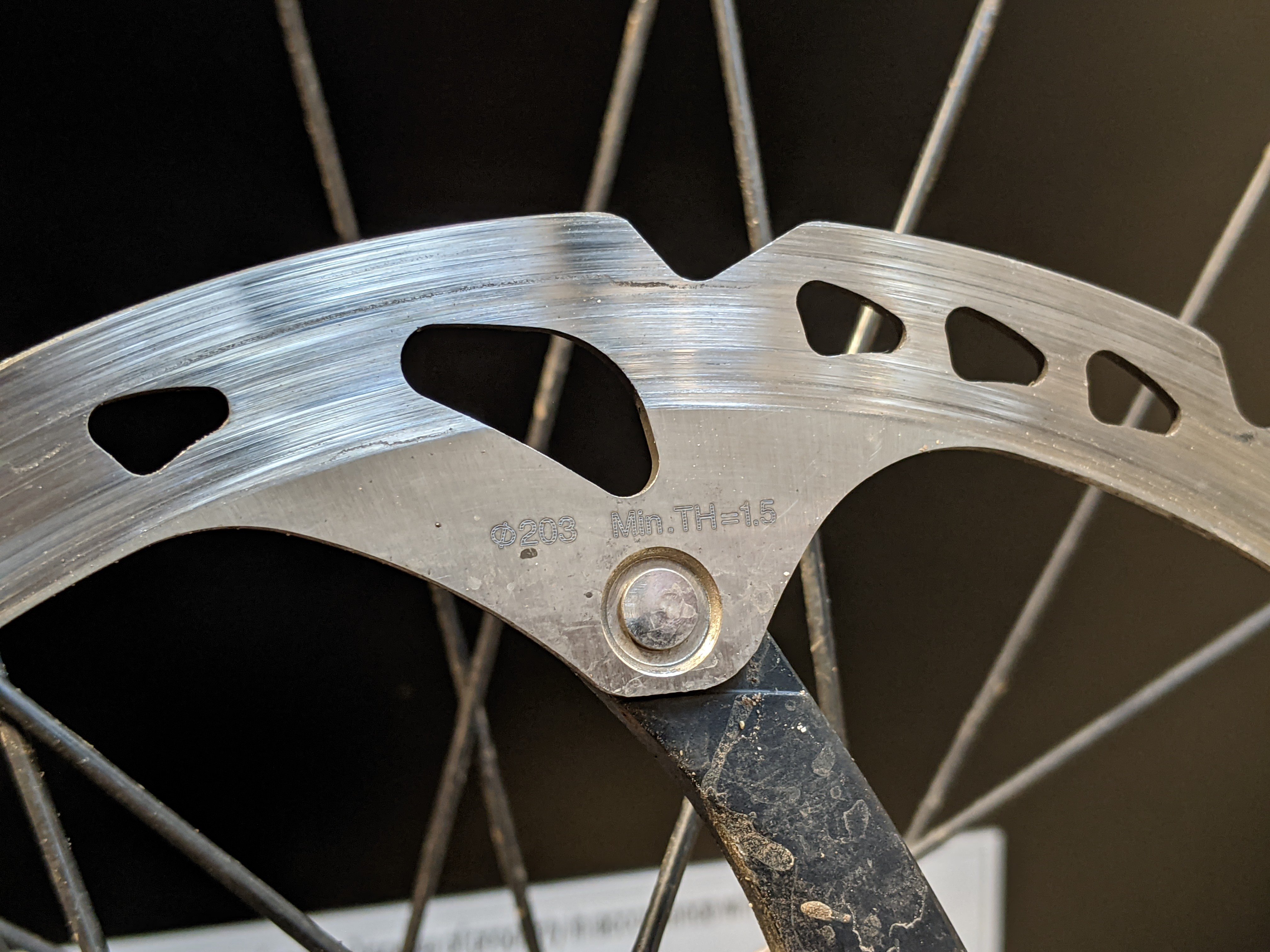 Once the pads are installed and proper calliper alignment with the rotors achieved, I headed out to my neighbourhood roads to bed the pads in. I did the exact same process with all 4 pads. The weather was dry and temperature around 15deg C. I let the bike cruise down a quiet road and pull the front brake hard ( the side of the bike I am testing these pads on) to heat the system up. I cruised around 25-30km/h, dragging the brakes for the length of a basketball court. I release the brake just before a coming to a complete stop to avoid creating a ridge on the rotor. Then I repeat the process five times.
Note the increased braking power.
The whole swap pads and bed in thing took way longer than I wanted and unless I am on one of those E-Bikes with ABS braking systems, I won't be able to test the absolute power of each pad. No way I am going OTB for you! MTX pads seemed to reach a usable power after 4 pulls. While the rest of the pack needed that 5th. They all seemed to produce sufficient power after the bed in period, enough that I took one set to a steep trail immediately after with lots of confidence.
Is it worth it?
These pads all cost anywhere from $30-$46 CAD Thats a bit of a gap to consider. MTX promises increased stopping power and modulation while reducing the noise brakes make that we all love when dropping into secret loamers. The pads are ceramic and kevlar based. A bit of a departure from Metallic and Sintered options from other brands. As I grind through these pads, I will report my conclusions and findings but for now, it's refreshing to see options in the brake pad market. It is the highest wearing item on our bikes, especially here in very moist Sea to Sky country.
to be continued...