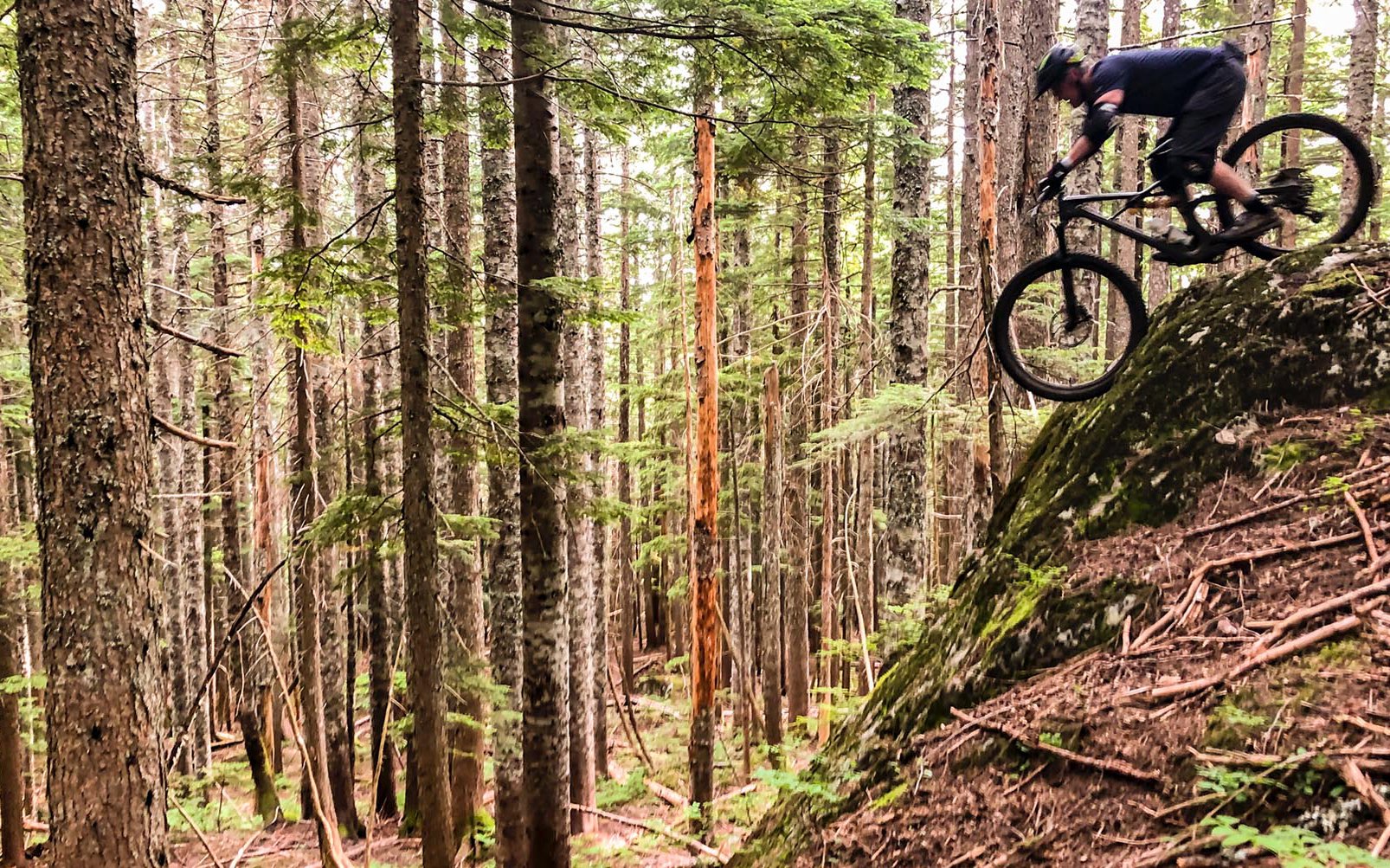 CGI in our Brains
Altered Reality and Mountain Biking
Lately my riding has been a series high points punctuated by a few slumps. I've had several days where I felt great on the bike, riding moves I have either never attempted or ones I hadn't ridden in years. Last Tuesday I rode 5th Horseman, a relatively challenging trail on Cypress, and I rode it better than ever. All the rock faces and steeps looked... doable. Through the same eyes, and recently on the same bike, these moves I had seen many times in the past 20 years, had physically changed. Or at least they appeared to have changed, and all of a sudden they were mine.
I've been changing up some things myself lately which helps me understand this newfound confidence, but it still baffles me that being some combination of slightly stronger, more limber or more focussed (or the opposite) somehow tweaks the way visual information from the trail alters the picture that appears in my brain. I'm talking about critical information; the kind that leads to given 'er! or slinking away in shame.
On today's ride we took on some terrain that makes 5th look tame; a trail I hadn't ridden since 29ers weren't cool. I felt good rolling on dirt and I rode some chutes I was happy with, but I was tentative on wet slabs and I stepped away from a couple that were within range for me. And I felt shame, as I always do. A difference between today's ride and Tuesday's on Cypress was rubber; I was on some sticky tires (review on the new E13 rubber on the way) that gave me confidence on those tricky first milliseconds on the rock before gravity takes over. But come on! It seems insane that rubber on my tires could alter the way a rock slab appears, but I'm quite sure that was part of the formula.

"Just send it! It's all good;" is something we have all said to riders who are less skilled than we are.
Performance fluctuations are a constant, more so for punters like me but for Greg Minnaar as well, and it makes sense that we ride better some days than others. What baffles me is when a move I have seen hundreds of times changes before my eyes. Most sections of trail evolve over time, but most rock slabs are on a geological schedule. And yet we have a filter that alters their appearance; one day a rock face may seem less steep (or steeper) or a line choice I thought was too nasty all of a sudden makes sense. When this happens because of weather I don't question it, because a wet move is almost always trickier than a dry one and moisture changes the appearance enough that other changes seem less obvious. If it's identical to the last time I was there, either equally wet or dry, but it looks entirely different to me, I start scratching my dome.
The first time I remember this happening was around 2005. There was a wheelie drop off a massive fallen old growth log* on Dangerous Dan's Flying Circus that I had walked away from probably 20 times, but one day it seemed half as high. This visual info would be dangerous if it tricked you but on that day and others, it's been entirely reliable and I dropped to flat with nary a head bob.
*It may have been called the Mother Log, as opposed to the Mother Tongue, but I'm not certain
One takeaway from this is that we can never listen to advice from buddies who are better than us. A drop that looks like certain death to me looks like a flipwhip to Semenuk. "Just send it! It's all good;" is something we have all said to riders who are less skilled than we are. I don't think this is disingenuous though. When our perception alters, it becomes reality. When we can see the line, even if we couldn't on the previous ride, we expect that others will be able to as well, because our reality has shifted.

A drop that looks like certain death to me looks like a flipwhip to Semenuk.
My cousin and I used to take a backroad after Kamloops on our way to Shuswap Lake. We'd cross the bridge at Pritchard, B.C. and finish our trip on dirt roads. There was a spot after Chase with a nice lookout where we'd have a beer. One evening we arrived and it was certainly after 4:20, because it was getting dark, but it felt like 4:20. Anyway, there we were sitting on the tailgate drinking a beer, in the middle of nowhere, when we both notice a bear running toward us. Not a grizzly, but not a cub. We both saw a medium-sized black bear that was more than large enough to disembowel us both with a single swipe. We both leapt into ineffective action. I think I was trying to collect the chips before I scrambled to get into the cab of the truck and my cousin might have elbowed me out of the way on a similar mission.
When we finally looked around we saw a couple ambling behind said bear, which was actually a medium-sized black lab. The light wasn't great and we were about 20 kms from the nearest town, so it was weird to see a dog running out of the bush, but we were both certain that what we were looking at, without a shred of doubt, was a bear.
We all think we see the truth. And hear the truth, feel the truth, and taste the truth. But there is no objective reality for any of us. One of the benefits of riding moves that are binary, those that I either ride or I don't since crashing isn't an option, is that they are perfect crucible. I can collect feedback on my mental health, sleeping habits and physical status, and get a pretty good idea of how each contributes to my confidence in the saddle. Riding a corner more smoothly or faster gives less useful data, but riding against the clock likely works as well.
Riding mountain bikes down silly moves is an exercise in self delusion. Most sane people would look at the some of the pitches riders attempt on aggressive terrain and logically come to the conclusion we are insane, exactly the conclusion we would have come to before we rode mountain bikes. Gradually our vision changes as our skills improve, but this change isn't static. It responds to the bike we are riding, the suspension, the tires and brakes, and to our mental and physical states, to help us decode trail features. And it's an essential part of the magic that is riding mountain bikes.