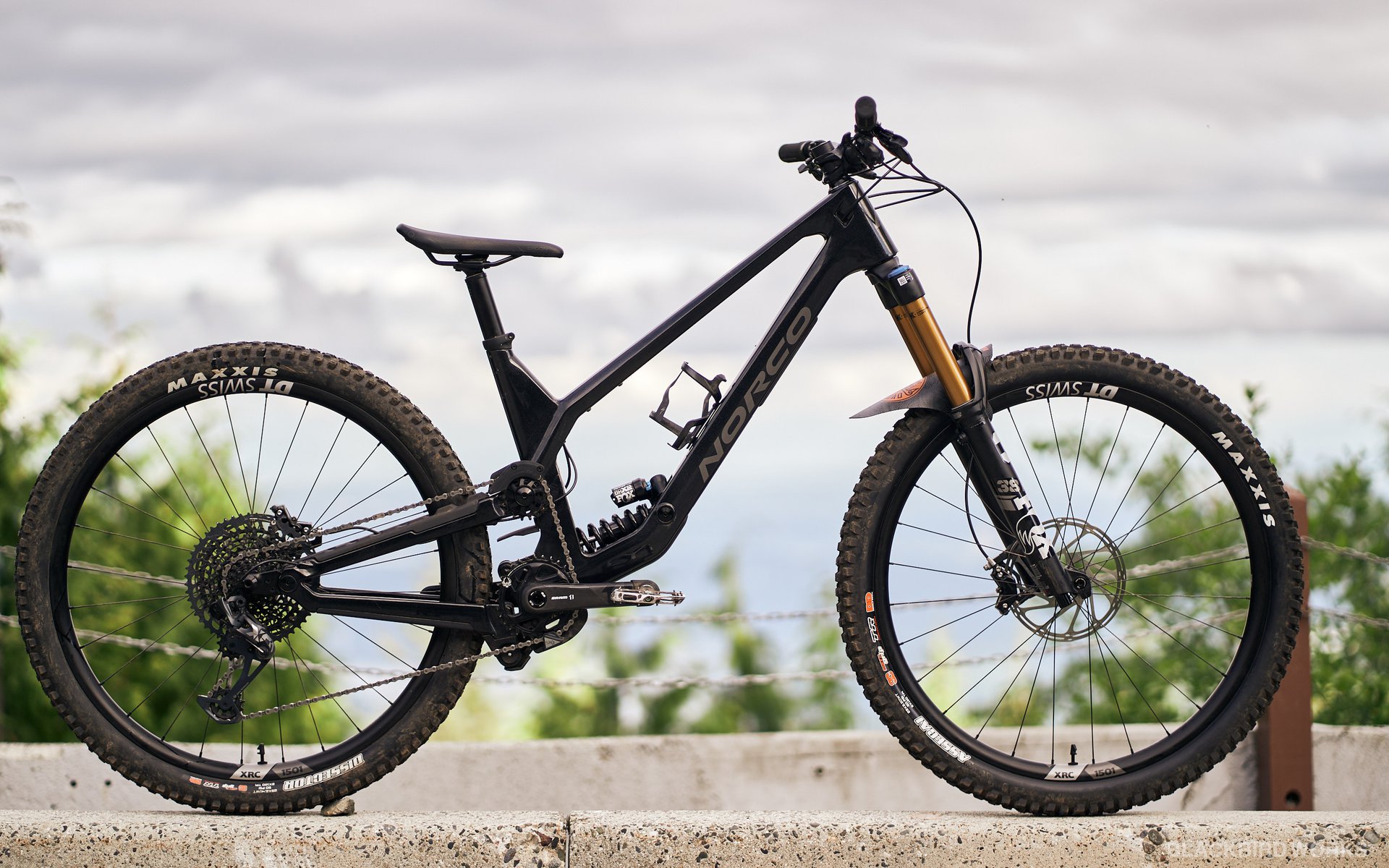 First Impressions REVIEW
The All-New 2022 Norco Range C1
Buckle up sports fans - the Range lives! After months of rumours, spy shots and forum musings, one of the most hyped and awaited mountain bikes in recent memory is finally ready for the world. The all-new Norco Range has been a fairly well-kept secret at Norco HQ for the past few years - to the point where it was rumoured that the Range might actually be dropped from the lineup. But in recent months, it became clear that Norco was up to something very special. It's obvious from first glance that the new Range is unlike anything Norco has done before. Being such a departure from the norm, Norco wanted to take the time to get things right - hence the long wait. Granted, the high pivot design isn't new for Norco - the Aurum HSP downhill bike has been Norco's flagship gravity machine for a few years, and the recently released Shore continued the trend towards bikes featuring rowdy intentions and rearward-arcing axle paths. After the re-release of the Shore, you could be forgiven if you bought into the rumours that the Range was being put out to pasture. A strong case could be made that Norco had their aggressive bike lineup covered with the Aurum, Shore and Sight. But as stacked as that lineup is, it leaves an obvious gap for the true enduro race crowd. While the Sight is certainly capable, it isn't quite the race weapon that some riders are looking for. Range fans were hopeful that the spy shots hinted at something being cooked up for them, and today Norco is making sure they won't be disappointed. The new Range arrives with a full carbon frame, 170mm travel at both ends and you can have it in any wheel size you want, as long as it's 29er.
It seems fitting that this radical new machine marks the 10th year for Range in the Norco lineup. Introduced in 2011 (way back before enduro racing was even a thing), the very first Range featured 26" wheels, 160mm travel, and newly available (gasp!) 10-speed drivetrains. Dropper posts were still a novelty at the time, and while Norco didn't offer them on OEM builds, they did have the foresight to include top-tube cable routing for these posts. The new Range shares little more than its name with the original. You only need to compare the wheelbase of the two bikes to see just how much things have changed over the last decade. The 2011 large-sized Range had a wheelbase of 1170mm - or about the same height as my 5-year-old daughter. Statistically speaking, you could comfortably fit her future 8-year-old self within the axles of the modern Range. That's 1285mm for those of you not familiar with how goddam fast children grow - a difference of 115mm. This is absurd! Have you any idea how much food and clothing she is going to consume in the next three years!?
Growth spurts aside, Norco set out with very clear intentions for the new Range; to build the fastest enduro bike possible. Making a great enduro bike requires a lot more than just super-sizing a trail bike and calling it a day. Enduro racing brings a laundry list of requirements to the bike that other disciplines don't need to worry about as much. A true enduro race bike has the near-capability of a DH bike, but can also be pedalled uphill, sometimes for several hours in a single race. Reliability and self-sufficiency are paramount, as is the ability to carry water and tools on the bike. A typical DH race is over in minutes, whereas an enduro race has multiple stages - each a DH race unto themselves. These stages are usually separated by long climbs that need to be completed in a reasonable amount of time. Due to the extreme demands and design criteria on these bikes, it's not uncommon for an enduro bike to weigh in at more than a DH bike. It turns out those 12-speed pie plates and mile-high dropper posts weigh quite a bit. A less obvious consideration is that of racer fatigue throughout the race. The bike needs to have the racer's back when he or she inevitably makes small mistakes at speed, which is all the more important if stages are being raced with little or no practice beforehand. Norco made a point of addressing all these issues in the ground-up redesign of Range. Where previous versions were more well-rounded, big-travel bikes - the new bike is laser focused on speed in the roughest terrain imaginable.
For the small minority of folks out there in mountain bike land who haven't been repeatedly bashed over the head with the claimed benefits of high-pivot rear suspension - it's time to pay attention. High-pivots have been around for many years, first finding their way onto mountain bikes in the 1990's. Trail bikes of the era were still doing silly things like having front derailleurs and stuff, meaning the unique drivetrain requirements of the high-pivot were not compatible. DH bikes were the obvious first arena to try out the high-pivot arrangement. Brands like Balfa and Brooklyn Machine Works made wild machines that promised better suspension performance via a rear wheel that tracked up and back, relative to the direction of the bike. Standard suspension designs all rely on a pivot location (real or virtual) that results in the rear wheel arcing up and forward, and it's that forward element of wheel travel that the high-pivot seeks to eliminate. While riding, bumps strike the rear wheel in a rearward direction. When the rear wheel is forced to move forward through its travel, the wheel tends to get "hung-up" on obstacles. A rearward-arcing axle path does a far better job of absorbing bumps by moving up and out of the way. A side benefit to this motion is that the rear wheel trajectory more closely follows what the front wheel is doing by way of the suspension fork. This allows the wheelbase to stay closer to ideal parameters, instead of shrinking considerably as in the case of a regular suspension bike. Better stability is maintained even when flirting with bottom-out conditions at both ends.
I remember the day I first saw high-pivot bikes in action. It was in the late 90's, and I was doing training runs at a DH race in Bromont, Quebec. Bromont is notorious for its rock gardens, and I watched, dumbfounded as the Balfa racers screamed through the rocks with their hair on fire. Those bikes were absolutely on another level when it came to maintaining high speeds in rough terrain. I was a machinist apprentice at the time, and that experience ended up convincing me to design and build my own high-pivot DH bike. Perhaps you owned one?
Shameless self-promotion out of the way, I'm obviously a guy who thinks there's a lot of merit in the high-pivot idea, and we currently seem to be in the midst of some kind of renaissance, as this novel idea is starting to work its way down from the DH ranks onto bikes of a more pedally nature. Building bikes this way is not easy, and Norco deserves a lot of credit for pushing the boundaries of frame design with the new Range.
But why the funky chainline? When you move the pivot up that high, you'd better make sure you bring the drivetrain with it. Suspension bikes produce a cacophony of forces all acting in different ways to bring either a magical or miserable experience to the rider. Humans have pathetic power output, and we mountain bikers sure don't like it when our output is being used to do anything other than propel our bikes forward. Ideally, we don't want our pedalling effort to interact with suspension movement at all - but this is far easier said than done. A vast oversimplification of the matter tells us that we want to have our chainline act somewhere close (or directly through) the main/virtual pivot. As the force vector of your drive chain gets further away from the pivot, the more "pedal-induced-bob" you introduce into the system, and this is bad. That funky chainline aligns the chain force vector closer to the pivot, resulting in suspension that isn't heavily influenced by what the drivetrain is doing, and this is good.
It's easy to see that the 3 high-pivot bikes Norco currently offers are all quite unique from each other in linkage design. The Aurum HSP (High Single Pivot) is exactly what its name implies - the rear axle pivots around a high-pivot, fixed relative to the main frame. The shock is then driven by a linkage, which has no effect on the axle path. The Shore takes the high-pivot one step further by incorporating a Horst Link, bringing lower levels of anti-rise to the equation - the suspension stays more active and doesn't get "locked down" during heavy braking events. The presence of the Horst Link means that the pivot is virtual, meaning it floats in space relative to the main frame as the suspension cycles. The new Range takes the high-pivot Horst Link idea and literally flips it on its head. The linkage side of the suspension is placed below the high pivot. This is not easy to execute, as space is generally at a premium around the BB area. But the benefits of carrying weight much lower on the frame, while allowing for a very low standover height that still accepts a big dropper post, and a big water bottle is a very big win in my book. Norco calls the Range suspension "High Virtual Pivot". The Horst Link strut (what might normally be identified as the "chainstay") pulls on a triangulated link that pivots around the BB, which in turn drives the shock.
The Range will be available in 3 full builds and a frame only option. The gucci-spec C1 version that I'll be riding for the next little while comes dripping with top-shelf bits. Fox Factory suspension at both ends, We Are One Union carbon rims laced to Onyx Vesper hubs*, SRAM X01 Eagle drivetrain and CODE RSC brakes. Other notable features include a OneUp dropper post (210mm drop on the L and XL sizes - loud applause!), Deity Skywire carbon bar and Ergon saddle. Hell, you even get proper tires on this bike! Maxxis DD 3C MaxxGrip on both ends, with an Assegai taking the helm, and a Dissector on rudder duty.
The C2 build gets you the exact same frame and shock as the C1, but replaces the Fox 38 with the still excellent Zeb Ultimate. SRAM bits step down to GX and CODE R, and you get a lot less carbon in exchange for alloy kit from e*thirteen and Deity. Dropper post is a TranzX unit, with drop height ranging from 150mm for the small frame, up to 200mm for the L and XL frames.
C3 drops the price a bit more by mixing the Zeb Charger R with a healthy dose of Shimano SLX and Deore components and Stan's Flow D rims. It's worth noting (and appreciating) that all builds come with the same Fox Factory DHX2 shock and Maxxis DD MaxxGrip rubber. The shock and tires are a favourite place for bike manufacturers to save money without being too obvious. Kudos to Norco for realizing that on a bike like this, the shock and tires have a HUGE effect on the ride quality, and it's nice to see even the "entry" level model getting some respectable kit hung from it.
*(Note that some marketing material shows the Range C1 equipped with DT Swiss wheels. Supply chain issues have forced Norco to change spec to the We Are One Union wheelset - a very fair trade in this tester's humble opinion. MSRP remains unchanged.)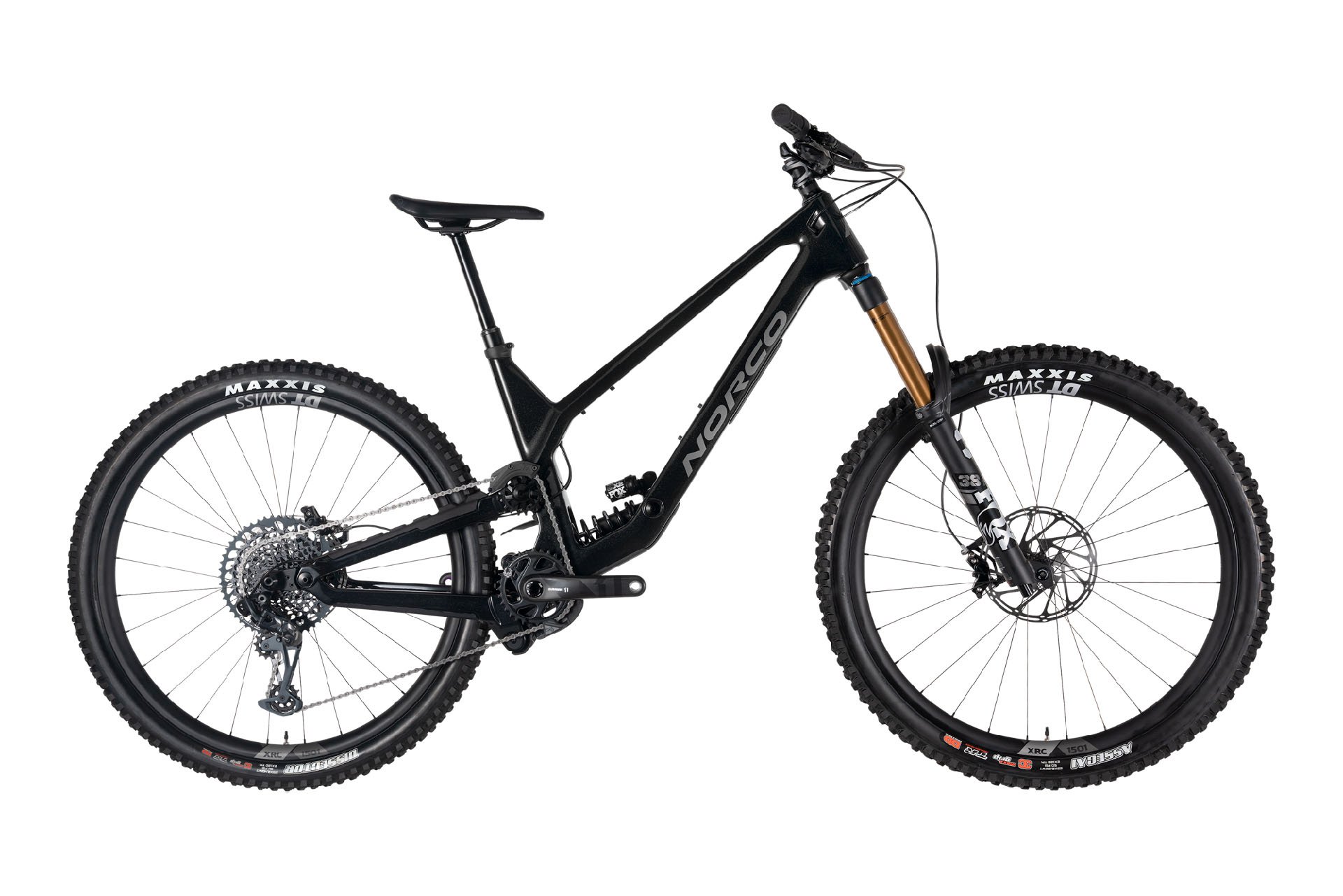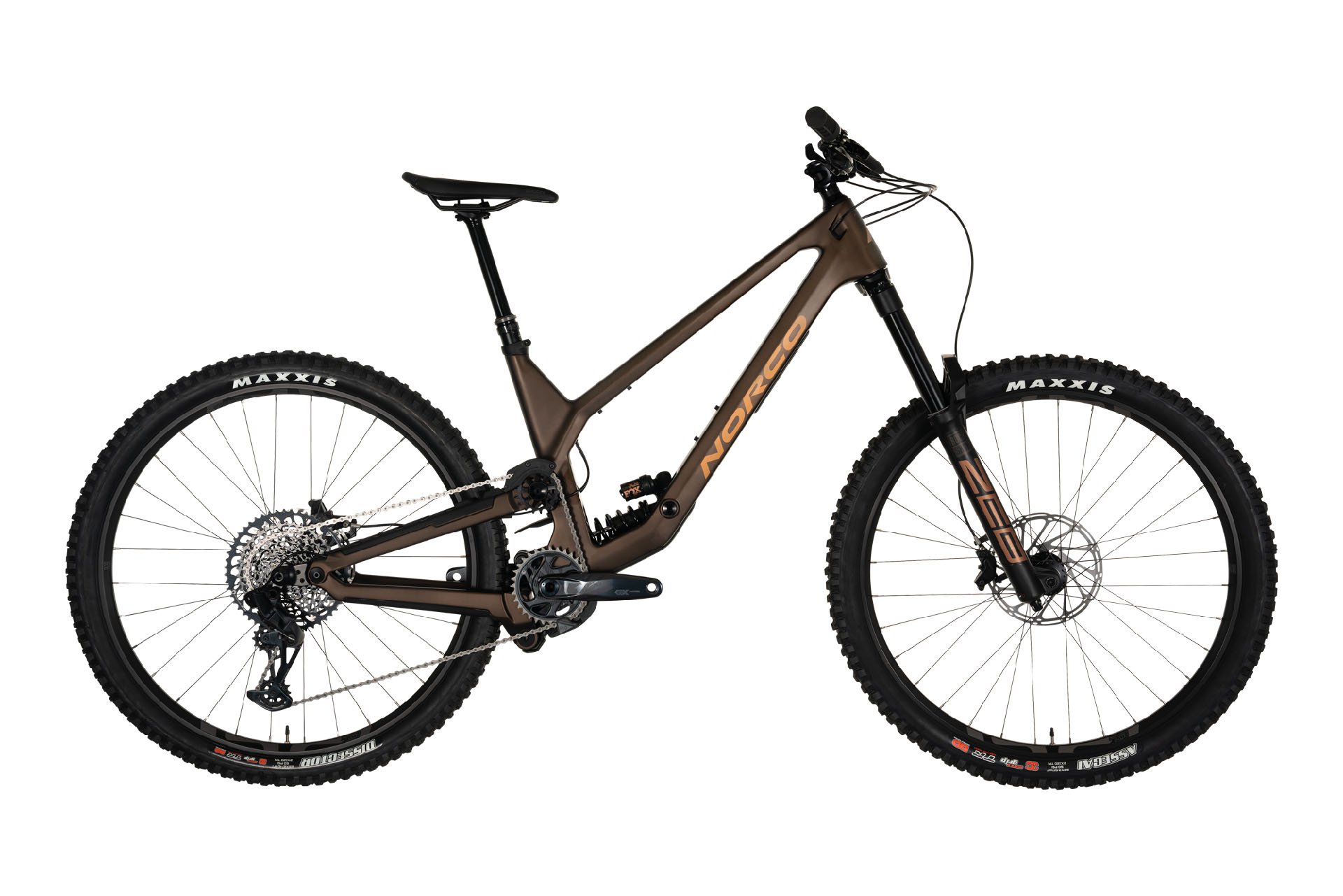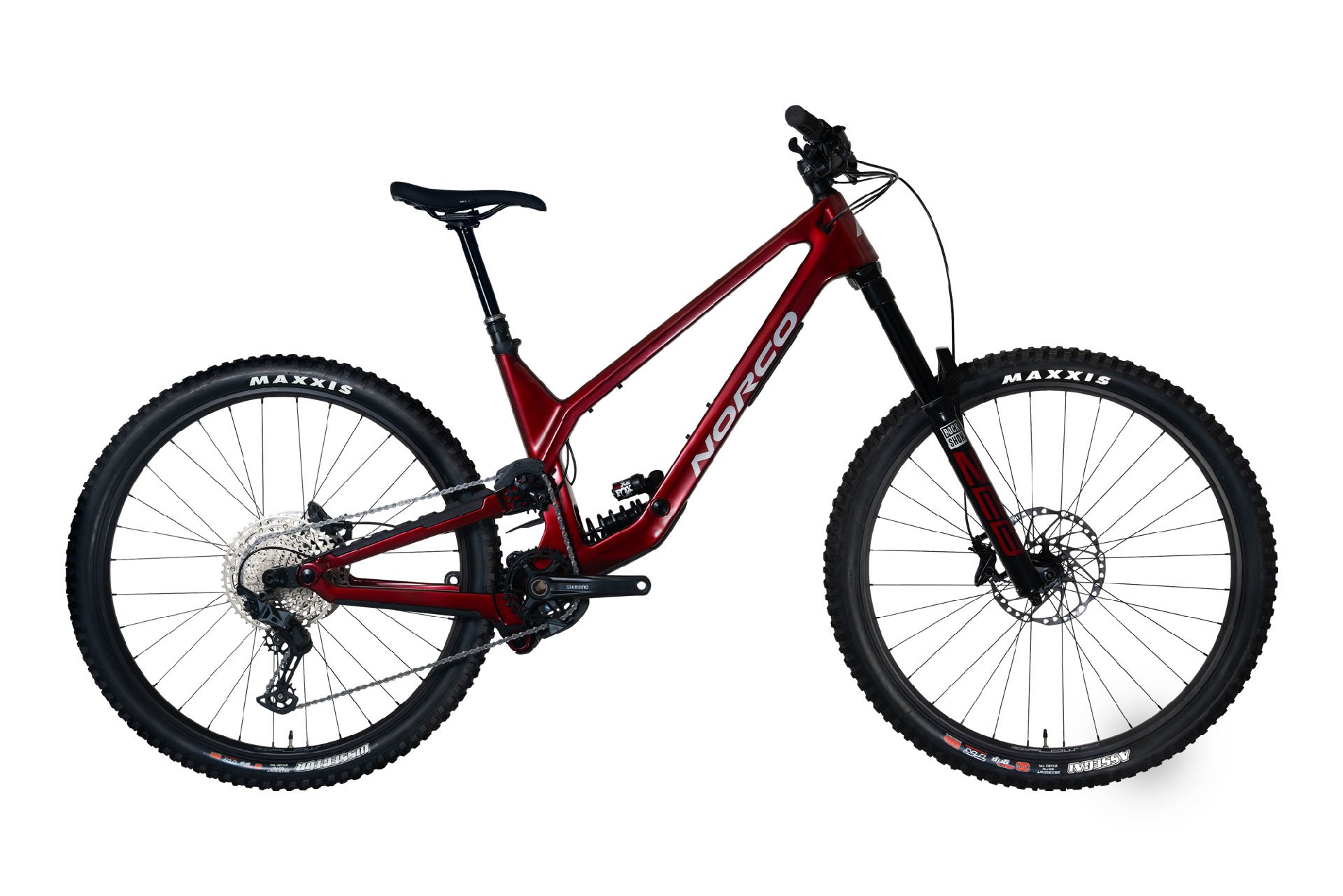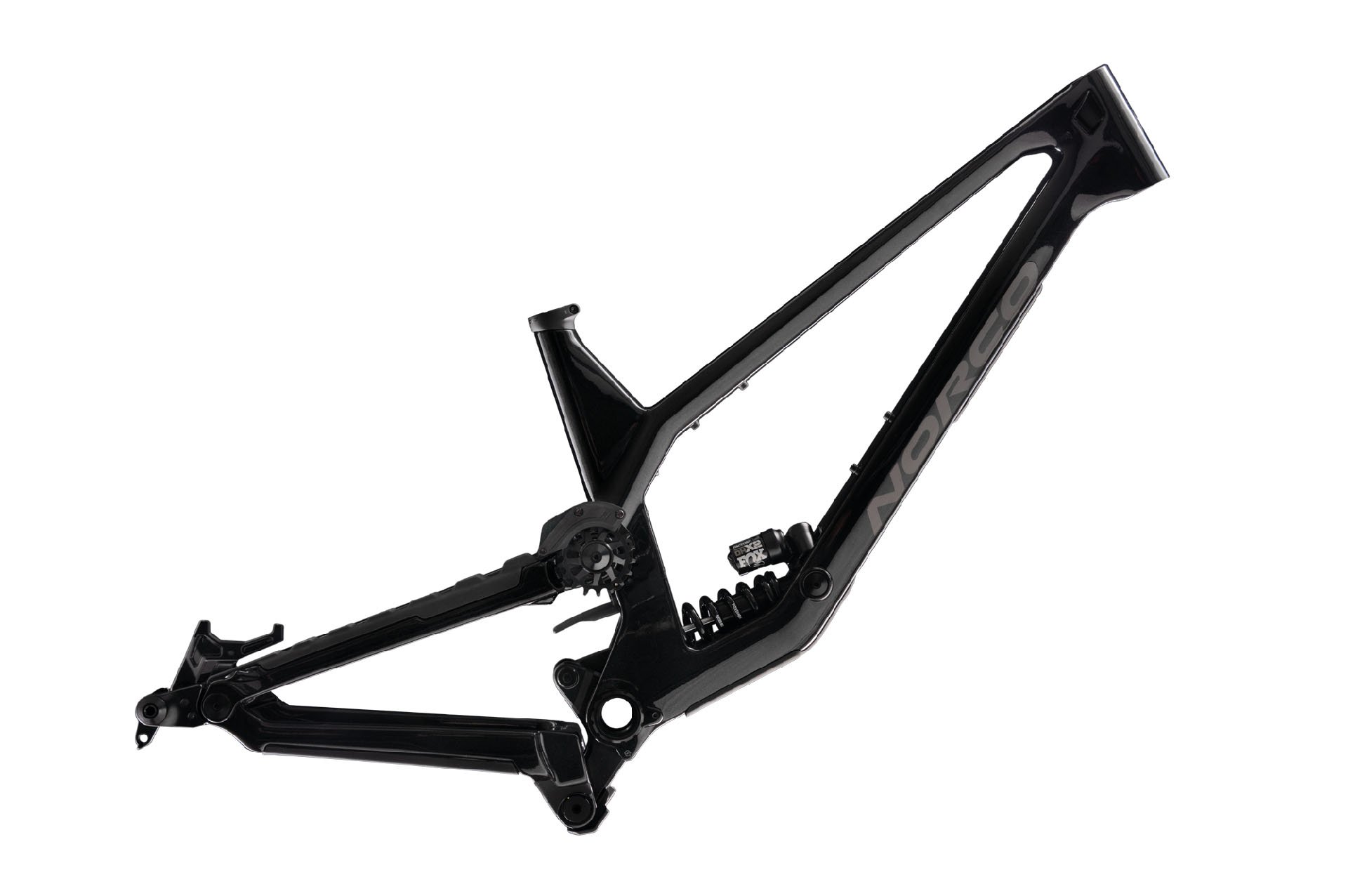 New for the Range is the introduction of a rehashed version of Norco's Ride Aligned philosophy. Norco was one of the first mainstream bike companies offering a corresponding change in rear-centre lengths with frame sizes. Today, there are more bike companies realizing that you need to change more than the reach and seat tube length for a frame to fit properly across the size range. Norco has now taken it several steps further. Ride Aligned now includes slight differences in effective seat tube angle AND head tube angle. Testing showed that these differences allowed for the optimal riding position for riders of various heights. For instance, you'll notice that the head tube angle gets slightly steeper as you go from XL down to S frame size. Norco found that smaller riders aren't able to get their weight as far forward as the lankier specimens, so the HTA is steepened slightly to compensate. Very interesting stuff. In addition to all the geometry variation across sizes, you'll even find component tweaks like longer drop posts on the L and XL sizes. Norco even went to the trouble of spec'ing thin grips on the smaller sizes and thick grips for us hamfisted biggies. That is some serious attention to detail.
Impressions so far.
As stated earlier, I'll be slamming around the trails on a C1 for the next little while. I already have a handful of rides on this sled. To all those folks I encountered trailside in the last couple weeks - sorry for the coy responses about what the heck kinda bike I was riding. These responses weren't very imaginative, ranging from: "Oh, idunno" to "Well, what kind of bike do you think it is?" before making a quick getaway.
What I can tell you so far about my experience on the bike is that it feels big - unapologetically so, and not necessarily in a bad way. And even though the reach is not terribly long, the bike rides "big". It's a bike that exudes confidence at speed - to me, it handles a lot like a DH bike. My own daily driver is often described as "the enduro bike that wants to be a DH bike". The Range feels like "the DH bike that wants to be an enduro bike". This shouldn't come as too big a surprise, as it was the Norco Factory DH team that was instrumental in the development of the Range. Unless you've been living under a rock, you've no doubt seen the photos showing Blenky and crew racing on prototype DH frames that look suspiciously like the new Range. Turns out, these prototypes are very close relatives to the Range (and to answer your burning question, when I pressed Norco on whether a new production DH frame was imminent, the short answer I got was "not anytime soon").
Thanks to its DH pedigree, it seems the rougher and steeper the trail gets, the faster the Range wants to go. Even after just a couple rides, I found myself purposely launching into ultra sketchy lines just to see if I could unsettle the rear end. So far, I've been unsuccessful - the Range suspension is just so composed at all times. As good as the Factory 38 is (and trust me, it's an incredible fork), it seems it can't quite keep up with what the rear suspension is capable of. I'm still not quite settled on fork settings, but every ride I seem to be clicking all the knobs closer to 11.
While I've ridden high-pivot bikes before, it still takes a little while to get used to how the suspension kinematics affect the ride. Riding a wheelbase that doesn't shrink drastically under compression is an odd feeling at first when you've not experienced it before. But the learning curve on the Range is quick, often surprising you with moments of brilliance - usually accompanied by thoughts of: "Holy shit, I can't believe I got away with that".
I will readily admit that this is not a bike for going out and doing epic XC loops, nor do I suspect that riders considering a bike like this are looking to do epic XC loops. With a weight of 37.5lbs for the large C1, it's not exactly svelte either. I was slightly worried that the weight, geometry and suspension would make for a bike that was hard to get off the ground, but I quickly realized that the extra speed you can carry on pretty much any downhill grade means that the Range is an easy flyer, and will happily over-clear any jump in sight. And the fact that the Range carries its weight very low on the frame means that it's quite manageable, even providing some noticeable stability at speed. On mellower grades however, the weight and aggressive geometry can be a bit unwieldy at times. It can definitely climb, but it's immediately clear that climbing is a means to an end aboard the Range. The hyper-active suspension means that climbing with the shock wide open results in a fair amount of suspension movement. I've found that I pretty much reach for the lockout on any sustained climb - even if it's technical. The lockout calms the suspension quite a bit, but it still remains active enough to soak up most bumps. The lockout on the DHX2 is not very firm, and I actually wish it was a bit firmer on the Range. However, if you get comfortable and settle into a low-gear spin, the Range will gain altitude - just not very quickly. All that descending prowess has to come at a price somewhere. And remember those DoubleDown, MaxxGrip tires I was raving about? Well they might be dreamy on the descents, but they sure don't help in the uphill slogging department. While I appreciate the DoubleDown casings, I find the MaxxGrip on the back to be a bit overkill for anyone not racing every weekend, or riding a typical Canadian February. Riding up hot asphalt with rider weight biased heavily towards the rear wheel, the MaxxGrip feels like it has patented suction cup technology. For general riding scenarios that involve at least some climbing and no racing, I'd be inclined to switch out the rear for a MaxxTerra, just to improve the rolling resistance and tire life expectancy. In a world full of OEM spec'd tires that function far below the intended purpose of the bike, only a mountain biker would complain about tires that were too high-performance. If nothing else, we mountain bikers love to complain.
My pseudo-whinge about the tires should reinforce the idea that this is a race bike, and comes equipped accordingly. And while I have no definite plans on racing it (thanks Covid), I do plan on seeing how far I can take it, and I suspect my own line of self-preservation sits somewhere well below the limits of this speed machine.
Retail pricing:
Range C1: $10,999 CAD $8,999 USD
Range C2: $8,399 CAD $6,999 USD
Range C3: $6,799 CAD $5,599 USD
Range C Frame Kit: $4,499 CAD $3,799 USD.
Stay tuned…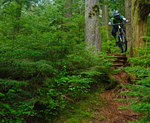 Ryan Walters
Age : 40
Height : 1803mm
Weight : 86kg
Ape Index : 1.03
Inseam : 787mm
Bar Width : 780mm
Preferred Reach : Pretty comfy at 487mm these days.